47 Souvenirs from All 47 Prefectures!
Kansai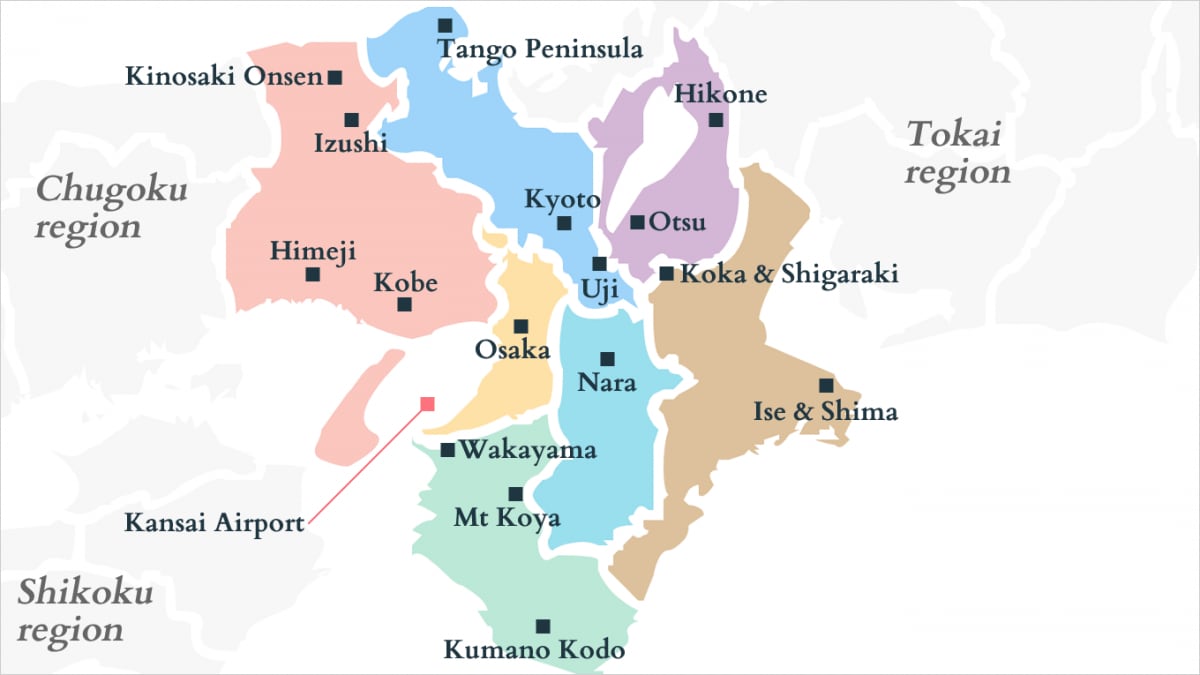 Kansai lies in the south-central region of Japan's main island. The region includes the popular destinations Osaka and Kyoto, as well as the prefectures of Mie, Nara, Wakayama, Hyogo and Shiga.
Mie — Akafuku
Mie Prefecture is the proud home of Akafuku, whose shape reflects the region's Isuzu River. This traditional and simple sweet is made from mochi (pounded, gelatinous rice) and sweet red bean paste. It's known for hundreds of years as a popular treat for pilgrims making the trek to the sacred Ise Grand Shrine.
Nara — Shika no Fun
Nara is incredibly famous for its shika (deer), which roam around parks and hrines (or wherever they feel like going) waiting for visitors to feed them their special crackers, called shika senbei. As a result, deer droppings can be found all over the city. Who would've imagined that they'd be the inspiration for one of Nara's most popular presents, Shika no Fun, or "Deer Poop"? These chocolate delights, very similar to Peanut M&Ms, not only provide the recipient with a good laugh, but offer a fun snack that makes an excellent ice cream topper. Really!
Wakayama — Nanko Plum
Ume plums are beloved throughout the nation, and incredibly versatile as well. They can be added to almost any meal in sweet and sour varieties. And since Wakayama Prefecture produces some of Japan's top plums, it makes sense that we would choose a plum-based representative of the prefecture.

Among the various types of ume produced in the area, the Nanko Plum is most popular. These plums from Wakayama usually go on to become sour umeboshi (whole pickled plums) or sweet umeshu.
Kyoto — Yatsuhashi
Yatsuhashi are incredibly famous souvenirs throughout the country, and are treasured by both overseas visitors and Japanese people alike. Typically displayed to show off their unique triangular shape, Yatsuhashi are carefully made with a thin, paper-like layer of glutinous rice flour, sweetened with sugar, then filled with a red bean paste. Kyoto's omiyage shops are known to boast a wide variety of other flavors and seasonal versions, like cherry blossom filling, which always complement their slight cinnamon flavor.
Osaka — Daifuku
Daifuku are small, round mochi rice cakes dusted in confectioner's sugar, which are available virtually everywhere in Japan. So if you're not really keen on the octopus-flavored snacks popular in Osaka, you can always turn to Daifuku. There are many different variations, including those with festive white, green or pink mochi, as well as versions filled with anko (red bean paste) or fruit—such as strawberries!
Hyogo — Kobe Purin
Kobe may be better known for its beef, but if you're looking for a product that's a bit easier to bring home to loved ones, look no further than Kobe Purin. Purin, which is the local approximation of the English word pudding, is specifically a flan, or crème caramel, a gelatinous custard pudding with a layer of caramel syrup on top. While this kid-favorite dessert can be found in supermarkets all over the country, the Kobe version has a light, citrus liqueur flavor that's more suitable for adult taste buds.
Shiga — Itokiri Mochi
Neighboring Kyoto, Shiga Prefecture rests on the eastern edge of Lake Biwa, Japan's largest lake, which draws quite a bit of tourism. And those tourists find themselves snacking on Itokiri Mochi, a Japanese sweet made of pounded mochi rice and a sweet red bean filling. They're sold at souvenir shops around the popular Taga-taisha Shrine, so you should definitely enjoy both while in the area.