10 Ways to Enjoy a Rainy Day in Japan
1. Spas & Hot Springs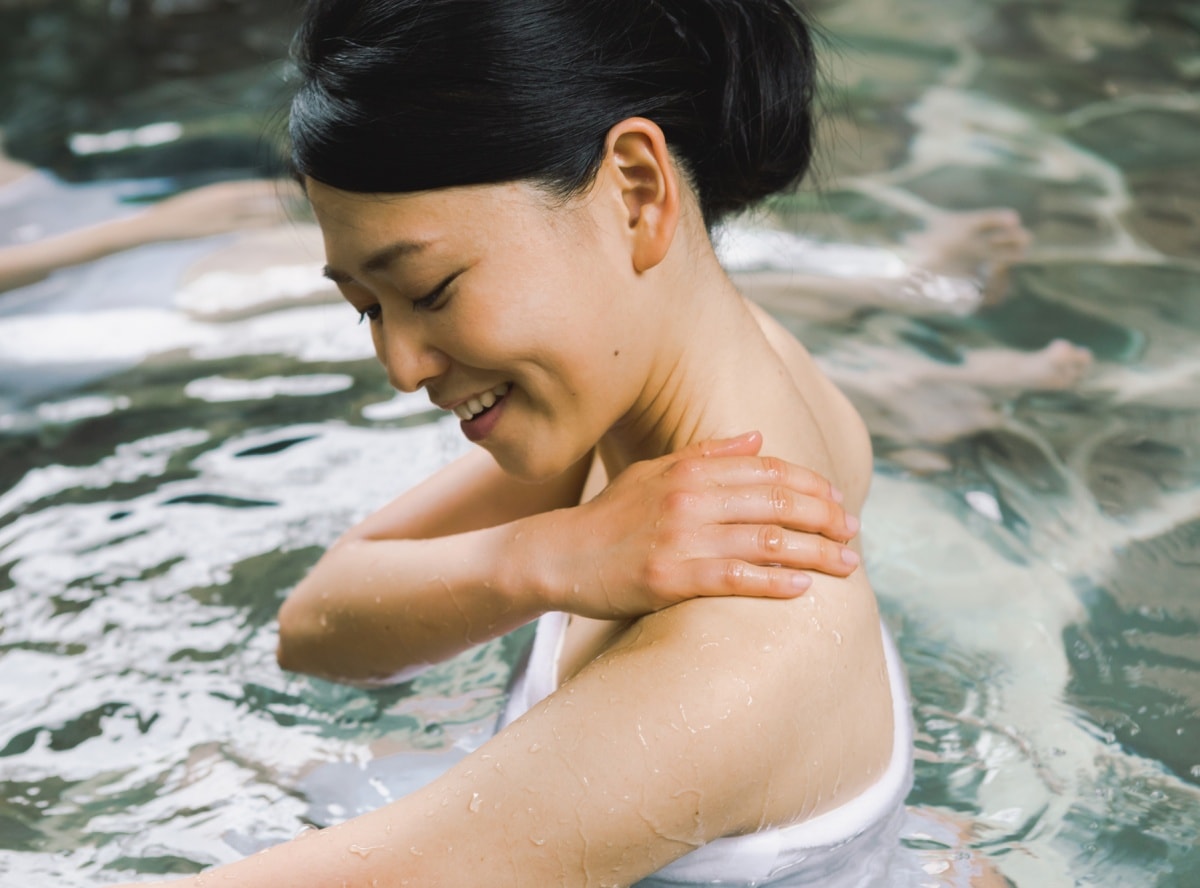 There's nothing better than a relaxing soak while the sky is rumbling outside. No matter where you are in Japan, there's bound to be an onsen hot spring or sento bathhouse. Some places even have super sento, which are similar to a spa resort and sometimes include baths and a sauna. Either way, they're a great place to visit to enjoy a hot bath (as long as you're comfortable getting naked around strangers!). Websites like Onsen Tipster or Nifty Onsen allow you to search for onsen nearby.
2. Indoor Theme Parks & Water Parks
Think a theme park is a bad place to visit during a storm? Think again! Japan has plenty of indoor facilities scattered throughout many major cities, where the only thing thunderous is the sound of laughter. Some examples of parks in Tokyo include Sanrio Puroland (Sanrio's official theme park), Namja Town (one of the biggest indoor gaming facilities), J-World (for fans of Weekly Shonen Jump characters) and Joypolis. Okayama is host to its own Joypolis, Legoland can be found in Nagoya and there are many other theme parks around Japan.

When it comes to indoor water parks, one of the most famous in Japan is Spa Resort Hawaiians, located in Fukushima Prefecture. Although Spa World in Osaka focuses primarily on... well, spas, it also has some fun water attractions.
3. Experience Virtual Reality
Virtual reality (VR) has recently boomed in Japan, and there are several facilities where you can enjoy impressively real games while staying nice and dry indoors. If you're in Tokyo the place to go is VR Zone Shinjuku, followed by VR Park Tokyo in Shibuya. Similar facilities can be found at AEON Lake Town in Saitama, and the Sega VR Area Abeno in Osaka, which focuses on the zombie-shooter Zero Latency.

And if VR isn't your thing but you still love gaming, traditional arcades are still very popular and can be found throughout the country.
4. Bus Tours
If you're a tourist—or a local in a tourist-y mood—why not go for a ride on a loop bus? Such buses can be found in most of Japan's largest cities. Some super cheap examples include Loople in Sendai, City Loop in Kobe, as well as the Kloop and Raku Bus in Kyoto. Tokyo has so many tours and buses that we could go on and on, but some examples include the Metrolink buses in Odaiba, Nihonbashi and Marunouchi, the Asakusa Panda Bus (which is free!) or Hachiko Bus in Shibuya and WE Bus in Shinjuku.
5. Themed Cafés
Pet cafés have been popular for awhile in Japan, and petting a cute animal will surely make any rainy day better. Depending on your location, you might be able to find cats, dogs, rabbits, hedgehogs or even owls and snakes! The cafés also serve food and drinks to enjoy while cuddling, and depending on the area the fees can be based on the time you spend in the shop or a fixed per customer.

When it comes to other themes, big cities like Tokyo have almost too many! From anime and video games to trains or fashion, if you've got an interest there's probably a café that caters to it. They usually offer menu items based on the theme, as well as exclusive licensed goods and great photo opportunities.
6. See a Show
If you're looking for something traditional—or just want to see a show—Japan has a wide variety of rich theater traditions.

Information on kabuki shows in major cities can be found on the Japan Arts Council website, and some locations (like Kabukiza in Tokyo) offer English translations. if you're worried about the cost, remember that some locations offer single-act tickets (called hitomakumi), which can be purchased on the day of the performance—the location might not be prime seating, but the price is right and it beats standing in the rain!
Or maybe you'd like something a little more visceral! If you're a fan of sumo check the Japanese Sumo Association English website for information on tickets and matches. Like kabuki, it's also possible to get same-day tickets for sumo. If the tournament season is over, some practices at sumo stables are also open to the public.

If you happen to be in Tokyo, you can also enjoy a sumo match and filling food at themed restaurants such as Hananomai. They're a great opportunity to try chanko nabe, the hearty hot pot typically enjoyed by the athletes.
7. Traditional Japanese Activities
Japan is making huge efforts to revamp inbound tourism in preparation for the 2020 Olympics, so it's never been easier to get hands-on with some of the country's most prolific traditional activities. Whether it's learning about Japanese calligraphy, arranging beautiful flowers or making your own washi Japanese paper, there's a lifetime of experiences to be had! The Japan National Tourism Organization lists some of these tours, and also has a list of suggested tour operators. It's important to note that many of these tours must be booked in advance, so remember to check the weather forecast!

If you're in Tokyo, consider visiting Urasando Garden, a small retro-mall where you can learn how to make matcha and incense. Or sample over 100 (!!!) types of sake at Kurand.
8. Sing Your Heart Out at Karaoke
This should come as no surprise—it had to be on our list! Karaoke is a very Japanese activity and can be enjoyed anywhere, whether alone or with friends. Time to break out your version of "Singing in the Rain" and "It's Raining Men!"

Karaoke chains present in major Japanese cities include Karaoke-kan, Utahiroba, Big Echo and more. Among these, Utahiroba is the cheapest, but Big Echo is the only one with an English website.

If you prefer to practice in private, you're in luck! Check out 1kara (available in Tokyo and Osaka), which was made specifically for those who like to monopolize the microphone.
9. Take Photos with Purikura
This is another activity that can be enjoyed basically everywhere in Japan. Purikura photo booths are cheap (around ¥400 per photo session), which is a small price to pay to transform yourself into a kawaii alien with oversized eyes and super skinny legs standing in front of a blindingly colorful background! Plus, if it's not crowded, you can edit and decorate your pictures to your heart's content. You can find purikura machines in dedicated facilities or in most game centers—some places will even offer costumes, wigs and other props that you can use while taking pictures.

Please be aware that in some locations men might not be allowed to enter the purikura booths alone, for safety reasons. Guess it's time to ask that girl out for a purikura date!
10. Stay Home!
While this might not be possible if you're a tourist, if you're a local you might as well stay home and wait for the weather to get better. Watch a movie or anime on Netflix, Hulu or Amazon Prime Video, do some online shopping on sites like Rakuten, order some take away with the newly launched Uber Eats and just chill until the sun comes back. What better way to recharge your batteries?
Bonus: Play and Escape in Tokyo!
You can escape the weather, but can you escape the room? The Real Escape Game in Asakusa and Shinjuku offers various real-life gaming activities, including some that can be played inside. Will you be able to escape a locked room or stealth your way through the corridors? This may be the perfect indoor activity for rainy days! Tickets can be purchased up to the day of the event, but they sell out fast.

For those who like more traditional tabletop games, remember that Tokyo is also home to many board games cafes, like Jelly Jelly Café, Dear Spiele and Game Bar Glueck.