Get Your Fill of Food & Games at Namja Town
What Is Namja Town?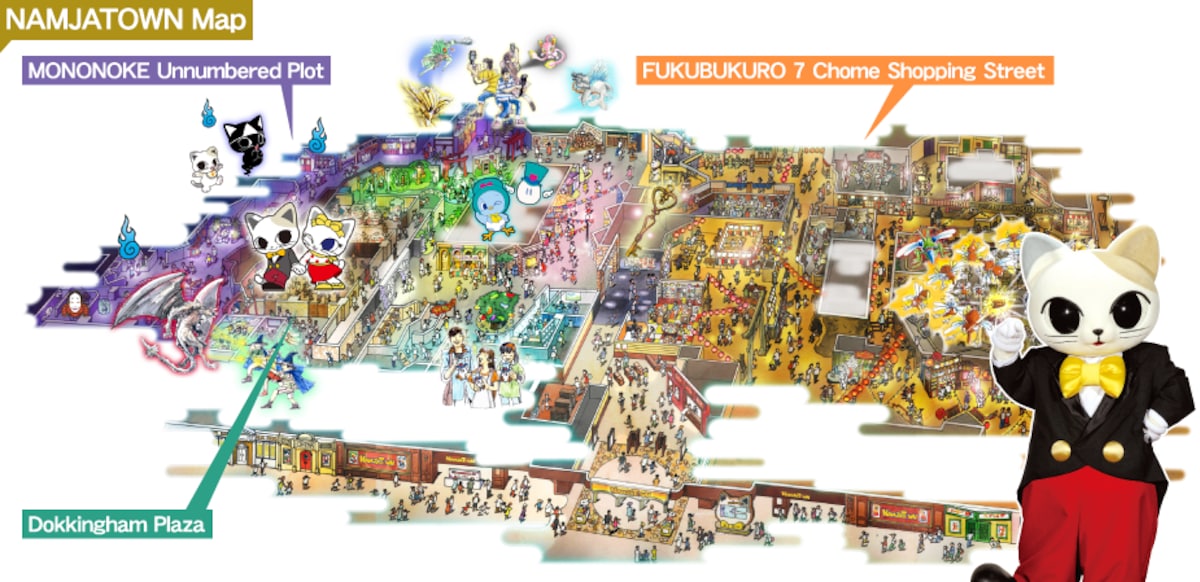 Namja Town is an indoor theme park located within Sunshine City Ikebukuro, in the heart of Tokyo. As the name suggests, the park opened in 1996 by the Japanese video game company Namco, but it's unrelated to the firm's video games. Namco did release some Namja-themed games, but only after building the park.

Being indoors, Namja Town is perfect for those rainy days in Tokyo. But what can you exactly do there? Namja doesn't have a specific theme. A lot of people who visit it describe it as "weird." In general, the two things to do there are playing and eating!
Playing in Namja Town
For the "playing" part of the theme park, Namja Town offers an array of various mini-games that are fun for kids and kids at heart alike. Visitors might notice that lots of the props are cat-shaped. This is due to one of the mascots of Namja Town, Najavu, who happens to be a white cat. You might be able to meet Najavu or his female companion, Najamy, at the entrance.

It's not surprising to find a game dedicated to one of the most common off-time activities in Japan: fishing. In "Najavu's Intense Fishing Spirits," you're offered a virtual fishing rod and the challenge to catch a legendary giant fish. Namja Town also offers other point-and-shoot games with various settings, from zombie to sci-fi worlds.
Eating in Namja Town
Many people actually come to Namja Town just for the food. For the "eating" part of our guide, the two things you cannot miss are the Gyoza Stadium and the Ice Cream Shop. The Gyoza Stadium is a food court but it is built to look like an old, narrow, dark Japanese neighborhood. Here you can find gyoza, a meat dumpling imported from China, from all over Japan, including the nearby Yokohama Chinatown and places farther out like Utsunomiya. You can even try a kind of gyoza available only in Namja Town: the Zenkoku Tarekurabe Gyoza. Prices start from around ¥370 for a tray with three or four pieces. For those with dietary restrictions, keep in mind that most gyoza are pork based.
Mini Attractions
Another section is dedicated to a haunted village, with several mini-games you can play in the area. One example is the "Mononoke Hunter" which is another "fishing" game, but this time you are out to catch the more obscure UMM (Unidentified Mysterious Mononoke). You can also head to "Hell's Toilet" to listen to a few scary stories.

Given the number of mini-attractions, it's impossible to list them all, but you can get a feel for the atmosphere by checking out the Namja Town's English Guide. The great news is most attractions offer some instruction in English!
Ice Cream Shop
The Ice Cream Shop offers more than 30 varieties of ice cream. For around ¥600, you can get one plate with six different options to try out. The shop offers regular flavors such as vanilla, but also typical Japanese flavors such as Aomori apple and stranger ones like basil and avocado milk. Whether you're traditional or adventurous, you cannot skip The Ice Cream Shop if you go to Namja Town.

Other desserts are also available in the Fukubukuro Dessert Yokocho area. You can find cute cakes, luscious pancakes, cat-shaped crepes, alpaca-shaped Italian gelato and much more.
Shopping in Namja Town
If you liked Namja Town enough to buy a souvenir, the park also has its own goods shop. You can find all kind of goods, from keyholders and plushies to boxes of cookies decorated with Namja's mascots. There is also an array of gyoza-flavored goods, such as the gyoza-flavored chips and gyoza seasoning.

Most international credit cards (VISA, Mastercard, JCB, American Express, etc.) are accepted in the shop.
Access, Hours & Ticket Information
Hours
Namja Town is normally open from 10 a.m. to 10 p.m., with the last admission at 9 p.m. and the last order for most restaurants at 9.30 p.m. It's open all year, but you may want to check the official website to confirm any possible closing days.

Tickets
There are various types of tickets available at Namja Town. One option is to pay for the entry and then pay a fee for each attraction. This is the best choice for those who are more interested in eating than playing the games. The Namja Town admission ticket is ¥500 for adults and ¥300 for children aged 4-11 (children under the age of 3 enter for free).

For those who want unlimited access to all attractions, we recommend the Namja Passport which costs ¥3,500 (US$31.81) for adults and ¥2,800 (US$25.45) for children. The Namja Passport also has a "night version," usable from 5 p.m. to 10 p.m., which costs ¥2,800 for adults and ¥1,500 (US$13.64) for children.

You can also get a yearly passport, which costs ¥23,000 (US$209) for adults and ¥15,000 (US$136) for children. For last minute guests, tickets can be bought on the day at the park.

Access
Namja Town is located inside the Sunshine City complex, on the second floor of the Import Mart building, in Ikebukuro. Ikebukuro Station can be reached by train by the JR Yamanote line, a large number of private train lines (for example, the Seibu Ikebukuro Line), and several Tokyo Metro Lines (for example Fukutoshin and Yurakucho). Sunshine City also has parking spaces if you happen to be coming by car.

To find out how to get to Sunshine City from Ikebukuro Station, consult the Sunshine City official website here.