10 Beautiful Snow-Themed Japanese 'Ukiyo-e'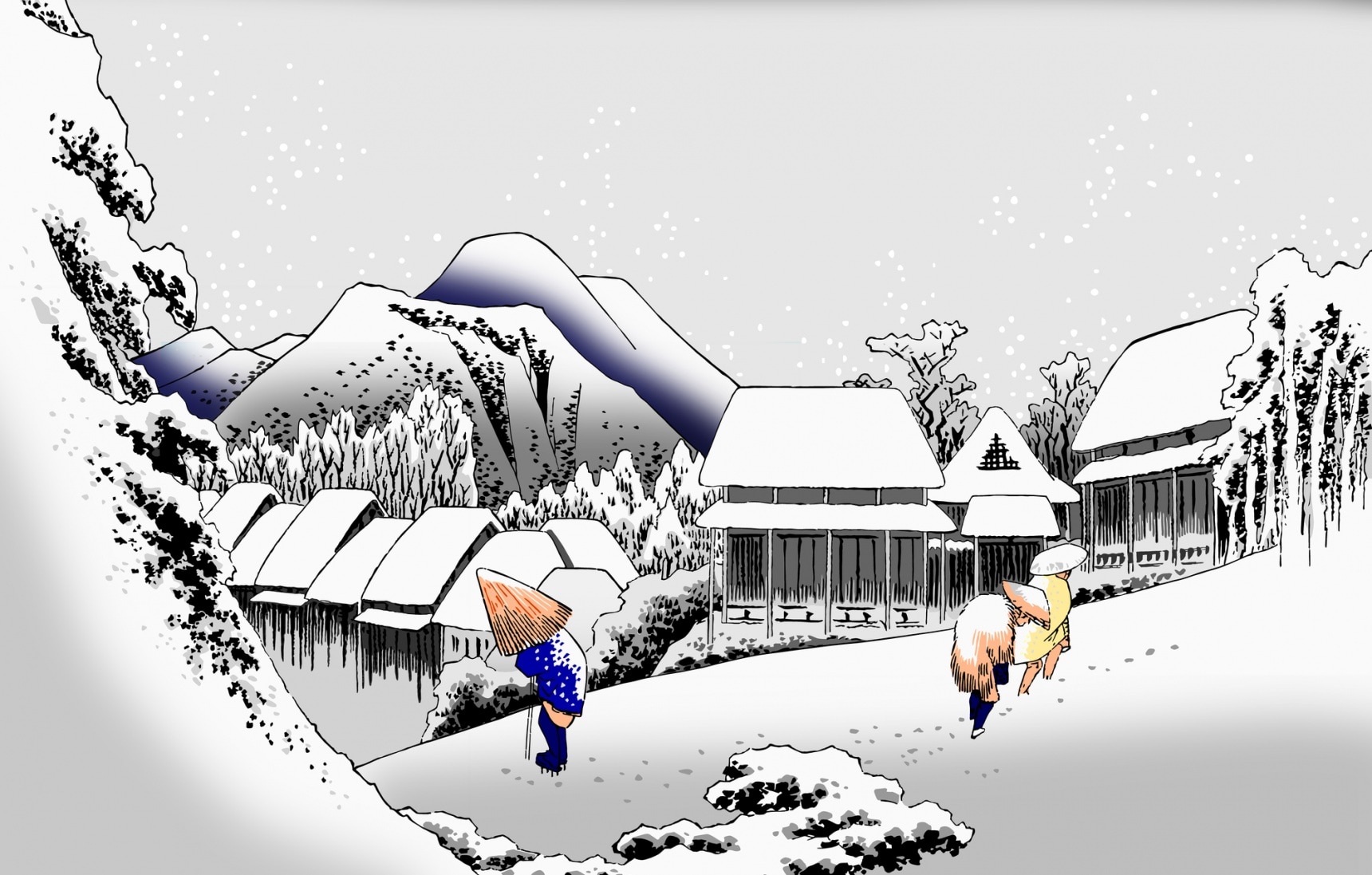 Ukiyo-e (a term that translates as "pictures of the floating world") is a genre of Japanese art in which artists produced woodblock prints and paintings, usually depicting female figures and the social life of Tokyo during the Edo Period (1603-1868), but also scenes from legends, flora, fauna and landscapes.
1. Snow in Fukagawa (深川の雪, Fukagawa no Yuki)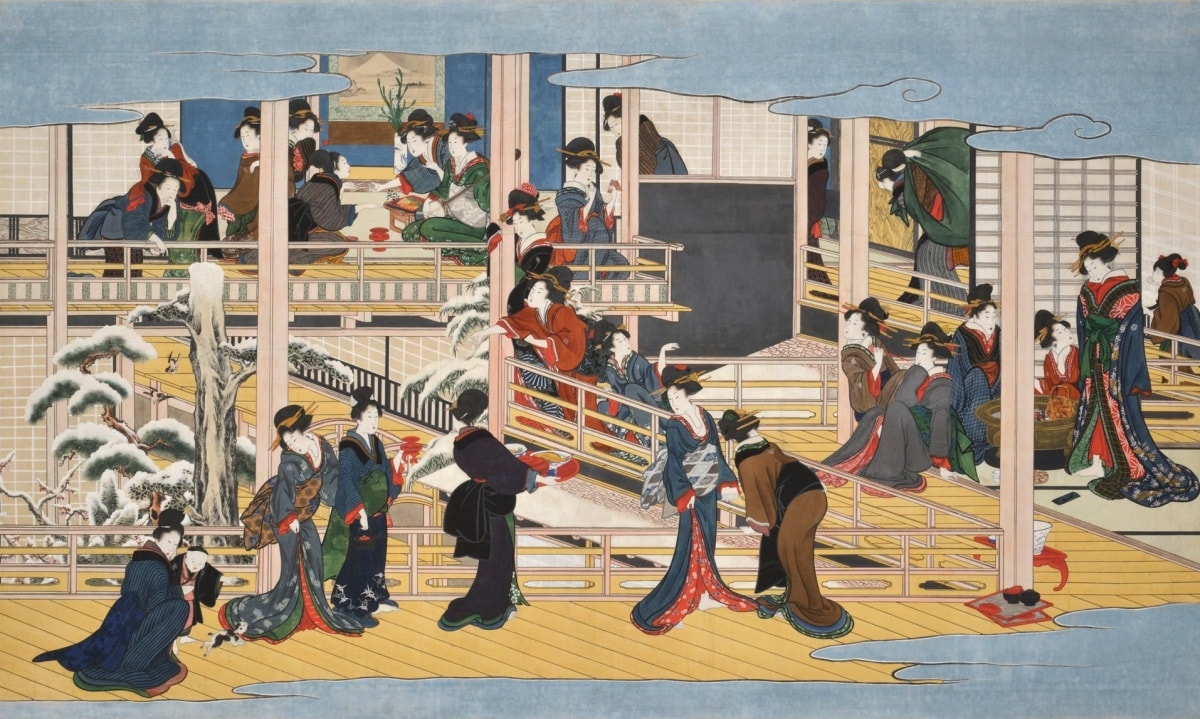 Utamaro Kitagawa was famous for his illustrations of Edo (the former name for Tokyo) women and pleasure quarters, depicted in his shun-ga (erotic ukiyo-e) and bijin-ga (beauty portraits). Among his most famous works was a tryptic called Snow, Moon and Flowers (circa 1802-06), which he painted shortly before dying. This particular painting, Snow in Fukugawa, depicts a regular day in one of the brothels of Edo. While the trees outside are covered in snow, the ladies in the painting are going about their daily routine: some are putting on makeup, some are playing instruments and dancing, some are joyfully chatting. The scene is full of movement, yet it still feels relaxed. Aside from its beauty, this painting is extra special because of its history.

The tryptic was kept together until 1879 when the paintings were dispersed in various directions across Japan. The Snow painting became part of a private collection and was last seen in 1948, then mysteriously disappeared. That is until 2014 when the Okada Museum of Art startled everyone by announcing they had found and reclaimed the painting. The tryptic can now be seen in all its beauty at the museum.
2. Drum Bridge at Meguro & Sunset Hill (目黒太鼓橋夕日の岡, Meguro Daikobashi Yuhi no Oka)
Utagawa Hiroshige is mostly known for his paintings coming in series, for example, the "One Hundred Famous Views of Edo" (名所江戸百景, Meisho Edo Hyakkei) or the "Fifty-Three Stations of the Tokaido" (東海道五十三次, Toukaidou Gojuusan-tsugi). He was among the painters who established landscape as a theme for ukiyo-e (called fukei-ga).

Drum Bridge at Meguro and Sunset Hill (1857) is one of his most famous paintings, and it depicts a snowy day. The bridge itself was one of the few arched, stone bridges in Edo, and the artist captured a tranquil yet somewhat lonesome moment with a few people walking along the bridge. Many more paintings by Hiroshige include snow, including Fukagawa Lumberyards ( 深川木場, Fukagawa Kiba; seen at the beginning of this article), Nihonbashi: Clearing after Snow (日本橋雪晴, Nihonbashi Yukibare), Bikuni Bridge in Snow (びくにはし雪中, Bikunihashi Setchuu) and Kanbara (蒲原).
3. Morning After Snowfall at Koishikawa (礫川雪の旦, Koishikawa Yuki no Ashita)
Hokusai is one of the most famous and prolific painters of his era, and his works have inspired many Western painters, such as Monet and Van Gogh. Most of our readers will have seen the well-known Hokusai painting depicting sea waves in Kanagawa; this painting is part of the same collection, "Thirty-six Views of Mount Fuji" (富嶽三十六景, Fugaku Sanjuurokkei). The paintings in the collection have in common the presence of the iconic mountain, seen from different locations and perspectives. While we can see Mount Fuji in Morning After Snowfall at Koishikawa (1832), but our attention is stolen by the restaurant on the left, where people are enjoying their meal while looking at the view and at the birds flying in the clear sky.
4. Snow at Shiba Daimon Gate (芝大門の雪, Shiba Daimon no Yuki)
Kawase Hasui, considered as one of the major painters of the 20th century, is famous for his landscape paintings, which often depict snow. His Zojo Temple in the Snow has been recognized by the Japanese government's Committee for the Preservation of Intangible Cultural Heritage as an Intangible Cultural Treasure. While snow abounds in his artwork, covering temples (like in Saishoin Temple in Hirosaki) or roads (like in Snow at Tsukijima), Snow at Daimon Gate (circa 1936) is especially interesting for the presence of something we don't often see in ukiyo-e: a car. Having lived from 1883 to 1957, Hasui surely witnessed many technological changes in his lifetime, and some made it into his art. Unfortunately, during the earthquake of 1923 all his woodblocks were destroyed; still, many of his paintings have survived thanks to prints.
5. Amusements of the First Snowfall (初雪の戯遊, Hatsuyuki no Giyu)
Kuniyoshi Utagawa (1797-1861) is mostly remembered for his portrayal of samurai and legendary heroes, which made his series "108 Heroes of the Suikoden" (通俗水滸傳濠傑百八人, Tsuuzoku Suikoden Gouketsu Hyaku-Hachi Nin no Hitori) very famous. However, he also painted many landscapes and bijin-ga and was also a cat lover who often painted cats in his works. Amusements of the First Snowfall (circa 1850) is an example of his works featuring cats and whimsy. This tryptic displays court ladies showing a giant snow cat to the young prince after the first snow of the year.
6. A Group of Herons in the Snow (雪中白鷺, Secchu Gunro)
Koson Ohara was part of the shin-hanga (new prints) movement, which took place in Japan in the early part of the 20th century and aimed at revitalizing traditional ukiyo-eart and the traditional way of producing it. Artists of the movement often incorporated in their paintings elements typical of Western art, for example, the effect of lighting and shading, but mostly focused on Japanese themes such as bijin-ga, landscapes and birds-and-flowers (kachou-e). Ohara, in particular, often painted under this theme, and we can admire his attention to detail—like feathers and shading—as seen in this 1927 artwork.
7. Miyajima in Snow (雪の宮島, Yuki no Miyajima)
Like Ohara, Koitsu Tsuchiya also belonged to the shin-hanga movement. Trained by Kobayashi Kiyochika—who was known for his military-themed paintings—Tsuchiya also depicted war scenes early in his career but decided to mostly focus on landscapes later on. Many of his works depict snowy landscapes and Miyajima in Snow (1936) is among his masterpieces thanks to the great attention given to the reflection of snow and the landscape on the water.
8. Kaiun Bridge & First National Bank (海運橋第一国立銀行, Kaiunbashi Kokuritsu Dai-Ichi Ginko)
And since the student learned from the master, here you can admire Kiyochika Kobayashi's calm, crisp snowy landscape, painted in 1878, where the perfect circle of the woman's umbrella virtually becomes the center of the composition.
9. A Bamboo in the Shrine (神の竹, Jin no Take)
Takeji Asano is the most contemporary of the painters on this list as he was born in 1900 and died in 1999. He became famous in the 1930s for his paintings depicting views of Kyoto and Osaka—many of which included snow. One element that seems to appear quite often in his painting is the use of vivid colors: as the red of the temple pops up in the snowy scene of Snow in Kamigamo Shrine, Kyoto (Kamigamo Jinja Yuki). In the painting above, A Bamboo in the Shrine (1953), the deep blue of the woman's umbrella and her bright clothing immediately catch our attention.
10. Akabane Bridge at Shiba in the Snow (芝赤羽はしの雪中, Shiba Akabane Hashi no Secchu)
While ukiyo-e mostly depicted beauty, some of them were also downright fun and portrayed the daily mishaps that also accompanied life in Edo. In January 2017, an exhibition of such ukiyo-e took place in Tokyo at the Ota Memorial Museum of Art under the title "Comical Edo People by Utagawa Hirokage." The exhibition featured 50 paintings by the artist belonging to the series "Comical Views of Famous Places in Edo" (江戸名所道化尽, Edo Meisho Douke Zukushi). The scene depicted in Utagawa Hirokage's Akabane Bridge at Shiba in the Snow (1859) clearly shows a poor passerby slipping in the snow, reminding us all that as much as snow makes a pretty painting, it can also be dangerous!