Japan's Top 12 Amusement Parks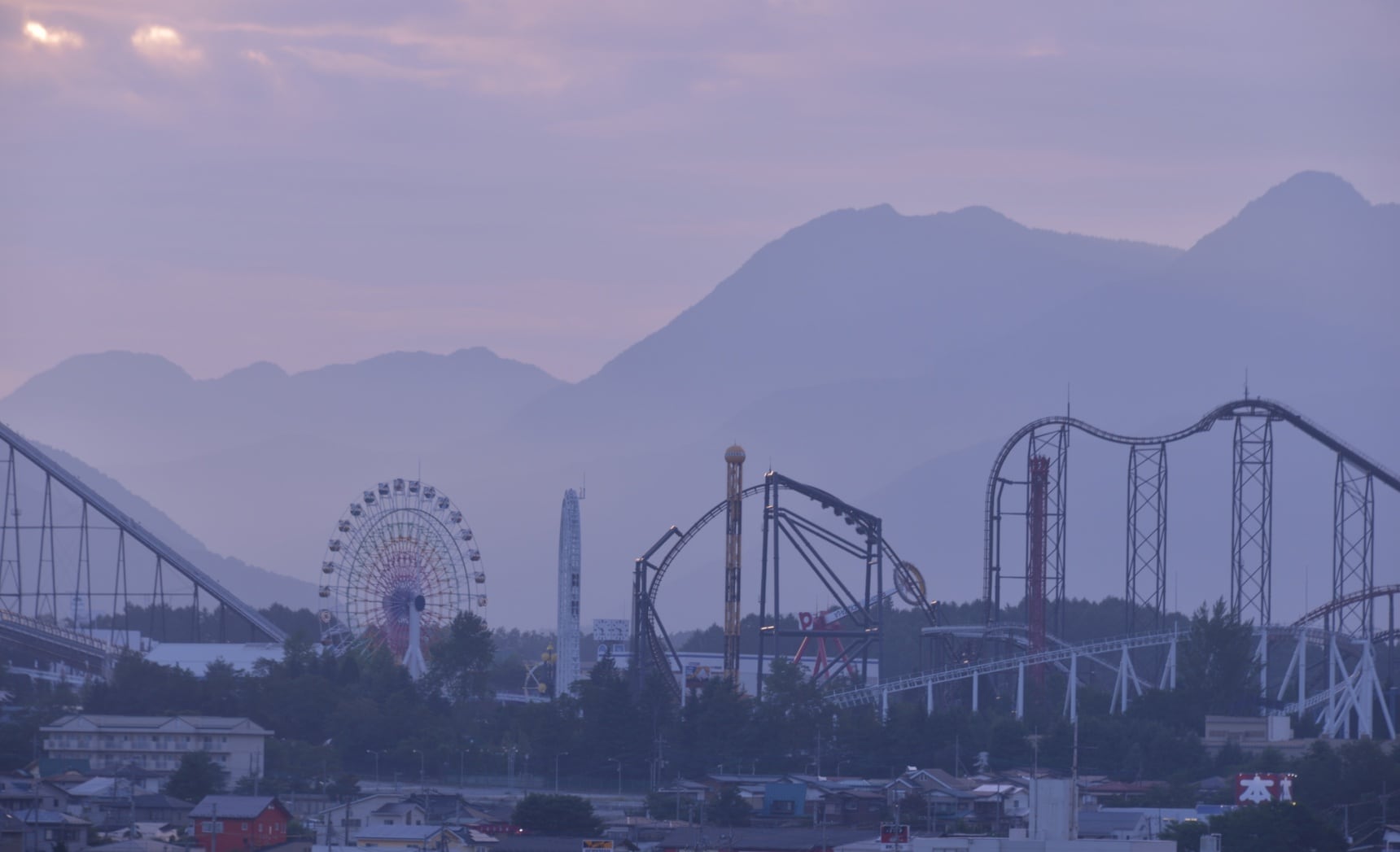 Japan has a huge number of amusement parks spread across the country. Some feature modern rides, while others are built around historical experiences. But which are the best to visit? Below we've compiled the Top 12 amusement parks in Japan, as ranked by users on Japan-Guide.com.
12. Yokohama Hakkeijima Sea Paradise (Kanagawa)
Yokohama Hakkeijima Sea Paradise is located on a man-made island halfway between Yokohama and Yokosuka. Its Aqua Museum area is one of Japan's largest aquariums, with over 100,000 sea creatures across 500 different species, including the ever-popular whale shark. You can also walk through a tunnel to see dolphins from below in the Dolphin Fantasy area, and interact with sea creatures at the Fureai Lagoon.

The park's Pleasure Land area offers a dozen rides, including the Leviathan "Surf Coaster," which extends out over the water. Other rides include the Blue Fall drop tower and the Aqua Ride II water adventure ride.
11. Huis Ten Bosch (Nagasaki)
Opened in 1992, Huis Ten Bosch is named after one of the residences of the Dutch royal family. It features reproductions of traditional European streets and houses, with a particular focus on Dutch architecture.

While there are mazes, gondola tours, a Ferris wheel and laser tag, many of the attractions here are seasonal. With an area of some 1.5 million square meters (375 acres), the park is particularly known for its expansive flower displays, seasonal illumination and epic New Year's fireworks shows. You'll also find the weird, robot-serviced Hen-na Hotel on the premises.

Don't be thrown off by the name: in Japan, it's pronounced "haus-ten-boss" (ハウステンボス).
10. Tobu World Square (Tochigi)
Opened in 1993 at a cost of some ¥14 billion (US$126 million), Tobu World Square features 102 reproductions of famous buildings from around the world, including 45 World Heritage Sites. They've all been reproduced at 1/25 scale, down to cars, trains and miniature people, making for impressive photos when taken from the right angle.

The park has six zones: Japan, Modern Japan, Asia, America, Egypt and Europe. You can see Himeji Castle and the temples of Kyoto along with the Giza pyramid complex, the Great Wall of China, St. Peter's Basilica, the Eiffel Tower, the Statue of Liberty and more—even a miniature reproduction of part of Narita Airport! The park also includes prayer rooms, Wudu space and non-pork, non-alcohol menu options for Muslim tourists.

When you're done, located just 2 kilometers (1.2 miles) to the north, Kinugawa Onsen is great place for a hot spring soak while you're in the area!
9. Edo Wonderland Nikko Edomura (Tochigi)
Nikko Edomura reproduces the life and culture of the Edo Period (1603-1868)—embellished with a bit more ninja action than you'd probably have seen in real life. You can amble through gates and under wooden watch towers as you experience period streets lined with inns and restaurants, as well as a samurai residential area and a ninja village.

The six theaters offer ninja shows, oiran (courtesan) displays and more, while kids can sign up for a "work experience" as a ninja, police officer or member of the Shinsen-gumi samurai group. Adults can also don various costumes, from ninja and samurai to princess and geisha—but expect the park staff to interact with you accordingly, which is part of the fun! Naturally, you can also practice throwing ninja stars on the premises.
8. Toei Kyoto Studio Park (Kyoto)
Located toward Kyoto's western Arashiyama area, Toei Kyoto Studio Park (known in Japanese as Toei Uzumasa Eigamura) is actually used for filming various Toei period movies and TV series. In fact, if filming is taking place, guests are often invited to watch!

Much like Nikko Edomura, the park includes reproductions of Edo Period street scenes populated by in-character staff, and you can dress up as a period character with the help of professional makeup artists and costume specialists. You can also explore exhibitions about popular series, watch sword fighting shows and even take sword fighting classes! You'll also find a maze, a 3-D theater, a haunted house and a handful of other attractions—including Hero Land, where you can see Kamen Rider and Super Sentai, the latter better known as Power Rangers in the U.S.
7. Spa Resort Hawaiians (Fukushima)
This Hawaiian-themed resort was first opened back in 1966. Here you'll find two themed hot spring areas, a water park, hotels and a golf course.

The Edo-themed hot spring area includes the Guinness-certified open-air bath with the largest area in the world. The modern water park area is set in a dome kept at a balmy 28 degrees Celsius (82°F) all year round, featuring pools and water slides. Naturally, you can see a hula dance show every night, performed by the well-known Hula Girls.
6. Museum Meiji-Mura (Aichi)
Japan's Meiji Period (1868-1912) saw the nation's rapid Westernization, and the period's brick and wood architecture was a unique blend of East and West. However, many of these structures have been lost both to age and to the destruction wrought by war and natural disasters in the 20th century.

Opened in 1965, Museum Meiji-Mura, or Meiji Village, consists of nearly 70 historical structures relocated from across Japan to preserve them from destruction. 10 of the structures have been designated Important Cultural Properties, including the Sapporo Telephone Exchange and Kyoto's St. John's Church. On the park's 1 million-square-meter area (247 acres), you'll also find Meiji houses such as that of famed author Natsume Soseki, the main entrance and lobby of the Frank Lloyd Wright-designed Imperial Hotel in Tokyo, the Miyazu District Court and St. Francis Xavier's Cathedral from Kyoto, as well as other churches, schools, district offices, breweries, lighthouses and more. Two railways even run through the village, operating Meiji Period streetcars and steam locomotives.

Museum Meiji-Mura is one of the most-visited open-air museums in Japan. Its structures are often used as sets for period dramas and movies. It's located in Inuyama, which is one hour outside of Nagoya. While the museum itself offers more than enough for a day's diversion, if you need more, just 10 kilometers to the northwest stands Inuyama Castle, one of the oldest original castles still standing in Japan.
5. Nagashima Resort (Mie)
Nagashima Resort is located on an island on the southern outskirts of Nagoya, just across the border in Mie Prefecture. The massive resort actually comprises five facilities: Nagashima Spa Land amusement park and water park (the water park is only open in the summer), the Yuami-no-Shima hot spring area, Mitsui Outlet Park outlet shopping mall, the Anpanman Children's Museum amusement park, and a flower park called Nabana-no-Sato.

One of the most-visited amusement parks in the world, Nagashima Spa Land features over 50 rides, including a dozen different roller coasters. Steel Dragon 2000 is the longest steel roller coaster in the world, and spans the entire park with its 2,479-meter (8,133 ft) length.
4. Fuji-Q Highland (Yamanashi)
Fuji-Q Highland is located at the foot of Mount Fuji in the Fuji Five Lakes resort area. While it has less rides than Nagashima Spa Land, the offerings are top-notch, including four incredible coasters: the Dodonpa, opened in 2001, an air-launched roller coaster that travels at 172 kilometers per hour (107 mph); Eejanaika (2006), a "fourth-dimension" coaster that has seats that rotate independently of the movement of the car; Takabisha (2011), which has an insane 121-degree drop; and the signature Fujiyama, which, at 79 meters (159 ft), was the world's tallest roller coaster when it opened in 1996, and still offers an incredible view of the park and Mount Fuji on a clear day.

If you're looking for different thrills, the park's haunted house is also the stuff of legend. And if you'd like something for little ones, Thomas Land offers a number of rides geared for kids. To access the park from Tokyo, you can get package bus deals out of Shinjuku Station. But watch out: you can expect to spend a lot of time in line on a weekend!
3. Universal Studios Japan (Osaka)
Opened on March 31, 2001, Universal Studios Japan (USJ) was the first Universal Studios theme park built in Asia. As of 2015, it was the most-visited theme park in Japan after Tokyo Disneyland, though it's in a close contest with Tokyo DisneySea.

The park's various movie-themed attractions include the Amazing Adventures of Spider-Man "4K3D" ride, a Jaws boat tour, Jurassic Park – The Ride and The Flying Dinosaur, a "flying" roller coaster opened in March 2016. You'll also find two more roller coasters and a few other rides in addition to Snoopy Studios, Sesame Street Fun World, Hello Kitty Fashion Avenue and the expansive Wizarding World of Harry Potter area.

Universal Studios Japan is about 15 minutes from Osaka Station on the JR Sakurajima Line (also known as the Yumesaki Line).
2. Tokyo Disneyland (Chiba)
Tokyo Disneyland is the third-most-visited theme park in the world after Disney's two U.S. parks—though it trades places with Disneyland in California depending on the year.

Tokyo Disneyland was opened in 1983, making it the first Disney park built outside the U.S. It's divided into seven themed areas, the largest being Adventureland, Westernland, Fantasyland and Tomorrowland, and includes classic rides such as Pirates of the Caribbean, the Haunted Mansion, Big Thunder Mountain and Space Mountain, plus newer offerings like Star Tours and Buzz Lightyear's Astro Blasters. You'll also find the requisite parades, shopping and immersive experiences, as well as nearly nightly fireworks.

Despite the name, the park is actually located just outside Tokyo in Chiba Prefecture. With the huge crowds—the park can actually sell out!—it's best to buy tickets in advance and make careful use of the Fastpass system and waiting time apps to minimize your time in line. For details, check our guide to doing Disney like a pro!
1. Tokyo DisneySea (Chiba)
Opened on September 4, 2001, Tokyo DisneySea set the record as the fastest theme park to reach 10 million visitors (307 days), beating by 31 days the record set by Universal Studios Japan earlier that same year.

DisneySea is a more "mature" variant on the Disney concept, featuring seven sea-themed areas: Mediterranean Harbor, Mysterious Island, Mermaid Lagoon, Arabian Coast, Lost River Delta, Port Discovery and American Waterfront. At 71 hectares (176 acres), the park is larger than Tokyo Disneyland's 47 hectares (115 acres), but feels smaller since much of the area is taken up by water, making it feel more intimate and navigable (note that Disney World in Florida is a massive 11,031 hectares/27,258 acres).

However, less land area also means less rides overall, with the major attractions being the Tower of Terror, Indiana Jones Adventure, 20,000 Leagues Under the Sea and Journey to the Center of the Earth. Rather than lining up for rides, you'll spend more time on the food (and alcohol!) and soaking up the general experience.

The park is adjacent to Tokyo Disneyland, and is accessed from the same station (Maihama Station on the Keiyo and Musashino Lines). The same ticket procedure applies—but be aware that tickets for the two parks are sold separately unless you get a multi-day pass.