5 Weird & Wonderful Tokyo Cafés
5. Hogurest Café — Foot Spa Café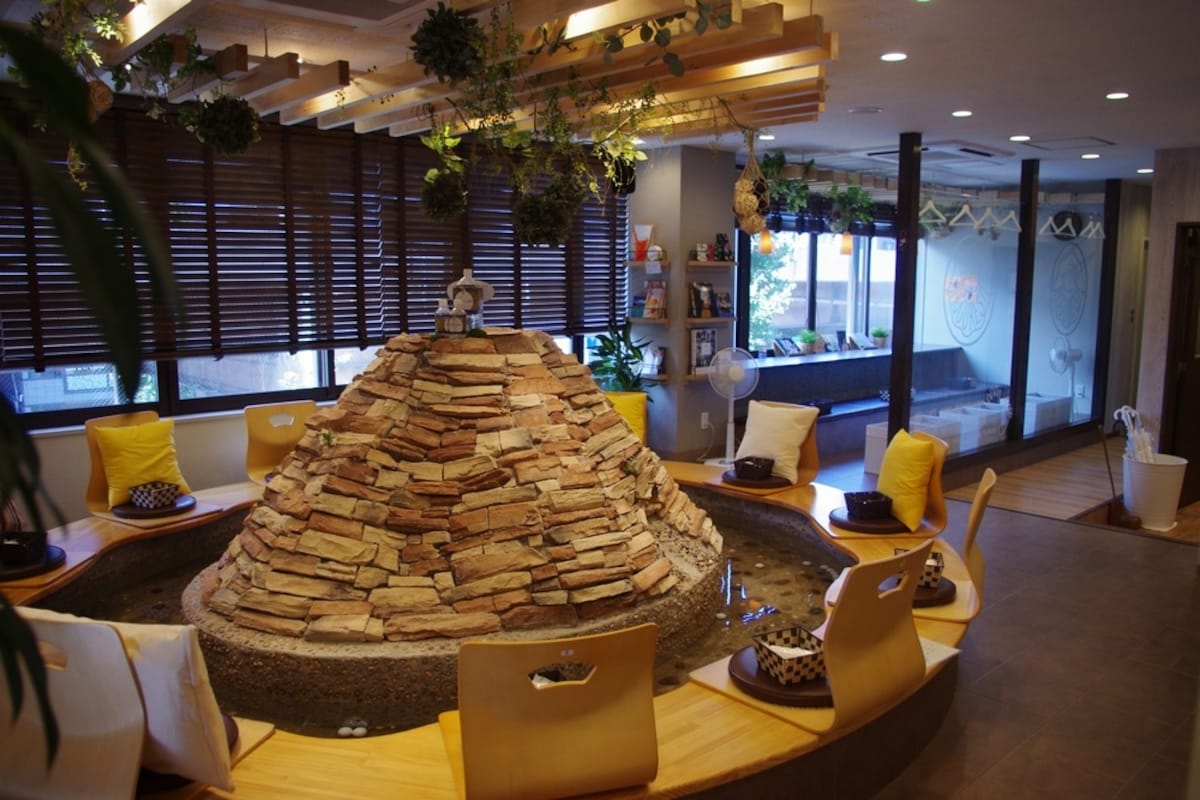 In many onsen towns around Japan you can find public foot baths where you can stop, sit down and soak your weary feet. Hogurest Café, in Tokyo's Taito Ward, takes this concept to another level by allowing you to relax in comfort by plunging your feet into hot, mineral-laden water as you sip your hot beverage of choice. The hot water is said to relieve stress and improve circulation, which is perfect for calming first-date nerves or forgetting the constant barrage of noise and lights that is the Japanese capital.
4. Fab Café — Design & Create Café
It's also possible to put that creativity to work on your café experience as customers can design and make their own stencils, one use of which is to produce stunning cocoa powder designs on drinks, or by using the cafe's specialist food laser cutter to etch designs onto macaroons. Fab Café's workshops for new visitors also include how to make items like hand mirrors, phone cases, wooden stamps and tote bags.
3. Mishin Sewing Machine Café
Perhaps you'd rather be making, or repairing, clothes while you chat and drink to your potential amour. In which case, you can show off your design flair and dexterous thimble use at a sewing machine café in Tokyo's Setagaya Ward. The walls are covered in threads of assorted colors for you to embroider whatever you like; a perfect memento of the time you took your date to a sewing machine café.
2. Catch & Eat
As the summer draws slowly to an end, the chances to go and sit by a lake fishing and barbecuing disappear. But what if you could fish in any weather, unperturbed by insects and while sipping on a cup of coffee? The Catch-and-Eat café in Tokyo allows you to do this.
Surely both men and women admire a partner who can provide for their families, so show off your hunter-gatherer skills by gripping your tiny fishing rod and doing battle. After inevitably catching a mighty haul, the staff will then batter and deep fry your fishy trophies for you to eat.
1. Harry Café — Hedgehog Café
Harry Café, in Roppongi, (which we've reviewed before) is named after the Japanese word for hedgehog: harinezumi (which literally, and adorably, translates to "needle mouse"). Like its cat, dog and owl counterparts, the hedgehog cafe allows you to sit amongst hedgehogs, where you can touch and pet them to your heart's content. Should you, or your date, fall in love with a particular hedgehog, you can even choose to take them home as they are all available to buy, with the café staff providing information on how to care for your new pet.

For a list of the cafés' websites and their locations be sure to read the full story from Rocket News 24.