The 6 Weirdest Cafés in Tokyo
6. N3331 (Manseibashi Station, Kanda)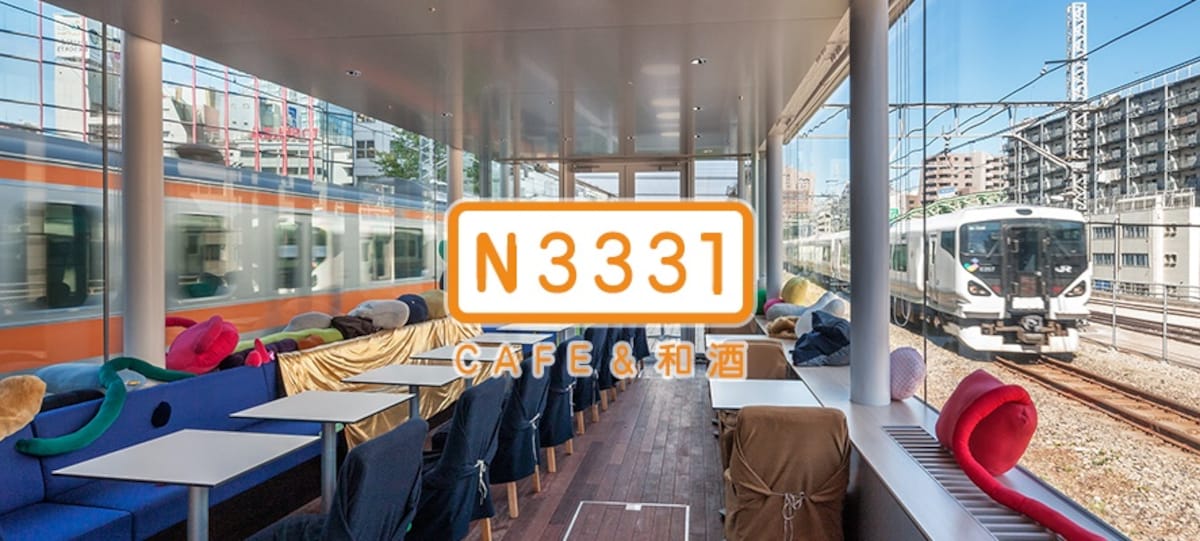 If you're on the hunt for a café that offers hearty comfort food and a unique environment, look no further than N3331. Located between the inbound and outbound tracks of the Chuo Line on the repurposed site of the defunct Manseibashi Station just a five-minute walk from Akihabara Station's Electric City exit, N3331 provides its patrons a train otaku's dream: densely packed trains gliding by at regular intervals.

Although the prized table that gives customers a panoramic look at the tracks is hard to lock down, the glass walls of the establishment ensure that no matter where you're seated, you'll be able to enjoy the view. With most menu items modestly priced between ¥500 and ¥1,000 (including booze!), it's the perfect place for a date that won't break your bank. Just be sure to turn off your flash if you plan on taking photos—you wouldn't want to cause an accident!
5. Vampire Café (Ginza)
One of the best things about going to a café in Japan is how thoroughly some commit to their respective themes, and that is certainly true of Ginza's Vampire Café. Despite the fact that it's located on the seventh floor of a building that has very little signage indicating that the eatery is even there, once inside you'll experience a café unlike any other.

As its name implies, Vampire Café's décor is baroque and feels ominous. Butlers and maids escort visitors to their seats, and the dimly-lit booths and throne-themed seating make it easy to feel like a count in a keep (the main page of the website, in Japanese, offers information about the venue under the "Castle Info" tab).

The food and drinks aren't quite as beautifully grotesque as those in the American TV thriller Hannibal, but they are decidedly dark and look as delicious as they do macabre. While menu items start at ¥500, the Vampire Café offers course menus for those with a Dracula-sized appetite, and staff are even kind enough to sing you a song on your birthday.
4. Aiseki Café (Ginza)
Aiseki Café, another café in Ginza, is perfect for those looking to meet that special someone or broaden their social horizons. The term aiseki refers to the concept of a blind date or sitting with someone you don't know, and the café's adaptation of this concept is a clever riff on speed dating. After filling out some paperwork regarding interests (and to make sure you're on the level), guests are sat down at a table for two with coffee, cakes and an iPad. After all, what better way to hit it off than through the wonders of technology?

The goal here is innocent enough: once you feel a spark between you and your tablemate, you exchange phone numbers. If you're not lucky enough to find your perfect match (or in the worst-case scenario, find your dining partner unappealing), you only have to endure 30 minutes before rotating to another partner. While most speed-dating programs require registration ahead of time, those looking for love can enter any time they'd like, without a reservation.

The design is simple and clean so as not to distract you from your company. The price is quite affordable for ladies, who have no time limit, and can receive unlimited coffee and cake for ¥500. It's a bit of a different story for men: ¥2,500 will give you an hour of unlimited drinks and cakes, but if you don't find your soulmate in that time limit, it'll run you another ¥1,000 for each additional hour. Still, can you really put a price on love?
3. Kawaii Monster Café (Harajuku)
From the insane creativity of kawaii (cute) cultural pillar Sebastian Masuda (founder of Harajuku's bubblegummy 6%DOKIDOKI fashion and accessory shop) comes the Kawaii Monster Café, a candy-colored venue straight out of singer and fashion model Kyary Pamyu Pamyu's wildest dreams.

Located, of course, in Harajuku, the café's façade is colorfully loud. The venue is divided into four themed zones, each with its own bizarrely intoxicating style. There are the psychedelic Mushroom Disco and Milk Stand sections, where saccharine swirls of color blend with otherworldly vegetation and disembodied animal hands. The Mel-Tea Room is a Wonka-esque sweets paradise, and the Bar Experiment area caters to a more adult crowd looking for a dimly-lit dose of weird with their booze. The staff consists of five "Monster Girls" (think kawaii Spice Girls)—living, breathing cultural ambassadors who are there to ensure you have the best possible experience.

The food and drinks are expectedly "out there," and a bit pricier than you would find at other themed cafés, but the photo opportunities alone make it worth it (and where else are you going to get a BLT with eyes on it?). A brand unto itself, the Monster Café offers a variety of goods, as well as a membership card that rewards devotees with promotional offers and prizes.
2. Sakuragaoka Goat Café (Shibuya)
While one can expect to encounter the unexpected in Shibuya, one of Tokyo's hippest and most-bustling neighborhoods, it's hard for even the most accustomed resident not to look twice at the goats penned in front of the Sakuragaoka Café. Sakura and Chocolat are the iconic and friendly mascots of the venue, happy to receive the affection of passersby and regulars alike. They're taken on walks regularly by restaurant staff, and those interested in accompanying them can call ahead to reserve a spot on Mondays and Wednesdays.

Unlike most animal-themed cafés, which are created to satisfy those hungry for furry or feathered companionship rather than actual food, the Sakuragaoka Café offers hearty fare for a reasonable price. With offerings like four-cheese gnocchi, pastas, pizzas and beef tongue stew, there are plenty of options guaranteed to satisfy. The café is usually open until 4 a.m., at which point the goats are covered for some much needed beauty sleep.
1. Moomin House Café (Tokyo Sky TreeTown, Sumida)
There are two types of people in this world: those who live and breathe Moomin, the oft-featureless hippo-cow-hybrid stars of the Finnish cartoon series that's incredibly popular in Japan, and those who don't. For Moomin fanatics looking for a place to relax and get a coffee with their favorite character drawn on the foam in chocolate, they needn't look any further. At Moomin House Café, they are home.

Although the first Tokyo location opened in 2003, the café spent significant time in the global spotlight in 2014 for its pioneering efforts in Japan's "anti-loneliness" movement. As its name would imply, this program was created to prevent solo diners from feeling self-conscious or lonely. The café contributes by offering customers the opportunity to enjoy their time spent sitting across from large, lovable Moomin plushes.

The café provides the usual sweets and savories in the shape of (you guessed it!) Moomin, starting from around ¥500, as well as drinks like tea, coffee and alcohol. For die-hard fans, the café also offers various character goods, ranging from mugs and cellphone charms to cutlery and figurines. It's worth noting there are two other locations at Tokyo Dome and Canal City in Hakata, Fukuoka City.