Drown in Fur at these 5 Cat-Crammed Cafés
Feline cuddly? Need some catfeine to keep you awake? Looking for the purrfect activity on a rainy day? (Okay, we're done.) To unleash your inner cat lady, nothing beats drinking coffee in a cuddly catmosphere (last one, we promise!) with a jillion furballs. Note: avoid wearing black when visiting, or risk looking like the Lorax.
5. Temari no Ouchi (Kichijoji)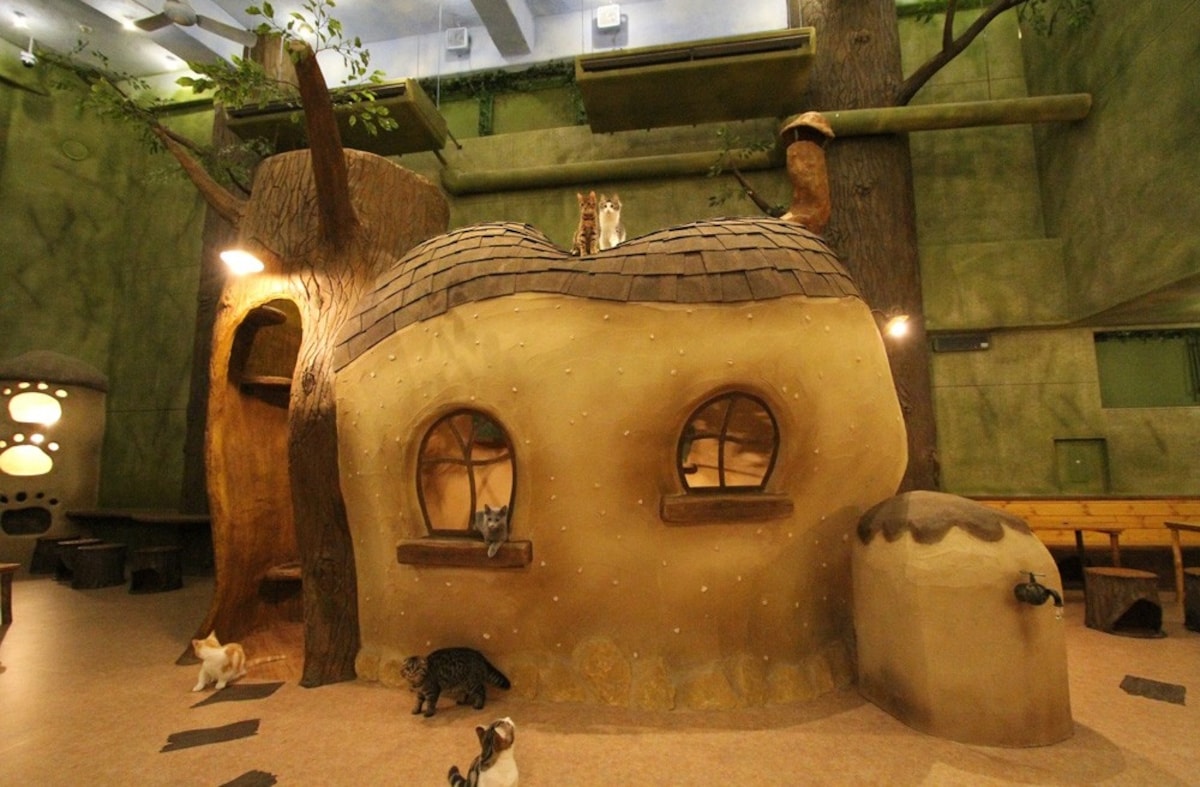 Just a stone's throw from Kichijoji Station is this cute little café that looks like it stepped right out of a picture book. Upon entering, you'll find yourself staring at a Studio Ghibli-esque fantasy land ruled by cats. With numerous ledges, perches and nooks and crannies where our furry friends can snooze, this is easily one of the cutest cat cafés in Tokyo. Kick back with a latte and blueberry cheese cake, and let the 20-something curious felines come to you.
4.Nyafe Melange (Ebisu)
A comfy living room + free Wi-Fi + lots (and lots) of cats = Nyafe Melange. Created with the intent of providing a relaxing space for both cats and humans, this spacious cafe exudes a cozy and comfortable feel. Join the cats in lazing about—maybe with a warm drink and a doughnut or two. Of course, with free wireless internet available, you could enjoy watching YouTube videos of cats while being surrounded by cats: sheer bliss.
3. Kichijoji Calico (Kichijoji)
One of the two branches of the Calico chain (with the other being in Shinjuku), Kichijoji Calico is one of the few cat cafés with a high cat-to-human ratio—meaning there are usually enough cats to go around. As one of Tokyo's first (and most successful) cat cafés, Calico doesn't just offer a room full of cats, but rather a room full of diverse species of cats, including the uncommon Somali, American Curl, Abyssinian and Exotic Shorthair. To really get the death-by-fur experience, purchase cat snacks (boiled chicken strips) for a few hundred yen and let nature take its course...
2. Nekomaru Café East (Kinshicho)
Located just a few minutes' walk from Kinshicho Subway Station is Nekomaru Café, home to approximately 15 to 30 (mostly) stray-turned-house cats. Most of these kitties were taken in when they were still kittens and are completely fearless of humans. Just sit down and let them pounce on you for some quality me-ow time. The best part: if you fall in love with one of them, you can take him or her home. Yes! These cats at Nekomaru Café are all up for adoption! Resist the temptation to adopt them all—if you can! Other branches can be found padding through Ueno and Okinawa.
1. Shinjuku Calico (Shinjuku)
Fifty-plus Cats. FIFTY. This is as good as it gets. Nestled in an inconspicuous building in the flashy Kabukicho area is Shinjuku Calico, one of the largest cat cafés in Tokyo. Spanning across two floors, there's definitely enough room to swing a cat—even a few at the same time! You can go bonkers with cuteness overload on the sixth floor, or make your way down to the café area on the fifth floor where you can purchase some snacks for yourself and for your new furry friends. Big ones, small ones, fluffy ones, smooth ones ... If you didn't know what a LaPerm looks like, you will after visiting Shinjuku Calico!