Dine & Drive Around Tokyo with Willer Bus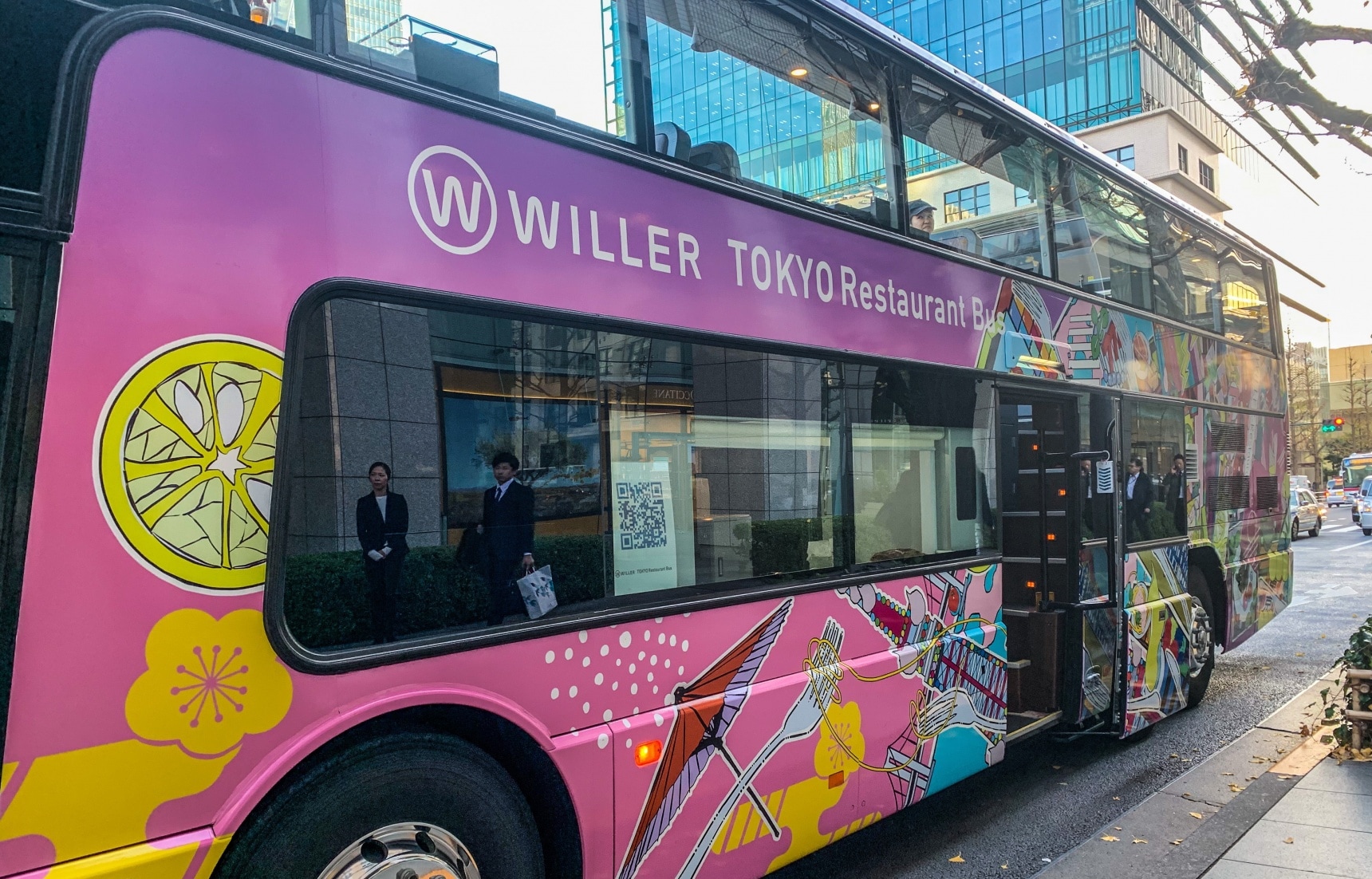 Cheap, convenient, and with routes that extend around the country, Willer highway buses are one of our favorite ways to get around Japan without breaking the bank! But the fun doesn't stop there. They also offer an incredibly unique way to explore some of Tokyo's coolest sightseeing hotspots—an open-roofed Restaurant Bus!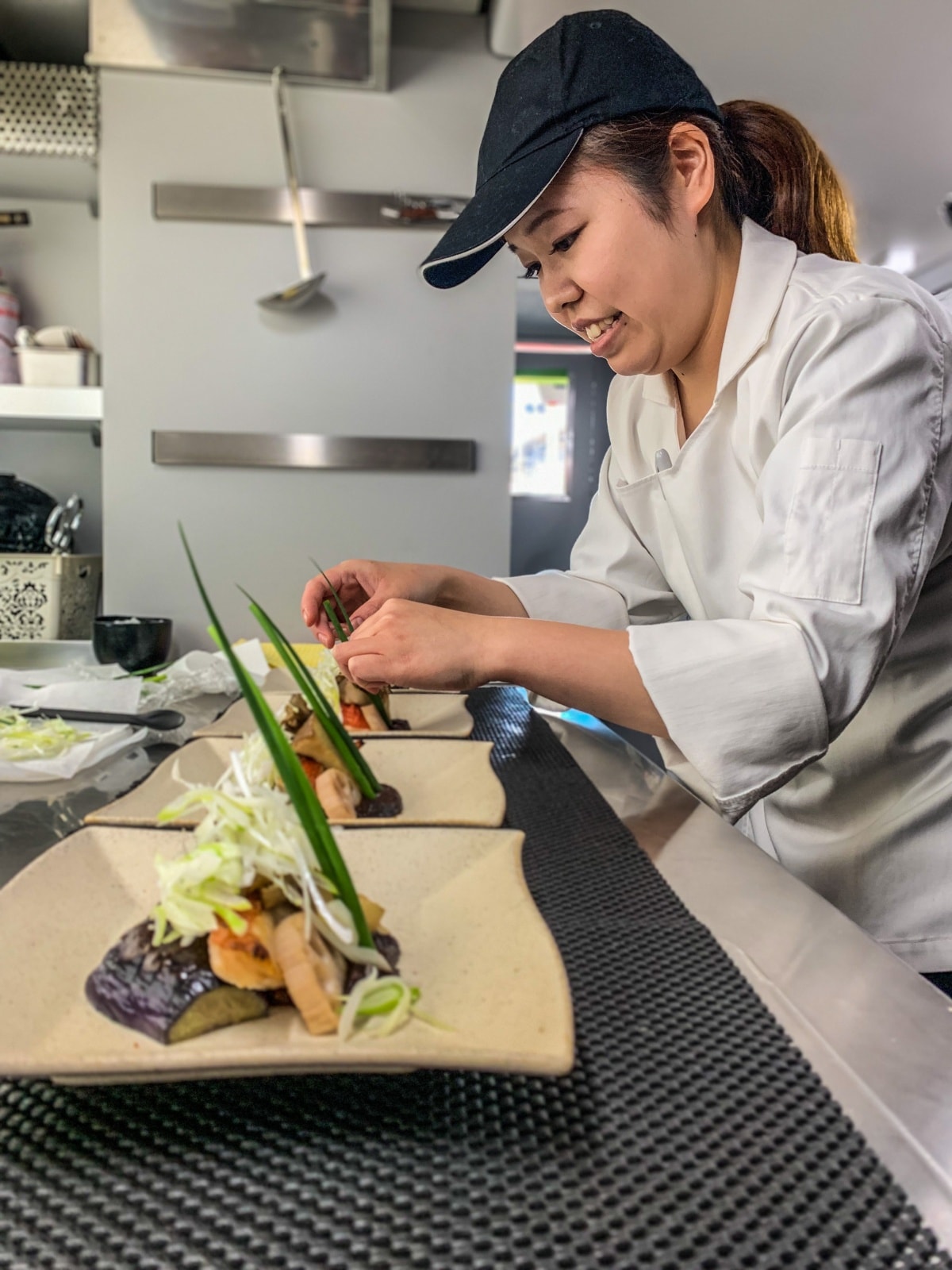 So what is the Restaurant Bus?

Slathered in candy-colored pop art depictions of some of Tokyo's most iconic sights, the double-decker Restaurant Bus is easily recognizable, and incredibly eye-catching. The first floor is a furnished kitchen where the chef works their magic. Up a short spiral staircase, the second floor is the seating and observation area. Decked out with tables that accommodate between two to four people, the glass top of the bus is convertible, and can be opened in warmer months when the weather is nice!
We'll get to the sightseeing in a second, but first, let's talk about the food!

The Restaurant Bus has two different meal plans for both lunch and dinner. The Japanese plan (pictured above) is a delicious, modernized riff on Edo Period classics; sesame tofu stewed in dashi with mountain vegetables, sweet potato with smoked duck breast, jiggly chawanmushi (a savory seafood custard), grilled sea bream on miso, and even a light matcha cake with seasonal fruits for dessert!
The other is a calorie conscious course inspired by sophisticated European dining; a light quinoa salad paired with a veggie and soy milk soup, scallop and shrimp confit, roasted duck in orange sauce, and a creamy Bavarian yogurt for dessert.

Each is freshly prepared and coursed out, and the plates come to your table picture-perfect!
Lunch plans are between ¥7,800 - ¥9,800 per person, and dinner ranges from ¥10,800 - ¥12,800 per person. Plans come with a soft drink, but alcoholic beverages like wine, sake, shochu and more are available as well.
Food tastes even better when accompanied by beautiful views, and on that front, the bus does not disappoint! The Restaurant Bus has two different sightseeing routes; one for daytime, and one for evening. Both depart from JR Tokyo Station, but that's where the commonalities end!

The daytime route takes full advantage of the beauty of Tokyo under a sun-filled blue sky. It passesby the scenic greenery of Hibiya Park and the Imperial Palace, through the historic Nihonbashi neighborhood to the tech haven, Akihabara, before arriving in front of Asakusa's iconic Kaminari-mon Gate. From there, passengers can disembark and do some exploring on foot for 30 minutes.
Once back on board, you pass by Tokyo Skytree (which towers over the bus!), pass the sumo stables in Ryogoku and go through the high-end shopping area of Ginza, before arriving back at JR Tokyo Station. The tour takes 2.5 hours, departing at 12:10 p.m. and arriving at at 2:40 p.m.

There's also a special course available on Sundays and set holidays, which includes stops by Tokyo Tower, the Diet Building, and more!
The nighttime route is designed to make the most of the bright lights in the big city. It takes visitors past the Diet Building, through the upscale neighborhoods of Omotesando and Roppongi Hills, to Tokyo Tower. From there, you cross the aptly named Rainbow Bridge, and can stroll around the manmade island of Odaiba. Back aboard, you pass by the iconic Kabuki-za Theater, through Ginza before arriving back at Tokyo Station.

Along either route, passengers can learn more about the many points of interest as they pass by. Explanations are given by a tour guide in real time, and are followed by audio guides (the language of which depends on the passengers).
Although the tour was over before we knew it, one thing is for sure: the Restaurant Bus is an incredibly unique way to get the lay of the land, and dive deeper into the history of Japan's mega metropolis! There's nothing like soaking in the sights and sounds of the city while sampling some seriously delicious dishes. So what are you waiting for? For more information, or to book your tour online, visit Willer's website.

This article was written with the cooperation of our friends at Wanderlist Japan, and Willer Express.