Save up to 86% with Advance Airfare!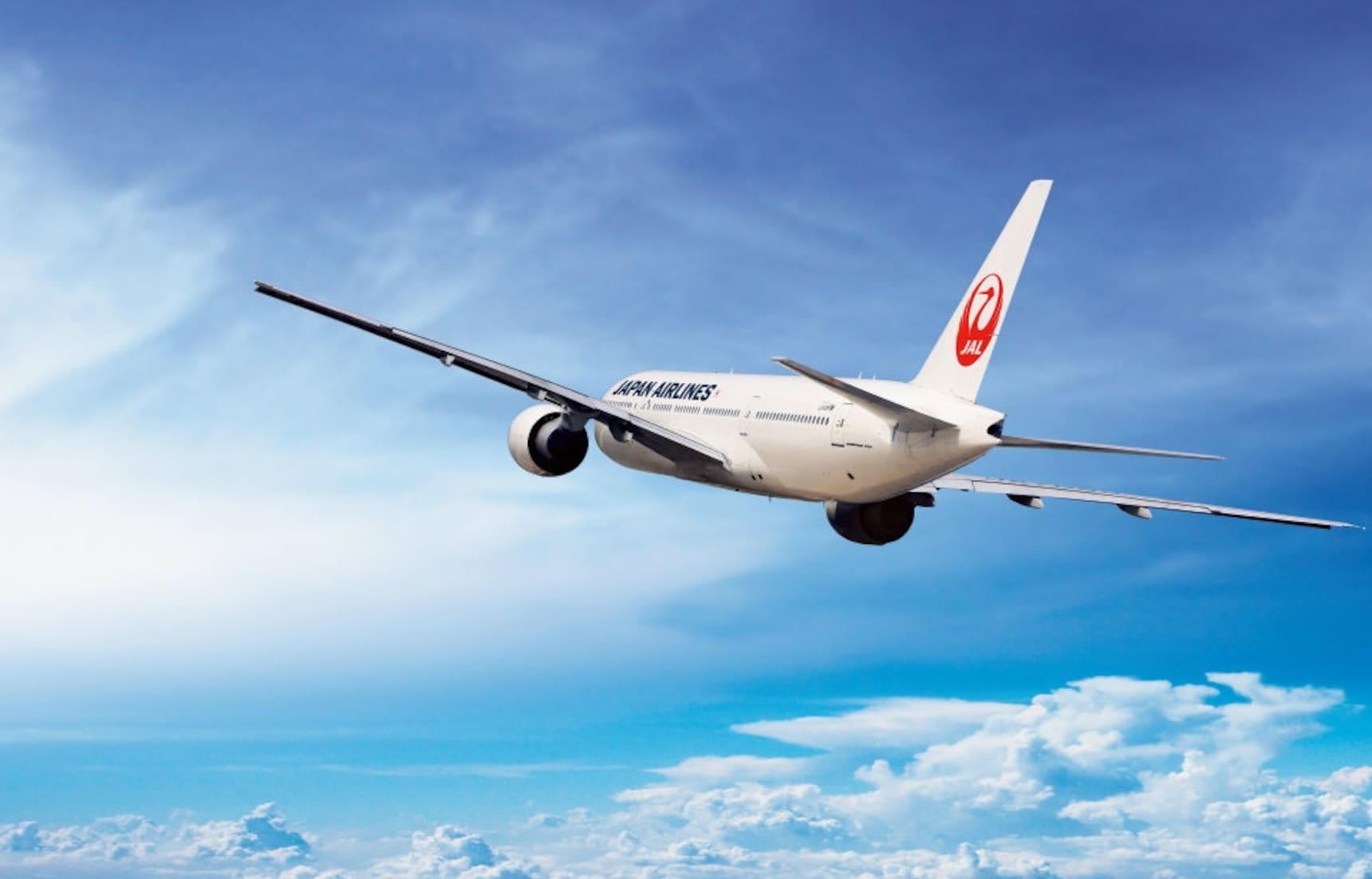 Want to travel Japan, but worried about the cost? JAL's Sakitoku Advance Purchase Fares let you save up to 86 percent on regular airfare if you reserve in advance! Rates get progressively cheaper if you reserve 28, 45, 55 or 75 days before departure. Then sit back and spend that extra time planning your trip! Now the real question: Where to go!
Many of the destinations below are accessible from multiple airports, though a few are unique spots available only on select routes. Check out all your options at the Sakitoku discount fare page!
2. Tokyo → Fukuoka
Fukuoka is one of Japan's 10 most populous cities, and the gateway to the nation's southernmost main island of Kyushu. See the historic turn-of-the-century buildings of Moji Port, then take the cable car to the top of Mount Sarakura for a stunning night view. Check out the Space World theme park, home to one of Japan's top-ranked roller coasters, or even visit Toto's remarkably robust toilet museum. If you arrive in late April to early May, you can try to beat the crowds to the stunning wisteria tunnels at Kawachi Fujien. And when you need to stop for a meal, Fukuoka is a great spot for pufferfish (fugu) cuisine!
4. Osaka → Kagoshima
Kagoshima is the southernmost prefecture on Japan's four main islands. A beautiful and volatile land of volcanoes and hot springs, volcanic Sakurajima rests just 4 kilometers (2.5 mi) from Kagoshima City across Kinko Bay. Enjoy delectable yogan-yaki—dishes cooked on hot plates made from actual lava—as well as local Berkshire pork, or kurobuta, then wash it all down with shochu distilled from local sweet potatoes. Head south to Ibusuki City to enjoy a hot sand bath heated by underwater hot spring water, or go north to visit Kirishima Grand Shrine, which traces its history back to the sixth century. Not to mention, Kagoshima is the gateway to the UNESCO-recognized island of Yakushima!
5. Nagoya → Naha (Okinawa)
Made up of over 300 beautiful southern islands, Okinawa is Japan's most famous resort prefecture. On the main island, be sure to visit the top-ranked Churaumi Aquarium and UNESCO-recognized Shuri Castle, a remnant of the former Ryukyu Kingdom that once dominated Okinawa's islands. You can then island-hop to the gorgeous beaches spread out across the prefecture's hundreds of islands—or head under the waves for some spectacular diving! And don't write the prefecture off in winter—it's a great time to see humpback whales!
6. Fukuoka → Matsuyama (Ehime)
Matsuyama City is the capital of Ehime Prefecture, which rests on the western edge of the island of Shikoku facing the beautiful Seto Inland Sea. Matsuyama Castle stands as one of Japan's 12 remaining original-construction castles, while Dogo Onsen is the nation's oldest hot spring, dating back some 3,000 years, said to have inspired the bathhouse in Hayao Miyazaki's Oscar-winning Spirited Away. Novelist Soseki Natsume is believed to have drawn on his experience as an English teacher at Matsuyama Middle School to write Botchan, and you can ride the steam-driven "Botchan train" to this day. While you're in the area, also be sure to try some signature shoyu mochi, a chew local snack made by kneading sugar, soy sauce and rice flour.
7. Fukuoka → Sendai (Miyagi)
Sendai is the capital of Miyagi Prefecture and the largest city in the Tohoku region of northeastern Japan. It's a beautiful, rolling, wooded city best seen from the hilltop ruins of Aoba Castle.

Just to the northeast lie the islands of Matsushima, considered one of the Three Great Views of Japan, while to the west you can find the picturesque hot springs of Akiu Onsen. Further north you can find Naruko Gorge, which is spectacular in autumn.

Visit Sendai in early August for the Sendai Tanabata Festival, one of the Three Great Summer Festivals of Tohoku. Be sure to try local oysters in Matsushima and gyutan, or beef tongue, in Sendai. And if you head southwest, you can encounter roughly 200 furry friends at Zao Fox Village!
8. Tokyo → Izumo (Shimane)
Izumo is located in Shimane Prefecture on the Sea of Japan. It's best known for Izumo Taisha, believed to be the oldest shrine in Japan, with a history dating so far back it's said to have been constructed by descendants of the sun goddess Amaterasu. It's believed that all 8 million Shinto gods congregate here every October, and the shrine's New Year's Festival draws millions of visitors on January 3.

Roughly 90 minutes to the southwest lies the UNESCO-recognized Iwami Ginzan Silver Mine. Meanwhile, the city of Matsue awaits on the other side of Lake Shinji to the east. Here you can find Matsue Castle, one of Japan's 12 remaining original-construction castles, as well as a beautiful samurai quarter that includes the former residence of Lafcadio Hearn, who wrote extensively about Japanese ghosts and legends in the late 19th century.
9. Tokyo → Nanki Shirahama (Wakayama)
Nanki Shirahama is a resort region located on the southeastern edge of Wakayama Prefecture. The region is kissed by the warm Kuroshio Current and filled with hot springs that were even mentioned in the Nihon Shoki, the second-oldest book of classical Japanese history, and the Manyoshu, the oldest existing collection of Japanese poetry, both compiled in the eighth century.

Beyond the springs, you can luxuriate on the pure-white quartz sands of Shirahama Beach, clamber above the 50-meter (164-ft) Sandanbeki cliffs and nearby cavern, visit a submarine observation tower or take a glass-bottom boat tour. You can also enjoy Adventure World animal park, Shirahama Aquarium and Energy Land theme park, as well as diving, golf, fishing, tennis and more—not to mention a plethora of local food! Visit in late July or early August for fireworks festivals—or come for New Year's to see nocturnal illumination capped with a countdown fireworks show!
10. Sapporo → Rishiri (Hokkaido)
Dominated by the 1,721-meter (5,646-ft) Mount Rishiri, Rishiri Island lies 20 kilometers (12.4 mi) off the northwest coast of Hokkaido. Along with Rebun Island just to the northeast and the coastal area of the Sarobetsu Plain, Rishiri forms the Rishiri-Rebun-Sarobetsu National Park. Rishiri and Rebun are Japan's northernmost inhabited islands.

The hike up Mount Rishiri is a challenging, full-day climb, but offers panoramic views of Rebun, Sarobetsu and the island of Sakhalin on a clear day. Or you can visit Hime Pond, a small artificial lake, for a view of the mountain reflected in its waters. The circumference of the island can be toured along a 25-kilometer (15.5-mi) cycling road. Alpine flowers bloom from June to August, but be aware that ferry services may be cancelled during high winds between December and February.
11. Osaka → Oki (Shimane)
The Oki Islands off the coast of Shimane Prefecture are a UNESCO geopark, offering a unique window into the geological, ecological and human history of the Earth. These 16 islands had a different formation process from the rest of the Japanese archipelago, much more closely resembling that of mainland Asia. As Japan moved away from the Eurasian supercontient, the Oki Islands first became the bottom of a lake, then the bottom of the Sea of Japan. Plate movement caused the area to rise up again, finally forming islands due to volcanic activity beginning some 6 million years ago. Oki Airport itself is built on basaltic lava flows 5.5 million years old, and the Kuniga Coast on Nishinoshima Island presents brightly colored cross-sections of volcanic rock among its dramatic cliffs, caves, arches and sea stacks.

The Oki Islands are also home to a unique ecosystem, where rugosa roses, normally found in Hokkaido to the north, can be found alongside Nago orchids, normally found in Okinawa to the south. Continental, alpine and glacial plant life also coexist in low-lying areas along the coast, and there are several species of flora and fauna unique to the islands, including the small Oki salamander and the Oki dandelion, all of which may be related to the unique geology of the islands. To make optimum use of the rugged landscape, local farmers developed an elaborate, four-year, four-field cycle of crop rotation called Makihata, which was used as recently as 1970.

Evidence of human activity can be dated as far back as 30,000-year-old arrowheads made from Oki obsidian, which was traded widely around prehistoric Japan. Beginning in the year 724, the islands became a site for noble exiles, eventually including Emperor Go-Toba in 1221 and Emperor Go-Daigo in 1332. In the mid-Edo Period (1603-1868), Oki would become a port of call for merchant ships called kitamae-bune, which traveled between Hokkaido and Osaka via the Sea of Japan and Seto Inland Sea. The result was a surprisingly cosmopolitan culture, and when Lafcadio Hearn visited in 1882, he was surprised to find Western fare at a restaurant in Saigo Port on Dogo Island.

Oki now stands as a time capsule of folk songs, festivals, dances and architecture from all over ancient Japan. The islands even have their own version of sumo, where a winning competitor must then face the same opponent and lose, with top-ranked wrestlers awarded pillars from the ring as their prize, which they ride home carried by their supporters. The shrines, too, are unique, with several featuring no central hall, but rather a gate before a cedar tree or venerated rock, harking back to the nature-focused origins of Shinto.
12. Naha → Yonaguni (Okinawa)
Located in Okinawa Prefecture, Yonaguni is Japan's westernmost island. Horses can be seen roaming the hills and valleys of this subtropical island, home to various rare wild birds as well as the Atlas moth, the largest moth on Earth. Coral reefs can be seen through transparent water, while the Kuroshio Current brings marlin and tuna, hot prizes for big-game anglers. On a clear day, Taiwan can be seen on the horizon some 100 kilometers (62.1 mi) away.

The island has drawn increasing attention due to huge underwater rock formations roughly 100 meters (328 ft) off the coast of Arakawabana on the island's southern side. Resemble a giant submerged monument, there's much debate as to whether the so-called Yonaguni Monument is man-made or a natural formation. For those unskilled in diving, the unique rocks can also be seen from semi-submersible vessels.
Inspired? Check out all your options and the latest promotional offers at the Sakitoku discount fare page below!