Top 5 Things to Do & See on Yakushima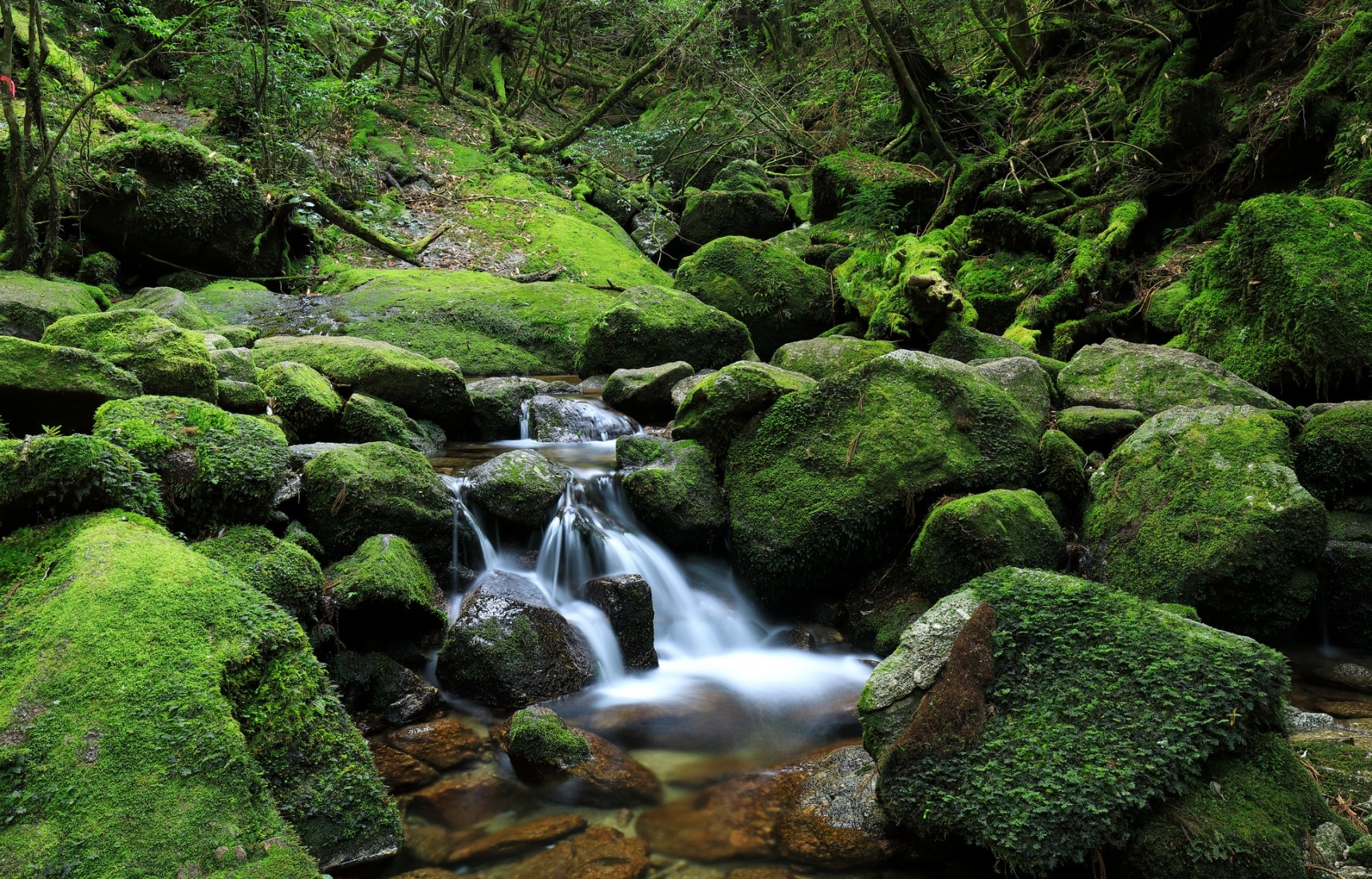 Yakushima feels as if it's suspended in time, eternally shrouded in mist and covered with craggy, moss-covered rocks and towering, ancient trees. This mysterious, sparsely populated island that inspired Miyazaki's Princess Mononoke is just a short ferry ride from the southern tip of Kyushu for those seeking a far-removed adventure.
5. Jomon Sugi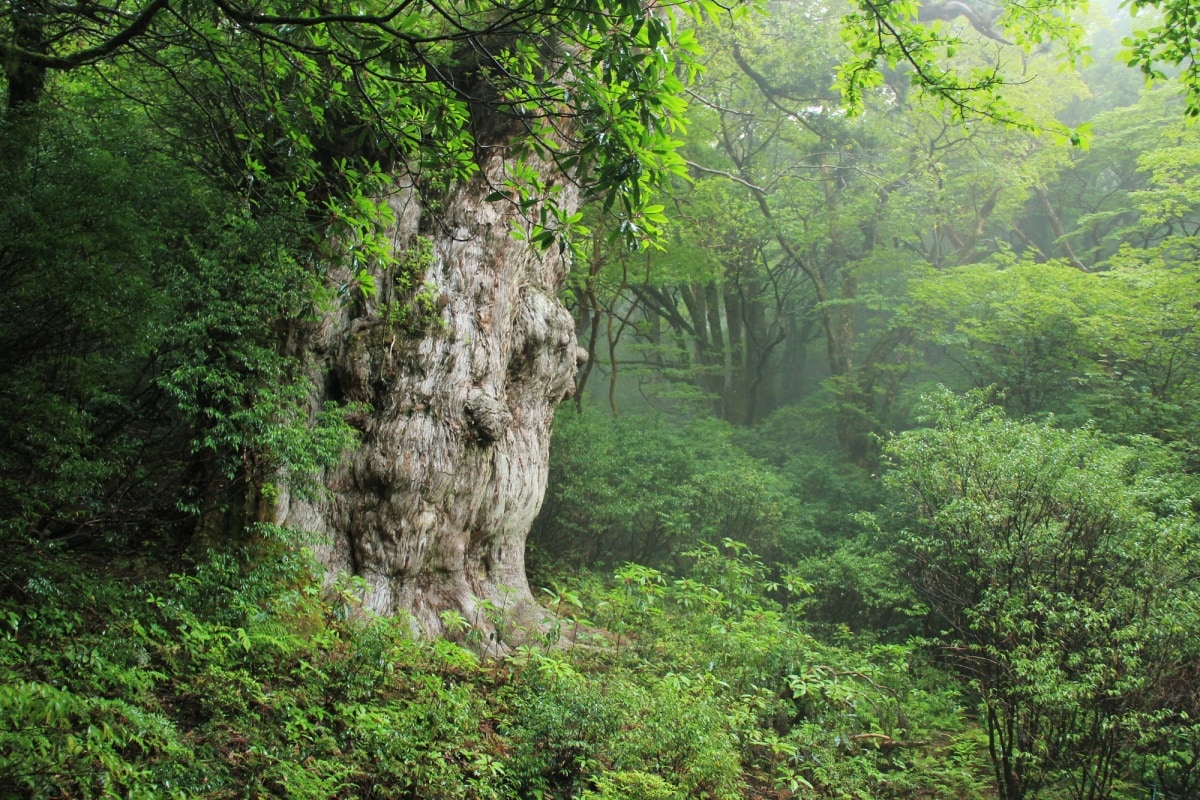 On an island full of ancient trees, Jomon Sugi takes the crown, and is estimated to be one of the oldest trees in the world. Its rotting core makes it difficult to pin down an exact age, but this tree is estimated to be anywhere between 2,170 and 7,200 years old. That's quite a range, but either way, this tree has been around for quite some time. Resting on Mount Miyanoura, Yakushima's highest mountain, the ancient cedar is only reachable via the Arakawa or Kusugawa hiking trails. After making the four- to six-hour hike, travelers are rewarded with a close-up look at one of Yakushima's most highly prized natural treasures.
4. Waterfalls
As the wettest place in Japan (the entire island is powered by hydroelectricity), Yakushima has some truly impressive waterfalls. A short drive south of Anbo Port will take you to Senpiro-no-Taki (pictured), a monster of a waterfall that has carved out a valley from the granite cliffs.

The viewing area is easily accessible from the road for those who are hiking-averse. Head a bit further west and you'll reach Ohko-no-Taki, which, at 88 meters (289 ft) high, is one of Japan's top 100 waterfalls. The fall is well signposted from the main highway, and the viewing point is close enough to enjoy the water's spray on a hot and humid day.
3. Yakusugi Land
Its name may make it sound like a tourist trap, but Yakusugi Land is more than a quick stop to pick up postcards and souvenirs. About a half-hour drive from the small town of Anbo, Yakusugi Land is a nature park that offers trails for hikers of all levels. It has well-cared-for boardwalk paths, but venture deep enough and you'll find some trails that require a bit of scrambling to navigate. As an added bonus, it's much less crowded than Shiratani Unsuikyo (see below).

For spectacular views of the entire island (if the clouds feel like playing nice), moderate to advanced hikers can try the hike up to the top of Mount Tachu (1,497 m/4,911 ft), with the striking granite monolith of Tenchu Rock at its summit. Try using the provided chains to climb its 40-meter (131-ft) face if you're feeling particularly daring!
2. Hirauchi Kaichu Onsen
Hirauchi Kaichu Onsen takes rotenburo, or outdoor onsen, to the next level. This mixed-gender hot spring bath is set right into the ocean and can only be accessed at low tide! A sign is posted near the baths listing the times when the tide is out, but your hotel can also provide guidance. Hirauchi Kaichu Onsen is a 30-minute drive south of Anbo. We recommend visiting at night when you can gaze up at the band of the Milky Way and endless shooting stars—isolated Yakushima's night sky is free of light pollution and it's a spectacular sight. Just remember to bring a flashlight!
1. Shiratani Unsuikyo
Hayao Miyazaki drew inspiration for Princess Mononoke from the Shiratani Unsuikyo Ravine, with its dramatic waterfalls and towering cedar trees that visitors can literally stroll through. The park's one-hour trail through its famous scenery is an easy walk, although the gorge tends to be crowded with tourists. Wander onto paths lesser traveled to find hidden waterfalls and quiet groves. The main one-hour hike eventually joins up with the Anbo Trail headed toward Jomon Sugi if you're looking for an extended trek to the ancient cedar.