6 Geothermal Days in the 'Land of Fire'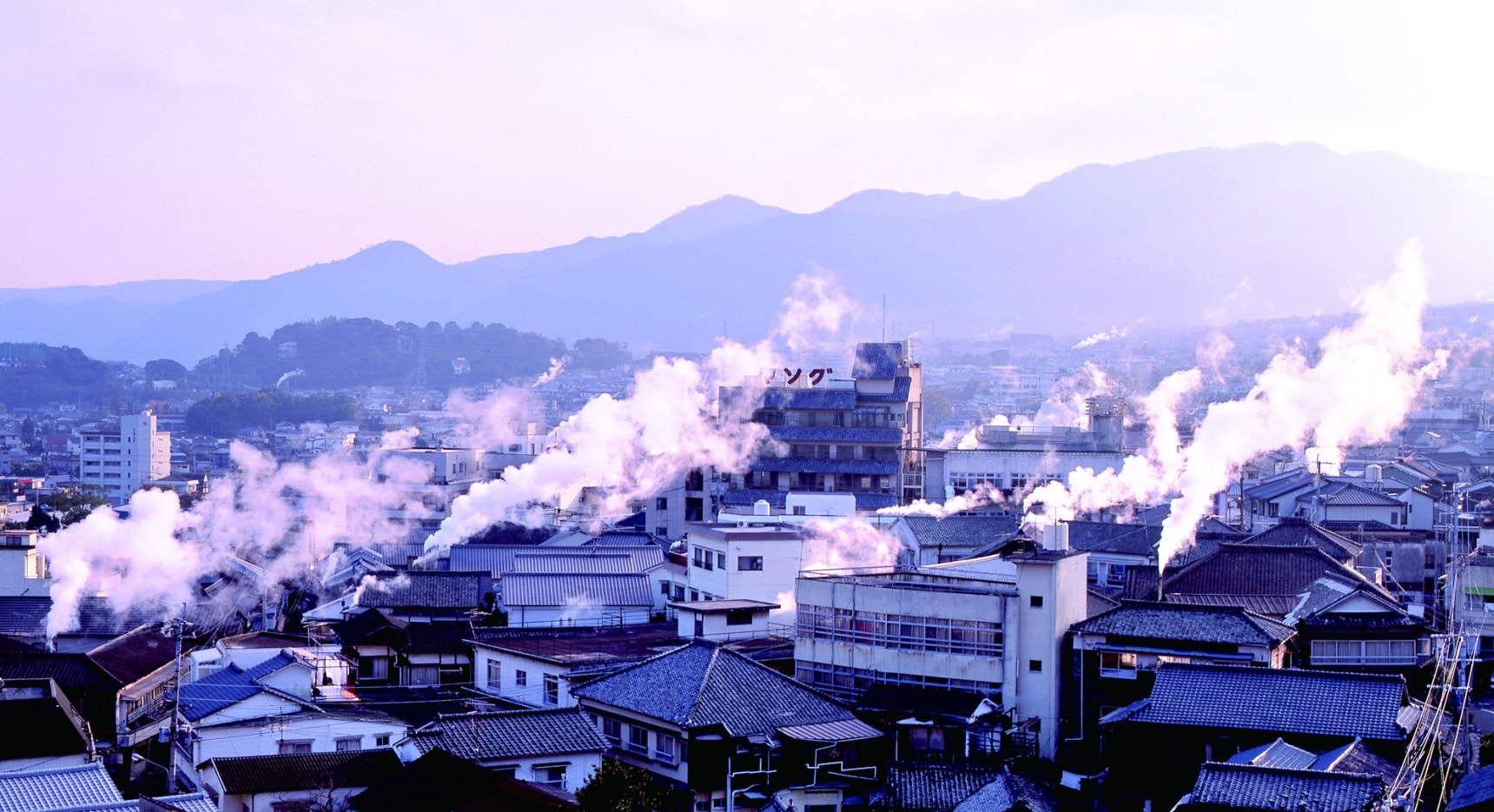 Experience exotic scenery, great food and hot springs all in one place! From some of the world's rarest natural spectacles to unique sand steam hot springs and mud springs—plus plentiful regular hot springs—Kyushu is full of fantastic geothermal wonders. Of course, this mighty land also has plenty of great food to offer as well!
Day 1
Fukuoka Airport → Take the subway (6 min) to Hakata Station → Take the Kagoshima Main Line (1.5 hrs) to JR Mojiko Station and stroll around Moji Port → Take the Kagoshima Main Line (12 min) to JR Kokura Station → Go sightseeing around Kokura Station → Take the Kagoshima Main Line (15 min) to Yahata Station and take a Mount Sarakura night tour → Accommodations around Kokura.

Tips
• You can pick up tourist maps and sightseeing information at Kokura Station and Mojiko Station.
• You might want to get off the train at Kokura Station en route to Moji Port and check in at your hotel before heading on.
1. Mojiko
Kitakyushu is the nexus between Kyushu and Honshu, and a number of unique features can be found within the city's expanse.

Located about 15 minutes by train from Kokura Station, Moji Port (Mojiko) became one of Japan's sea gateways to the world beginning in 1889, with coal exports making the area extremely prosperous in its day. It's been in decline since, but even after a century of weathering, the unique turn-of-the-century buildings still retain an archaic feel form an age that's seldom represented in other parts of Japan.

The main tourist attractions are near the station, and can be visited on foot. Here you'll find the Old Moji Customs Building, the Old Moji Mitsui Club and other old buildings that you can walk through at your leisure. On weekends in spring and autumn, you can rent a kimono for as little as ¥1,000 yen at the Old Moji Customs Building.

a) Mojiko Station
Built in 1914, this classic structure is the tourism symbol of the region. The building has been designated a national Important Cultural Property. It's undergoing restoration until 2018, but the platform and ticket office still retain their original appearance.

b) Kanmon Strait Museum (Kaikyo Dramaship)
This museum focuses on the nature and history of the Kanmon Strait, the narrow channel between Kyushu and Honshu. You can experience a free recreation of a Taisho Period (1912-1926) street on the lower floors, and if you buy a ticket you can check out various historical items and audio-visual displays, and even experience a simulation of a ship in operation on the fourth floor.

c) Mojiko Sunset
Take the time to gaze across the Kanmon Strait as the sun sets in the west, and admire the shades of red cast across the old-fashioned streets. Mojiko is a very popular place to enjoy the sunset, with a sunset photography contest held every autumn.
2. Kokura Station Area
You can get to Kokura Station in less than 20 minutes from Hakata if you decide to take the Tokaido-Sanyo Shinkansen. Kokura is the commercial and entertainment center of Kitakyushu, and a great place to spend the night. The area around Kokura Station has a variety of shopping facilities conveniently gathered together in one place.

a) Uomachi Gintengai Arcade
Uomachi Gintengai Arcade is located to the southwest of Kokura Station, running south for 400 meters (about 1,300 ft) to Tanga Market. Tanga Market is known as "Kitakyushu's Kitchen," but even if you're not shopping for your home, you can still taste delicious food on the spot, so be sure to drop by and give it a try!

b) Kitakyushu Yatai Town: Kokura Ward 13 (Kokura Jusan-ku)
You can order your favorite dishes at the 13 yatai, or food stalls, at this market-style venue. Enjoy local produce and alcohol, and enjoy the chance to interact with local residents. Cultural exchange is one of the pleasures of traveling—just use gestures and do your best! The area is just two minutes' walk southeast of Kokura Station.

c) Kokura Castle
Kokura Castle is located just across the river to the west of the city's shopping area. Yasaka Shrine is right on the castle grounds, so you can visit the castle and shrine at the same time. If you have time, why not go for a rickshaw ride, too!
3. Mount Sarakura
Kokura's city lights combine with the distant lights of Honshu across the Kanmon Strait to create a wonderfully atmospheric view when the sun goes down. In fact, this view was selected as one of the "New Three Major Night Views of Japan" in 2003!

Take a taxi roughly 10 minutes from the south side of JR Yahata Station to the Sarakurayama Cable Car Station and go up the mountain. A return trip, including the cable car and Sarakurayama Slope Car to the top, costs ¥1,200.
Dining Recommendations (Kitakyushu)
Barbecue Curry
Cover a plate of rice or butter rice with delicious curry, add plenty of cheese, and bake everything in a hot oven! This golden baked curry recipe is a popular dish created in Mojiko, and you can find it in various restaurants in the area.

Pufferfish Cuisine
Surrounded by straits and powerful ocean currents, Kitakyushu is a treasury of wonderful seafood. The area is particularly known for its pufferfish (fugu) cuisine—a must while you're in the area! Kaikyo Fuku Stage is located beside the Kanmon Strait Museum in Mojiko, and gives you the opportunity to taste delicious pufferfish dishes while enjoying the view of the sunset and passing ships. It's about nine minutes' walk southwest of Mojiko Station.

Address: 1-3-3 Nishikaigan, Moji-ku, Kitakyushu City, Fukuoka Prefecture
Day 2
JR Kokura Station → Take the Limited Express Sonic (70 min) to JR Beppu Station → Take the Nippo Main Line (15 min) to Hiji Station → Take the bus (12 min) to Sanrio Character Park → Take the bust back to Hiji Station → Take the Nippo Main Line (10 min) to Kamegawa Station → Take the bus or a taxi (7 min, or walk 20 min) to Chinoike Jigoku and explore the "Eight Hells" → Take the bus (20 min) from Umi Jigoku to Beppu Station → Beppu Onsen accommodations.

Tip
• You'll likely want to drop off your bags at your Beppu accommodations before heading out to Sanrio Character Park. Just take the train back up the line after doing so.
4. Sanrio Character Park Harmonyland
Sanrio Character Park Harmonyland is an outdoor theme park where you can encounter members of the Sanrio family: Hello Kitty, Cinnamon, My Melody and more. The warm and friendly Kitty Castle, seasonal parades, surprising reality shows and colorful fantasy entertainment will delight children and adults alike!
5. Beppu's 8 'Hells'
The hot springs in Beppu are not only great for a dip but are also fascinating to see. In addition to the various springs you can bathe in, Beppu has eight famous springs known as the "Eight Hells." These feature incredibly hot water (the coolest is 78°C/172°F!) that has taken on a variety of fascinating colors and textures, from muddy brown to bright blue and crimson. Centered around the Kannawa hot spring area, they have been described as early as the Bungo-no-Kuni Fudoki, a cultural and geological report prepared during the Nara Period (710-794), likely penned somewhere between the years 720 and 740 (Bungo-no-Kuni is the old name for Oita Prefecture).

The rock and soil through which these waters bubble up contain different types of minerals, resulting in the various striking colors. The largest of the "hells" is Umi Jigoku ("Ocean Hell"), which has a brilliant cobalt blue color. With a temperature of a near-boiling 98 degrees Celsius (208°F), it's said to be some 200 meters deep. You can pick up a map of the "Tour of Hell" for free at any of the local tourist agencies.

Blood Pond Hell (Chinoike Jigoku)
This is the oldest of Beppu's Eight Hells, known for the red water—and even red steam—resulting from the iron and magnesium in the area's red clay. This clay is even used to produce an ointment for the treatment of skin diseases.
6. Beppu Onsen
The daily hot spring water output of Beppu Onsen could provide all 130 million Japanese people with almost one liter of water per person per day. In terms of hot water output, the region is second only to Yellowstone National Park in the United States. Not only is the output remarkable, but the city's numerous hot spring have various distinctive characteristics, which you can explore to find the water type that's best for you.

Beppu is known as Japan's No. 1 hot spring region, nicknamed "Beppu Hatto" for the eight distinct hot spring areas that make it up. These include: Beppu, Hamawaki, Kankaiji, Horita, Shibaseki, Myoban, Kamegawa and Kannawa. Each hot spring has features that differ from those of the others, and you may find yourself taking a dip in a hot spring located along an ordinary street or a hot spring hidden in the middle of a forest. You can also find rare mixed-gender mud springs.

Beppu Onsen has 10 types of spring water. In fact, out of the 11 types of spring water identified on the planet, Beppu has every type except for radioactive springs. And beyond the hot springs, Beppu's hot spring cuisine is worth a try as well!

Yukemuri Observatory
Beppu's night scenery has been listed among Japan's 100 best night views, and this observatory offers a view of the contrasting beauty of Beppu by day and by night. Here you can see patches of white smoke in the sky formed by the high temperature spring water coming into contact with the air.
Dining Recommendations (Oita)
Seki-aji & Seki-saba
The town of Saganoseki, situated down the coast just to the east of Beppu, is known for two delicious kinds of mackerel called Seki-saba and Seki-aji. Various restaurants in the Beppu area will offer delicious Seki-saba and Seki-aji sashimi, which is particularly tasty when flavored with kabosu, a green citrus fruit that's an Oita specialty. Seki-aji is in season from March to October, while Seki-saba is best from September to December.

Hell-Steamed Cuisine
"Hell-steamed cuisine" is prepared by steaming vegetables, fish, shellfish and other ingredients using the incredible heat of Beppu's hot springs. This method of cooking not only saves energy, but also helps to draw out the natural flavor of the ingredients, making for delicious and healthy dining. You can even try steaming some food yourself—just be aware that you have to buy the ingredients separately! If you can't wait, you can simply purchase ready-made sweet potato, eggs, seafood and other fresh local food to nibble.

Toriten
Toriten is tempura-battered chicken. An Oita favorite, its invention is credited to a local restaurant in 1962. Toriten is usually eaten with mustard and dipped in ponzu citrus sauce.