16 Superb Views Found in Kyushu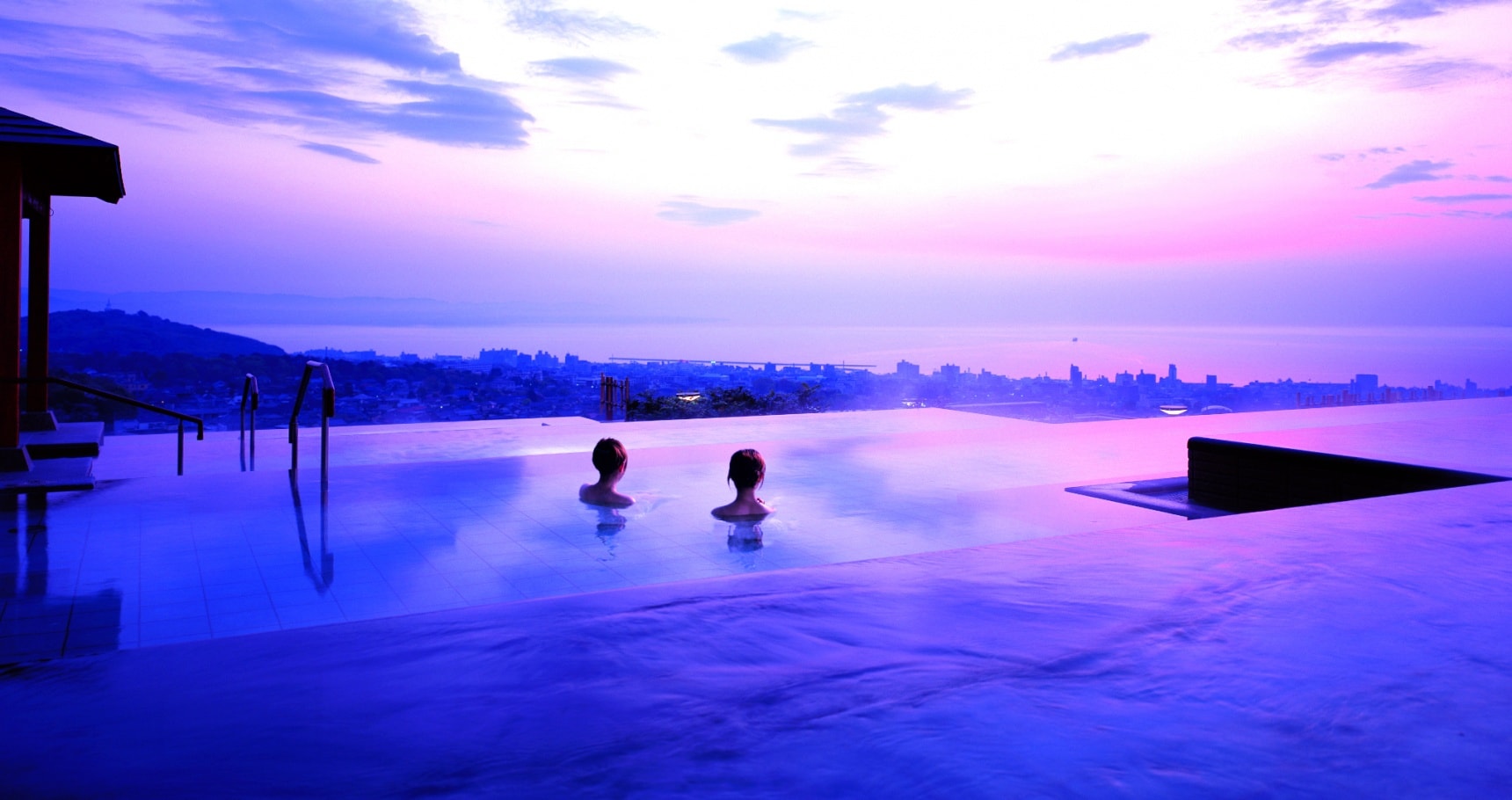 We're here to offer a complete guide to the most extraordinary natural sights to be found in the southwesternmost main island of Japan. For the tried-and-true traveler and the greenest of globetrotters, these locations are sorted into three categories: "Easy," "Normal" and "Hard," based on ease of accessibility. Which path will you choose?
Accessible via public transportation.
1. Sensational Scenery Overlooking Steam Vents (Oita)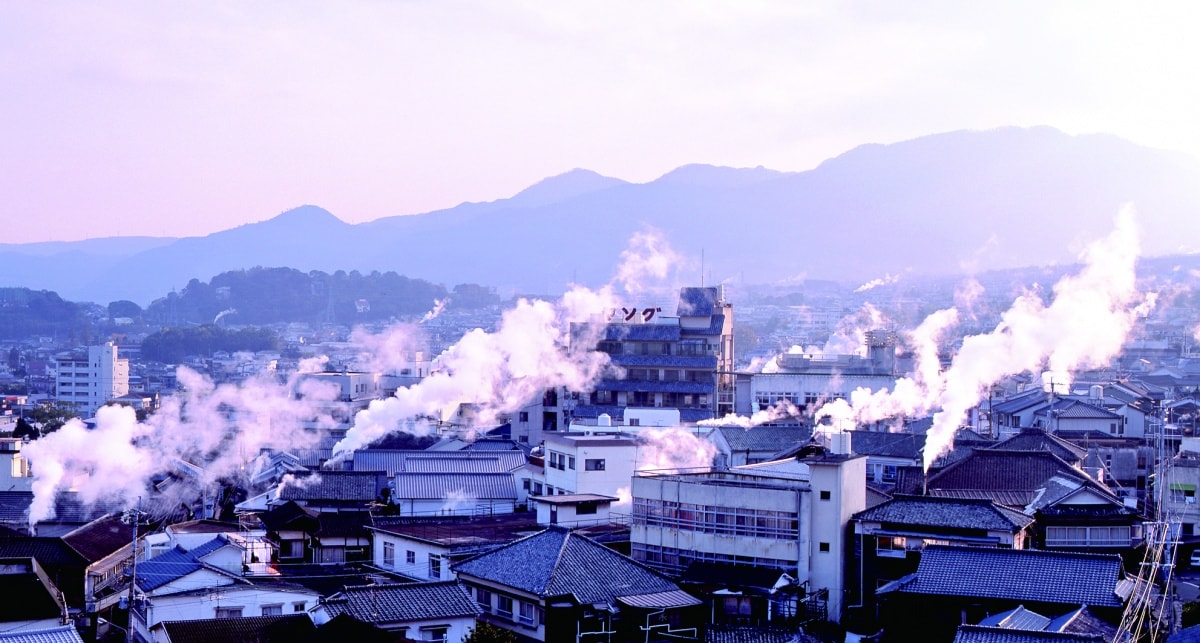 Here you can enjoy an unbroken view of the steam vents of Kannawa, the splendor of Mount Tsurumi and Mount Ogi in all their different seasonal colors. You'll also find signs with simple explanations of the mountains and the steam. This location was featured on NHK's "Landscapes to Maintain for the 21st Century," second in importance only to Mount Fuji. When night falls, you're treated to a view of the entire city brightly illuminated.

Address: 8 Kumi Kannawa-higashi, Beppu City, Oita Prefecture (Royal Town Daikanzan)
Access: 10-minute walk after taking the bus from Beppu Station's west entrance and getting off at Kifunejo
2. An Idyllic Rural Landscape with Horse-Drawn Carriages (Oita)
Horse-drawn carriages were first employed here in 1975. Nowadays, they're considered a symbol of Yufuin Onsen and an integral part of the landscape, but many people are still surprised to see them when they come sightseeing for the first time. Indeed, when you hear the clip-clop of horses' hooves, it's hard not to feel as though you've been sent back in time. If you choose to ride one of their horse-drawn carriages, you can enjoy the quaint farmland and ancient stone walls, all set against the backdrop of Mount Yufu.

Please note: Carriages do not run from the latter half of January into February.

Address: Yufuin Town, Oita District, Oita Prefecture
Access: Yufuin Station
3. Japan's Premier Suspension Bridge (Oita)
The Kokonoe Yume Grand Suspension Bridge boasts a higher elevation than any other walking bridge in Japan at 173 meters (567 ft) high. In front of it stand two of "Japan's Top 100 Waterfalls," and an outstanding view of Narukogawa Gorge's pristine forests stretched out below. The magnificent Kuju mountain range extends out into the distance, lending credence to its alternate name: "The Sky Promenade."

The seasons change vividly here, so you can enjoy the transition from one season to the next in the great outdoors like nowhere else.

Address: 1208 Tano, Kokonoe Town, Kusu District, Oita Prefecture
Address: Via bus, disembark at Grand Suspension Bridge, Nakamura entrance
4. The Vibrant Nightscape of Mount Inasa (Nagasaki)
Nagasaki's nightscape as viewed from Mount Inasa is counted as one of "Three Major Night Views of Japan," offering a three-dimensional view of the city of Nagasaki, and an especially excellent view of the Milky Way from the north.

Mount Inasa stands at 333 meters (1,092 ft) tall and is considered a landmark of Nagasaki. Not only can you enjoy the nighttime scenery from the summit, but you can also glimpse a magnificent view of the sky from its ropeway.

Address: Inasamachi, Nagasaki City, Nagasaki Prefecture
Access: Disembark at Nagasaki Ropeway Mount Inasa Station
5. The Multi-Island Beauty of the Kujuku Islands (Nagasaki)
The Kujuku Islands make up an archipelago of 208 different islands whose rear coastlines stretch from Sasebo all the way to Hirado. There are several different designated points that allow you to enjoy the view of the Kujuku Islands. You can gaze upon from them from an elevated vantage point, or book a cruise to enjoy the sights from the ocean instead.

Address: 399 Shimofunakoshi, Sasebo City, Nagasaki Prefecture
Access: 40-minute bus ride from Sasebo Station to Tenkaiho
6. The Fantastic Sand Ripples of Okoshiki Beach (Kumamoto)
From the northern bank of the Uto Penninsula, you can look past the Ariake Sea to the opposite bank in Nagasaki, where Mount Unzen looms in the distance. The Ariake Sea is home to the most dynamic tidal flows in Japan, and as the sea recedes from the beach, the wind and waves work together to create gorgeous line art in the sand (or sand flats). In a way, this beach is feminine, mysterious and gentle in nature. It was also chosen as one of Japan's 100 Best Beaches and Japan's 100 Best Sunsets.

Address: Toguchi Town, Uto City, Kumamoto Prefecture
Access: 15-minute walk from JR Misumi Line Amita Station
7. The Mysterious Takachiho Gorge & Manai-no-Taki Falls (Miyazaki)
Takachiho Gorge is one of Japan's natural monuments, and the image of Manai-no-Taki, also chosen as one of Japan's Top 100 Waterfalls, as its falls stream into the water below from a height of approximately 17 meters (56 ft), has become an icon of this beautiful location. The walkway and the falls are brightly lit during the summer months, lending the site an air of elegant simplicity and mystery.

Address: Oshioi Mitai, Takachiho Town, Nishiusuki District, Miyazaki Prefecture
Access: 15-minute bus ride from Takachiho Bus Center
8. The Fearsome, Strange Rocks of Oni-no-Sentakuita (Miyazaki)
Aoshima is home to a strange series of undulating rock formations, shaped not unlike the teeth of a saw. These curious formations, which stretch on for about 8 kilometers (5 mi), are known as the "Devil's Washboard" (Oni-no-Sentakuita), and were created through erosion caused by the rising and falling waves. They are also one of Japan's natural monuments.

Address: 2-13 Aoshima, Miyazaki City, Miyazaki Prefecture
Access: 10-minute walk from JR Aoshima Station
9. The Superb Volcanic View from Yunohira Lookout (Kagoshima)
This up-close-and-personal mountain view is incredibly striking. The lookout post pictured above is situated at an elevation of 373 meters (1,224 ft) at Mount Kita's fourth stage, and is the highest elevation that ordinary people are able to reach on Sakurajima. From this vantage point you have a clear 360-degree view in all directions. On clear days, you may be able to see the Kirishima Mountains to the north, and the magnificent Mount Kaimondake to the south.

Address: 1025 Sakurajima Koike Town, Kagoshima City, Kagoshima Prefecture
Access: Use the bus stop near the Yunohira Lookout