16 Superb Views Found in Kyushu
Reachable by taxi or car.
10. The Flower Tunnel at Kawachi Fujien (Fukuoka)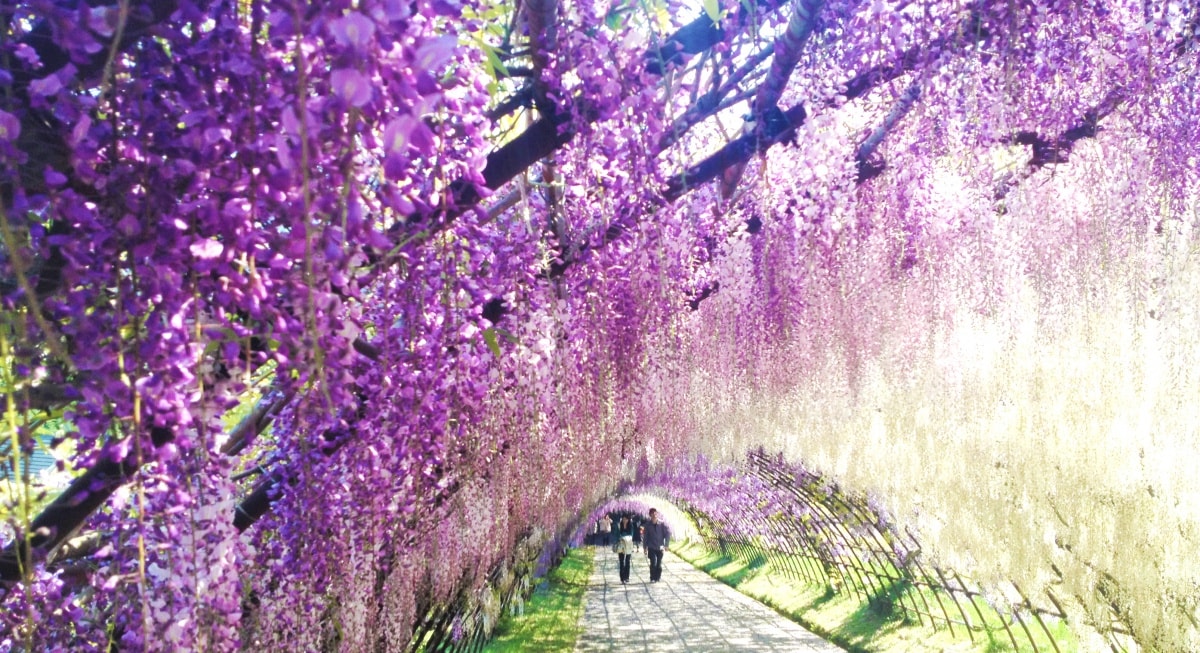 The overarching wisteria blossoms and terraces of Kawachi Fujien cover an incredible 6,000 square meters (64,583 sq ft) to form a remarkable tunnel of wisteria flowers. Two different tunnel paths are available to explore: one at 80 meters (262 ft) long and the other at 220 meters (722 ft). In peak season, 22 different varieties of wisteria flowers burst into bloom for an absolutely breathtaking experience.

These are undoubtedly the most beautiful wisteria trellises in Japan, wonderful for enjoying the sight and smells of the flowers. In addition, for close to 30 years these wisteria tunnels have been surrounded by approximately 700 maple trees of various varieties, lending their brilliant colors to the spectacle.

Note: Wisteria blooms from April to May, while maple trees are most vibrant from November to December.

Address: 2-2-48 Kawachi, Yahata-higashi Ward, Kitakyushu City, Fukuoka Prefecture
Access: Approximately 15 minutes by car from either the Kitakyushu High-speed Otani IC (Fukuoka) or Sanji IC (Yamaguchi)
11. The Sky-Reflecting Tanayu (Oita)
The terraced baths of Beppu Suginoi Hotel offer a magnificent, commanding view over the entirety of Beppu Bay. The "Tanayu" baths here are stacked five levels high (akin to a rice paddy) and double as lookout points and open-air baths. From these vantage points, you can make out Beppu Bay and the nightscape of the city, as well as Sadamisaki in Shikoku, far off in the distance, for an overwhelming sense of liberation and a fantastic view all for one price.

Address: 1 Kankaiji, Beppu City, Oita Prefecture
Access: 10-minute taxi ride from Beppu Station
12. The Nostalgic Rice Paddies of Hamanoura (Saga)
In a certain corner of the town of Genkai you'll find the district of Hamanoura, where the rice paddies stretch as far as the shoreline and come inward in multi-layered terraces, much like a set of stairs racing up a slope. These rice paddies have been a fixture of the Japanese landscape ever since rice was first introduced as a crop, and are carefully set in place to hug the natural curves of the landscape and take advantage of the precious land Japan has to offer.

Your eyes will be delighted by the sun setting under the horizon, bathing the land and the dazzling pools of the rice paddies in orange, the footpaths between them transforming into fanciful geometric shapes.

Address: Hamanoura, Genkai Town, Higashi-matsuura District, Saga Prefecture
Access: 25-minute drive from Nishikaratsu Station
13. A Panoramic View in All Directions at Daikanbo Peak (Kumamoto)
This is the best vanage point to check out the many mountains Aso has to offer. The five peaks of Mount Aso, known as Nehanzo, stretch out before you. Below is the wide expanse of the Aso Valley, where the rice paddies glimmer and glisten in the sunlight when filled with water. On the opposite side you'll find the wide-open pastures of Aso, and Mount Kuju beyond that, for an incredible expanse of nature.

Address: 2090-8 Yamada, Aso City, Kumamoto Prefecture
Access: 30-minute drive from JR Aso Station.
14. Natural Sand Baths on the Seashore (Kagoshima)
Refresh your body and mind while enjoying the vast majesty of nature, gazing upon Mount Kaimon and listening to the sounds of the waves as you're covered in warm sand. Once you've finished with your sand bath, you can wash the sweat away at the famous Fushime Onsen as well. You're certain to be warm and toasty once you've finished your experience at Yamagawa Sunamushi Onsen "Sand Bath Village Sayuri."

Address: 3339-3 Yamagawa Fukumoto, Ibusuki City, Kagoshima Prefecture
Access: 10-minute drive from JR Yamagawa Station