9 Best Backcountry Ski Spots in Japan
When you get tired of the pistes, there's always plenty of snow off the back! But you've got to have the right gear, a tight group, and know local conditions and what to do in an emergency. Some resorts embrace backcountry, some turn a blind eye, and some are quite strict about keeping you in line. If you're unsure, a guide is the best way to go!
9. Biei Town (Hokkaido)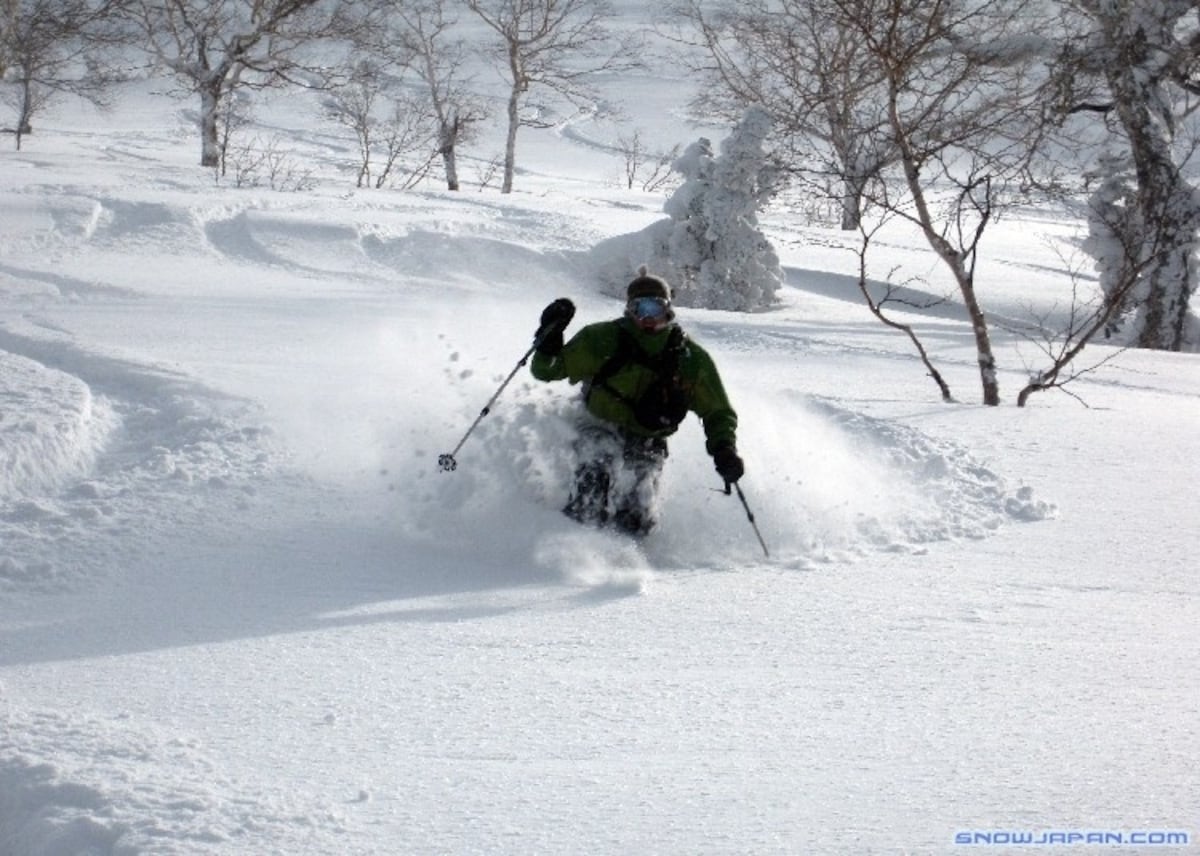 Biei isn't really an official ski resort, but it's been catching on as a backcountry region, and it's a fun stop if you're already checking out Asahidake (see below). The town is located halfway between Furano and Asahikawa in Hokkaido, and the area has become popular enough that basic backcountry tours are now available around the Tokachi Volcanic Group, with Sandan-yama, or Mount Sandan, being the most popular choice.
8. Charmant Hiuchi Snow Resort (Niigata)
Charmant Hiuchi is located deep in Niigata, past Myoko Kogen, facing the Sea of Japan. The powder is typically both deep and easily accessible even on or near the trails; signs at the edges of the resort advise that you go off-piste at your own risk.
7. Hakuba Cortina (Nagano)
Hakuba Cortina is said to receive the most snow of all the resorts in the Hakuba Valley, and with many of the areas through the trees labeled "self-responsibility" zones, lots of the off-piste terrain can be easily accessed from the lifts. Most casual skiers get drawn in by the Happo-One, Hakuba47 and Goryu resorts closer to the main village, while the powder hounds venture north to Cortina. The resort proper offers 16 courses, 7 lifts and a maximum 42-degree slope, so it's a good spot even if you want to stay on the runs as well.
6. Miyagi Zao Sumikawa Snow Park (Miyagi)
Miyagi Zao Sumikawa Snow Park isn't all that big; it only has three pair lifts, nine runs, and a total of 300 meters (984 ft) of vertical. It's situated on the other side of the Yamagata-Miyagi border from the better-known (and significantly larger) Zao Onsen resort. What does it have going for it? Vast amounts of snow, and expansive side- and backcountry. For simple stuff you can take a snowcat tour up Mount Katta, but there are also more strenuous group tours, and private tours that will challenge—and delight—even expert skiers and boarders.
5. Tanigawadake Tenjindaira (Gunma)
Tanigawadake is located near Gunma's border with Niigata, and lies along the same highway that will take you to Yuzawa. Tanigawadake Tenjindaira Snow Resort is accessed via the Tanigawadake Ropeway, and while the resort itself only has 10 courses and a handful of lifts, deep powder can be found among the trees, and true experts can climb up past the resort into the big terrain. Local tolerance for off-piste activity is variable, and if you're going to climb up, definitely get a guide—this is not for the faint of heart, and the danger of avalanche is real. The guide group below requires you to have passed its Level 3 certification just to be able to sign up.
4. Nozawa Onsen (Nagano)
Nozawa Onsen is among the most famous ski and snowboard resorts in Nagano, as well as being a historic hot spring town. While the snow resort proper offers excellent powder and a fantastic selection of runs, as a well-known and long-established area, the region also has the advantage of the availability of English-speaking backcountry guides.
3. Niseko (Hokkaido)
Mount Annupuri is covered in five separate ski resorts, but there's still plenty of backcountry in between them. The mountain even offers six official "gates" to backcountry areas, though access is only granted when conditions are deemed safe to groups that have completed a safety lecture. The danger of avalanche is real, and tracked regularly here. Guides are also available.
2. Asahidake Ropeway (Hokkaido)
The Daisetsuzan Mountain Range is said to get some of the best-quality snow in Japan. Located inside the vast Daisetsuzan National Park, there isn't really a resort here: The Asahidake Ropeway will get you 1,600 meters (5,250 ft) up Asahidake, the tallest mountain in Hokkaido, and you can either ski one of the two trails down, or climb the rest of the way to the 2,291-meter (7,516-ft) summit. The rest is up to you and your guide. The snow is so good that the town of Higashikawa, home to the ropeway, is in itself becoming a popular residential site for people looking to live in the heart of snow country. Just watch out for the weather.
1. Hakkoda (Aomori)
Located about 45 minutes southeast of Aomori City, Hakkoda isn't a single mountain but a region of eight peaks. This is another area that, like Zao Onsen, gets "Ice Monsters": trees covered in so much snow they take on dramatic shapes.

The region is predominantly serviced by the 100-person Hakkoda Ropeway. There are only two marked courses, but there's no such thing as "out of bounds," and with the entire mountain range surrounded by a circular road, there are a number of options for arranging a pickup at the bottom (but if you don't have anything arranged, there's no other way back!). Be aware, however, that the snow is deep, and weather conditions can change quickly. Fortunately, English-speaking guides are available!