Hokkaido Ski & Snowboard Guide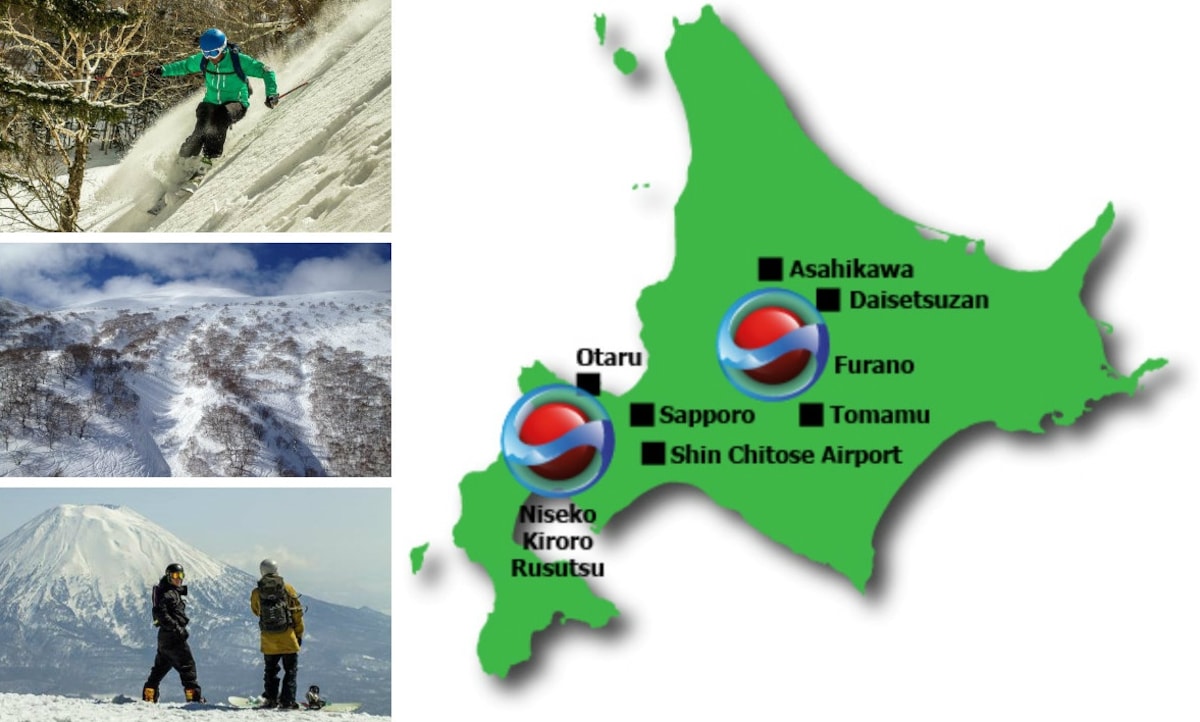 Hokkaido has more ski and snowboard hills than any other "prefecture"—nearly 100 of them—though a large number of those are very small local hills with one or two lifts. The island has a more spacious and somehow different feel compared to most of the rest of Japan—though like most of the country it's certainly not lacking in natural beauty!

Two of the most famous skiing and snowboarding resorts in Hokkaido (and arguably all of Japan) are the Furano and Niseko resorts in Hokkaido, with some saying that the cold Siberian winds make the powder in Hokkaido superior to the resorts on the main island of Honshu.
Furano
Furano, in central Hokkaido, is a resort that has grown in popularity in recent years, presenting well-groomed courses that cater to every level from beginner to advanced. It has nine lifts and 23 ski courses, with the steepest slope standing at 34 degrees.

Furano is about a two-hour drive east of Sapporo. Located both right in the middle of Hokkaido and right on the southwestern edge of Daisetsuzan National Park, it's a great starting point if you want to visit some of the wilder parts of Hokkaido!

Check out Furano's daily snow reports here, and find out more about the resort below!
Niseko
Arguably the most popular international ski destination in Japan, Niseko lies between Mount Yotei and Mount Annupuri, with the latter being covered in no less than five unique ski resorts. Annupuri, Niseko Village, Grand Hirafu and Hanazono (technically part of Grand Hirafu) are all connected at the peak, while Moiwa requires a separate lift ticket. Grand Hirafu alone has 16 ski lifts, and with its steepest slope at 40 degrees, it's tied for the steepest of any slope in Hokkaido.

Niseko is about 50 kilometers (31 miles) southwest of Sapporo, and accessible by train or car from city, as well as internationally from New Chitose Airport. Daily snow reports can be found here, and you can track down each of the individual areas below.
Kiroro Snow World
Kiroro Snow World is located in Akaigawa village to the south of Otaru City in western Hokkaido. The resort offers nine lifts, 21 courses, and a maximum elevation of 1,180 meters (3,871 ft)—often with less crowds than some of the surrounding areas. The modern infrastructure makes it popular for couples and families. Get daily snow updates here, and check out the details below!
Sapporo Teine
Sapporo is the fifth-largest city in Japan. As the site of the 1972 Winter Olympic Games, it's also a great skiing destination, with Sapporo Teine located just 40 minutes from the city center. The resort is divided into the Highland Zone and the Olympia Zone, which are connected by a trail that can stretch up to 5.4 kilometers (3.4 miles) starting from the summit.
Regional Snow Guide
Can't get enough? Check out SnowJapan's regional Hokkaido travel guide for everything you need to know about skiing and snowboarding in Hokkaido!