Take Your Prefectural Pride on the Road
Starting in October, 2018, the Ministry of Land, Infrastructure, Transport and Tourism will issue 41 beautifully designed license plates that capture each region's specialty. Whether it's the delicious cherries of Yamagata Prefecture or the hot springs of Oita Prefecture, motorists can bring a piece of home with them wherever they go.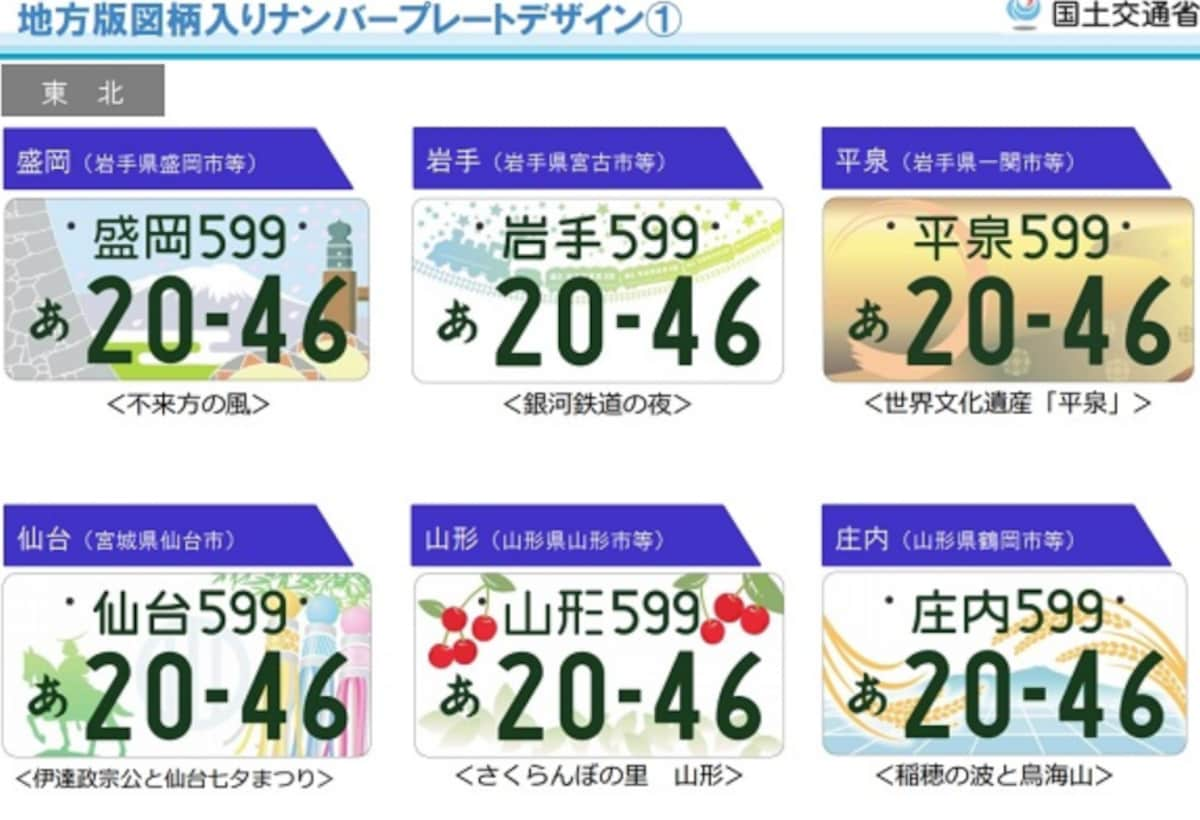 From the order of left to right, top to bottom, here's what each plate represents.

Tohoku region:
Morioka – Kozukata (the city's ancient name)
Iwate – Night on the Galactic Railroad (a novel which also pays tribute to the Iwate Galaxy Railway Line)
Hiraizumi – World Heritage Sites
Sendai – Date Masamune (Edo Period political leader) and Sendai Tanabata Festival
Yamagata – Villages filled with cherries
Shonai – "Waves of Ears of Rice" (a famous orchestral composition) and Mount Chokai
Kanto region:
Tsuchiura – Hobiki-sen (a traditional fishing sailboat) and fireworks
Tsukuba – Mount Tsukuba
Maebashi – Mount Akagi
Koshigaya – Gaya-chan (the city's duck mascot) participating in the awa odori (a traditional dance festival)
Narita – Airplanes taking off from Narita Airport
Kashiwa – Lake Teganuma
Kanto region continued:
Setagaya – Tama River and white egret flower
Suginami – A city of Japanese cedar
Mount Fuji – Mount Fuji

Hokushin'etsu region:
Niigata – Bandai Bridge and the Japanese crested ibis
Nagaoka – Nagaoka fireworks
Toyama – Tateyama Mountain range
Hokushin'etsu region:
Kanazawa – Yukitsuri (a unique Japanese technique for protecting trees from heavy snow) and the umebachi crest (family crest of a powerful feudal lord)
Ishikawa – Mount Haku and waves from Noto's sea villages

Chubu region:
Fukui – Dinosaur fossils from the Fukui Prefectural Dinosaur Museum
Mount Fuji – Mount Fuji and rice fields
Toyota – Toyota Stadium and the Grampus family (a family of mascots representing a football club)
Kasugai – Tofu-kun and Kasugai Cacti (local mascots)
Kinki region:
Shiga – Lake Biwa
Kyoto – Hamamonyo (a traditional textile store), Amanohashidate (a scenic strip of land) and the five-story pagoda
Nara – Cherry blossoms and autumn foliage

Chugoku region:
Tottori – Tottori Sand Dunes, Mount Daisen and Japanese pear
Fukuyama – Hiroshima Toyo Carp (a professional baseball team)
Shimonoseki – Kaikyo Yume Tower, Akama Shrine, Shimonoseki Marine Science Museum and Kanmon Bridge
Chugoku region:
Yamaguchi – Akiyoshidai Plateau and Kintai Bridge

Shikoku region:
Tokushima – Awa odori (a dance festival)
Kagawa – Seto Inland Sea and olives
Ehime – Mikyan (a mandarin orange cat mascot)
Kochi – Harimaya Bridge and skipjack tuna

Kyushu region:
Nagasaki – Stained glass
Kyushu region
Sasebo – Stained glass
Kumamoto – Kumamon (one of Japan's most famous mascots)
Oita – Hot springs
Miyazaki – Sun-soaked locales and the sea
Kagoshima – Sakurajima (an active volcanic island)

Obtaining one of the 41 colorful license plates requires a mere donation of at least ¥1,000 (US$9.14), and the proceeds will be used for tourism promotion and traffic improvement. What a fantastic way for motorists to show support for their hometown!