6 Must-Try Local Specialties in Tohoku
1. Senbei Hotpot (Aomori)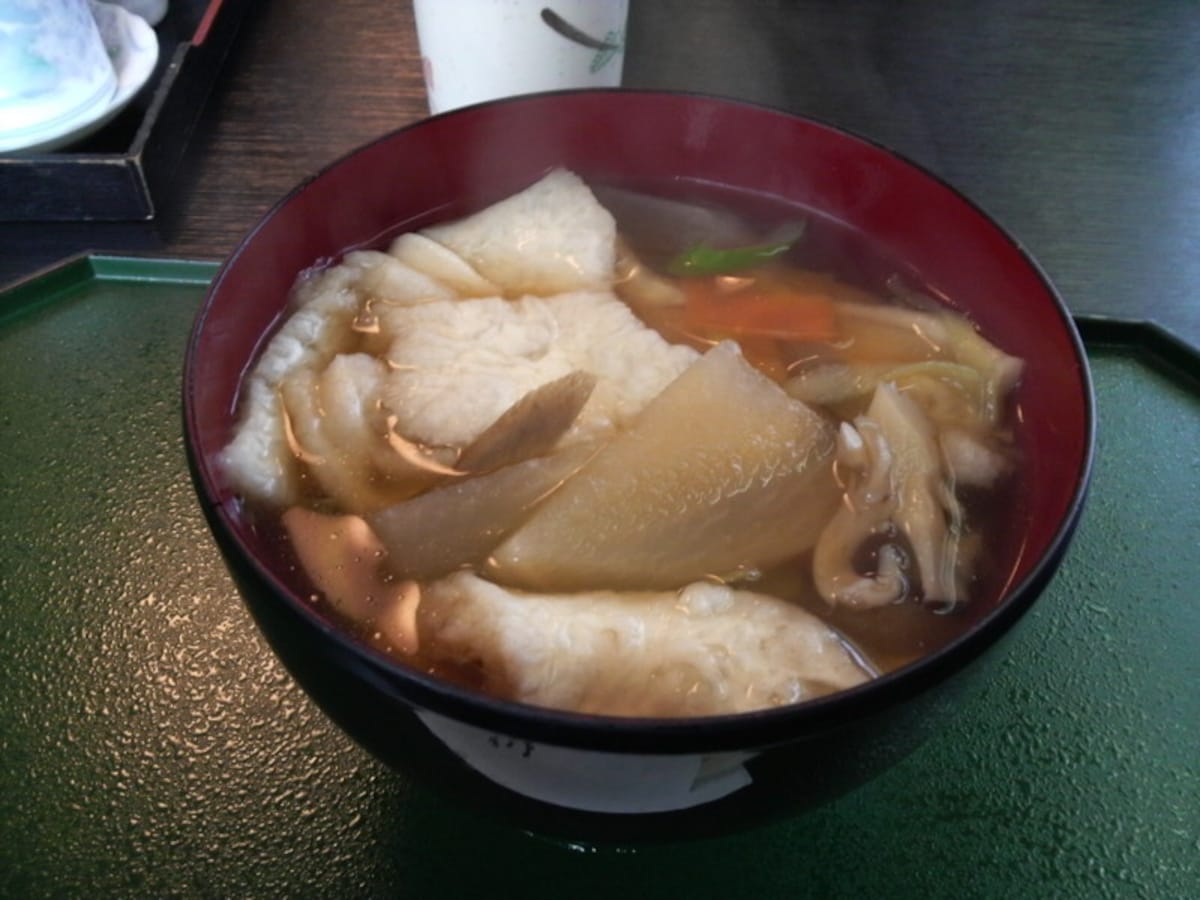 Senbei soup or hotpot (せんべい汁・senbei-jiru) is a local dish in Hachinohe City, in the southeastern part of Aomori Prefecture. The dish is said to have been consumed in the region since the late Edo Period (1603-1868). Although the word senbei is often translated as 'rice cracker,' the senbei used in this soup (called Nanbu-senbei after the clan that historically dominated the area) is usually made of wheat and does not get mushy when simmered. The senbei takes on the deep, soy-sauce-based broth of the soup and pairs deliciously with the vegetables and meat or fish in the hotpot.
2. Wanko-soba Noodles (Iwate)
Rooted in the spirit of hospitality, wanko-soba (わんこそば) noodles in Iwate have become a tourist attraction in themselves. They started as a way to serve freshly boiled noodles to a large number of guests simultaneously, and for this reason noodles were served in small amounts that could be consumed within a single mouthful. Today, wanko-soba not only refers to the dish itself but to its eating style, in which a diner is served with a small bowl of noodles with endless "refills" until they stop the server, usually by covering the bowl with a lid.
3. Kiritanpo (Akita)
Nothing can represent Tohoku better than what it produces the most—rice. Kiritanpo (きりたんぽ) refers to mashed rice wrapped around a cedar stick that's usually grilled with miso, or served in a simple-flavored hotpot with other ingredients such as chicken and vegetables. In the regions such as Odate and Hokushika, where kiritanpo is said to have originated, people have long embraced the dish as one for special occasions, such as weddings and funerals.
4. Zunda (Miyagi)
Zunda (ずんだ) is green soybean (better known as edamame) paste flavored with sugar and salt. While it's most widely known as the main "sauce" covering local rice cake snacks (known as zunda-mochi), zunda is consumed in many different ways. Nowadays, zunda (or zunda flavor, at least) can be tasted in the forms of chocolate, roll cake, pudding, ice cream and many more delicacies.
5. Taro Hotpot (Yamagata)
Imoni (芋煮), or taro hotpot, is a simple dish of taro and other vegetables (meat and konnyaku are often added as well) simmered together in a soy-sauce-based soup. It's a Yamagata tradition to gather around the imoni hotpot with family and friends. When the dish turns into a festival, it's a completely different story, however.

Since 1989, Yamagata hosted Japan's biggest imoni gathering. During this event, which is held every September to open the imoni season, imoni is cooked in a 6-meter-wide (20 ft) pot that needs special cranes to help stir it. Inside the pot, 3 tons of taro, 1.2 tons of beef and thousands of onions are simmered in a soup that requires 6 tons of water and 700 liters (185 gal) of soy sauce and other seasonings—enough to serve 30,000 visitors!
6. Namie Yakisoba (Fukushima)
As the name implies, Namie yakisoba (なみえ焼そば, Namie pan-fried noodles) was born in the town of Namie in Fukushima. Locals have embraced the dish for decades, as its history is said to date back about 50 years. Namie yakisoba uses very thick noodles and simple ingredients, such as pork and bean sprouts, and is flavored with thick, sweet sauce. In 2013, Namie yakisoba won the Gold Grand Prix award at the B-1 Grand Prix, held in Toyokawa City, Aichi, to honor the nation's top local specialties. (The "B" refers to B-kyu gurume, or B-grade gourmet—cheap but delicious dishes.)