13 Tantalizing Tohoku Treats
From regional dialects to mascots to snacking, Japan is a small country that embraces its many unique regions. Tohoku, nestled all the way up in northern Honshu, has a wide spread of regional sweets, from candied apples to custard cakes and crunchy traditional crackers. We've ranked 13 of the best sweets from this mountainous Northern region!
13. Noshi Ume (Yamagata)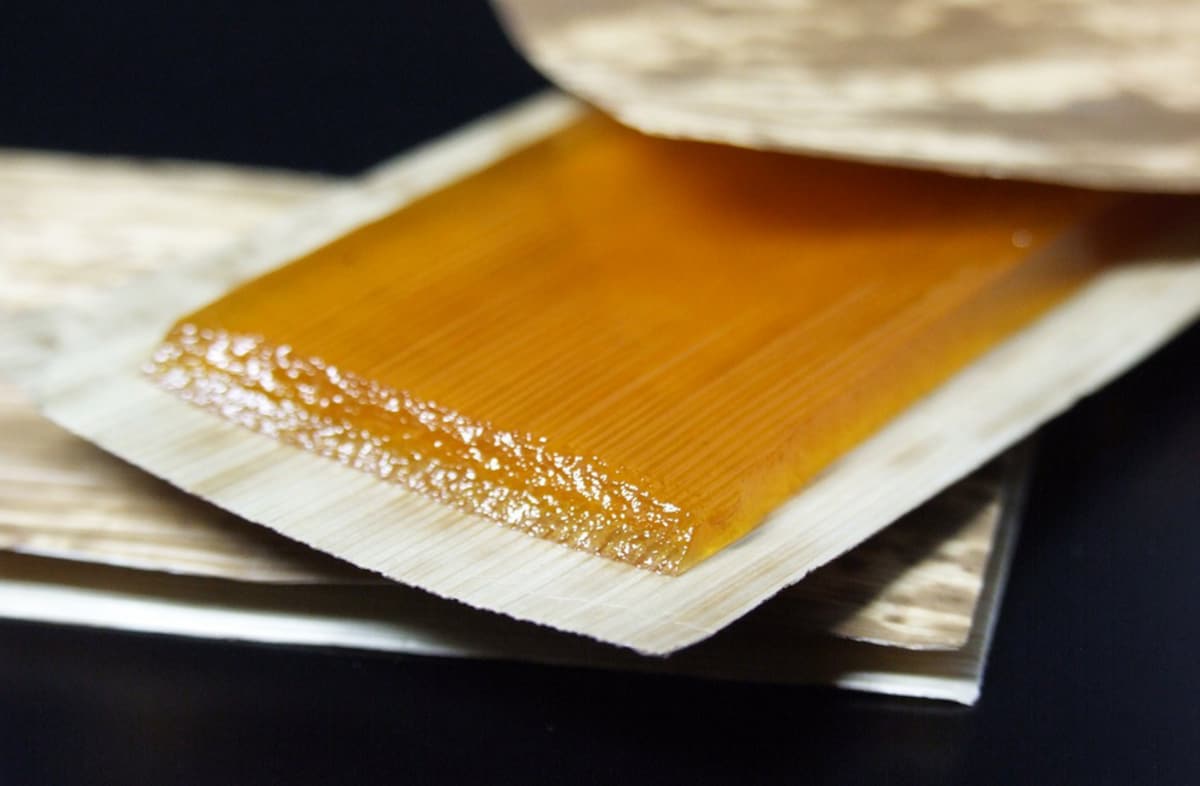 Similar to Akita's Sanazura (see below), Noshi Ume is a pickled-plum-flavored candy made from agar and sugar. This sweet, fruity jelly cake is a Yamagata tradition.
12. Mamadoru (Fukushima)
These cakes look a bit like a Twinkie, but pack a lot more flavor with a fresh, sweet, milky bean paste filling. It sounds like an odd mix, but biting into one of these, you'll be surprised it came out of a wrapper.
11. Ecusson Pie (Fukushima)
Ecusson pies are a Fukushima favorite. A crisp, flaky pie crust surrounds a sugary mix of red bean paste and walnuts. These little confections are buttery, sweet, and baked to perfection. They make a perfect winter dessert.
10. Jangara (Fukushima)
Jangara is a heavenly cake sandwich inspired by the drums used in traditional Jangara dancing. The Jangara dance serves as a prayer for one's ancestors to the Amida Buddha. The dessert, on the other hand, features two cakes coated in sugar that protect the thick, sweet red bean filling.
9. Makoron (Miyagi)
Hailing from Miyagi Prefecture, this Japanese twist on a French classic macaron is a local favorite. Miyagi bakers changed things up in their take on this famous dessert, using peanut flour in place of the usual almond. Many wagashi (Japanese sweets) shops have created different varieties, including sesame, chocolate, and brown sugar flavors.
8. Nanbu Senbei (Iwate)
Nanbu Senbei (Nanbu Crackers) are made of a simple mixture of water and wheat flour mixed with favorite flavors like peanut and sesame. Senbei are found all over Japan, but the "ears" on Nanbu Senbei, the crispy bits that border the cracker, are what set these crunchy treats apart.
7. Sanazura (Akita)
If there's a special, nostalgic spot in your heart for Fruit Roll-Ups, Sanazura is for you. This jellied fruit candy made from grape juice is a unique, sweet treat that has a soft bite and sour grape flavor.
6. Kinman (Akita)
Kinman (or golden buns) are delightful little pastries baked with honey and egg. The filling is quite special: inside you will find a sweet white bean paste that's quite a surprise if you're accustomed to the standard adzuki red bean paste!
5. Kara-Kara Senbei (Yamagata)
These fun cracker parcels are named for the crunching 'kara-kara' noise they make when you bite into them. And inside the carefully folded cracker you'll find a traditional Japanese toy. It's similar to a Kinder Egg, but these treats have been around for over 300 years! Kara-Kara Senbei are Yamagata's most treasured snack food.
4. Usukurenai (Aomori)
Usukurenai are pretty pink Fuji apple slices that have been dipped in syrup before being dried. The process gives this snack a pleasant sweet-and-sour taste. It can almost convince you it's healthy!
3. Hagi-no-Tsuki (Miyagi)
Well-prepared, fluffy sponge cake encases a rich custard cream to make Hagi-no-Tsuki (Bush Clover Moon) a favorite in Miyagi Prefecture. The cakes are named after Miyagi's signature flower, the hagi, or bush clover. These flowering bushes are a distinctive sign of autumn, and Hagi-no-Tsuki is a fitting seasonal treat. Its pale yellow color and perfectly round shape mimic the harvest moon.
2. Kamome-no-Tamago (Iwate)
Kamome-no-Tamago, or Seagull's Eggs, are another white bean treat in the vein of Akita's kinman. These light, egg-shaped cakes are filled with white bean paste and coated in a thin white chocolate shell.
1. Ki ni Naru Ringo Pie (Aomori)
Every region of Japan has its own culinary specialty, and in Aomori that specialty is apples. The Ki Ni Naru Ringo Pie (literally, "You'll Love It Apple Pie") is one of the region's most famous sweets. A cored Aomori apple is dipped in syrup for a few months before it's filled with pie dough and encased in a flaky crust. The effect is a whole apple enrobed in pastry, and it's as delicious as it sounds. For a real treat, heat it up before serving.