6 Great Innovations from Japan's Countryside
From urban planning and fish farming to food recycling and the re-invigoration of traditional techniques, a number of great ideas have come out of Japan's smaller towns and cities. The following six examples are emblematic of the drive for innovation and self-sufficiency that is characteristic of the Japanese countryside.
1. Knitting Friendships (Miyagi)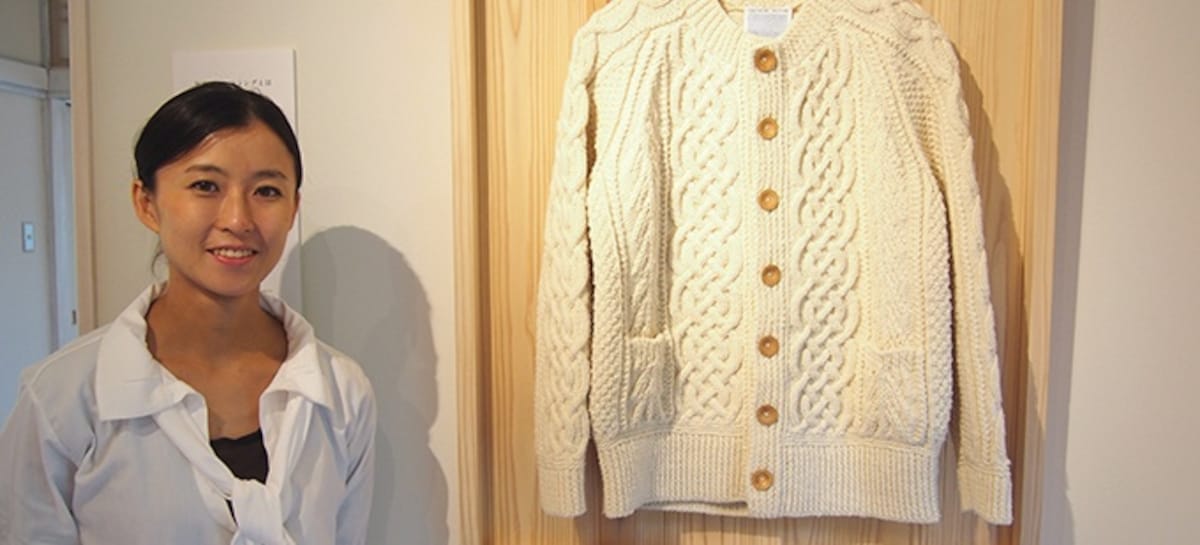 In a quaint building situated on a small hill near Kesennuma Bay in Miyagi Prefecture, Tamako Mitarai of Kesennuma Knitting is immersed in the creation and marketing of hand-knit cardigans and other sweaters. Taking over as CEO and representative director of the company in June 2013, Mitarai has woven her domestic and international experiences into branding Kesennuma Knitting as a place to create not only knitted products but also bonds between people.

Kesennuma is filled with fishing boats that travel as far as halfway around the world to places like Spain's Las Palmas de Gran Canaria to catch fish. It's a business that is high risk as well as high return, and speaks to the adventurous and enterprising spirit of the people in Kesennuma, who Mitarai says "naturally look to the ocean, to the world outside." Mitarai has ventured to turn Kesennuma's history of knitting fishermen's sweaters into a high-quality sweater and cardigan knitting industry.

Kesennuma Knitting's first product, the MM01 cardigan, with buttons made of oak, is a custom-made cardigan that debuted in 2012, and currently has a waiting list of more than a hundred customers. Mitarai sees no sense in rushing to finish orders, however, since quality is crucial in the formation of a globally respected brand. Kesennuma Knitting is a business that will take a hundred years or more to build its history, starting from training expert knitters to continue a cycle of raising future generations of knitters. Last March, for example, they held a knitting workshop for kids, many of whom had never tried the craft before.
2. Udon Total Recycling Project (Kagawa)
Kagawa Prefecture is so renowned for its udon noodles that it calls itself "the Udon Prefecture." Several years ago a local revitalization project found great success marketing udon, and many people from all over Japan came to Kagawa Prefecture to enjoy its noodles.

Now they not only eat udon in Kagawa, they've started recycling it. Kagawa's groundbreaking recycling system, which functions at a level where absolutely no udon is wasted, is drawing attention as a model for future food waste processing. Highlighting Japan spoke about the project with Chiyoda Manufacturing CEO Eiji Iketsu, who single-handedly undertook the development of the hardware portion of what came to be known as the "Udon Total Recycling Project," and Tomio Sumada, president of the Udon Total Recycling Consortium.
3. Sustainable Indoor Shrimp Farming (Niigata)
In conjunction with a joint program within industry, academia and national research institutes, IMT Engineering, Inc.—a company in Myoko, Niigata Prefecture that raises and sells shrimp—has been engaged in much-watched experiments to develop Japan's first indoor shrimp production system (ISPS), enabling the cultivation of shrimp on land, away from their natural ocean and river habitats.

Shrimp are in high demand globally, but 90 percent of those distributed worldwide are farmed, and shrimp cultivation presents a host of issues. In places such as Southeast Asia, Africa and South America, for example, the general procedure is to cut down coastal mangrove forests to create shrimp ponds. To raise productivity, the shrimp are given massive amounts of hormones. And as shrimp waste and leftover feed settle to the bottom of the ponds, the waters become contaminated if neglected. Humectants and preservatives are added in an attempt to mask the water quality, and disease-prevention measures such as antibiotics are used as well.

That all results in drug-dependent shrimp and massive marine pollution. Shrimp farms must therefore be relocated every four to five years. Through the overfishing of natural species, harvests are also in severe decline, and coupled with foreign exchange risk that causes steep price increases, the overall supply of shrimp is unstable.

The ISPS is housed inside a plant, making it impervious to climate changes, and uses microorganisms to cleanse and circulate the water, promoting growth in a renewable system. The process has eliminated the need for drugs and antibiotics, producing shrimp that are both safe and high in quality. Since the birth and growth of the shrimp is completely controlled and monitored, the system even provides the opportunity to retroactively investigate and authenticate conditions all the way back to a shrimp's birth.