The Association of the Most Beautiful Villages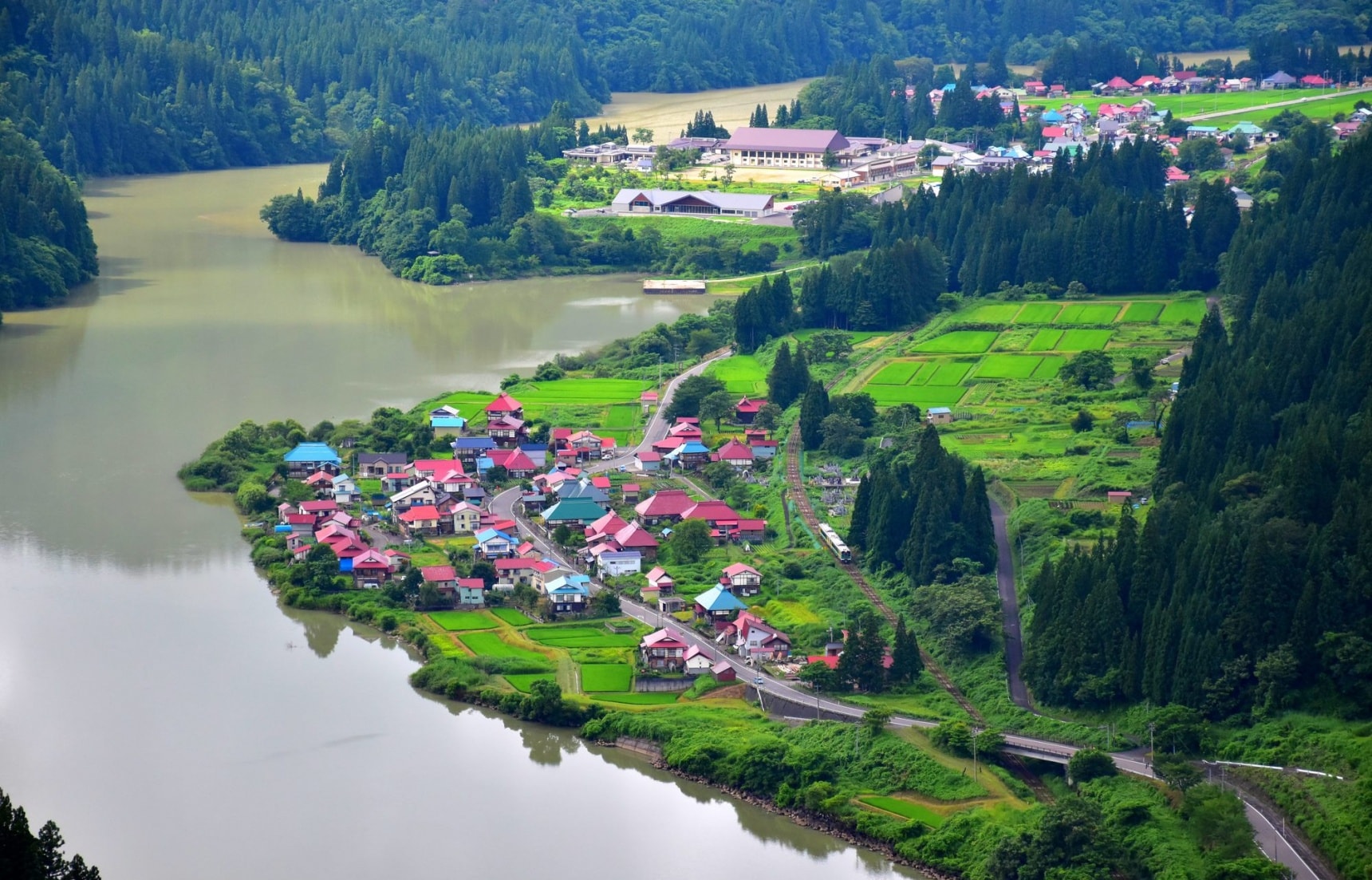 The Association of the Most Beautiful Villages in Japan is a non-profit organization whose goal is to recognize and preserve rural heritage for its members, as well as boost tourism. The group began in 2005 with seven villages and has since grown into a list of more than 60 villages throughout the country!
The Criteria
In order for a village to be considered for membership, it must meet certain criteria. The population must be around 10,000 inhabitants or less, and also requires two or more local sustainable resources (agriculture, forestry, fishing, maritime trade, for example). The Associate has outlined five major goals for each of its member towns.

1. Improving brand value of each member
2. Enhancement of promotional activities
3. Strengthening the organization itself
4. Expansion of understanding
5. Strengthening of cooperation and exchange

Although their website offers information in mostly Japanese, it does have a small English language portion. These villages can be found all over Japan, and though they are often remote and sparsely populated, there is no shortage of unique things to do and see. Bigger doesn't always mean better! Take a look at 10 of the member villages and see for yourself!
Biei - Hokkaido Prefecture
Biei is the central Hokkaido village where it all started. In 2005 the mayor of this town initiated the association, along with a handful of other towns join. Biei is one of the more well-known towns on the membership list, and one of the bigger, with a population hovering just over 10,000. Biei is famous for its pastures, hills, and wide open nature.

There are two main areas to explore: Patchwork Road and Panorama Road. Biei is perfect for driving or cycling, though due to the hilly nature, you may want to consider an electric bicycle. July and August are popular sightseeing times, but the dreamy snowscape in winter also attracts tourists. Several Japanese commercials and products feature sights in Biei, which have become popular attractions in their own right. In addition to its sights, Biei produces fresh vegetables, wine, cheese, and dairy products. Be sure to check out the local market, Biei Senka, just outside the main train station.
Ine - Kyoto Prefecture
Sometimes called "The Venice of Japan," Ine is known for wooden fishing houses called funaya. These unique dwellings are built right on the water, atop a kind of boat garage, with the living spaces either on the second floor or across the road. Ine is perfect for a stroll—be sure to check out the hilltop park, where you'll be able to see the town, as well as fishing pens in the water were different species of fish are cultivated. Fishing is the town's primary sustainable resource. Ine also relies heavily on tourism, and has been well developed with the help of the Association. You can experience historic buildings, sightseeing cruises, a brewery, museums, and restaurants. Some of the boathouses have even been repurposed as lodges. Why not experience Ine as an overnight stay? If all that wasn't great enough, Ine is located close to Amanohashidate, one of Japan's "Three Scenic Views."
Hoshino - Fukuoka Prefecture
Stargazers, this one's for you! Hoshino is located in the southeastern part of Fukuoka Prefecture, on the border Oita. In 2010, Hoshino was merged with other cities into Yame City, but the name "Star Village" seems appropriate for the home of the Star Culture Center. The village is long and narrow, and stretches out over a lush section of forest. In fact, over 80 percent of the town is forest, so naturally agriculture and forestry are the main industries. Because of this, light pollution is scarce, and the views of the night sky are incredible. In addition, you'll find terraced rice fields and tea plantations. The elevation of the town varies from 200 to 1,000 meters, and the climate creates significant differences in temperature from morning to night, which contributes to the cultivation of tea. If you've come for tea, be sure to visit the Tea Culture Center. Camping is also possible in the area.
Sai - Aomori Prefecture
The village of Sai was selected to the list in 2016. It is located on the northern tip of Aomori Prefecture's Shimokita Peninsula, and is actually closer to Hokkaido than Aomori City. In spring, travel to Sai for its well known sea urchin roe dish, said to be deliciously rich and sweet. Sai is a fishing village at heart, and in summer a fishing boat parade and festival are held. Most of Sai's industry comes from maritime trade and fishery. Historically, Sai shipped cypress timber for construction but these days most of the cypress goes to crafts made locally. In the winter, people come to the village to catch sight of the world's northernmost Japanese macaques! Sai is also known for unique geological formations, which were influenced by ancient volcanic activity. Be sure to catch the white, otherworldly cliffs of Hotokegaura. Come to Sai for handmade products, fresh seafood, and friendly locals.
Maze - Gifu Prefecture
Located 500 meters up in the mountains, Maze City, part of the Gero region, is a small town in Gifu Prefecture. The population is just over 1,000 and the area is 95 percent forest. Ayu (sweetfish) and timber are Maze's main resources. You will also find clean water, fresh vegetables, salt-grilled ayu on charcoal spits, and farmers markets here. Rice is also grown here, as well as tomatoes, and the area's local wagyu brand, Hida beef, also comes from the town. More recently, canyoneering has drawn tourists looking for adventure sports. Old wooden houses can still be found, as well as small shrines important to each hamlet, maintained by the people who live and work in Maze. Maze will satisfy those looking for an atmosphere that hearkens back to days gone by.
Matsuzaki - Shizuoka Prefecture
Located in the southwestern part of the Izu Peninsula, Matsuzaki is one of the selections closest to Tokyo. It features rice terraces overlooking Mount Fuji, and the town sells salted sakura leaves as its specialty, as well as sakura mochi (a variation of the glutinous rice dessert ubiquitous throughout Japan). Since 1978, the town's initiative has been to create a "Hometown of Flowers and Romance." To this end, the town has promoted events, and the development of local museums and cultural properties such as the Hachi Art Museum and the Iwaka School. Forestry, fishing, and tourism based on the hot springs industry are the main resources for this town. Matsuzaki is also known for namako kabe, which literally means "sea cucumber wall," and refers to a type of fireproof wall common in traditional Japanese houses built from the Edo Period to the 1920s. Izu was the region most known for namako kabe in eastern Japan, and within Izu, Matsuzaki was the most famous for it.
Okura - Yamagata Prefecture
The village of Okura is a hot spring town nestled in the mountains of central Yamagata. The town is 85 percent forest, and dominated by two mountains, Hayama and Gassan, from which two rivers originate. Okura sees heavy snowfall in winter. The water is abundant and the land is fertile, so agriculture has flourished in this area. Rice and tomatoes are particularly well-known locally, and buckwheat and sake production also take place here. Kokeshi dolls are made all over Tohoku, but Okura Village has its own special kind, known as Hijiori Kokeshi. The Hijiori onsen area has a history stretching back over 1,200 years, and features plenty of traditional ryokan inns and hot springs. The main street is especially beautiful in winter under a blanket of snow. There is a dense beech forest nearby that is perfect for hiking in warmer months.
Esashi - Hokkaido Prefecture
Sometimes called "the birthplace of Hokkaido culture," Esashi is one of the oldest towns in Hokkaido. Those interested in history might especially like this town, since there are many historical and cultural properties to visit. Esashi was an important merchant and port town in the Edo and Meiji Periods. In 1868, the warship Kaiyo Maru sank off the coast of Esashi, and the location can be visited, as well as a replica ship and exhibit with remains from the bottom of the sea. Esashi has many interesting festivals, including a merchant ship race in July, Hokkaido's oldest festival (Ubagami Daijingu Togyo Festival) in August, and a hot pot festival in winter. Heishi-iwa is also well worth a visit; legend being that an elderly prophet threw a liquor bottle into the sea which attracted large schools of herring and subsequently turned into a strangely-shaped rock. The rock is still worshiped today.
Ama - Shimane Prefecture
"There's nothing we don't have!" is the proud slogan of this Shimane town. A three hour ferry ride from the mainland, you won't find any 7-11 or Family Marts here; there are no convenience stores on the island. One interesting fact about Ama is that it has a high concentration of transplants who move to the island, bucking the trend of rural decline that troubles other parts of the country. Ama is known for its fresh water, which was selected among the "100 Best Waters in Japan," which is apparently a thing! Fishing and agriculture make up most of the industry on the island. Lafcadio Hearn, the Irishman credited with introduced much of Japanese culture to the Western world, was reportedly a big fan of the island, which appears in one of his novels.
Tamara - Okinawa Prefecture
You've heard of Japan's cat islands and Japan's rabbit islands, but have you heard of the island of goats? Reportedly the goats outnumber the people on Tamara Island in Okinawa Prefecture. In fact. they steal the spotlight on this particular island so much that a goat-fight tournament is in held not once, but twice a year in May and October. Agriculture is the center of industry on the island, along with beef cattle and other livestock. Leaf tobacco, sugar cane, and vegetables are the main products cultivated in Tamara Village. The island also offers plenty of pristine beaches. Try renting a bicycle to get around! After taking in the rural sights, relaxing at the beach, and watching a few goat battles, why not finish the picture with a steaming bowl of goat meat soup?