Sai: Humble Village, Proud Heritage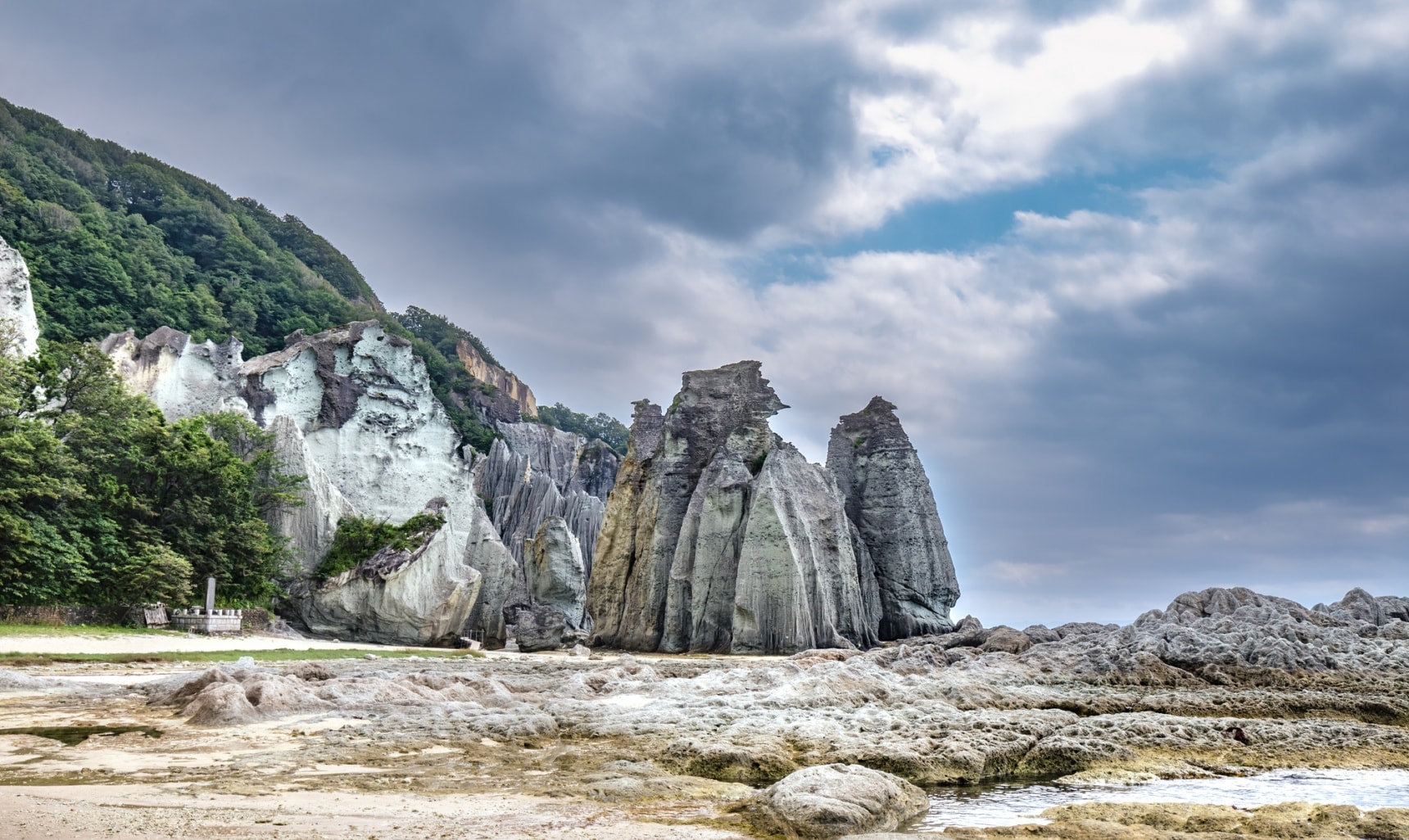 Sai is a small village that overlooks the Tsugaru Strait on the northern tip of Japan's largest island, Honshu. Although closer to Hokkaido than to other major cities in Aomori Prefecture, Sai still embodies the unbelievable natural beauty, rich cultural history and bountiful food culture one can only find in the Tohoku region.
Seeing Is Believing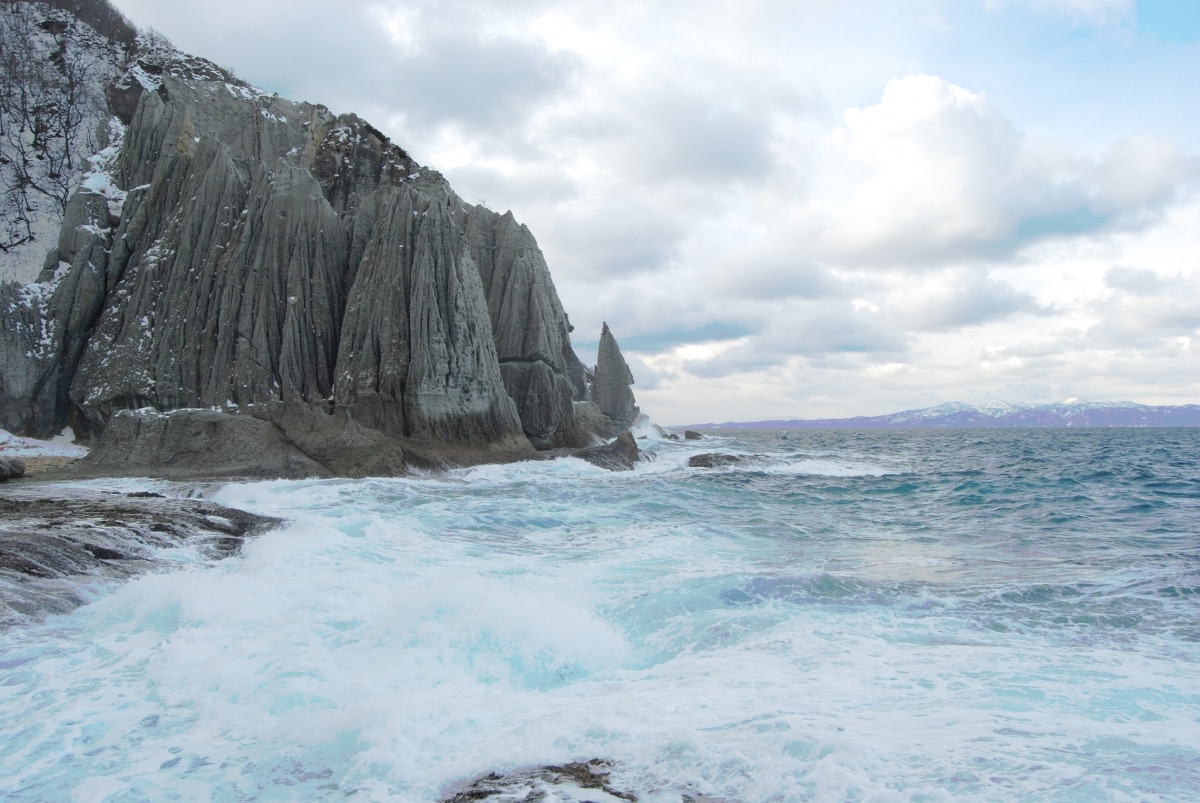 Located on the Shimokita Peninsula, Sai Village (佐井村, Sai-mura) offers breathtaking views of sweeping mountains and crystal-clear ocean coastlines. As one of the northernmost regions of Honshu, it boasts cool summers and long, snowy winters, with plenty of reasons for nature lovers to visit any time of year.
Perhaps the best example is Hotoke-ga-Ura, named after the Japanese word for Buddha combined with the word for cove. As ancient as Japan itself, Hotoke-ga-Ura is a two-kilometer-long (about 1.25 miles) stretch of coast comprised of uniquely shaped rock formations created over centuries of exposure to the elements. When the weather permits, visitors can board tour boats to gaze upon the coast from the water. Otherwise, they can hike down the mountainous path to the shore throughout the year, although it's a bit more difficult in winter!
Regardless of how one gets there, the view is more than worth it. Designated a Natural Monument and a Place of Scenic Beauty by the Japanese government, Hotoke-ga-Ura is as gorgeous as it is eerie. One can't help but feel mystified in the presence of the sharp, almost otherworldly beautiful outcroppings. In the summer, the feeling is amplified by the Hotoke-ga-Ura Festival, when locals come to pray and women chant sutras while passing prayer beads.
History in the Making
On top of the Hotoke-ga-Ura Festival, Sai has many cultural traditions that are hundreds of years old and unique to the region. Take, for example, the proud history of kabuki theater performed in Fukuura, one of the four areas of Sai. Practiced for over 200 years and performed in the local dialect, Fukuura Kabuki is a tradition that has been handed down through generations of local fishing families and is considered a priceless piece of the area's intangible cultural heritage.
Although performances throughout the year are infrequent, tourists can visit the theater and be dressed in the costumes that the actors perform in, complete with traditional makeup applied by professionals.
Sai is also home to a performance known as Yagoshi Kagura. Known as "God Entertainment," kagura refers to a type of theatrical performance with roots in Japan's Shinto religion.
Throughout the year Sai's troupe performs about fourteen times, especially around New Year's and the Japanese summer festival Obon. The performance itself is a dramatic lion dance accompanied by the rhythmic music of traditional Japanese instruments such as taiko drums.
There are also opportunities for hands-on experiences with traditional Japanese weaving, net-making for decorative glass works, mochi making, and more. As well as a traditional Summer Festival, Sai also has the Yanonemori Hachiman Shrine Festival (heavily influenced by Kyoto's Gion Festival), and several food festivals, such as the Fish Festival and the Uni (sea urchin) Festival.
Treasures from the Sea
Speaking of seafood, Sai has access to some of the freshest seafood in the country thanks to its coastal location. It's famous for its wealth of rich, buttery uni, which is served up in unbelievable quantities on top of a bowl of rice, as well as its succulent maguro tuna. Most of the restaurants around town serve up specialty set menus comprised of all the bounty the sea has to offer at insanely low prices.
Perhaps the most delicious dishes are served at the various minshuku, which are basically the Japanese version of a bed and breakfast. Each meal is meticulously prepared by their respective owners with a combination of so much delectable seafood and local, seasonal vegetables that visitors are sure to be satisfied, no matter how big their appetite! Once customers have had their fill, they can relax with a nice hot bath, before settling down for a cozy night on a soft futon.