The 6 Greatest Snowscapes in Tohoku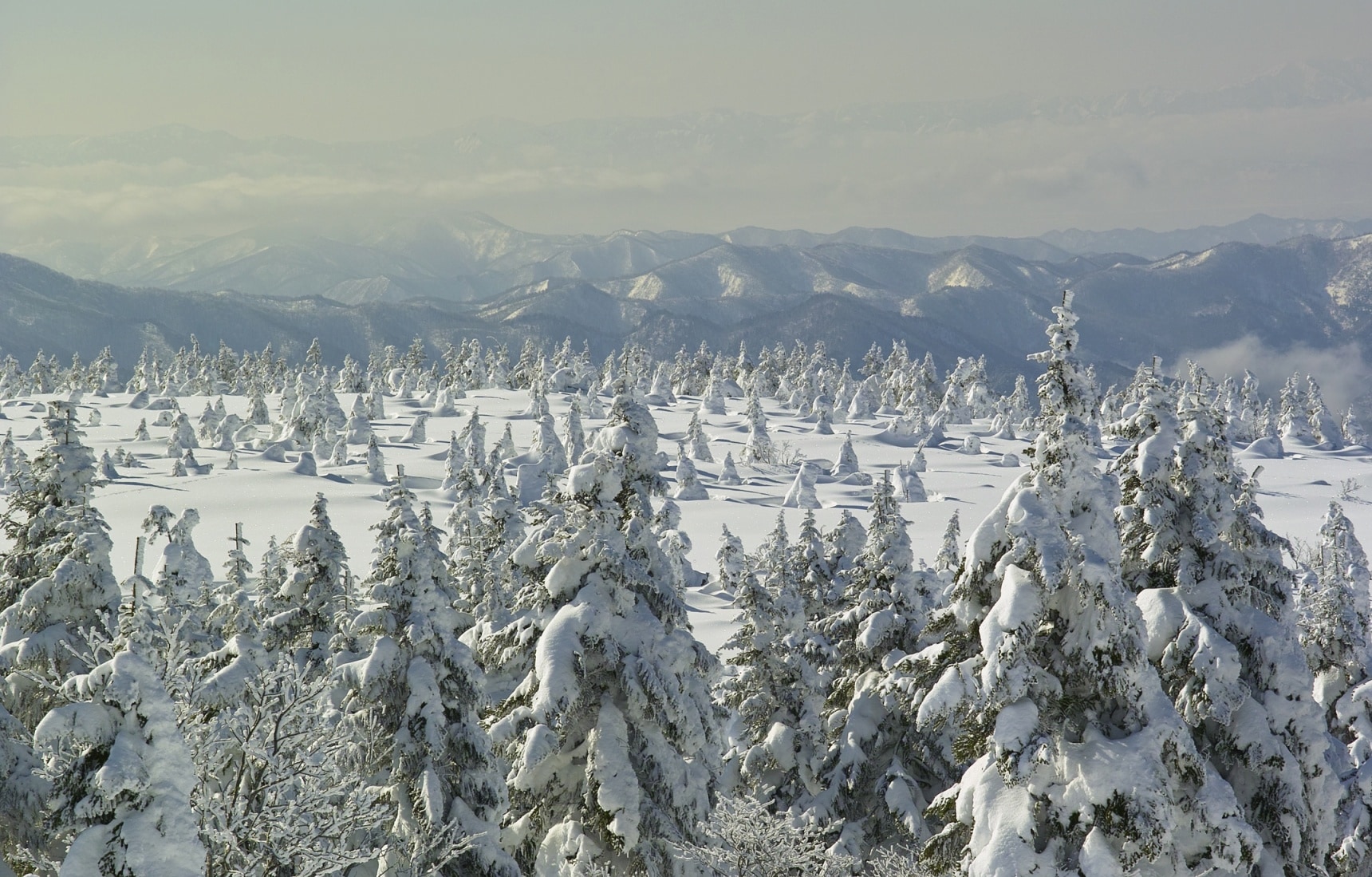 1. Oirase Mountain Stream (Aomori)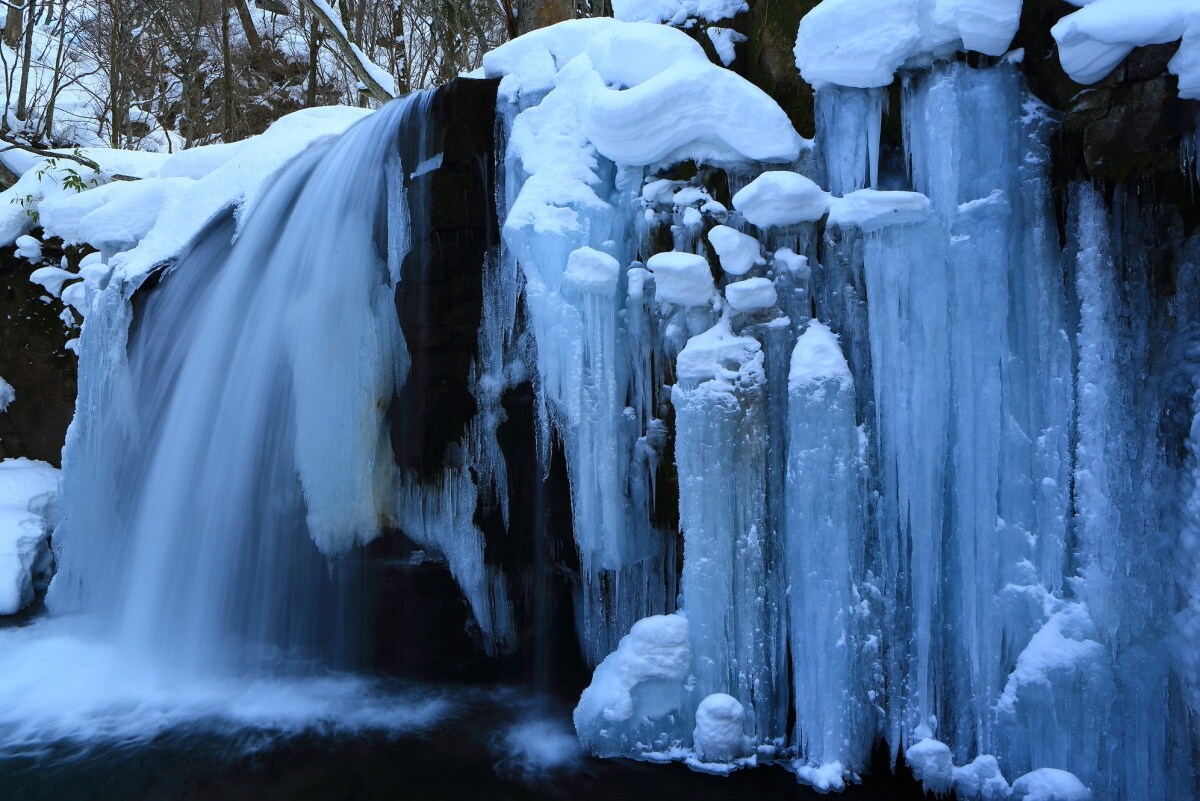 The Oirase Mountain Stream (奥入瀬渓流・Oirase Keiryu) is located in Towada City, Aomori. Along the first 14-kilometer (8.7-mi) stretch as the stream flows out of Lake Towada, visitors can enjoy the changing views of over a dozen waterfalls in woods rich in variety and color throughout the year. In winter, the 20-meter-wide (65.6-ft) Choshi Great Waterfall (銚子大滝・Choshi Otaki) turns into an "icefall" that seems to literally freeze time. Combined with the snow, it's a must-see natural spot in Aomori for anyone who wants to have a memorable winter experience.
2. Jodo-ga-hama (Iwate)
Jodo-ga-hama Beach (浄土ヶ浜) in Miyako City, Iwate is a popular seaside spot in summer and a picturesque snowscape in winter. The beach is said to have been named by a monk who visited the place in the 17th century, saying it resembled Gokuraku-jodo, the heavenly land he envisioned in his training where there is no pain or suffering. The volcanic rocks on the beach contain silicon dioxide, making them bright white—an incredible pairing with snow!
3. Matsushima (Miyagi)
Even without snow, Matsushima (松島) is already a popular tourist destination in Miyagi, as it's widely known as one of the Three Great Views of Japan. The place might be more famous for its greenery of pine and cedar than the whiteness of snow that covers it in winter, yet the snowscape of Matsushima is another scene in Tohoku that should be valued for its marvelous beauty. Tourists can enjoy the view from a different angle by taking a cruise as well!
4. Nyuto Onsen (Akita)
Nyuto Onsen (乳頭温泉郷・Nyuto Onsen-kyo) in Akita comprises seven hot spring inns fed by 10 different hot spring water sources. Each water source has its own unique characteristics, which is why bathing at all seven inns is said to cure any illness. You can purchase a ticket to all seven inns for ¥1,800. Considering admission fees range from ¥520 to ¥800 each, it's a great deal for any onsen (hot spring) lover! In winter, visitors can appreciate the warmth of onsen even more in contrast with the surrounding frozen landscape.
5. Zao Snow Monsters (Yamagata)
The Zao Onsen area of Yamagata Prefecture is famous for its snow monsters, or Juhyo (樹氷)—frozen trees covered by the region's heavy snow. The Zao Juhyo Festival is held from late December to early March each year (December 23-March 5 for 2016-2017), offering one of the greatest pieces of natural artwork you can see at -10 degrees Celsius (14°F). From 5 p.m. to 9 p.m. each day, the snow monsters reveal another face in the dark with various shades of lighting. Whether or not you really see them as monsters, they're definitely a great wonder of nature!
6. Goshiki-numa (Fukushima)
Goshiki-numa (五色沼) is a group of ponds in Kitashiobara Village in Fukushima, most famous for their changing colors of water (goshiki means five colors). A mineral called allophane, consisting mainly of aluminum and silicon oxides, gives the ponds a distinctive blue-white hue that changes with the angle of the light. In winter, snow again alters the color of the surroundings as the walking trail and forests turn white, providing a different contrast of colors from other seasons.
Take a look at some more wonders from the Tohoku region right here!