Five Hokkaido Dishes to Warm Up Your Winter!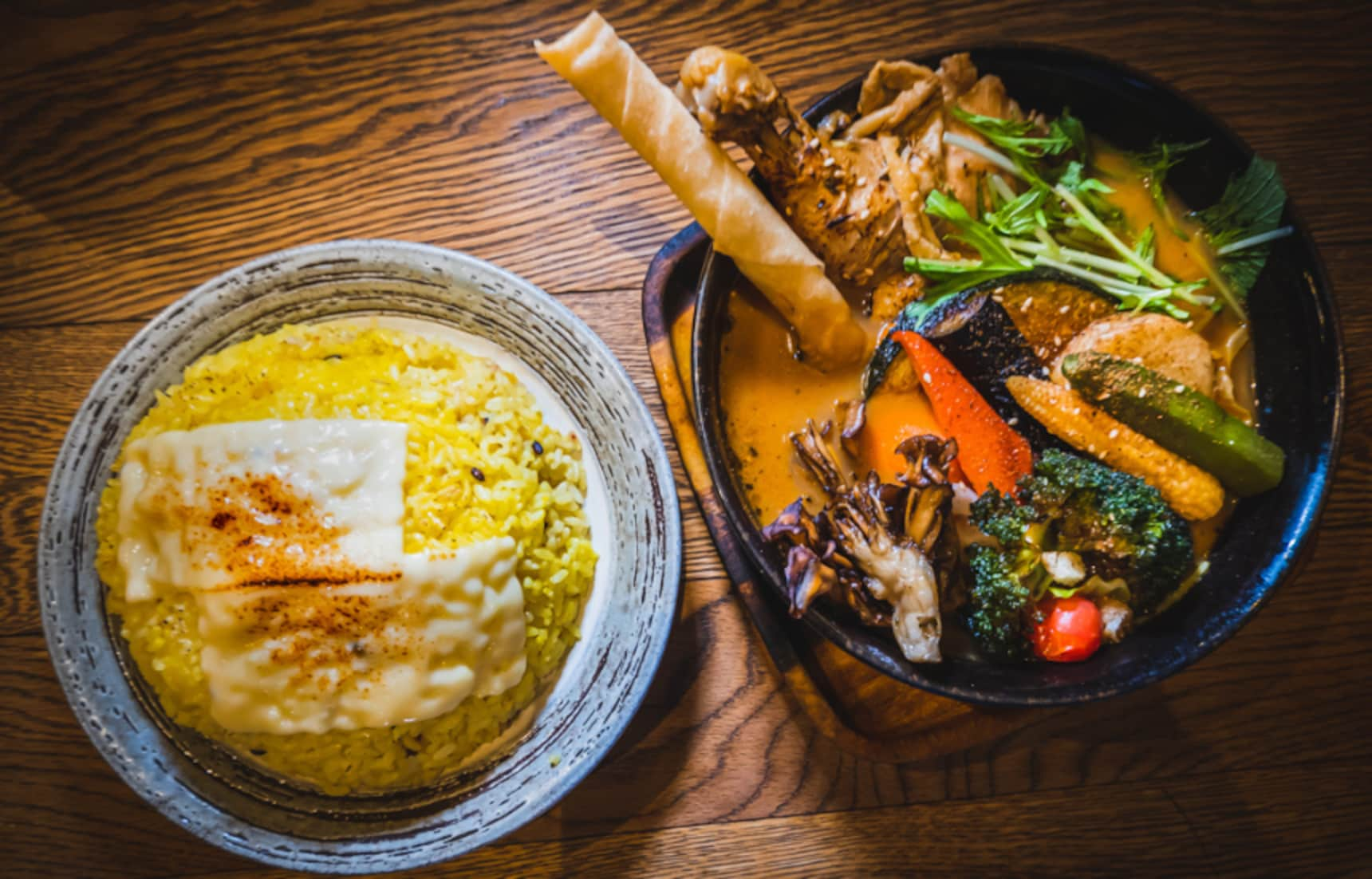 All photographs by John Horn, Jr.

When the weather outside is delightfully cold, as it almost always is in the winter wonderland of Hokkaido, you can be sure that these local dishes will warm you up from the inside! Sapporo resident Delaina Miyazaki shares her favorite meals for staying toasty on those chilly days and nights.
For the past few years, I've had the great pleasure of working on camera as a travel reporter on programs for NHK World, the New Chitose Airport, and the Hokkaido Government Tourism Bureau. This work has taken me all over Hokkaido and provided me with more opportunities than most to taste a wide variety of local cuisine at some of the best locations. After choosing several local delicacies for this article, I headed out with good friend and photographer John Horn Jr. (Instagram: @simplysapporophotography) to confirm my selection.
Robatayaki at Shinfukujin Shoten Tanukikoji
To start us off, I booked a table at a popular restaurant in one of my favorite Sapporo downtown districts. At traditional robatayaki restaurants, there is a large charcoal grill manned by a chef, who grills a wide selection of local seafood, meats, and vegetables over smokey hot coals. But here at the Shinfukujin Shoten Tanukikoji, things are slightly different.

At this shop, each table has its own grill and you get to be the chef and decide what cooked-to-perfection means. We went with the Hokkaido seafood trio special, which included a fat juicy oyster, a large succulent scallop, and a plump shrimp along with a Hokkaido vegetable set featuring all of the famed staples of the area.
We filled up on corn on the cob, sweet onion, shitake mushroom, boiled white potato, and asparagus with a healthy side of butter and topped off with the shop's original light-colored dashi shoyu seafood stock soy sauce. The scent of the cooking adds to the warm cozy atmosphere and the effect of the sake that washes down the grilled food.

Shinfukujin Shoten Tanukikoji (Seven Lucky Gods Grill) in Tanukikoji
Address: 〒060-0063 Hokkaido, Sapporo, Chuo Ward, Minami 3 Jonishi, 5 Chome
Phone: 011-219-2501
https://shitifukutanuki.owst.jp/
Nabe Hot Pot
Nabe-ryori (hot-pot cuisine) is a style of Japanese cooking using large, communal earthenware pots, heated over portable electric or gas stoves, from which people pluck the cooked ingredients to eat with a dipping sauce or just as is. There are many nabe styles, incorporating various meats, sea foods, and vegetables. The difference is usually in the soup stock, which ranges from hearty to thin broths.

Nabe is a staple dish for dosanko (Hokkaidians), and while it's often eaten at home, it's popular enough that restaurants serving it abound in Sapporo. I've selected two of my favorites, which serve very different types of nabe.
Kimuchi Nabe at Akakara
For an "adult" flavor, I suggest Akakura and its tasty kimuchi (kimchi) nabe.

The base of this hot pot dish is kimuchi, a Japanese version of the salted and fermented vegetables that make up the Korean side dish of kimchi. The spicy hot flavors come from the chilis, garlic, ginger, and many other ingredients that give kimchi its pop. Our basic order included Chinese cabbage, bean sprouts, thinly sliced pork, tofu, nira Chinese garlic chives, deep-fried agedofu tofu, and meatballs. It also included mottsu (pork horumon or fatty innards). John thought it was a mistake when his chopsticks pulled out one of the little fatty balls, but I convinced him that it was not only safe to eat but delicious.

While Japanese kimuchi is still made with hakusai Chinese cabbage and comparable spices, it is purported to skip the longer fermentation process of traditional Korean kimchi resulting in a milder flavor. We were able to choose the level of spice for our nabe hot pot, and you can ask for extra hot Gochujang red chili paste brought on the side.

Akakara
Address: 〒060-0063 Hokkaido, Sapporo, Chuo Ward, Minami 3 Jo Nishi 3 Chome
Phone: 011-222-6200
https://aka-minami3jyo.owst.jp/
Ishikari Nabe at Izakaya Rukku & Uohei
if you're looking for a total crowd-pleaser, Ishikari nabe is an excellent choice.
Popular versions of this dish include salmon, hakusai napa cabbage, tofu, and onion in a rich miso broth. Often you'll find additions of thinly sliced carrots, potatoes, corn, daikon radish, and a dab of butter to top it off. Many times cooks will make use of the cheaper cuts of salmon and the delicious flavor added from the bones, so do be aware of chewing and swallowing carefully.

Some restaurants will choose boneless cuts of fish and when I'm making this at home for children, I will often do the same, because it's a dish that gets gobbled up quickly. Also, nabe will often be finished off with some kind of starch added in, such as rice or noodles. Our version at this restaurant had glass noodles at the bottom, just one of the many happy surprises with this dish.

Izakaya Rukku & Uohei
Address: 〒060-0062 Hokkaido, Sapporo, Chuo Ward, Minami 2 Jonishi, 6 Chome
Phone: 050-5487-4335
https://rukkuanduohei.gorp.jp/
Sapporo Soup Curry at Garaku
Curry might not be the first image that comes to mind when you think of Japanese cuisine, but for those of us in Hokkaido, soup curry is a local favorite, a soul food that is guaranteed to crank up the heat!

Unlike the thick roux-based curry that is popular throughout Japan or the soup-based curries in other parts of Asia, Sapporo soup curry has a very thin stock, usually with a light yet robust flavor. It is also typically eaten by dipping the rice into the soup rather than served in the same dish. The rice is often a mixed grain or yellow saffron variety topped with cheese or fried egg, depending on the shop or your personal choice of extra toppings.

Garaku's soup base has a distinctly Japanese flavor profile, including chicken, pork, and vegetable stock, as well as skipjack tuna and mackerel and over 20 spices. We added a deep-fried camembert cheese spring roll and broiled cheese on the 5-grain rice.

Each diner decides whether to keep it mild or crank that spicy heat up to 50. I have to protect my vocal cords for narration and singing work, so I prefer level zero. John likes to start out around level 25 and work his way up to sweltering hot.

GARAKU
Address: 〒060-0063 Hokkaido, Sapporo, Chuo Ward, Minami 2 Jonishi, 2 Chome−6−1 Okumura Building B1
Phone: 011-233-5568
https://s-garaku.com/
Sapporo, Asahikawa, and Hakodate Ramen at Sapporo Ramen Republic
With access to farm-fresh ingredients and abundant wheat harvests, Hokkaido is renowned for some of the best ramen in Japan. Three towns, in particular, are so famous for ramen that their names are nearly synonymous with the most popular flavors for each area. Asahikawa Shoyu (Soy Sauce) Ramen, Hakodate Shio (Salted Broth) Ramen, and Sapporo Miso (Soybean Paste) Ramen.

Thankfully you don't have to travel hours and hours to try them all. Just head to the Sapporo Ramen Republic, on the 10th floor of ESTA, a department store complex conveniently connected to Sapporo JR Station.
Wooden stall awnings and signboards line this old-world-style maze with eight different ramen shops and one shrine to a ramen deity.

As a resident of Sapporo for two decades, miso ramen has become my personal favorite. I love the thick chewy noodles topped with slabs of chashu roasted pork, soft-boiled egg, bamboo, and bean sprouts, soaking up the lusciously rich creamy miso broth! And yes, I'm a fan of corn and butter as extra toppings. They weren't necessary though with Yoshiyama Shouten's supremely rich sesame miso soup base.

Rumor has it that the towering icon of downtown Sapporo ESTA building will eventually be demolished to make way for the new Shinkansen Bullet Train. But for now, Ramen Republic is the place to go for Hokkaido ramen.

Ramen Kyowakoku (Ramen Republic)
Address: 〒060-0005 Hokkaido, Sapporo, Chuo-ku, Kita 5 jo Nishi 2 Chome ESTA 10F
TEL: 011-213-2111
Open hours: 11:00 to 22:00 (Last Order 21:45)
https://www.sapporostation.com/sapporo-ramen-republic-at-esta-sapporo-ramen-kyowakoku/
Genghis Khan at the Sapporo Beer Garden
Genghis Khan is a Hokkaido specialty dish of grilled meats and a dipping sauce. The name actually refers to the sauce and not the kind of meat, of which lamb and mutton are the most popular. (I've had all kinds, including venison and pork.)

To experience one of Hokkaido's longest-standing culinary traditions, there is really no other logical choice than the Sapporo Beer Garden and Beer Museum. Built in 1890 as a sugar factory, these historic buildings have had many uses until they became the Beer Garden in the 1960s.

I recommend reserving a table in the classic Kaitakushi-kan building, with its one hundred years (plus) of history preserved in the red-bricked walls.
Each table is equipped with a unique grilling plate that is designed with grooves to help drain excess fat and juices while allowing the meat and vegetables to get a good grill. The heavy cast iron plates used at the Beer Garden are shaped like the island of Hokkaido!

One thing you will notice as soon as you enter the main facility is the strong scent of grilling lamb and smoke from many tables cooking it. The staff are quick to hand you large plastic bags to put your belongings in to protect them from absorbing the scent. Anything not in a bag will have a gamey smell by the time you leave, so this restaurant might be a great option before a planned trip to a hot spring bath!

All-you-can-eat and drink menu options are by far the most popular.
The dipping sauce at the Beer Garden features hints of apple and lemon along with sesame, giving this condiment, which I thought was reminiscent of a good Worcestershire sauce, a delicious tang. (If you fall in love with this dish, you can purchase a Genghis Khan grilling plate and enjoy this dish in the comfort of your own home.)

Sapporo Beer Garden
Address: 9-2-10, Kita 7 Jogashi, Higashi-ku, Sapporo, Hokkaido, 065-0007
TEL: 0120-150-550 (Sapporo Beer Garden General Reservation Center- English phone menu available)
https://www.sapporo-bier-garten.jp/global/english.html
No matter how cold it gets outside during the long Hokkaido winter, we love to keep things hot on the inside! Whether you make a sojourn here for the White Illumination and Munich Christmas Market in December, the Snow Festival in February, or a holiday on the slopes, may your warm memories of the flavors of Hokkaido last you a lifetime!