My Perfect Weekend in the City of Sapporo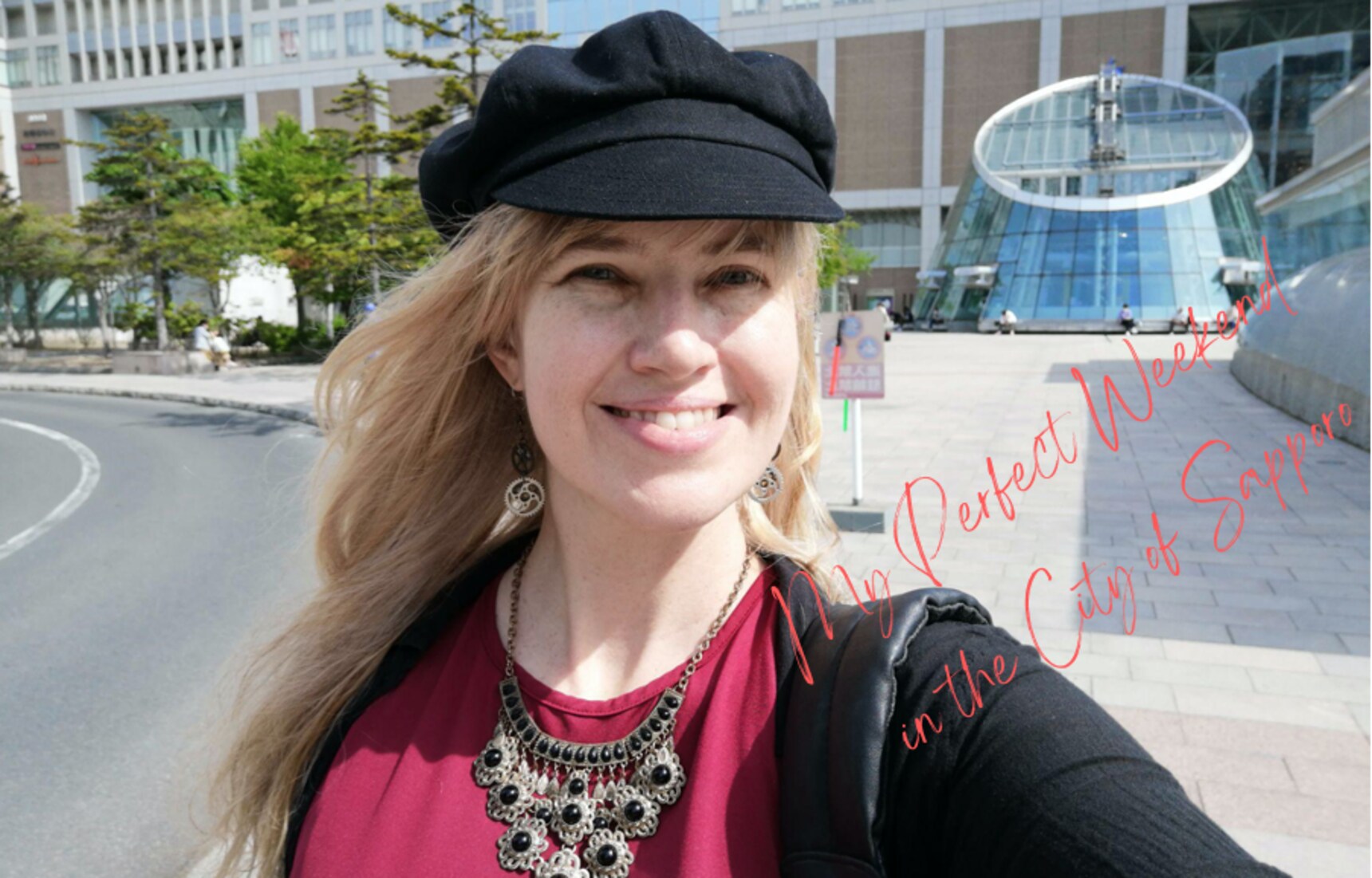 If you've been to Hokkaido, you've possibly heard a female American English voice making announcements on public transportation, for local businesses or sightseeing locations, and chances are, that was me. I also get to work as a travel reporter, giving me a unique perspective on how to spend a perfect weekend in my adopted hometown of Sapporo.
First of all, let me preface this by stating that Sapporo is huge! While our population comes in at just under 2 million in comparison to Tokyo's 13 million plus, in landmass, Sapporo is more than half as large as Japan's number one metropolis. I've endeavored to showcase locations in this perfect weekend that are all accessible by public transportation but have also included some spectacular spaces off the beaten path. Well worth the time, whether by bus, train, subway or on foot, if you do have access to a car, you may find the scenic drives between locals to be a good part of the fun. If you are on public transport, keep an ear open for the English announcements and see if you can catch yours truly announcing "The next stop is…"
Saturday, 10:00 am: Okurayama Ski Jump Stadium
The 1972 Winter Olympics had a major positive impact on the city, which you can still feel today anytime you ride the subway or visit historic locations of the games. Take the lift (if you catch the English announcements along the way, that's me!) to the very top of Mt. Okurayama and enjoy a breathtaking panoramic view of Sapporo City. This location especially highlights the synchronicity of the gorgeous tree-covered mountain landscapes surrounding the concrete and steel architecture of this metropolis. If you time it well, you might even get to watch ski jumpers bravely flying through the air below you on practice runs! Next, head to the museum and experience the thrill of ski jumping in a virtual reality simulator.

View Hours & Prices at:
https://okurayama-jump.jp/en/guide/
12:00 pm: Lunch at Nouvelle Pousse Okurayama
Nouvelle Pousse or "New Sprout" specializes in French cuisine crafted with fresh Hokkaido ingredients. The garden salad has 25 different kinds of vegetables growing in a fertile "soil" bed of unohana, a superfood that is derived from the tofu-making process, rich in calcium, iron, protein, fiber, and riboflavin. I once had the pleasure of interviewing gold-medalist and honorary director of the Okurayama Ski Jump Museum, Masashi Abe. He told me the chef makes a fabulous steak inspired by a recipe from the 1972 Winter Olympics, fit for champions or to simply fuel you for a winning weekend exploring Sapporo.

Nouvelle Pousse Okurayama
Hours: 11:30AM–2:30PM, 5:30–9:30 PM
〒064-0958 Hokkaido, Sapporo, Chuo Ward, Miyanomori, 1274
Sapporo Olympic Museum Annex 2F
011-518-6311
Reservations: https://nouvelle-pousse.jp
1:30 pm: Soft-serve Ice Cream at Observation Lounge Café Celeste
If you have a betsubara (extra stomach for desserts) be sure to stop by Cafe Celeste located on the first floor, just below Nouvelle Pousse. I have it on good authority from lifelong residents of Sapporo that the best soft-serve ice cream in the city is found right here. This creamy confection has just the right balance of sweetness to allow the rich and delicate flavor of fresh Hokkaido milk to come through. Take a few steps outside of the lounge cafe doors towards the ski slope and see if you can find a special pattern on the ground that marks a secret acoustic magic point. Sing a few bars if you dare and you can hear your voice echoing in surround sound in true "Sound of Music" mountain top fashion.
2:30 pm: Pay a visit to Hokkaido Shrine & Maruyama Park
Just 6 minutes by car from Okurayama Ski Jump is the famous Hokkaido Shrine. Pay your respects to the deities enshrined here and get an omikuji to see what kind of fortune you'll have through the year. No worries if you draw a "bad luck" fortune. You can tie it to one of the designated fortune strings to show you were there. Stop by the Jingu Tea Room for a rest with Japanese tea and Rokatei sweets. An adorable family of Ezo squirrels can often be seen playing in the ancient tree that shades the tea room. Adjacent to Maruyama Park, a lovely stroll through the forest-lined paths allows glimpses of wildlife in every season. In spring, you'll find an abundance of photogenic cherry blossom trees and ducklings following their mothers around the pond. From mid to late October, Maruyama turns into one of the most recommended spots for viewing autumn leaves.

Just around the corner, the Maruyama Zoo offers closer encounters with animals from all over the world including a petting zoo that is ever popular with children and children at heart.
3:30pm: Sweets at Kamada Saryo
Nestled among modern buildings, it can be easy to pass by the glowing shop sign at the entrance of a greenery-lined pathway into the past that leads to Kamada Saryo. The wooden architecture of this Japanese sake house has stood the test of time for more than 80 years. Renowned for the highest quality matcha and wagashi sweets, it makes a picture-perfect place to pause for a moment and appreciate a taste of tradition. Of course, if you decide to plan your time-travel visit for a little later in the day, Kamada offers a supreme collection of in-house crafted sake to pair with a gorgeous array of sashimi and other washoku dishes.

Daytime: 11:00〜17:00 (L.O 16:30)
Nighttime: 17:30〜23:00 (L.O 22:00)
https://kamada-saryo.com/
Address: 25-1-31 Nishi, Minami 2-jo, Chuo-ku, Sapporo-shi
Phone: 011-616-0440
6:00 pm: Golden Hour Photo Walk Through Odori Park
It's just a 3-minute walk from Kameda to Maruyama Koen Station where you can catch a quick ride to Odori Station on the orange Tozai Subway Line. The many shops and department store entrances might entice you to linger underground, but you won't want to miss the photogenic opportunities above in the city's central Odori Park.

For today's plan, I recommend starting at the TV tower and making your way west. Each section of the park offers a new view! In warmer seasons your camera lens will discover beautiful shots from lush carpets of lawn dotted with carefully crafted flower displays all the way to the rose garden leading up to the entrance of the historic Sapporo Shiryoukan former Court House. From late June to September the west 12 block is filled with fragrant rose blossoms hailing from three of Sapporo's sister cities, Portland, USA, Munich, Germany, and Shenyang, China.

No matter the season, you're going to encounter some kind of magic in Odori, be it the Lilac or Autumn Festivals, or any number of outdoor beer gardens in summer. Even in winter, when the sun sets much earlier, 6 pm is just about the perfect time to catch a half-million lights reflecting on snow at the White Illumination and grab a hot drink from the German Christmas Market (Nov. 24-Dec. 25th) or enjoy the Snow Festival (7 days in Feb.). No matter the season, Odori Park does not disappoint.
7:30 pm Soup Curry at Suage
With so many amazing shops that offer Sapporo's local delicacy--soup curry- I'd be hard-pressed to choose my favorite. That being said, with a number of locations throughout the city (and in Tokyo), Suage Soup Curry will give you a consistently delicious spicy fare anytime, anywhere. My personal favorite is to order the vegetable curry and add a deep-fried whole chicken leg from the extra toppings menu. You can choose from a variety of soup bases including shrimp and squid ink but I always go for the tried and true standard Suage soup, spice level ZERO, to protect my vocal cords as well as enjoy the rich flavor. Suage has their own farm, Suage Aguri, which provides them with the vegetables that make their soup stocks, and in season, fresh veggies are shipped directly from farm to table.

SUAGE+
Chuo Ward, Minami 4 Jo Nishi, 5 Chome−6-1 Toshimatsu Building 2F
https://suage.info/
9:00 pm: Drinks at Bearfoot Bar in Tanukikouji
Just two blocks south of Odori Park, the Tanukikouji covered mall is full of quirky shops and surprises. Opened as a pop-up shop for the Rugby World Cup, popular Bearfoot Bar is now a staple watering hole, very popular with the foreign community. The friendly barkeep filled me in on all the varieties of rum, whisky, and in particular craft beers, they keep on the shelves. I tried a scrumptious apple and pear Lobo cider followed by a Hokkaido Yoichi apple cider for comparison, both equally delicious.

Bearfoot Bar
Chuo Ward, Minami 2 Jonishi, 6 Chome−5-2
http://bearfootbar.com
10:30 pm: Ride the Noria Ferris Wheel at Norbesa
Located directly across from Suage is the Norubesa building, one of the standouts of Sapporo's famous Susukino entertainment district. With seven floors filled with restaurants, bars, clothing, costume shops, toys, and a large Internet Cafe with bowling and karaoke, the topper is the humongous Noria Ferris wheel reaching 78 meters into the cityscape skyline.

All 32 gondolas are barricade free allowing for easy access for wheelchairs and strollers and equipped with heaters so you can enjoy the view any time of year. Individual tickets are 800 yen for a leisurely loop that takes around 10 minutes. Groups of 4 sharing a gondola can purchase a cheaper 2,000 yen group ticket. Children under 3 ride free.

Sunday - Thursday and Public holidays 11:00 am to 11:00 pm (last entry 10:50 pm)
Friday, Saturday, and days before a public holiday, 11:00 am to 3:00 am (last entry 2:50 am)
https://www.norbesa.jp/
Sunday, 9:00 am: Gentle Bike Ride to the Waterfalls at Takino Suzuran Hillside Park
Takino Suzuran Hillside Park is Sapporo's only national government park and well worth the drive or bus ride to get there. In fact, if you are traveling with kids or big kids at heart, you just might want to plan to spend the entire day here! Takino is nearly 1,000 acres of gorgeous hilly landscape. The larger part of the park is free entry to the public with a smaller (though still enormous) paid entry park called the Children's Valley (more on that later!!).

I'm certain the park's three crystalline waterfalls amidst the rolling hills inspired the name Takino (for 滝 waterfall and 野 field). Masumi Falls is the largest of the three and also closest to the bicycle rental shop located at the lower car parking entrance to the park. In warmer months I recommend renting a bike to make the most of the time so you can check out each of the gorgeous waterfalls, spend some time splashing in the meandering creek, hiking through the forests, and even fishing in the pay-per-catch pond. Takino is well equipped with clean bathrooms and other facilities throughout the park. That includes restaurants, so you can bring your own picnic or BBQ supplies or come empty-handed with a little cash for food, drinks, and equipment rentals.

In winter, the park takes on a whole new life as Takino Snow World. Part of the snow magic includes free car parking and entry to the Children's Valley. You can borrow snowshoes for free and for a nominal fee, you can rent cross-country skiing and standard skiing equipment.

By public transportation, hop on the #106 bus from Makomanai Subway station for a 28-minute ride through gorgeous greenery in warm months and snowy landscapes in winter and get off at the Suzuran Koen Higashi Guchi bus stop for easy central park access. If coming by car it takes approximately 30-minutes from central Sapporo. Use the Masumi Guchi Entrance for easy access to the bicycle rental shop.

Takino Suzuran Hillside Park
General park admission: free
Standard size car parking is 420 yen per day in Green Seasons, free in winter
General park admission: free
12:00 pm Lunch at Country House or Bring or Buy Your Own BBQ
There are four free areas with pits available for a BYOB (Bring Your Own Barbeque). If you use the upper Keiryu Guchi parking entrance, on your way to the other waterfalls, just past the pay-per-catch fishing pond you'll find the Ashiribetsu Barbeque Garden restaurant where you can BUY the BBQ but still cook it yourself.

Country House offers a sit-down style restaurant option. You'll also find a number of cafeteria-style shops throughout the park and other buildings that offer shelter and opportunities for hands-on craft making experiences depending on the events calendar. If you're caught up playing in the "Nijinosu" Rainbow Net Dome, just across the way you can find a shop that serves standard fare like Japanese-style curry and rice and other deep-fried dishes. You'll find drink vending machines dotting the park anytime you get thirsty.
1:30 pm: Hill of the Buddha, Stonehenge, Moai Easter Island Statues
If you somehow manage to pull yourself away from the wonders of Takino Suzuran Park, I highly recommend making even a brief pit stop at Takino Reien Park which is just a hop, skip and jump down the road. I lived here for a decade and a half before I realized Sapporo held this incredible sightseeing spot! This gorgeously designed Buddha peaks its head through the hillside and in July is surrounded by a gorgeous halo of royal purple lavender. This iconic site, along with the replicas of Stonehenge and the Moai Easter Island statues deserves a place in your photobook memories of Sapporo.

Takino Reien Park
Address: Sapporo Minami-ku, Takino 2 banchi
TEL:011-592-1223
Open hours: 9 a.m.- 4 p.m.(April - October) , 10 a.m.- 3 p.m.(November - March)
7 min bus ride from Takino Suzuran Park, 3 min drive (closes at 4 pm)
*according to the website, the last bus on weekends and holidays back to Makomanai station leaves at 2:08 pm.
4:00 pm: Tea Time at Cafe 「la Foglia」in Sapporo Art Park
Another stop that you really should give yourself an hour or more to take in is the Sapporo Geijitsu no Mori, or Sapporo Art Park. Dotted with modern art sculptures amidst the natural beauty, the sprawling campus also houses the Sapporo Art Museum and holds 5 to 7 special art exhibitions per year. From outdoor displays to the paid sculpture garden, you can also sign up for pottery classes and other hands-on art experiences. I've enjoyed many exhibitions over the years from Studio Ghibli's animation art to Star Wars and even Monet. Attached to the museum are restaurant Hatake no Haru and Cafe la Foglia.

The cafe gave me French nouveau vibes with its airy mood-lifting colors. The view from the window is charming and the croissants are baked fresh at the main restaurant every morning. In my opinion, these pastries had the trifecta of croissant perfection- buttery flakiness with a lovely chewy bite and incredible flavor. The gelato-filled croissant was too tempting to pass up. According to the staff, the only ingredients not from Hokkaido are the frozen berries that come from France, perhaps in keeping with the restaurant's theme. The apricot tea was also delicious and the perfect thing to tie me over as I made my way back to the center of Sapporo City.

OPEN HOURS
11:00 to 17:00
TEL. +81-11-215-1778
http://lafoglia.jp.net/

Sapporo Art Park
22, min bus ride, 5 min drive from Takino Reien Moai Statues
6:00 pm: Shopping and Sushi at JR Sapporo Station
From the skyscraping JR tower to a maze of underground shops along the subway and train lines, the hub that is Sapporo Station offers an endless variety of entertainment for visitors and locals alike. On the west side of the station, Daimaru Department Store delivers everything from premium sweets shops to high-end fashion at the top. On the far east corner, Bic Camera holds all your electronic needs. A stroll through the central shops at Stellar Place will be sure to delight your senses. You might want to work your way up from the quirky imports at Sony Plaza on the B1 level, stop by Starbucks on the ground floor, or check out the instruments at Shimamura Music Store on floor 5, before walking through the restaurant floor at level 6. If time allows, see what's playing one floor above at Frontier Cinemas.
If you haven't already succumbed to one of the delectable choices of restaurants while making your rounds of shopping at Stelar Place, I recommend strolling just a little further to the underground assembly of restaurants that is Paseo West. If sushi is what you're after, you'll find a number of options including Hanamaru Sushi and Jimbe. When the line for Hanamaru feels 2 miles long, as long as you don't terribly mind missing out on the novelty of hunting for dishes as they pass by on a conveyor belt, you certainly won't be disappointed by the presentation and flavor at Jimbe just across the way. With more of an izakaya feel, JIMBE offers fresh Hokkaido seafood donburi dishes and set menus at reasonable prices.

Paseo Bldg.
Hokkaido, Sapporo, Kita Ward, Kita 6 Jonishi, 4
9:00 pm: Enjoy a nightcap at the JR Tower Sky-J Lounge
If you're traveling on a budget but still want to experience a taste of the high life, JR Tower Nikko Hotel Sky-J Lounge might be one of the best-kept secrets in town. For just an 800 yen cover charge and glasses of wine starting at 750 yen, you can sit back and relax with an unparalleled view of the city from the tallest skyscraper in Hokkaido. A light food menu is also available with pasta, pizza, and a variety of appetizers. I enjoyed the flavors of the otsumami platter along with a signature non-alcoholic cocktail (I was driving) called the North Breeze. As the voice that records the English announcements for JR Hokkaido, I simply had to choose the drink crafted in the image of the H5 train.

Cocktails average price - 1,400 yen.
Otsumami appetizer platter- 1,400 yen
*Live music is currently suspended due to Covid concerns.

JR Tower Hotel
Dinner Course 5,500yen~,8,800yen~,11,000yen~
Dinner Hours: 17:30~20:30(L.O. 20:30)
Bar Hours: 20:30~22:30(L.O. 22:00)
Wine: 750 yen/glass; 3,800 yen/bottle. Cocktail: from 1,100 yen
(Bar cover charge: 800 yen/person from 17:30~22:30)
Even after 20 years, I am still in awe of the way this northern metropolis continues to expand in the conveniences it offers, all the while existing in gorgeous harmony with the natural beauty and fresh flavors of Hokkaido.