The Perfect Weekend Tour of Fukuoka City
Saturday 10:00: Breakfast at Iconic Bakery Daco-Mecca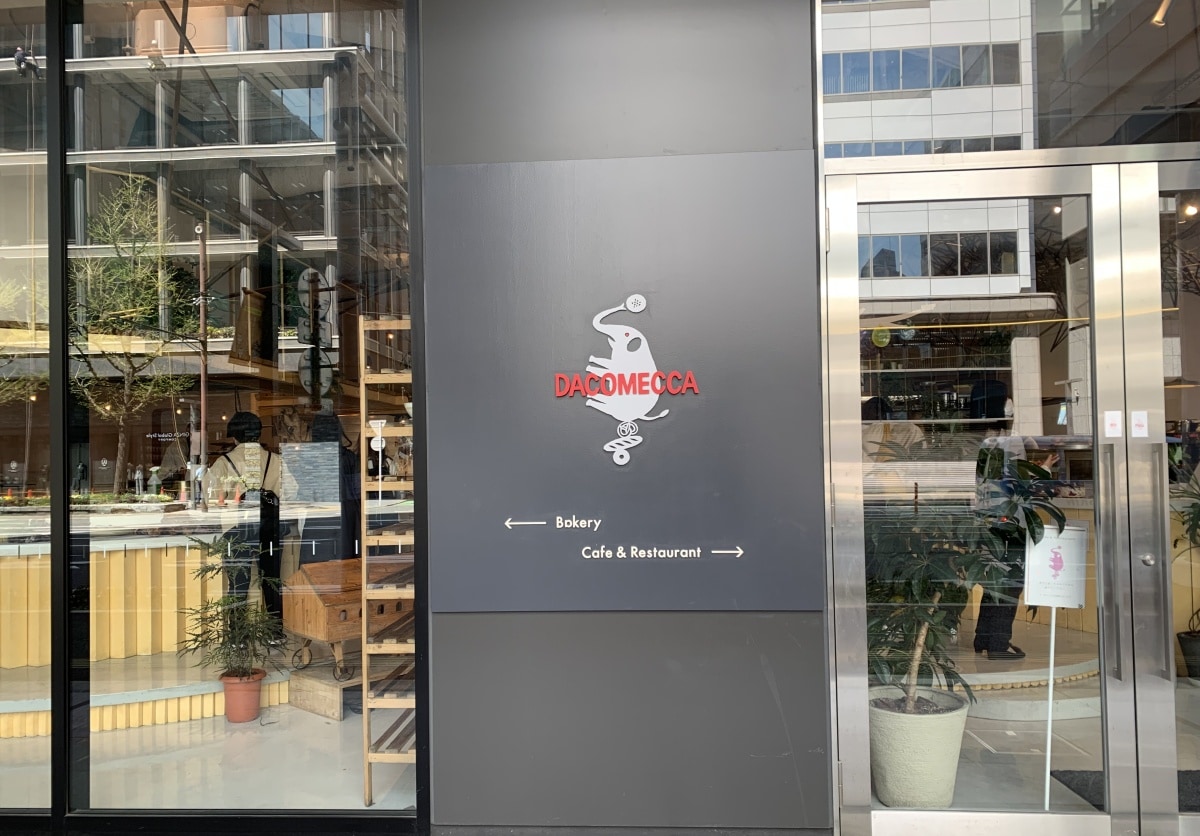 Hakata Station, Fukuoka's vibrant central hub, comes alive at 10am as the many interconnected shopping complexes open their doors. Follow station signs for KITTE Hakata, which also houses the Hakata Marui department store. Take the escalator or elevator up to the second floor and check out the Hare Musubi (晴MUSUBI) store for unique home goods and souvenirs from Fukuoka, Kyushu, and Okinawa. Then, head across the street via the second floor elevated walkway for a scenic view of the area.

At Daco-Mecca, a Fukuoka speciality bakery with a funky atmosphere, take in the delicious smells and sights, and sample unique savory or sweet treats with a drink in the adjoining cafe space. Although the offerings change seasonally, Daco-Mecca and its related store Amam Dacotan in Ropponmatsu (also in Fukuoka City) rose to fame in 2020 with their adaptation of the Italian cream-filled bread dessert, the Maritozzo, in a first for Japan.

Hare Musubi
9-1 Hakataekichuogai (Hakata Marui, 2nd floor)
Hakata Ward, Fukuoka
812-0012

Daco-Mecca
4 Chome-14-1 Hakata Ekimae,
Hakata Ward, Fukuoka,
812-0011
https://www.instagram.com/dacomecca/
11:00: Sumiyoshi Shrine and Tea at Rakusuien Garden
After eating your fill at the bakery, take a 10-minute stroll to Sumiyoshi Shrine. For centuries, travelers setting off to sea for Korea and China made pilgrimages here to pray for a safe voyage. As one of the oldest Shinto shrines in Kyushu, it holds several honors. Although the Main Hall is a reconstruction from the early 17th century, it has been designated a National Important Cultural Property for its unique architectural features predating the arrival of Buddhism to Japan.

Exit via the back (North) of the shrine, and you will be directly adjacent to Rakusuien. This small but beautiful Japanese garden was built on the site of the 1906 villa of Shimozawa Zenemon Chikamasa, an important Hakata-area merchant. The tea rooms, where you can enjoy a cup of matcha tea and a small traditional wagashi sweet, are replicas of the original building while the surrounding garden was remodeled by the city in 1995. Escape the bustle of the city by feeding the colorful koi and enjoying the serenity of this space, made even more picturesque when the maple trees change color in autumn.

Sumiyoshi Shrine
3 Chome-1-51 Sumiyoshi,
Hakata Ward, Fukuoka,
812-0018

Rakusuien
2 Chome-10-7 Sumiyoshi,
Hakata Ward, Fukuoka,
812-0018
https://rakusuien.fukuoka-teien.com
12:30: Lunch at Ichiran
After your tea break, take either a 20-minute walk or a brief taxi ride to Ichiran, one of Fukuoka's most popular tonkotsu ramen chains. Tonkotsu ramen, Fukuoka's specialty, refers to pork-bone ramen with sliced pork and thin homemade wheat noodles with a distinctive chewy quality. In addition to its delicious ramen, Ichiran stands out for the individual booths set up for eaters as well as a form (also available in English) to customize your ramen.

Do you like extra green onions? Does a spicy broth not feel right today? Just tick the appropriate boxes, hand it to a server, and your custom order will be prepared in minutes; Ichiran's noodles are guaranteed to go from boiling water to the customer in just 15 seconds! Simmered with pork bones for hours or even days, Ichiran's rich soup base and spicy chilli sauce topping will leave you wanting more. Luckily, for an extra 100 yen, customers can order an additional serving of noodles to appease the appetite. If you want to bring a memory of Ichiran home, most shops have souvenir packages of ramen available near the cash register.

Ichiran
5 Chome-3-2 Nakasu,
Hakata Ward, Fukuoka,
810-0801
https://en.ichiran.com/shop/kyushu/sohonten/
13:30: Fukuoka Asian Art Museum and Historic Arcade
Stop by the recently built Hakata Riverain Mall, only a stone's throw away from Ichiran, in the famous Nakasu district flanked by distinctive canals. Falling under the Takashimaya department store brand's umbrella, Riverain offers customers a refined shopping experience, with gorgeous Fukuoka wares and luxury brands, inside a beautiful building. But your main destination here is the Fukuoka Asian Art Museum.

On the 7th and 8th floors of the Center Building of the mall is the art museum. Here, prepare to see exhibits that showcase artistic connections between Asian societies between Asia and the rest of the world. With a wide range of multimedia, this museum is a wonderful introduction to the engaged and dynamic world of Asian contemporary art. The permanent collection, which houses the work of pan-Asian artists via rotating exhibitions, is a must-see. For those with young kids, be sure to check out the museum's "Kids Corner" with picture books from across Asia to peruse and toys in a safe space.

From here, take a short walk to the Kawabata Shopping Arcade, the site of the earliest merchant activity in the port of Hakata. The arcade itself is from the post-war period and many of its shops have a long lineage in the area. Unlike much of the surrounding district whose vibe has been changed by gentrification, this 400-meter-long arcade still retains the nostalgic feel of an old shotengai, the traditional open-front shopping street. For a truly local feel, pop into establishments selling traditional Hakata ningyo (dolls) or goods for the important Yamakasa festival that brings the city to life each July.

Hakata Riverain Mall (Fukuoka Asian Art Museum)
3-1 Shimokawabatamachi,
Hakata Ward, Fukuoka,
812-0027
https://faam.city.fukuoka.lg.jp/en/

Kawabata Shopping Arcade
10 Kamikawabatamachi,
Hakata Ward, Fukuoka,
812-0026
15:00: Canal City Hakata
The Kawabata shopping arcade leads you to Canal City Hakata--a unique modern fantasy of a shopping mall centered around landscaped canals and fountains. No matter what side of the shopping and entertainment complex you come in on, you'll be struck by its iconic and playful architecture. Rest your feet with a crepe from Dipper Dan while watching one of the many fountain shows choreographed to famous musical numbers.

As you explore the expansive complex, be sure to take photographs from above the fountains on the winding exterior hallways. Whether you are looking for clothes, home decor, souvenirs, brand goods, video games, or a movie, this site will not disappoint. Canal City is the home to Western brands, such as Zara and H & M, as well as a wide variety of homegrown fashionable brands. It also houses the largest Nitori home center in the area and a wealth of kid-friendly shops with merchandise from Ghibli, Disney, Jump!, Moomin, Sanrio and several game centers.

Canal City Hakata
1 Chome-2 Sumiyoshi,
Hakata Ward, Fukuoka,
812-0018
https://canalcity.co.jp/english
18:30: Dinner of the Local Wagyu Specialty
For supper, I recommend Yakiniku no Bakuro, located right across the street from Canal City. This swanky Fukuoka grilled meat establishment uses Kuroge Wagyu (Japanese Black beef) as their meat of choice, which is sourced from the Ozaki Farm in southern Kyushu's Kagoshima prefecture. The small private rooms here also make it a great spot for a date night or to bring the kids (as I have done at lunch!).

Yakiniku no Bakuro
1 Chome-1-9-202 Sumiyoshi,
Hakata Ward, Fukuoka,
812-0018
https://www.bakuro09.com/shop/hakata/
21:00 Fukuoka Nightlife
If you're in the mood for a nightcap, head to Fukuoka's famous yatai (food stalls) behind Canal City in the Nakasu district. Each of these stalls has a local gastronomic specialty, like yakitori (grilled chicken) and gyoza (dumplings), and many go great with a drink in hand. And if you end up eating a whole other meal while getting to know a friendly owner, no judgement! Visitors looking to rub elbows with the locals should block off a night for hopping from one yatai to the next!

If you don't want to brave the yatai in bad weather- and I wouldn't suggest it given that owners can choose to open or close when they feel like it--take a 15-minute walk to the less touristy Chikushiguchi side of Hakata station. Here, the main drive and side streets are filled with small izakaya with many catering to salarymen after work. For an upscale izakaya with local bites, hit up San San which specializes in Hakata-style food and regional drinks, all using locally sourced ingredients. The industrial and wooden chic interior and convivial atmosphere ensure a fun and tasty end to even the rainiest Kyushu evening.

Sake to Hakata Meshi San San
2 Chome−16−1 Hakataekihigashi
Hakata Ward, Fukuoka
812-0013
https://sites.google.com/view/sansan-aun/home
Sunday 10:00: Breakfast and Strolling through Ohori Park
Start Day 2 of your trip at Ohori Park, opened in 1929. The word ohori means "moat" in Japanese, as historically the park was once part of the neighboring Fukuoka Castle's moat system. Your breakfast this morning is at &Locals, a recent addition to the park, whose entirely open concept seating and selection of local food and drink will get you in the mood for another day of exploring. Located along the walking path around the pond, &Locals drink of choice is their yame-cha, famous green tea grown and produced in Fukuoka's Yame region. You can choose to have sencha, gyokuro (high grade green tea) and even lattes using yame-cha. Their morning menu features light and heart-warming Japanese-style breakfasts of fish, miso soup, and tamago-yaki (egg omelet).

After your breakfast, take time to enjoy the natural beauty of Ohori. The park's most notable features are the large pond at its center and string of small islands connected via artfully constructed stone bridges. The park is also home to the Fukuoka Art Museum, a small Japanese Garden, a large playground, and several cafes and restaurants. Whether you're in the mood to take in more art, explore the seasonal flora and fauna (like the many sunbathing turtles!), or take the kids to a jungle gym overlooking sparkling blue water, a visit to Ohori can easily take up your entire morning.

Ohori Park
1 Ohorikoen,
Chuo Ward, Fukuoka,
810-0051
https://www.ohorikouen.jp/en/
12:00: One-Bite Dumpling Lunch
Now hop on the subway at Ohori Kouen or Tojinmachi stations (depending on what side of the park you finished at), and get off at Akasaka station. Take exit 5 and a 9-minute stroll to the hip Daimyo neighborhood, where you will find your lunch at Fukuoka dumpling restaurant, Temujin.

Hakata is famous for small one-bite dumplings and Temujin is one of my favorite places to indulge. Although gyoza, which can come steamed, pan-fried, or deep fried, are not known for being the healthiest meal, Temujin's are packed with vegetables and feel surprisingly light. Their distinct flavor, which comes from the beef (instead of the usual pork) and vegetables, make for a great pairing with the clear soup, pickles, rice, and mentaiko (spicy cod roe) of one of their lunch sets. If you're in the mood for a beer as well you will be in good company with the salarymen at lunch.

Temujin
1 Chome-11-2 Daimyo,
Chuo Ward, Fukuoka,
810-0041
http://www.gyouzaya.net/shop/
13:00 Hipsters, Vintage Goods and Soft Ice Cream
After polishing off some of Fukuoka's finest gyoza, make sure to explore Daimyo, a fascinating area with a similar vibe to Tokyo's Shimokitazawa. Known as a hipster locale, Daimyo is home to many interesting vintage clothing and antique stores, used book stores, independent coffee shops, and bars. Meander down the winding streets to discover the unique and artistic character of this neighborhood. And if you need a sweet treat only moments away from Temujin, Daimyo Soft Cream's delicious swirls of soft serve ice cream will hit the spot. When you've had your fill of playing the flaneur in Daimyo, hop back on the subway for your last tastes of Fukuoka.

Daimyo Soft Cream
1 Chome-11-4 Daimyo,
Chuo Ward, Fukuoka,
810-0041
https://daimyosoftcream.com
14: 00: Coffee in Yakuin
From Daimyo, take a 15-minute walk or a 9-minute taxi ride to Yakuin. Make your way to manucoffee Kujira, housed in a bright yellow building where they roast their coffees. After ordering on the first floor, you can relax in the tatami rooms on the second floor. Thanks to their delicious roasts, friendly service, and inviting spaces, everyone from mothers with young children to university students to office workers can be found lounging upstairs. And if you want some great coffee to remember your time in Fukuoka, get their Kujira blend to bring home with you!

manucoffee Kujira
1-18-28 Shirogane,
Chuo Ward, Fukuoka,
810-0012
https://www.manucoffee.com/shoplist/
15: 00: Shopping for Souvenirs at Hakata Station
After your coffee, take a taxi back to Hakata Station for some souvenir shopping and a last look at the city. On the ground floor, you'll find shops selling the city's most popular souvenirs. Roam the aisles of the Ming shopping section to find Torimon, a treat with a sweet and rich crushed bean paste and butter filling, and warabi mochi from Jyosuian, a famous Japanese confectionery shop whose flagship store is minutes from the station.

Looking for some salty souvenirs to go with your sweet ones? Be sure to pick up a box of the iconic Shin Shin ramen to round out your Hakata tonkotsu tour. On your way to the cashier, add some Menbei to your basket, a savory snack that infuses Japanese rice crackers with spiced cod roe--another local specialty. Once your shopping is done, head up to the rooftop of the adjacent Hakata Hankyu department store to look out at the city in all 360 degrees. Then, whether you're travelling by rail or not, check out the small shrine dedicated to train travel before heading back downstairs.

Hakata Station
1-1 Hakataekichuogai,
Hakata Ward, Fukuoka,
812-0012
Extras
lf you leave Fukuoka on Sunday evening, you will have had a chance to enjoy only a sample of what the city and the prefecture have to offer. If you happen to have an extra day to explore, I suggest trekking out beyond the city. From Tenjin, hop on a train and visit Dazaifu for a stunning Shinto shrine and the Kyushu National Museum. If you're looking to hit up a beachside location, grab a bus from Hakata Station to Itoshima, well known for its picturesque views of the sea and delicious oysters. Do you like aquariums? Check out Uminonakamichi's Marine World!

As someone happy to call Fukuoka my home, I can say that the city and its surrounding areas continue to surprise me with new spots to explore . I hope Kyushu's largest city can be this kind of place for you, too!
Getting There
Train:
Fukuoka is a five hour train ride from Tokyo on the Nozomi Shinkansen.

Airplane:
Tokyo to Fukuoka is one of the busiest airways in the world, with many flights per day running between the two cities. The flight takes a little less than two hours and Fukuoka International Airport, where you will land, is only five minutes from central Hakata Station by subway.