A Perfect Weekend in Tokushima City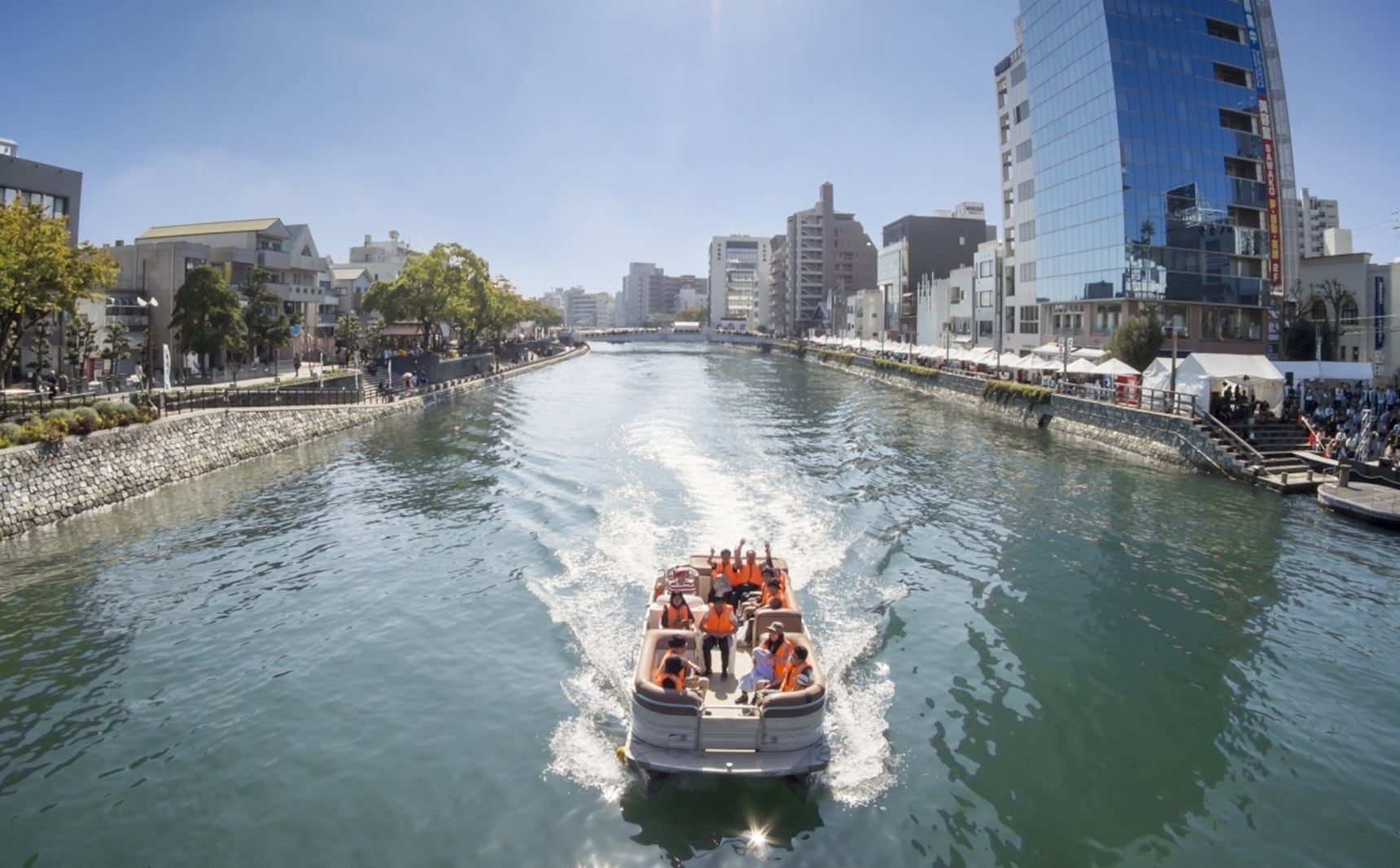 Located in the eastern part of the island of Shikoku, Tokushima City is the largest city of Tokushima Prefecture. Once the center of power for the Awa Domain in Japan's Edo Period, it's now the prefectural capital with a population of more than 250,000 where vibrant traditions from the past live on.
9:00am: Best View of the City

Just 290 meters above sea level, Mount Bizan stands as a beloved symbol of Tokushima City. The best view of the city is from its summit, accessible via a short hike for the adventurous. Alternatively, the Bizan Ropeway whisks riders to the top from the fifth floor of the Awa Odori Festival Hall in just six minutes. On a clear day, you'll be able to see as far as Awaji Island to the north and the Kii Peninsula to the east, but at the very least you'll spot the mighty Yoshino River and gain a better appreciation for the intricate network of smaller rivers and canals that run throughout the city.

https://awaodori-kaikan.jp/bizan-ropeway/
10:30am: Dance of the Fools
No visit to Tokushima City would be complete without a visit to the hallmark Awa Odori Festival Hall, just a 10-minute walk from JR Tokushima Station. Every August, several main streets in the city are closed off to traffic for the multi-day bon festival dance known as Awa Odori. This hall gives visitors a thorough introduction to the festivities, including the costumes and history, and even a live performance where you can try out the dance yourself!

https://awaodori-kaikan.jp/en/
12:00pm: Lunch in Shinmachi
Ground zero for Tokushima City's shops, restaurants, cafes, bars, and other types of entertainment venues, competition for the hungry stomach is fierce in the Shinmachi district at the base of Mount Bizan. Subsequently, this has produced a variety of establishments with creative menus and stylish interiors. O-ba'sh Café serves up a Japanese take on Western dishes, offering colorful fusion lunch plates with a variety of items including homemade breads and bagels, flavorful keema curry, and healthy salads with plenty of fresh vegetables. Save room for dessert as the sweets menu is equally extensive.

http://www.o-bashcrust.com/cafe.html
1:30pm: Take a Riverfront Walk
After lunch, take a leisurely stroll along the Shinmachi Boardwalk, a pleasant wooden-plank lined, pedestrian-only area that borders the Shinmachi River. Boutique shops make for excellent window-shopping, and benches along the river encourage breaks to appreciate the ambience. Pause to appreciate the various art and statues which decorate the riverfront area, or take in a live performance by a street performer. On the last Sunday of every month, this area transforms into a lively outdoor market known as Tokushima Marche.

https://tokushima-marche.jp/
3:30pm: Cruise Around the City's Waterways
After walking around both sides of the Shinmachi River, rest your feet while catching a different view of the city with the 30-minute Hyotanjima Boat Cruise. Head to the reception in front of the Shinmachigawa-Mizugiwa Park Boat House to board one of the open-topped pleasure boats navigating the waterways that encircle Hyotanjima, the city's central gourd-shaped island including Tokushima Station and Chuo Park area. Depending on the level of the tide, passengers come thrillingly close to the underside of some very low-lying bridges, but ducking down low while passing through is all part of the fun. (A 200-yen charge is required for insurance.)

https://www.pref.tokushima.lg.jp/en/japanese/tourism/experience/cruise
6:00pm: Dine on Seafood Ramen
The area around Tokushima Station as well as Shinmachi are home to a plethora of restaurants, but for tonight's dinner, prioritize taste. Ramen shop Dounoura has a branch not five minutes on foot from the station that consistently gets good reviews for its excellent flavors, unique ingredients, and prices that won't deplete the day's budget. Sea bream is a specialty of the prefecture, so be sure to try the "tai shio" (sea-bream base) ramen, with arugula, spring onion, and fried sea bream skin topping. Gyoza and pizza are also on the menu as well.

https://donouraekimae.owst.jp/
9:00pm: Ready for a Night Out?
There are countless bars and izakaya gastropubs in the Shinmachi district, yet one of the staples for a mix of Japanese and non-Japanese clientele is Ingrid's International. Owner and operator Ingrid Castle has been running this bar for decades, and here you'll have a chance to meet some of the expatriate community as well as English-speaking Japanese regulars. Stock up on some liquid courage, then sing (or dance) to one of your favorite songs on the bar's karaoke machine.

https://Ingridsinternational.wordpress.com/
8:00am: Start the Day with a Morning Set Breakfast
Also just a five-minute walk from the station, Takashima Coffee has been pairing fresh-brewed coffee with delicious hand-toasted sandwiches since 1959. Savor the nostalgia at this retro café while selecting from more than 70 toasted sandwiches listed on the wall. If you have trouble deciding, a "morning set" with coffee and a croque monsieur or hamburger curry is a good place to start.

https://info9158338.wixsite.com/takashimacoffee
10:00am: Imagine the Past at Inoyama
Just behind JR Tokushima Station lies Central Park, an extensive public space which is also home to the ruins of Tokushima Castle, originally built in 1385. A small 62-meter hill called Inoyama was once home to the proud castle keep, yet now only the stone walls remain. Nevertheless, this is an excellent vantage point to admire not only the view but the strategic location of the castle, naturally fortified by the numerous waterways surrounding it.
11:00am: Follow in Samurai Footsteps
Though the castle buildings are no longer around, the Tokushima Castle Museum was built in traditional "shoin-zukuri" style to resemble the castle palace. Inside is a detailed model of the old palace as well as historical items and art on display. The Omotegoten Garden next door (Old Tokushima Castle gardens) is perhaps the cheapest traditional garden in Japan with admission costing just 50 yen. Don't judge it by the inexpensive price, however. Its karesansui (dry garden) and pond garden were constructed around 1600 and their beauty made this garden a designated National Scenic Site.

https://www.city.tokushima.tokushima.jp/multilingual/english_portal/tourism_culture/tokushima_castle/castle.html
12:00pm: Relish a Craft Burger
Doubtful about getting a good burger while in town? Think again! Catch a whiff of what's cooking at SB Diner, just an eight-minute walk from the Tokushima Castle Museum, and you might start looking for apartments close by. This popular place cooks up an astounding variety of gourmet craft burgers, from classic hamburgers and cheeseburgers to more exotic fare such as blue cheese or sweet chili tartar sauce burgers, all served on toasted buns that barely seem to contain the overflowing ingredients.

https://www.sb-diner.com/ (Japanese only)
1:00pm: Cycle to One of Japan's Greatest Rivers
Worried about excess burger calories? A bike ride around town is the perfect antidote. The underground bicycle parking lot in front of Tokushima Station area offers affordable rentals at just 270 yen for under 5 hours (or 450 yen per day). Venture out for a ride through central Tokushima towards the Yoshino River, one of Japan's three great rivers. At 194 km long, this is Shikoku's second longest after the Shimanto River, and was historically a major thoroughfare for shipping tobacco, indigo, and lumber, with major merchant towns located further upstream.

https://funfun-tokushima.jp/introduce
4:00pm: Bathe at an Oceanfront Onsen
After an active weekend of walking, riding and sightseeing, it's time for some rest and relaxation Japanese style – with a soak in natural hot springs. Getting out to coastal Ebisu-no-Yu will probably require a bus or taxi, but this hot spring facility located on the delta of the Katsuura River features several types of baths including indoor and outdoor areas as well as three types of saunas for just 700 yen. After your bath, rest on a tatami mat and savor the traditional Japanese-style architecture while downing a glass of cold milk to truly experience leisure like the locals.

http://www.ebisunoyu.com/ (Japanese only)
Getting There
Access to Tokushima City is possible via a multitude of options. Both JAL and ANA offer flights from Tokyo's Haneda Airport to Tokushima Awaodori Airport in nearby Matsushige. JR Tokushima Station, in the heart of the city, is served not only by various JR lines but also with highway buses coming from major cities in Kansai and Kanto. Finally, the city is also accessible via car ferries from Wakayama or Tokyo.