The Road Less Traveled in Tohoku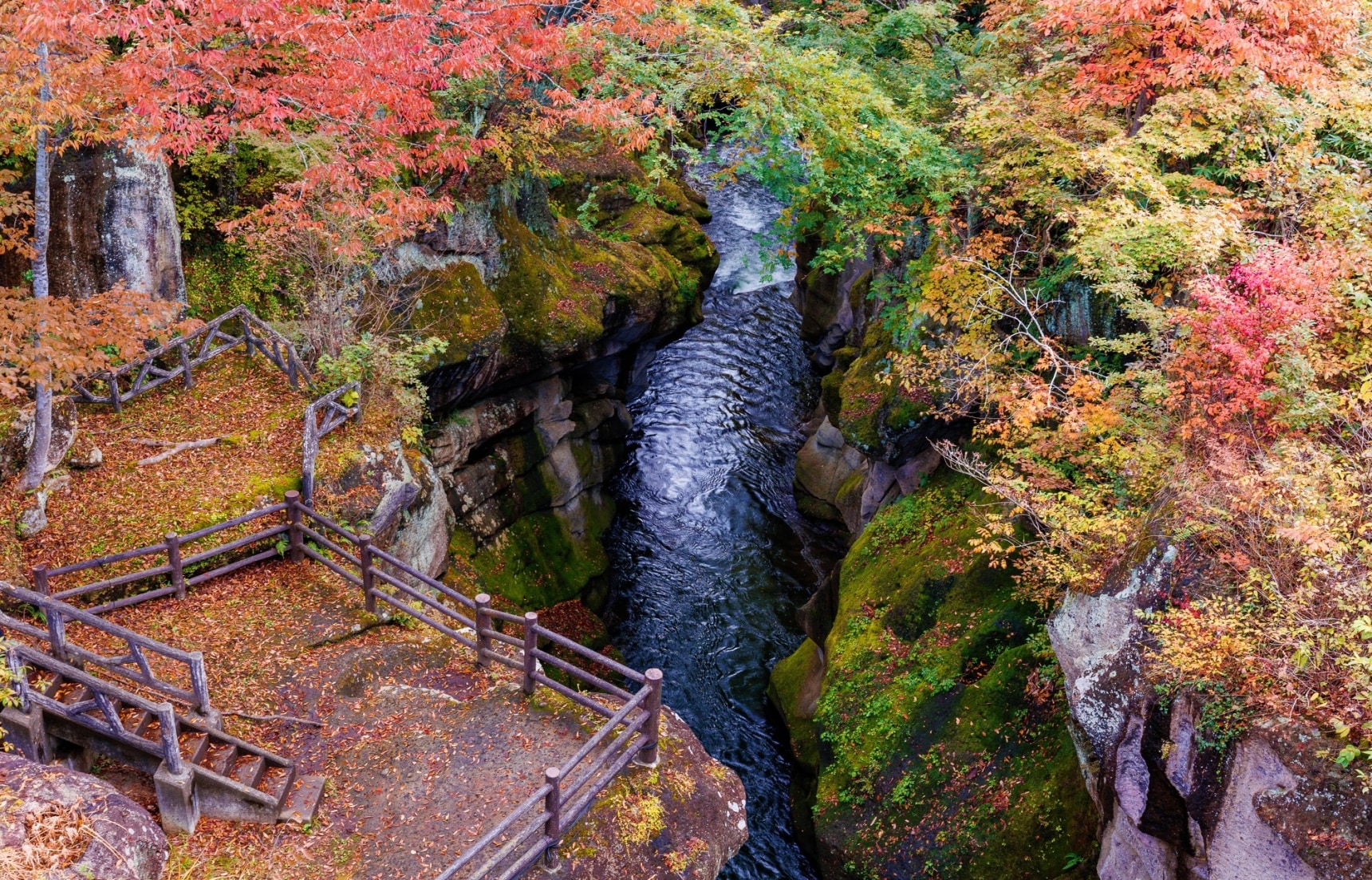 The six prefectures that make up Tohoku were once considered Japan's frontier. Now, excellent access by train, plane, and automobile have enabled more visitors to appreciate the region's natural scenery, from the fresh green leaves of Aomori Prefecture's Oirase Gorge in summer to the burst of color of Miyagi Prefecture's Rairai-kyo Gorge in autumn.
Secluded Hot Springs & Therapeutic Bathing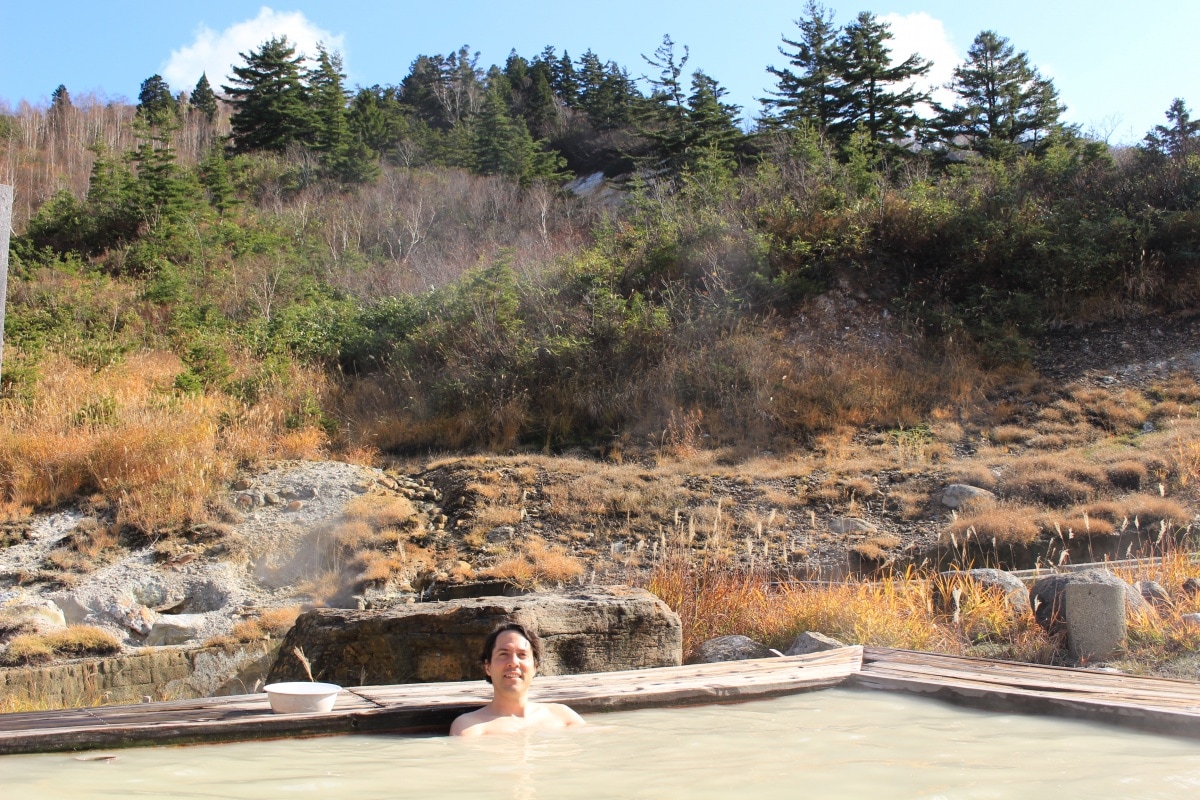 With volcanic activity throughout the archipelago, Japan has no shortage of hot springs (onsen). Hot spring resort towns are easy to find in almost any prefecture, but if you're looking for a place away from the crowds or a more natural setting, then hidden hot springs, known as hitou in Japanese, make for a more rewarding destination.

The hitou of Tohoku are often located in remote areas, sometimes deep in the mountains and almost always accessible only by private transportation. Many have simple lodging to accommodate those seeking therapeutic benefits. Known as toji, therapeutic bathing entails a daily soak in mineral-rich waters for anywhere from several days to several months. Any of the following secluded springs are well worth visiting for either a quick trip or a longer stay.
Sukayu Onsen (酸ヶ湯温泉)
Located high in Aomori's Hakkoda mountains at an elevation of 925 meters is Sukayu Onsen. According to legend, the hot springs here were discovered over 300 years ago by hunters after they witnessed an injured deer make a remarkable recovery. A former name for the springs, Shikayu ("deer springs"), has its origins in this legend. Later, the name was changed to Sukayu, meaning "acid springs," due to the water's strongly acidic nature.

Sukayu Onsen accommodates both short-term visitors and those wishing to stay longer to enjoy the therapeutic benefits of bathing—communal kitchens are even available for those wishing to prepare their own meals.
The complex houses many baths, but the star attraction is the unique Hiba Sennin-buro, or "bath of a thousand bathers." This 260-square-meter space with several baths made of hiba, a type of Aomori cypress, seems like it could accommodate 1,000 people. In reality, though, the number is likely far fewer.

Men and women can bathe together, while a fenced off, female-only section is available too. Relaxing in the milky-blue waters of this historic bath seemingly unchanged by the passage of time, one would hardly believe it was 2022.

Sukayu Onsen
http://www.sukayu.jp/
Fukenoyu Onsen (蒸ノ湯温泉)
Set deep in Akita Prefecture's mountainous Hachimantai region, Fukenoyu Onsen proudly bills itself as the oldest secret hot spring in the area. Driving there, it was clear that few visitors would come across Fukenoyu Onsen by happy accident; we wound our way through mountain roads surrounded by beech forest, reaching an elevation of 1,100 meters above sea level before arriving.
Unlike Sukayu Onsen's massive complex, Fukenoyu Onsen is much smaller, but it still offers reasonably priced accommodation for toji and regular customers alike. The indoor baths made of hiba lumber are enjoyable enough, but Fukenoyu's real treasures are its various open-air baths, which include mixed-sex as well as separate baths.

Just a short walk from the reception area, clouds of steam billow up from an opening in the woods. It's hard to beat the serenity of relaxing under the open sky as you gaze out at the surrounding wilderness.

Fukenoyu Onsen
https://www.fukenoyu.jp/ENG/index.html
Sukawa Kogen Onsen (須川高原温泉)
Located in Iwate near its border with Akita and Miyagi Prefectures, rustic Sukawa Kogen Onsen sits on the northern base of Mt. Kurikoma at an altitude of 1,126 meters. Remote location notwithstanding, people have been enjoying the acidic mineral waters here for over 300 years. Guests nowadays are typically a mix of day-trip visitors and hikers coming in for a soak after climbing the mountain, as well as toji bathers staying around for an extended period.

With 6,000 liters of water gushing from the hot spring source every minute, there are ample baths of free-flowing water to enjoy. The regular indoor bath is spacious, but, feeling adventurous, I decided to test out the 45-degree waters of an indoor bath upstairs, which left me with a tingling sensation throughout my body that felt incredibly invigorating.
I then headed outside to appreciate the wild, natural location of the large open-air bath. On this autumn day, a chill wind blew refreshing gusts across the water, periodically clearing away the rising steam to let me appreciate the enormous boulders surrounding the bath.

Sukawa Kogen Onsen
https://komachi-shuttle.com/english/sukawa-kurikoma-en/
Namari Onsen (鉛温泉)
Though it may not sit at high elevation like the hot springs above, Iwate's Namari Onsen maintains a very private and secluded atmosphere. Only a short drive into the hills from Hanamaki, it features just a small number of hotels. One of these is Fujisan Ryokan(藤三旅館), a tranquil, zelkova wood-built traditional inn with over 600 years of history that was a favorite of Japanese novelist Kenji Miyazawa (1896–1933), among others.
Fujisan Ryokan has several kake-nagashi baths of free-flowing hot spring water, some of which are adjacent to a small river. The inn also boasts a deep natural bath known as Shirasaru no Yu ("white monkey bath"), which is more like a 1.25-meter-deep standing pool. The bathhouse's tall ceiling, over two stories high, makes for a pleasant sense of spaciousness.

Namari Onsen Fujisan Ryokan
https://namari-onsen-ryokan.com/
Vibrant Traditional Culture
Living amidst a harsh environment with heavy snow and long winters, Tohoku's inhabitants were forced to become resilient and resourceful. This is evident in Tohoku's vibrant culture, whether in the dynamic style of Aomori's Tsugaru shamisen music, the impressive and intense summer festivals, or the craftsmanship designed to both withstand and take advantage of the cold climate.
Aomori's Hirosaki City is a former castle town that was once the administrative center of the Tsugaru domain. Across from Hirosaki Castle is Tsugaru-han Neputa Village(津軽藩ねぷた村), a facility that conveniently showcases different aspects of Tsugaru culture in one place.

Walking in, you'll first encounter the Hirosaki Neputa Hall, which includes an authentic Neputa float. Every summer during Hirosaki's Neputa Festival, floats like this made of washi paper wrapped around a wire frame and painted with bold, bright designs are paraded throughout the city streets at night, glowing with color.
The hall also doubles as a venue for live performances of Tsugaru shamisen. While the shamisen is an instrument found throughout Japan, Tsugaru shamisen are built with a thicker neck and strings and are played more percussively—a direct adaptation to the cold winters.

After the performance, I tried to strum out a few notes myself, much to the amusement of my veteran teacher. This experience and others that allow visitors to try out Tsugaru's traditional crafts, such as making lacquered chopsticks or painting a small neputa goldfish lantern, are popular activities at the village.

Tsugaru-han Neputa Village
http://neputamura.com/en/
The town of Kuroishi, located not far from Hirosaki, also has a long history of Tsugaru-style Neputa festivals. Under a tradition going back to the Edo period (1603–1867), more than 50 floats are paraded annually through the town center. While the floats' colorful paper exteriors were typically given away or scrapped after the festivities, local shop IRODORI has found a way to recycle these works of traditional art.
Based on Nakamachi Komise Street, a shopping arcade built hundreds of years ago, IRODORI's cozy space is a combination workshop and gallery. Colorful lanterns and paper fans adorn the tables and walls, created using paper from floats. Pick one up that has already been made or try your hand at making your own. Given that only glue and some minimal application is required, the activity is nearly fail-safe and will leave you with a special appreciation of Tsugaru culture.

IRODORI
https://www.facebook.com/irodorikuroishi
In Miyagi, Sendai City's Akiu district is not only home to several excellent hot spring resorts and the scenic Rairai-kyo Gorge, but also the Akiu Traditional Craft Village. Established in 1988, this is a collection of various artisans specializing in traditional Japanese crafts, including indigo dyeing, kokeshi dolls, woodworking, and lacquerware. Beyond simply purchasing finished works, visitors can also try making their own items.
Sendai Tansu Kumanodo (仙台箪笥 熊野洞) specializes in making lacquered Japanese tansu (traditional chests). Though the size (and the price tag) of a tansu may not be quite what the typical traveler has in mind, Kumanodo's artisans are happy to assist you in making your own lacquered chopsticks. In a hands-on program that lasts for about an hour, you'll be given two unfinished sticks of wood, which you'll cut, sand, and color before applying genuine tree-based lacquer. While a couple of days are needed for drying, the finished chopsticks can be sent to an address in Japan or even abroad.

Sendai Tansu Kumanodo
http://sendai-kumanodou.com/
Just a short drive further into the mountains from Akiu is Nikka Whisky's Miyagikyo Distillery (ニッカウヰスキー仙台工場宮城峡蒸溜所) , which opened in 1969 as the company's second distillery. Japanese whiskies have proven their worth on the international stage, and this tour revealed why. Japan's famous attention to detail and craftsmanship are evident in the lengths Nikka has gone to in producing fine whisky, including the use of authentic Coffey stills and rigorous testing.
Regardless of whether you're a whisky drinker or not, there is something for everyone to enjoy on the free guided tour of the facility. Staff take visitors through lush, natural scenery and into some of the buildings, including the still house with its large copper pot stills, the mash house, and a storehouse where different types of whisky are aged in California-grown oak barrels. The chance to sample whisky as well as Nikka's apple wine presents itself at the tour's end. Soft drink options for non-drinkers are available to enjoy too.

Nikka Whisky Sendai Factory Miyagikyo Distillery
https://www.nikka.com/eng/
A New Take on History & Tradition
Even as Tohoku preserves its history and carries on the traditions of the past, there are elements of fusion and blending of old and new. This was evident in local cuisine, where gyutan (beef tongue), traditionally served grilled, was thinly sliced in a new hot-pot dish called gyutan shabushabu, and in architecture, where old buildings in Hirosaki were renovated for new functions and new buildings were designed with historical elements in the Miyagi town of Toyoma.
At the Hirosaki Museum of Contemporary Art (弘前れんが倉庫美術館), for example, brick warehouse buildings that were once an industrial cider brewery have been transformed into a new art museum and a restaurant. The museum opened in June 2020 and retains the original blackened walls and iron supports while making clever use of apple boxes to create a modern gallery space showcasing experimental works by international artists.

Hirosaki Museum of Contemporary Art
https://www.hirosaki-moca.jp/en/
Occupying an adjacent brick warehouse, Cafe & Restaurant BRICK is much more than a museum shop and café. Besides a full menu with Western-style main dishes, salads, pastas, desserts, and drinks, BRICK pays homage to the warehouse's roots with its own craft-brew apple cider. Aomori's popular cider company A-Factory even produces sweet, dry, and semi-sweet varieties brewed in the steel tanks on-site.

Cafe & Restaurant BRICK
https://hirosaki-brick.com/
At the base of Mt. Iwate in the Hachimantai resort area, Northern Grande Hachimantai (ノーザングランデ八幡平) is a new Western-style restaurant that opened in September 2021 with the aim of expanding dining options for both locals and travelers.
The main dining area is bright and spacious, with large windows offering views of Mt. Iwate's gentle slopes. Beyond serving lunch and dinner with delicious local ingredients such as Tochucha pork and Iwate beef, the restaurant also features a well-stocked bar area, and even offers cooking workshops to share Iwate's food culture and promote interaction with locals.

Northern Grande Hachimantai
https://n-grande.com/
Toyoma in Miyagi Prefecture's Tome City is an old castle town, and within its easily walkable confines exists a blend of architecture from the Edo period to today. Though the castle is no longer standing, white plaster walls, old wooden gates, and even some samurai residences still remain. Its use as a film location for Okaeri Mone (Welcome Back, Monet), a morning drama shown on Japan's public broadcaster NHK from May to October 2021, has also helped to attract curious fans.
The town is referred to as the Meiji Village Museum of Miyagi thanks to several well-preserved structures from the Meiji era (1868–1912). Most prominent of those is the Toyoma Education Museum (登米町教育資料館) , a distinctive wooden structure that was once the Toyoma Jinjo Elementary School. Completed in 1888 by miya-daiku (carpenters who build temples and shrines), no expense was spared when the school was constructed, and the building is now a National Important Cultural Asset.

Toyoma Education Museum
http://toyoma.co.jp/facilities-kyoiku/
More recently, techniques used by miya-daiku were employed to construct the Traditional Performing Arts Museum/Mori Butai Noh Theater (伝統芸能伝承館 森舞台) , located a short walk behind the old school building. Toyoma Noh has flourished for over 300 years, and this Kuma Kengo-designed facility was built in 1996 using local materials such as hiba lumber and natural slate. The combination of modern design elements and traditional noh, presented in this outdoor setting, makes for a fascinating sight.

Moributai Traditional Performing Arts Museum
https://kkaa.co.jp/works/architecture/noh-stage-in-the-forest/
Just the Beginning
Vast and varied, Tohoku invites discovery and begs for a repeat visit—set foot in the region once and you'll be tempted to return. Deep history, fascinating traditions, and spectacular scenery offer plenty of opportunities to take the road less traveled.

The hidden hot springs introduced above are just the beginning. Also more than worthy of a visit is Sendai Akiu Hot Spring Hotel Sakan in Akiu Onsen, which seamlessly blends one thousand years of tradition with modern sensibilities.
To cover the areas described, it may help to start off in Tokyo. From there, head to Miyagi Prefecture, followed by neighboring Iwate Prefecture, before finishing your journey in Aomori Prefecture.

Reaching Tohoku from Tokyo is easy thanks to excellent access via the Shinkansen network. In fact, it's only about 1.5 hours from Tokyo to Sendai. Renting a car will provide the most freedom and flexibility to venture beyond the cities, especially for secluded hot springs.

For even more information about Tohoku, visit https://tohoku-japan.jp