The 21 Best Places to See Mount Fuji
It's the perennial question: "Where can I get the best view of Mount Fuji?" While there are as many answers as there are opinions, we've compiled 21 of our favorite spots—excluding climbing the mountain, which is a whole different experience!
21. From a Shrine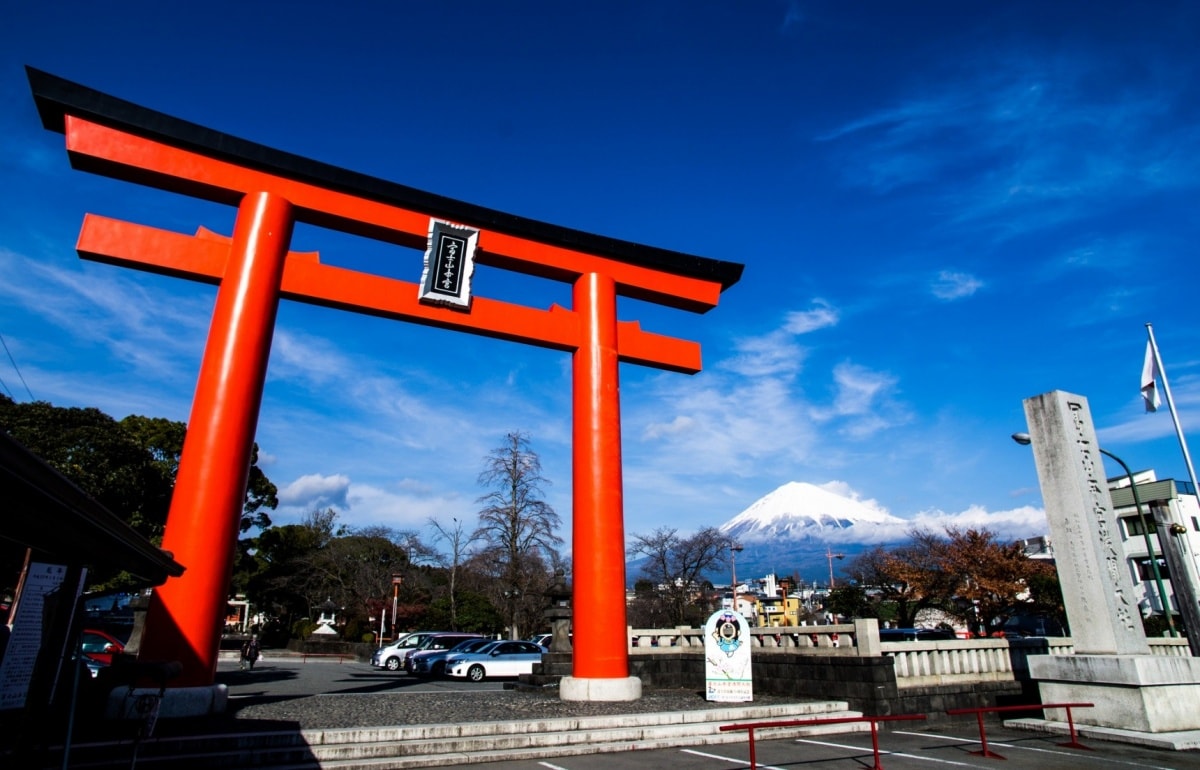 Fujisan Hongu Sengen Taisha Shrine (富士山本宮浅間大社) is the head of all 1,300 Fuji shrines across the country. Located in Fujinomiya City, on a clear day you can see Mount Fuji right beside its red torii gate.
20. From a Ski Resort
Fujiten Snow Resort (ふじてんスノーリゾート) is right on the northwest face of Mount Fuji. You can't get much closer than that!
19. From Yokohama
On a clear day, the area around Daikokufuto Central Park (大黒ふ頭中央公園・Daikokufuto Chuo Koen) offers views of Yokohama's glitzy Minato Mirai 21 area and Yokohama Landmark Tower with Mount Fuji in the background.
18. From the Shonan Coast
The Shonan (湘南) Coast in Kanagawa is a hot surfing spot and great for a stroll—especially with Mount Fuji in the distance! The adjoined island of Enoshima (江ノ島) is particularly worth a visit for a Fuji view.
17. From Lake Ashi
Lake Ashi (芦ノ湖・Ashi no ko) is a crater lake in the south of Mount Hakone, a popular hot spring resort area just south of Tokyo. You can cross the lake in a pirate-themed ship, while Hakone Shrine, set right on the lake's edge, is dedicated to the goddess of Mount Fuji.
16. From Art
Sitting high above the coast of Suruga Bay, Satta Pass (薩埵峠・Satta Toge) was featured among the ukiyo-e by famed master Utagawa Hiroshige. If you want to get up here, it's about an hour's hike from the nearest station—so you need to suffer for your art!
15. From a Ferris Wheel
The Fuji Sky View (フジスカイビュー) Ferris wheel is located on the west side of Fuji City, right by the Fujikawa River. Try to time it so you get the all-glass gondola!
14. From a Roller Coaster
Fujikyu Highland (富士急ハイランド), Japan's premier theme park, sits right on the northern foot of Mount Fuji. So why not enjoy the view while taking in some thrills? A package bus tour will get you from Shinjuku Station to the park in about an hour and 40 minutes.
13. From a Traditional Village
Hannoki Bayashi Shiryokan (榛の木林資料館) is an open-air museum set amid the Oshino Hakkai (忍野八海, "Oshino Eight Seas"), a group of eight ponds in the village of Oshino in Yamanashi Prefecture. The museum is centered around the village's oldest thatched-roof house, which dates back to the latter half of the 18th century.
12. From a Suspension Bridge
Mishima Skywalk (三島スカイウォーク) boasts a view of Japan's tallest mountain from Japan's longest pedestrian suspension bridge, 400 meters (1,312 ft) from end to end.
11. From the Shinkansen
You get a breathtaking view of Mount Fuji every time you take the bullet train between Tokyo and Osaka. As soon as you pass Mishima Station on the Tokaido Shinkansen (東海道新幹線), expect to have your nose stuck to the window almost until you get to Shizuoka.
10. From Inside
The Funatsu Tanai Lava Tree Mold (船津胎内樹型・Funatsu Tainai Jukei) is a 70-meter (230-ft) series of caves just beneath the northern foot of Mount Fuji. Fuji worshippers believe this is the womb of the goddess of Mount Fuji, and climb inside to receive her blessing and emerge "reborn." It's certainly not a traditional viewpoint, but it's one even most Japanese people haven't experienced!
9. From the Izu Skyline
The Izu Skyline (伊豆スカイライン) is a toll road that runs through the top of the Izu Peninsula, a resort region that makes up the eastern third of Shizuoka Prefecture. Careening over the mountains, it can feel like you're flying on top of the world!
8. From Suruga Bay
The Suruga Bay Ferry (駿河湾フェイリー・Suruga-wan Ferry) goes between Shimizu Port on the mainland and Toi Port on the Izu Peninsula. When the conditions are right, Mount Fuji seems to float right over the bay.
7. From Nihondaira
Nihondaira (日本平) is located on the north side of Mount Udo in Shizuoka City. It's connected by cable car to Mount Kuno, where the first Tokugawa shogun, Tokugawa Ieyasu, was initially buried before being enshrined at Nikko Toshogu in Tochigi Prefecture.
6. From Another Mountain
For a breathtakingly intimate view of Mount Fuji, take the ropeway up to the Komagatake (駒ヶ岳) peak of Mount Hakone on a clear day.
5. From the Izu Peninsula
Since it doesn't have any train lines, the west coast of the Izu Peninsula (伊豆半島・Izu Hanto) can take a while to traverse, and infrequent buses make it hard to just stop anywhere you like without a car. But if you can do it, pretty much any spot that sticks out between Numazu and Matsuzaki will offer an incredible Fuji view on a clear day.
4. From Lake Yamanaka
Yamanakako Panoramic Observatory (山中湖パノラマ台・Yamanakako Panorama-dai) is only accessible by car, unless you don't mind a 30-minute hike from the nearest bus stop at Mikuniyama Hiking Course Iriguchi (三国山ハイキングコース入口). It might be a long trip, but the view is worth it!
3. From Lake Kawaguchi
The north shore of Lake Kawaguchi (河口湖・Kawaguchi-ko) is crammed with resorts and ryokan (traditional Japanese inns) offering a pristine view of the mountain across the lake—or reflected on the surface of the water! This is prime Fuji-viewing territory!
2. From an Airplane
Take a flight from Haneda Airport to just about anywhere in western Japan and you'll have a chance at catching an almost unbeatable view of the mountain. The sight of Fuji's peak poking through the clouds is unforgettable!
1. From Chureito Pagoda
The image of cherry blossoms at Chureito Pagoda (忠霊塔) has become the definitive view of Japan. Unmistakably iconic, the site is also worth a visit at any other time of year. Just be ready to hike the 398 steps to the top!