Japan's 20 UNESCO World Heritage Sites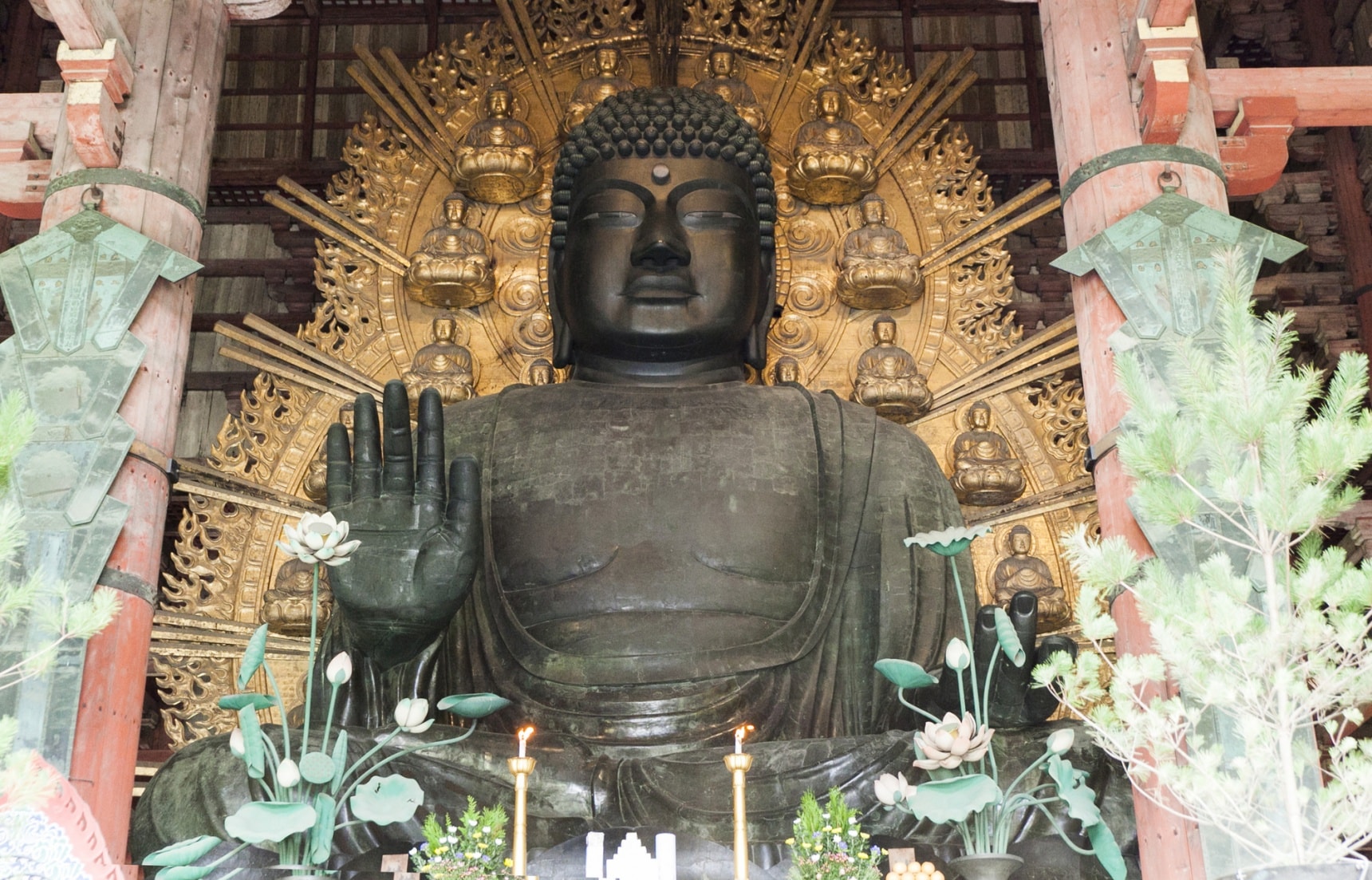 Japan's first four World Heritage Sites were registered in 1993: Horyu-ji Temple, Himeji Castle, the island of Yakushima and the northern biosphere of Shirakami-Sanchi. As of 2016, Japan is home to 16 World Cultural Heritage Sites and four World Natural Heritage Sites. You can see all 20 outlined below!
1. Buddhist Monuments in the Horyu-ji Area (Nara)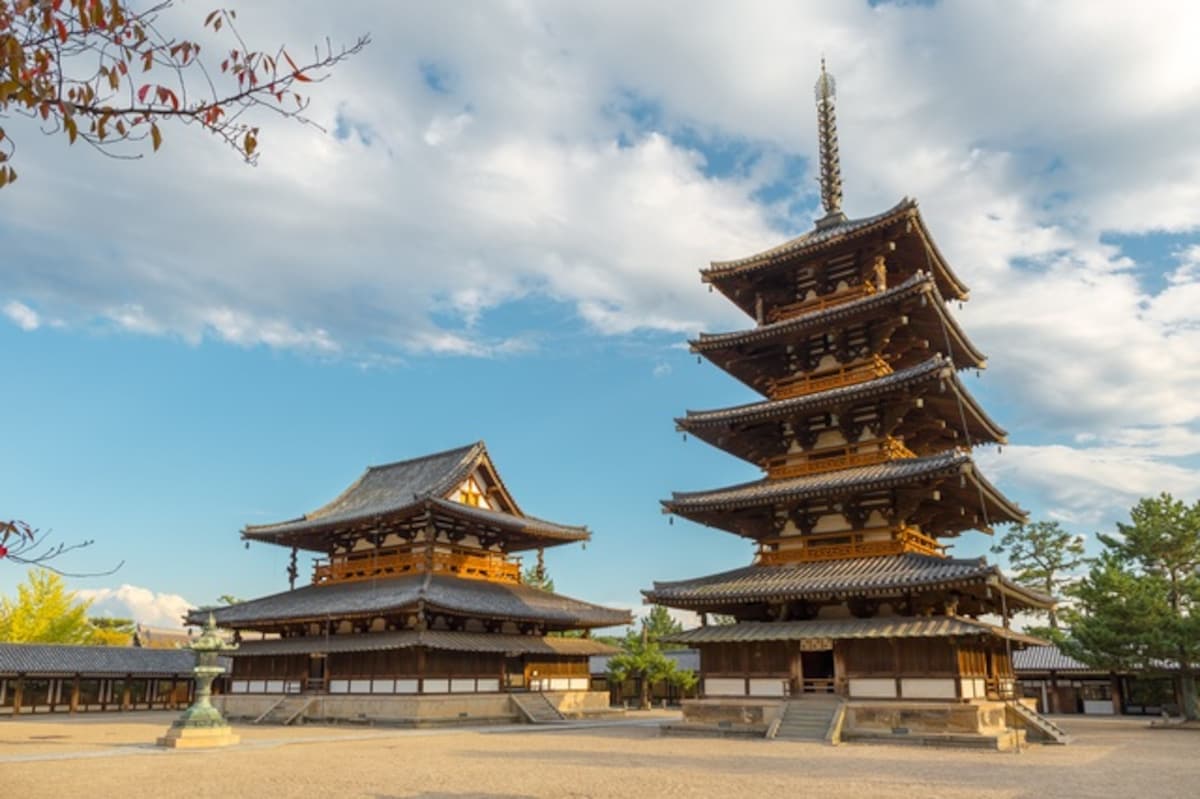 Inscribed in 1993, this listing consists of 48 Buddhists monuments. The original Horyu-ji Temple was built in the year 607, and though it's been reconstructed and repaired several times since, it's still considered the world's oldest wooden construction.
2. Himeji Castle (Hyogo)
Also inscribed in 1993, Himeji Castle is the most complete original-construction castle in Japan. Used as Tiger Tanaka's ninja training camp in You Only Live Twice, the keep compound features a primary tower and three smaller towers linked by roofed passageways, with a total of 74 structures on the expansive castle grounds designated Important Cultural Properties and eight designated as National Treasures. Its first major renovation in 50 years was completed in March 2015.
3. Yakushima (Kagoshima)
This small, granite-based island is located 60 kilometers (37 mi) south of Kyushu, and is said to have inspired the stunning environments of Hayao Miyazaki's Princess Mononoke. Home to the highest mountain in Kyushu, the island is known for its cedar trees, astounding forest vegetation and heavy rains—a great site for those seeking a far-removed adventure, and don't mind getting a little wet.
4. Shirakami Sanchi (Akita & Aomori)
Literally meaning "Mountain Land of the White Gods," Shirakami Sanchi encompasses some three dozen mountains straddling Akita and Aomori Prefectures. Only a 16,971-hectare (41,936 acre) area at its heart is actually registered as a World Natural Heritage Site, where high precipitation and low average temperatures kept the area safe from logging and development, resulting in the largest forest of old-growth beech trees remaining in East Asia.
5. Historic Monuments of Ancient Kyoto
Kyoto was founded by Emperor Kanmu in 794, and stood as the capital of the nation for 1,000 years. Inscribed by UNESCO in 1994, the listing comprises Nijo Castle and three shrines and 13 temples in the cities of Kyoto, Uji and Otsu. The best-known of the temples include Kiyomizu-dera, Kinkaku-ji and Byodo-in, the lattermost being inscribed on Japan's ¥10 coin.
6. Historic Villages of Shirakawa-go & Gokayama (Gifu & Toyama)
The picturesque farmhouses of these two regions are known for their gassho-zukuri (praying-hands-style) thatched roofs, designed to withstand incredibly heavy snowfalls. Inscribed by UNESCO in 1995, some of the houses have been preserved for over 400 years, and to this day the villages are still home to vibrant communities.
7. Hiroshima Peace Memorial / Genbaku Dome (Hiroshima)
Inscribed in 1996, the hollow remains of the Hiroshima Prefectural Industrial Promotion Hall still stand as they did on August 6, 1945, when the first atomic bomb used in war was detonated almost directly overhead. Left in place as a reminder of the destruction wrought by nuclear weapons, the Hiroshima Peace Memorial Museum is located just across the river.
8. Itsukushima Shrine (Hiroshima)
Itsukushima Shrine is best known for its "floating" torii gate, which is recognized as one of the Three Great Views of Japan. Located just off the coast of Hiroshima on an island known as both Itsukushima and Miyajima ("shrine island"), the entire shrine complex was inscribed by UNESCO in 1996.
9. Historic Monuments of Ancient Nara
Nara was the capital of Japan from 710 to 794, laying the foundations of the nation's culture before Kyoto assumed its primacy. Registered in 1998, the World Heritage listing includes the site of the former Nara Palace, five extant Buddhist temples (including Todai-ji, home to Japan's most famous Great Buddha), Kasuga Taisha Shrine, and the Kasugayama Primeval Forest.
10. Shrines & Temples of Nikko (Tochigi)
Registered with UNESCO in 1999, the Shrines and Temples of Nikko comprise Toshogu Shrine, Futarasan Shrine and Rinno-ji Temple, as well as their surrounding landscape on Mount Nikko in Tochigi Prefecture. Toshogu Shrine was first created in 1617 to enshrine Tokugawa Ieyasu, the first Tokugawa shogun. Uncharacteristically opulent for a Japanese shrine, its incredibly intricate Yomeimon gate was constructed with one pillar intentionally inverted—to avoid offending the gods with its perfection. Among the shrine's more than 500 sculptures can be found the famous "Three Monkeys" in their iconic "see no evil, hear no evil, speak no evil" poses.
11. Gusuku Sites & Related Properties of the Kingdom of Ryukyu (Okinawa)
These sites across the islands of Okinawa represent the history of the Ryukyu Kingdom, which flourished between the 14th and 18th centuries. Representing a blend of Chinese and Japanese cultures, the nine sites include five stone-walled castles, called gusuku in the Ryukyuan dialect. Four of the castles are ruins, while the fifth, Shuri Castle, is an impressive reconstruction. The other sites include Sonohyan-utaki Gate, Tamaudun mausoleum, Shikina-en Garden and Sefa-utaki, a sacred rock formation. The sites were inscribed with UNESCO in 2000.
12. Sacred Sites & Pilgrimage Routes in the Kii Mountain Range (Mie, Nara & Wakayama)
Registered in 2004, this listing encompasses a central swath of the Kii Peninsula that has long been sacred to pilgrims in Japan. Mount Yoshino and Mount Omine, located at the northern end of the Kii Mountains, developed as sacred places for the syncretic Shugendo religion, which focused on harmonizing humanity with nature. To the southwest, Koyasan still stands as a religious city formed by a mountaintop cluster of over 100 Buddhist temples. And near to the southeast stand the three Grand Shrines of Kumano Sanzan—Kumano Hongu Taisha, Kumano Nachi Taisha and Kumano Hayatama Taisha—at the second of which can be seen the spectacular Nachi Falls. The ancient pilgrimage routes connecting all these sites are known as the Kumano Kodo.
13. Shiretoko Peninsula (Hokkaido)
The Shiretoko Peninsula is a long, narrow peninsula in northeastern Hokkaido covered with steep mountain peaks and virgin forests. Stretching into the Sea of Okhotsk, it's the southernmost point in the Northern Hemisphere to see the seasonal formation of sea ice, and has been recognized as an outstanding example of interaction between marine and terrestrial ecosystems. It was registered as Japan's third World Natural Heritage Site in 2005.
14. Iwami Ginzan Silver Mine & its Cultural Landscape (Shimane)
Set among deep river valleys, the Iwami Ginzan Silver Mine was one of the world's leading silver mines between 1526 and 1923. Refining techniques introduced from Korea in 1533 spurred a vast increase in production, and with trade routes through China and Korea reaching all the way to Europe, it's said that by the 16th century, roughly a third of all the silver in circulation in the world was produced at Iwami. In 2007, the mine was recognized by UNESCO for its economic and cultural importance, with the listing also including fortresses, shrines, transport routes and three port towns in the region.
15. Ogasawara Islands (Tokyo Islands)
Known as the Galapagos of the Orient, the Ogasawara Islands are Japan's fourth World Natural Heritage Site, inscribed in 2011. The listing consists of over 30 Pacific islands located roughly 1,000 kilometers (621 mi) south of the Japanese archipelago. Only two of the islands, Chichi-jima and Haha-jima ("Father Island" and "Mother Island," respectively) are inhabited, and the only way to get to them is a 25-hour ferry from Tokyo's Takeshiba Pier. The islands are home to 441 native plant taxa, 195 endangered bird species and the critically endangered Bonin flying fox (also known as the Bonin fruit bat), while the surrounding waters support plentiful species of fish, cetaceans and corals.
16. Hiraizumi Temples, Gardens & Archeological Sites Representing the Buddhist Pure Land (Iwate)
Located in Iwate Prefecture, Hiraizumi was the administrative center of northeastern Japan in the 11th and 12th centuries. It was ruled by the Oshu (Northern) Fujiwara family, which built gardens and temples as symbolic representations of the Buddhist Pure Land (Buddhaksetra) in the real world. While Hiraizumi was said to have rivaled Kyoto in splendor, much of it was destroyed after the Oshu Fujiwara were defeated by Minamoto no Yoritomo, founder of the Kamakura Shogunate, in 1189. The 2011 UNESCO listing comprises five sites, including sacred Mount Kinkeisan, two ruined garden-temples, and two temples where some buildings remain. Most noteworthy is the Konjikido (golden hall) of Chuson-ji Temple, which is decorated with lacquer containing gold foil.
17. Fujisan, Sacred Place & Source of Artistic Inspiration (Yamanashi & Shizuoka)
Mount Fuji, or Fujisan, has long been a site of religious worship and artistic inspiration in Japan. In 2013, the 3,776-meter (12,388-ft) stratovolcano was registered by UNESCO not as a World Natural Heritage Site, but as a World Cultural Heritage Site, comprising a series of 25 sites that start at the mountain's peak and sweep down to include shrines, lodging houses and revered natural phenomena on its lower slopes. The most distant of these is Miho no Matsubara, a 7-kilometer (4.3-mi) coastal pine grove some 45 kilometers (28 mi) southeast of Mount Fuji, where the formerly white sands inspired renowned ukiyo-e art in the Edo Period (1603-1868).
18. Tomioka Silk Mill & Related Sites (Gunma)
The Tomioka Silk Mill began operation in 1872, at a time when the new Meiji government was pushing for rapid industrialization. Recognized by UNESCO in 2014, it was the first modern silk mill in Japan, created using machinery and industrial expertise from France. Other items in the World Heritage listing are the Tajima Yahei Sericulture Farm, an experimental farm for cocoon production; Arafune Cold Storage, which served as a cold storage facility for silkworm eggs; and the Takayama-sha Sericulture School, which aimed to share knowledge of sericulture. The mill continued operation until 1987, and remains in pristine condition.
19. Sites of Japan's Meiji Industrial Revolution: Iron & Steel, Shipbuilding & Coal Mining (Various)
The 23 component parts of this UNESCO listing span 11 cities in eight prefectures, including reverberating furnaces, docks, mines, factories and related structures in Iwate, Shizuoka, Yamaguchi, Fukuoka, Saga, Nagasaki, Kumamoto and Kagoshima Prefectures. Most famous among them is Gunkanjima, or Battleship Island, a coal mining facility that was abandoned in 1974, made famous by the movie Skyfall. Combined, these 23 sites tell the tale of Japan's adoption of Western technology between the closing days of the Edo Period (1603-1868) and the dawn of the Meiji Period (1868-1912).
20. National Museum of Western Art (Tokyo)
Tokyo's National Museum of Western Art (NMWA) is one of 17 locations across seven countries included among "The Architectural Work of Le Corbusier, an Outstanding Contribution to the Modern Movement." Recognized by UNESCO in July 2016, Le Corbusier was a Franco-Swiss architect who demonstrated Modernism's application to construction. The museum became Japan's 16th World Cultural Heritage Site, and its 20th World Heritage Site overall. Located in Ueno Park, the NMWA features some 4,500 works from such luminaries as Dürer, Brueghel, Rubens, Renoir, Monet, Van Gogh, Picasso, Ernst and Pollock, with several Rodin castings—including The Gates of Hell—located outside.