Ride 10 Gorgeous Steam Locomotives in Japan
5. JR East: SL Ginga (Iwate)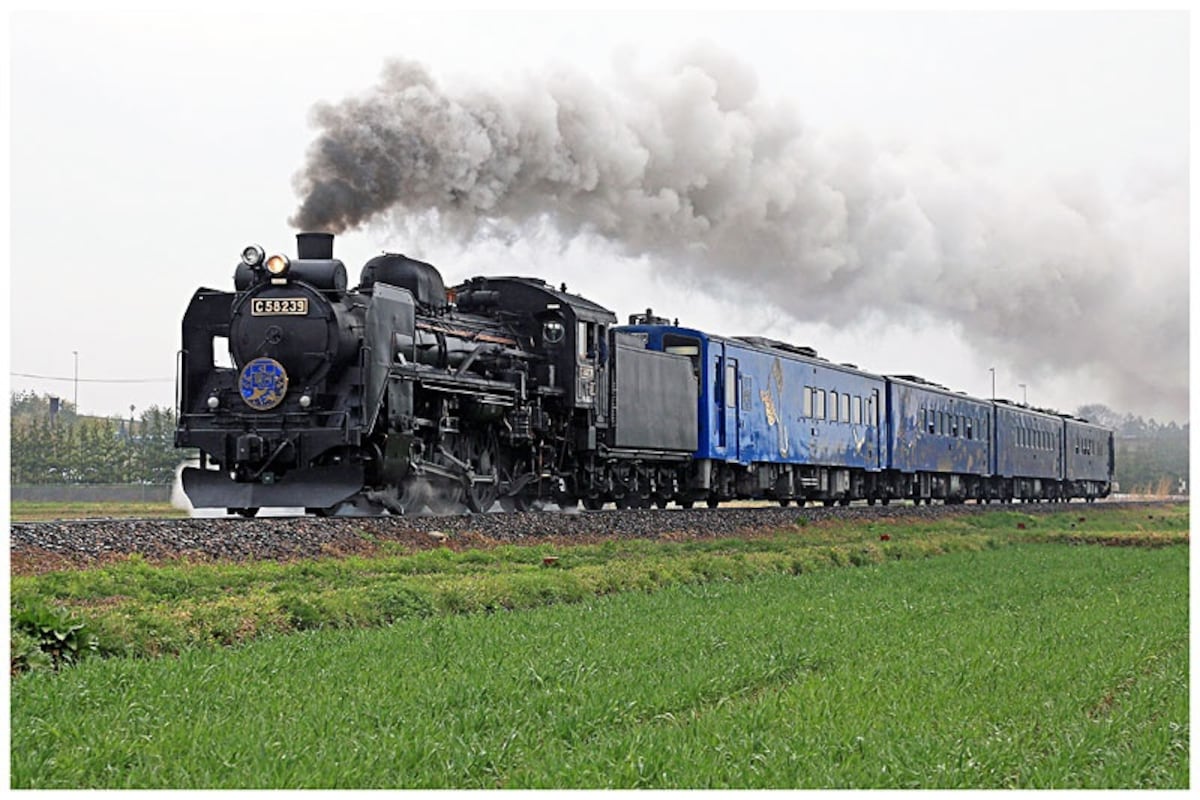 SL Ginga service was launched in April 2014 on JR East's Tohoku Main Line, operating between Hanamaki and Kamaishi in Iwate Prefecture. Ginga is Japanese for the Milky Way, and the train design was inspired by the novel Night on the Galactic Railroad by Kenji Miyazawa, who lived in Hanamaki. A symbol of recovery from the Great East Japan Earthquake, the line's Class C58 locomotive was selected for restoration after spending many years plinthed in Morioka Park.

SL Ginga generally runs on weekends and holidays from late April to the end of July. You can see the schedule (in Japanese) below. Be aware that the train only operates once per day in a single direction, with pink indicating a destination of Kamaishi, and blue indicating Hanamaki-bound.
4. Oigawa Railway (Shizuoka)
With a huge amount of service days—around 300 a year—the Oigawa Railway offers plenty of great opportunities to experience a real steam engine in action. There are four different steam locomotives in service, and at selected times you can even ride an actual steam engine based on Thomas the Tank Engine.

The main line runs through Japan's picturesque Southern Alps from Shin-Kanaya to Senzu, while a further extension, the Ikawa Line, runs from Senzu to Ikawa. Representing the only rack railway in Japan, the Ikawa Line features the steepest rail incline in the country. In short, this is really a spot to check out for train buffs!
3. JR West: SL Kita Biwako (Shiga)
Opened in 1995 to promote tourism along the northeast coast of Lake Biwa, this train runs along 22.4 kilometers (14 miles) of the JR Hokuriku Main Line from Maibara to Kinomoto Station in Shiga Prefecture. SL Kita Biwako's C56 160 locomotive is nicknamed "pony." It generally runs twice on Sundays and select holidays indicated on the Japanese schedule below.
2. JR West: SL Yamaguchi (Yamaguchi)
Running between Shin-Yamaguchi and the castle town of Tsuwano in Yamaguchi Prefecture, SL Yamaguchi covers 62.9 kilometers (39 miles) of the Yamaguchi Line in about two hours. The model C571 locomotive, nicknamed "The Lady," pulls five coaches, each designed with a different theme.

The train generally operates on selected dates between March and November, making one round trip per day. You can see the calendar in Japanese below.
1. JR Kyushu: SL Hitoyoshi (Kumamoto)
The SL Hitoyoshi runs from Kumamoto City to Hitoyoshi in Kumamoto Prefecture. Spanning 84 kilometers (53 miles) in distance, the journey time is 2.5 hours, with two hours to enjoy Hitoyoshi before making the return trip. Highlights include the emerald Kuma River and watching the train change direction on its turntable.

The train generally runs from March to November, with detailed schedule and amenity information available in English below.