The Perfect Weekend in Okayama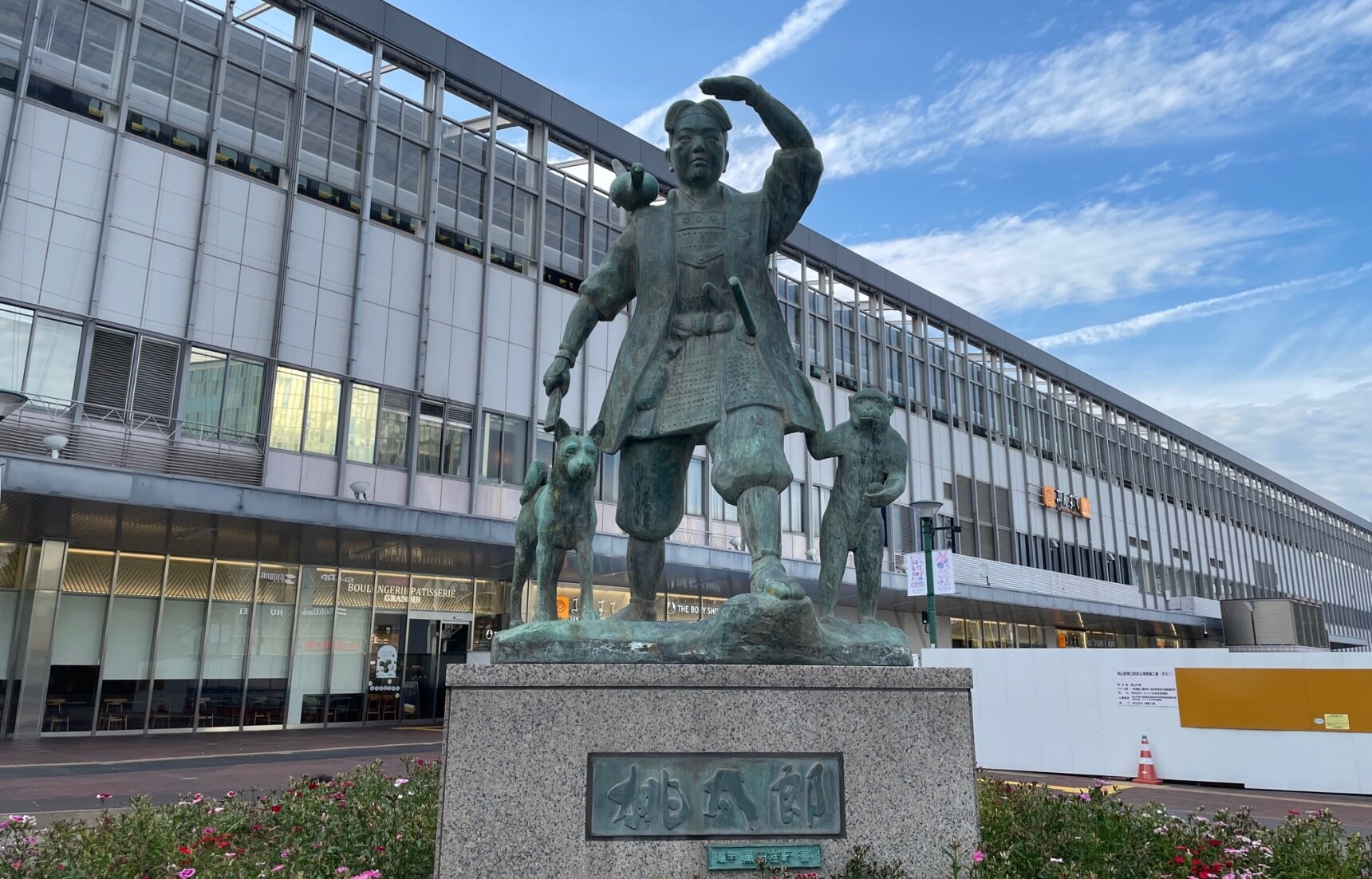 Okayama Prefecture has been dubbed the "Land of Sunshine" for its high number of sunny days. The capital city is a major Shinkansen stop and an important gateway to the island of Shikoku, and lovers of art, food, history, and nature will all find something to help them spend a fantastic weekend there. John Rucynski shares his picks.
Saturday 10:00 am: Korakuen Garden
Let's start our weekend in a natural setting. Japan loves ranking its attractions and Okayama is proudly home to Korakuen, considered one of the country's top three gardens, along with Kenrokuen (Kanazawa, Ishikawa Prefecture) and Kairakuen (Mito, Ibaraki Prefecture). The castle was constructed for the Okayama feudal lord Ikeda Tsunamasa more than 300 years ago, but its operation was taken over by Okayama Prefecture in 1884, and it was thus opened to the public.

Give yourself at least a couple hours to explore this tranquil 14-hectare garden that features ponds, a Noh theater, a temple, a tea house, a plum grove, and Japanese cranes. Also keep an eye out for seasonal features and events, including cherry blossoms in spring, illumination nights in summer, and a moon viewing ceremony in the fall.

View Hours & Prices at:
Korakuen Garden Official Website

Also, take note that a number of combination tickets are offered for reduced admission to nearby attractions including Okayama Castle (our next destination) and the Okayama Prefectural Museum.
12:00 pm: Lunch On the Water
Just before the bridge that connects Korakuen with Okayama Castle, there are a couple of lunch options. Hekisuien is a cafe and restaurant serving dishes including fried shrimp curry and rice and soba (buckwheat noodles). You can also sample Okayama's famous kibi dango, sweet dumplings with toppings such as macha or sweet soy sauce. While dango itself is a popular wagashi (Japanese sweet) eaten all over the country, kibi is the word for millet (the original ingredient) and the former provincial name for the current Okayama Prefecture.

Another Okayama-themed sweet option on the menu is "Momotaro's Little Break," gelato topped with kibi dango. Momotaro, usually translated as "Peach Boy" because he was born from a giant peach, is one of the most famous figures from Japanese folktales and a local Okayama hero.
1:00 pm: Okayama Castle and Pottery Experience
After lunch, you have just a short walk over the bridge to Okayama Castle. Okayama Castle is an impressive six-story castle originally constructed in 1597. It has also been called the "crow castle" because of the black exterior and "golden crow castle" because of the gilded roof tiles.

Okayama Prefecture is also home to one of the oldest and most famous forms of pottery in Japan, Bizen-yaki. Inside the castle tower you can also experience pottery making (reservations recommended) at the Bizen-yaki Pottery Studio. The studio also offers options for shipping to your home country when your piece is complete.


View Okayama Castle Hours and Prices at:
Okayama Castle Official Website

Pottery Studio Reservations
3:00 pm: Coffee Break at Cafe Moyau
A short 10-minute walk along the Asahi River will take you to Cafe Moyau, a historical house converted into a funky cafe. This gem of a cafe features an interesting array of seating options, including an upstairs tatami room with views of the river and a quiet (no talking allowed) reading room. This is a wonderful place to relax with a selection of coffee and tea. If you skipped dessert at lunch time, also choose from one of their scrumptious cakes of the day.

Cafe Moyau's Instagram Page
5:00 pm: A Stroll and Dinner Along Nishigawa Canal Park
Centrally located less than 10 minutes on foot from Okayama Station, Nishigawa Canal Park is both a pleasant place for a stroll and one of the most vibrant dining areas in Okayama. This promenade along the canal stretches for more than two kilometers and is lined with trees, flowers, and various art structures. It showcases how a city of 700,000 manages to be so walkable and cycling friendly.
There are numerous dinner options both between Okayama Castle and the canal and along the canal itself. Kiraku Sushi is a small friendly shop specializing in barazushi (rice topped with an assortment of seasonal fish and vegetables), a dish native to Okayama.

Another specialty of Okayama is demikatsudon, deep fried pork cutlets topped with demi-glace sauce. Popular local institutions serving this hearty dish include Katsudon Nomura and Yamato. Tsubogawa, a more upscale izakaya right on the canal, features a menu heavy on fresh seafood and local vegetables, along with a wide selection of drinks.
8:00 pm: Drinks and Live Music at Kamp
Kamp (full name Kamp Houkan-cho Backpacker's Inn & Lounge) is a hostel that also hosts occasional live music events. Located just 500 meters from Okayama Station, it's a convenient place to unwind with drinks and music after a busy first day in Okayama. Take some time to explore Houkan-cho itself, a multi-street covered shopping arcade that has been revitalized in recent years.

Kamp Website (in Japanese)

Kamp Facebook Page (some English information)
Sunday 9 am: Breakfast at Stand
Located just 500 meters from the east exit of Okayama Station Stand is a stylish two-story cafe with a studio design. Bagles can be hard to find on breakfast menus in Japan, but they are the featured item here, along with other baked goods like muffins and scones.

Stand 1-1 (Japanese only)
10:00 am: The Kibiji Cycling Route to Soja
The Kibiji Cycling Route (also aptly called the "sun route") is an almost completely flat ride that extends 25 kilometers from JR Okayama Station to JR Soja Station. This two-wheel journey is a fantastic way to explore both the history and natural wonder of Okayama, as it takes in temples, shrines, historical remains, and farmland along the way.
One highlight along the way is Kibitsu Shrine, less than 10 kilometers into the ride. Also known as "the shrine of Momotaro," the current shrine was rebuilt nearly 600 years ago. The shrine also features an impressive 360-meter-long corridor lined with seasonal flowers. In honor of Momotaro, stop by one of the nearby food stalls to try peach soft serve ice cream.

Other highlights include Bitchu-Takamatsu Castle Park and Bitchu-Kokubunji, a beautiful five-story pagoda surrounded by fields of seasonal flowers. If you need some nourishment at the end of the ride, Soja City has a selection of fantastic bakeries. Dropping off your bike at JR Soja Station leaves you with just a 10-minute train ride to your next destination.


Rental Cycling Options

Kibiji Cycling Route Map

Kibitsu Shrine Information

Alternate Access:
For those who don't want to cycle, Kibitsu Shrine is within easy walking distance (about 10 minutes) of JR Kibitsu Station (15 minutes by train from Okayama Station).
1:00 pm: Day Trip to Kurashiki
You cannot visit Okayama without exploring nearby Kurashiki. Located on the Seto Inland Sea, Kurashiki has been called the "Venice of Japan" for its charming series of canals. By walking just about 15 minutes from Kurashiki Station, you can be transported back in time to spend several hours walking the stone-tiled streets of the Bikan Historical Quarter and along the picturesque canals. As the streets are lined with numerous food stalls and cafes, just follow your nose to sample a range of goodies. One attractive lunch option is Yuuri-an Cafe, a 100-year-old townhouse that doubles as a guesthouse. The focus is on local products, with lunch options ranging from fresh bream to wild boar. Desert options include their signature "happy pudding" and pannacotta made with jersey milk from Okayama.

Art lovers will want to check out the Ohara Museum of Art, the oldest museum in Japan displaying Western art. Don't just stick to the major museums, however, as Kurashiki also offers some fun and quirky options, such as the Japanese Folk Toy Museum, which features toys from all over Japan dating back to the 1600s. Although the museum lacks English displays, this YouTube video by Q2 Japan includes an interview (with English subtitles) with the museum's owner.

Ohara Museum of Art Website

Folk Toy Museum Website

Yuurin-an
6:00 pm: Dinner and Drinks at Doppo-kan Craft Brewery
Say goodbye to Okayama by sampling some local beer at this craft brewery opened in 2017. Doppo is the most famous local craft beer, and the on-site restaurant offers 10 beers on tap as well as a selection of bottled beers. Selections range from more typical styles like pilsener and dark lager to more adventurous Okayama-themed brews like peach and muscat-flavored beers.

Food options include Seto Inland Sea-style shabu shabu, in which you cook sea bream (instead of the traditional beef or pork) and local Okayama vegetables by yourself in boiling water. If you are not a big beer drinker, the restaurant also features a large sake menu, as Doppo is owned by Miyashita Sake Brewery. The brewery also has an attached souvenir shop with a large selection of reasonably priced beers.

Doppo-kan Restaurant Website (Japanese only)

Bilingual Tour Information

Access: Three minutes on foot from JR Nishigawara Station (three-minute ride from Okayama Station)