Have Fun Surviving Japan's Hot Summers!
Japan's summers can be excruciatingly hot, making us want to stay inside with the air conditioning on full blast. But there are plenty of fun, cooling activities out there, so it would be a waste to stay indoors all day! Here are a few fun things to do, and some ways to keep cool while you're doing them.
Hit the Road!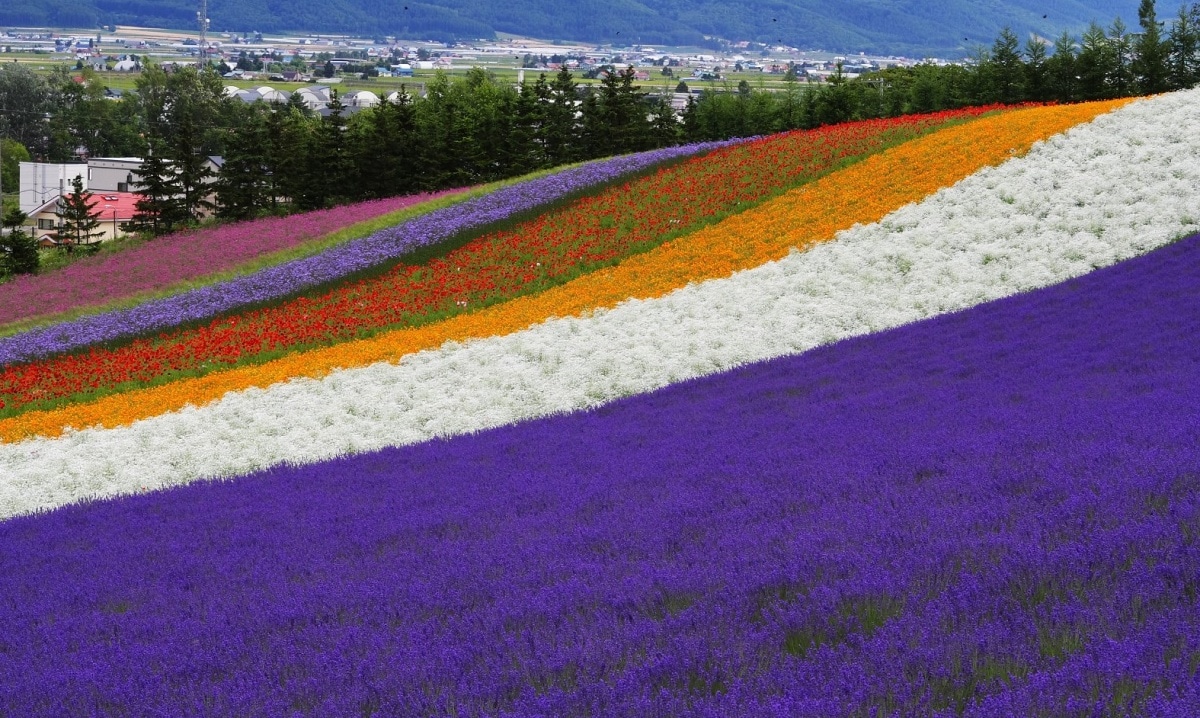 One of the most obvious ways to escape the intense heat is to simply go somewhere else. But that doesn't necessarily mean a trip to Alaska in search of snow. Instead, why not take the opportunity to explore parts of Japan you haven't been.

While most areas in Japan's northern Tohoku region, such as Akita and Aomori prefectures, are already much cooler than Tokyo, one of the best places to spend some summertime is the northern island of Hokkaido. Hokkaido may be better known for its winter ice sculptures and snowy scenes, but there is much to do in summer. Here are a few spots to visit in Hokkaido, with a famous activity and their average maximum and minimum temperatures for the month of July.

• Hakodate: 24°C / 17°C, known for views from Mount Hakodate
• Sapporo: 25°C / 17°C, known for its long summer festival
• Furano: 25°C / 18°C, known for their lavender fields
• Wakkanai: 20°C / 14°C, known for nature and Wakkanai Park
• Kushiro: 19°C / 13°C, known for Lake Akan and Kushiro Marsh

Of course, this is just a small selection, and there are plenty of other cool spots around Hokkaido, so get exploring!
Do Some Forest Bathing
If time or budget don't allow for a full-on trip up north, it might be easier to go on a simple day trip somewhere a little closer.

Some studies have shown that it can get as much as 10°F (~4°C) colder under enough tree cover, so a good forested area isn't a bad idea. Combine that with a cool river breeze or a waterfall and you've got nothing but a pleasant day ahead.

Of course, you could also head to the beach, but given the general lack of shade at beaches, you're unlikely to cool down much other than whilst you're in the water. The same goes for hiking mountains – although it will be cooler at the top, you'll be sweating the whole way there, and could even be in danger of heat stroke.

Here are some rivers and forested areas that make for a good day trip from Tokyo. There are plenty of these kinds of spots, like this list of waterfalls all over Japan, but just make sure to put on some bug repellent before you go!

• Akigawa Valley – A forest in the Chichibu-Tama-Kai National Park. About 1.5 hours on public transport from Tokyo Station
• Kegon Falls – At 97 meters, one of Nikko's 48 waterfalls. Spectacular. About 3 hours on public transport from Tokyo Station
• Hossawa Falls – A majestic waterfall only 2 hours away from downtown Tokyo in the Okutama area. A short hike from the parking lot.
• Shiraito Falls – Hundreds of falls of water from the slopes of Mt. Fuji. About 3 hours on public transport from Tokyo Station
Indoor Activities
Outdoor activities are fun, and are certainly a good way to see some blue sky, but nothing really beats the cool touch of indoor air conditioning. Thankfully, Japan has a huge variety of things to do indoors in the summer, which is great not only to avoid the heat, but to avoid a lot of the rainy season, too.

A few of the things that you can do indoors include:
• Visiting a mall
• Going to the cinema
• Visiting an art gallery or museum
• Looking for indoor events nearby
• Visiting an indoor pool
• Going to an aquarium

There have been times when I've visited the cinema in summer only to feel genuinely cold by the end of the movie! It's definitely a good option for both a physical and mental escape.
Cultural Activities
Japan's sweltering hot summers are not exactly a recent development. The heat is something that its residents have been dealing with for a very long time, and when that's the case, usually traditions and customs are not far behind.

One of the most stylish customs of summer is to wear a yukata. Yukata were originally worn as bathrobes, so they are much lighter and easier to put on, but now they are used in a much wider variety of situations. Because they are lighter, unlined, and made with cotton, they are a great option for a summer outfit. Added to which, they cover most of your body, so there's no risk of sunburn!

There are some great sightseeing towns and spots to wear a yukata, but if you want to combine it with another summer activity, you could look out for a good summer festival. Almost all summer festivals will have food stalls and cool drinks, but some will even have the fun addition of throwing water balloons. This type of festival is broadly called a "mizu kake matsuri" (水掛け祭り), and one of the best ones happens at Edo Wonderland in Nikko. If you don't want to go out in the day, look for a fireworks festival, (hanabi taikai; 花火大会), as they're always in the cooler evening!

For more of a serene summer activity to take in the culture, you could visit a shrine or temple, which are often decorated with wind chimes in summer.
Food and Drink
While on your quest for cooling or fun summer activities, it's important to stay hydrated and keep your energy levels up, so what better way to do that than to taste some of Japan's summer treats?

One of the go-to treats for summer in Japan is kakigori (かき氷). Kakigori is shaved ice like you've never seen before. Rather than being flavored, crushed ice, kakigori is literally shaved, and then topped with various flavorings and toppings. The ice is often sweetened with condensed milk, which makes the flavor and texture close to that of a very light ice cream. You can find it at festivals as well as various restaurants.

If you want something savory, a good option is a chilled noodle dish, like chilled soumen (素麺), which are thin wheat noodles usually served with a dipping sauce or soup and some light summer vegetables. You could also look for hiyashi chuka (冷やし中華) or zaru soba (ざるそば) for your chilled noodle fix.

As for drinks, a mainstay of summer is ramune (ラムネ), a Japanese-style soda that comes in a funky blue bottle. Ramune comes in a few different flavors, and is a great way to cool down in the heat.
Essential Summer Items
Finally, whenever you head out of the front door and into the heat of the day, it's a good idea to have a few things with you to avoid overheating.

People in Japan often carry around a towel for drying their hands after using the bathroom, but you might want to add a second small towel when out and about in summer, to mop up sweat or cool down. You can either get one of the cooling towels to put around your neck from a pharmacy, or simply get another small towel to wipe your brow, or to dampen in water to cool you off when you need it.

Another good item to get your hands on is a fan. You can go traditional and get a folding fan, or buy a mini electric fan to take around with you. Some of these can plug into your phone for ease of access. But if you forget to bring a fan, many places will hand out paper fans as a form of advertizing in summer – but there's no guarantee you'll come across one!

Lastly, a good way to keep cool, or at least avoid terrible sweat patches, is with undershirts like the Airism series available at UNIQLO.

Of course there will be days when the air conditioning won't let go of its icy grasp and you end up staying inside. But now you know that there are plenty of things to do without turning into a puddle of sweat on the floor, hopefully this summer you'll get to experience something new!

Let us know your favorite way to keep cool in Japan's summer in the comments below.
More Summer-related links: Glamping in Hakuba
More Summer-related Links: Make Your Own Fruit Liqueur