5 Awesome Rides Up Japan's Mountain Peaks
Mt. Takao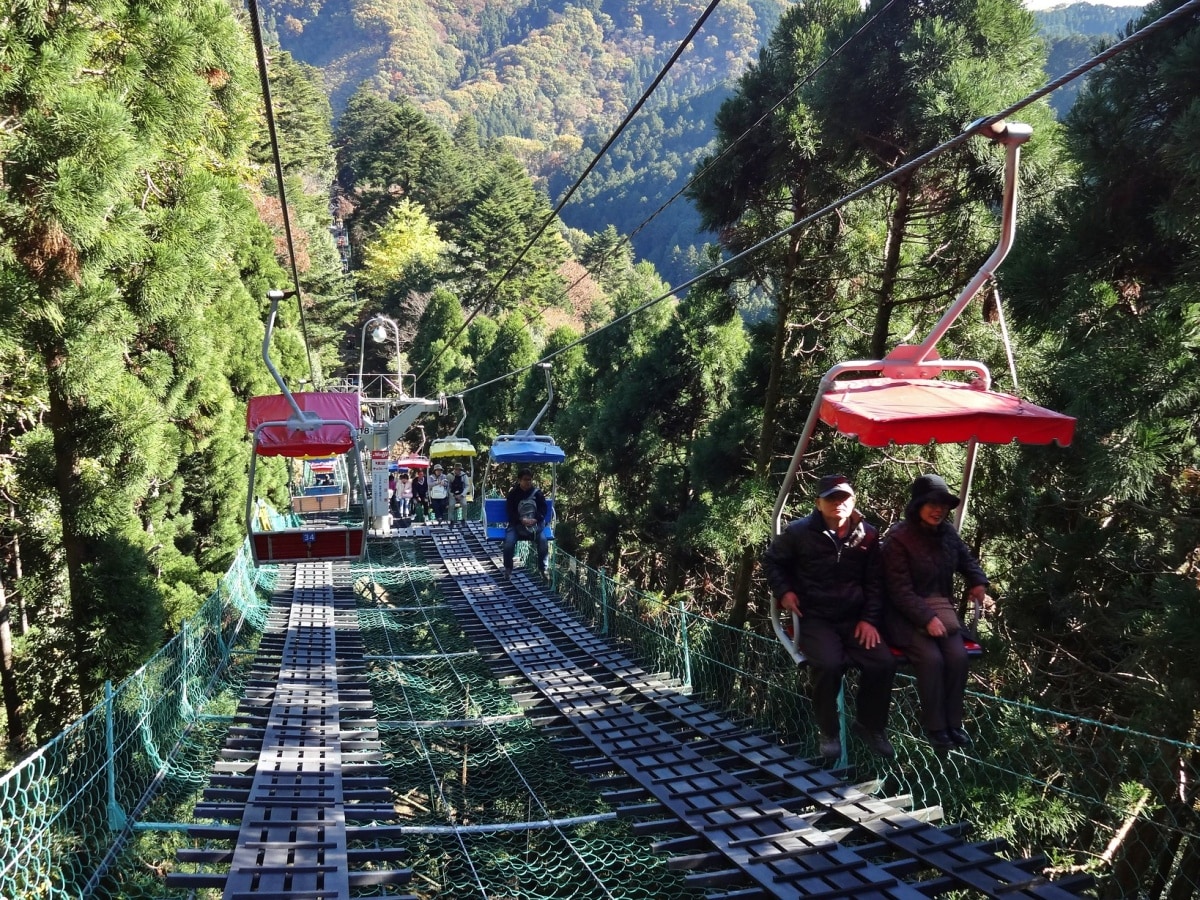 Mt. Takao is a tourist favorite for many reasons. This mountain stands at just 599 meters above sea level, is a short one-hour trip from central Tokyo, and has a charming cable car to take you to the top!

Hiking the mountain takes about 2 hours or less depending on the trail, but the cable car and chair lift will get you most of the way in 6 or 12 minutes respectively.

Although the chair lift takes longer, it's arguably the more fun of the two. It feels like a fairground ride to hop on the lift and let your feet dangle in the breeze as you watch the trees and mountain scenery go by. From the top, the whole route is visible!
If you're not so great with heights, the cable car is probably the safer bet. The yellow and red colors of the cars also make it great for autumn photos, as it perfectly matches the surrounding fall foliage.
At the cable car terminal, visitors are greeted by a beer garden named Beer Mountain, which offers excellent views. From there, the summit is about a 40-minute walk with plenty of fun sights on the route, like a monkey park, temple, and suspension bridge.

Mt. Takao is most beautiful (and most crowded) in autumn, when the mountain is adorned in autumn colors. At the end of the 40-minute hike, on a clear day you may even be rewarded with a view of the iconic Mt. Fuji!
For a smooth trip, try to avoid weekends and national holidays if you can, especially in autumn. The busiest days can mean long wait times (possibly over an hour) for the next available mountain lift.

Access to Mt. Takao from Tokyo Station:
Chuo Line to Takao Station
Takao Line to Takaosanguchi Station (total 1 hr 9 min.)
Cable Car and Chair Lift Fees: Round-trip ¥950, one-way ¥490 (same price)
First Ride: Chair lift – 9:00; Cable car – 8:00
Last Ride: Chair lift – 16:00 or 16:30 by season; Cable car – varies by season between 17:00-18:30
Mt. Tsukuba
Mt. Tsukuba is located in Ibaraki Prefecture, just northeast of Tokyo. It is celebrated for its double peaks and a variety of scenic trails. The trails up the 877 meter mountain are a bit of a challenge for beginners, but there are two other ways to get to the top: a cable car and a ropeway. At the base of the mountain there are a few hotels, souvenir shops, and restaurants, as well as Tsukubasan Shrine, which serves as a sort of formal entrance to the mountain before the cable car station.

The ropeway station is located about 5 kilometers away from the cable car, and has its own souvenir shop and snack stalls.

The ropeway gives beautiful sprawling views of the surrounding landscape, while the cable car takes you up through the trees on the mountain itself. My personal favorite is the ropeway, because you can see for miles. On a clear day, you can even see as far as Tokyo, and the iconic Skytree tower. The view is particularly beautiful coming down on the ropeway at sunset.
The cable car takes you to the summit between Mt. Tsukuba's two iconic peaks: Nyotaisan and Nantaisan. This middle area has some restaurants and souvenir stalls. I can't tell you how satisfying it is to eat a warming bowl of Tsukuba Udon noodles at the top of a mountain!

Both peaks have a small shrine and a little circular trail. The ropeway arrives closer to Nyotaisan, which has an impressive lookout point.
Access to the base of Mt. Tsukuba is via hourly buses. A rental car is a better option if you want a more flexible schedule.

Access to Mt. Tsukuba from Tokyo Station:
Yamanote Line to Akihabara Station
Tsutsujigaoka Bus to Tsukubasan Shrine (for cable car) or Tsutsujigaoka (for ropeway) (total 2 hr.)
Ropeway Fee: Adult round-trip ¥1,300
Cable Car Fee: Adult round-trip ¥1,070
First Ride for Both Ropeway and Cable Car: 9:20
Last Ride: Varies by day between 16:40-17:20
Mt. Nishi-Azuma
Located on the border of Fukushima and Yamagata prefectures, Mt. Nishi-Azuma is a less easily accessible mountain than Mt. Takao and Mt. Tsukuba, but it is no less stunning. In fact, the lack of crowds make it even more enjoyable!

At this mountain, visitors need to take both the ropeway and chair lift to get to the top, both of which are open from June to October. I visited in autumn, and the chair lift is one of the most serene experiences I've had in Japan. You're surrounded by red and orange hues, and the scent of the trees fills the air. Even though it's a fairly long ride (30-40 min. total), I almost didn't want it to stop.

At the top, there are no shops and restaurants, simply a trail head for the hike to Mt. Nishi-Azuma peak.
It's about a 3- to 4-hour hike to the Mt. Nishi-Azuma peak. But for those looking for something less strenuous, the Kamoshika Observation Point (Kamoshika Tenboudai) is a good landmark that only takes around 30 minutes to reach.
This area is famous for its natural scenery and onsen hot springs. Shirabu Onsen is a particularly good spot; it's not far from the ropeway entrance and is a great place to stay and soak after visiting the mountain. They even serve Yonezawa specialties to recharge so you can go to bed satisfied. Just don't be surprised if you see a monkey or two wandering around nearby!

Access to Mt. Nishi-Azuma from Tokyo Station:
Yamagata Shinkansen (Tsubasa) to Yonezawa Station
Bus to Ishikiri (bound for Shirabu Onsen) (total 3 hr 25 min.)
Ropeway and Lift Fees: Adult Round-trip ¥4,200 (ropeway only ¥1,700)
First Ride: Ropeway – 8:20; Chair lifts – 8:30
Last Ride: Chair lift – 15:40; Ropeway – 17:00
Tateyama Ropeway
The Tateyama Ropeway is just one portion of a spectacular route across Japan's Northern Alps, but is arguably the most impressive of the rides on this list.

The entire route is called the Tateyama Kurobe Alpine Route, and it crosses the mountains from Nagano Prefecture to Toyama Prefecture using trains, buses, cable cars, and the ropeway. It offers stunning natural sights every step of the way.
The ropeway is in the middle of the route, and traverses from Kurobedaira Station to Daikanbo Station. It is often called a moving observatory for its beautiful views. It travels on a single span over 1.7 kilometers in 7 minutes, and is a rarity because it is the only ropeway in Japan without connecting pylons along its span, giving you a complete 360 view of the incredible landscape of the Japanese Alps below.
Of course, the route can be traveled in either direction, so you can experience the ropeway, take in the sights at Daikanbo Station, and return.

West to East:
Access to Tateyama Ropeway from Tokyo Station:
Hokuriku Shinkansen to Toyama Station
Toyama Chiho Railway to Tateyama Station
Walk 10 min. to Tateyama Cable Car
Ropeway Fee: Adults ¥1,300 one-way
See website for details on timetables.
Hakuba Valley
Hakuba is a popular spot that is also a part of Japan's Northern Alps, but involves less of a commitment than doing the entire Tateyama Kurobe Alpine Route.
Hakuba is mainly known for its skiing, which means that there's not just one lift, but a selection of gondolas and chair lifts up the mountains. These are open for the green season from June to October, so visitors can indulge in some mountain scenery while escaping the heat of summer.

One of the most scenic gondolas is the Tele-cabin which carries passengers to Hakuba Goryu Alpine Botanical Garden. It takes about eight minutes, moving up and over the mountain greenery. The garden has over 300 varieties of beautiful alpine plants, with different flowers blossoming each month. It even has its own small chair lift as well as restaurants and cafes.
The Noah gondola takes passengers to a green space, Japan's 3rd highest swing, and a terrace with incredible views. This area is particularly attractive in autumn, but is equally popular during the lush summer season.

Access to Hakuba resort from Tokyo Station:
Hokuriku Shinkansen to Nagano Station
Nagano-Hakuba Line to Tokkyu Kirikubo Station
Ride Fees: Prices vary by gondola set
More information here and here.