Celebrate Summer in Japan Like a Local: Bon Odori Dances and Fireworks Festivals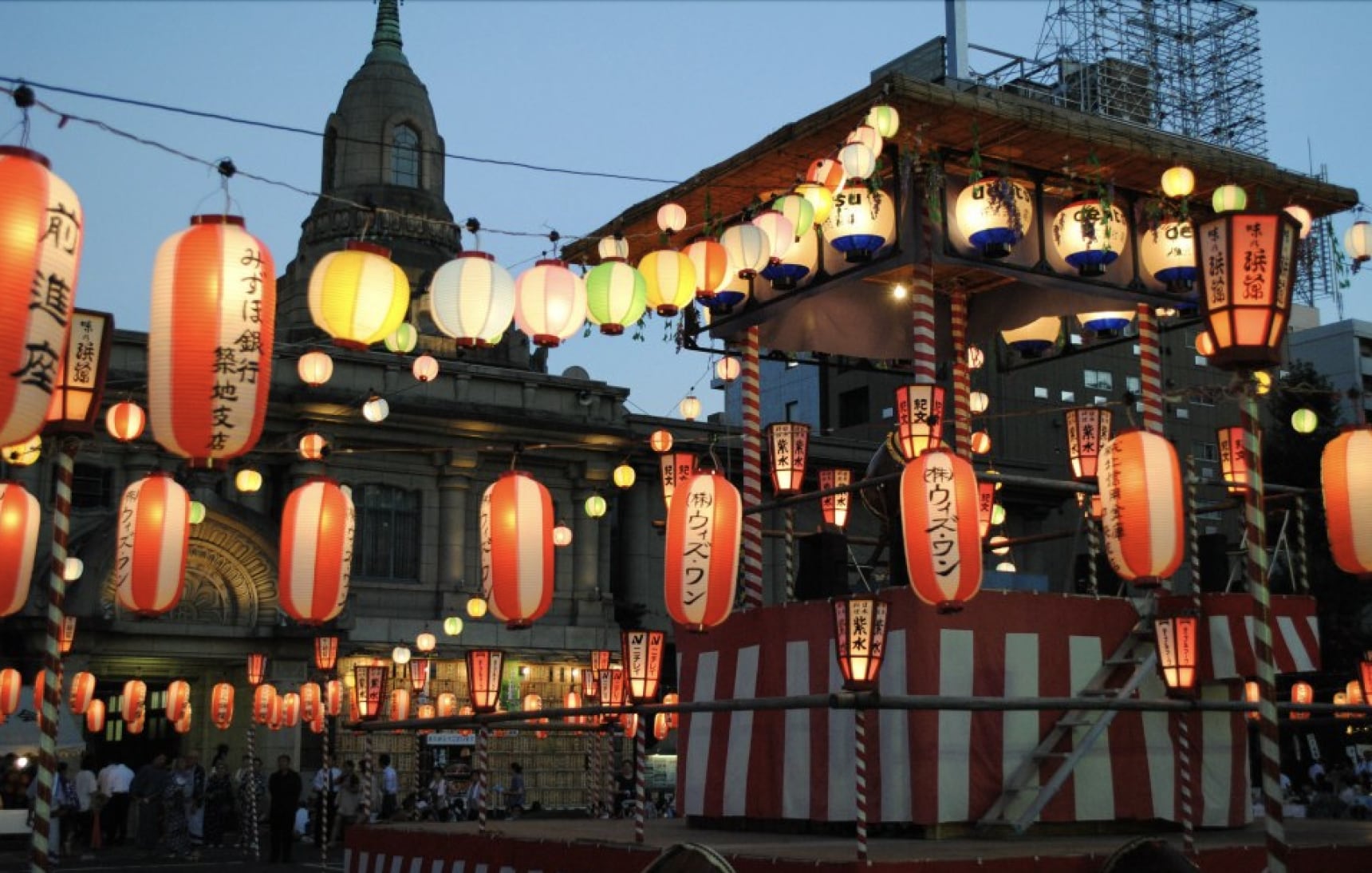 Japanese summers are filled with sound: the buzzing of cicadas, the gentle tinkling of furin wind chimes, the booming of fireworks, the beating of taiko drums. There's another sound, though, that represents the very heart of summer to me and many others: the music of Bon Odori dances, one of the season's most beloved festivals.
My husband and I used to pass the sticky nights of July and August cycling around our neighborhood and beyond, ears pricked for the sound of tinny recordings of traditional Japanese folk songs. Hearing them meant a Bon Odori dance festival was on the go nearby, and for us, an evening of traditional dancing around a lantern-lit yagura stage—and lots of festival food. It never mattered that we were complete strangers wandering into a small community gathering, for we were welcomed with open arms: There's always a spot for another dancer around the yagura.
The yagura rise from the center of festival grounds, lanterns dripping from scaffolding and hanging from wires above dancers who move around the glowing tower in a circle. Singers, hayashi bands of taiko and flute players, or yukata-clad dancers demonstrating dance steps sometimes occupy the yagura's platform.

The ring of dancers fluctuates in size as revelers join and drift away. Better-known dances sometimes require more than one ring to accommodate everyone as they perform the dances in tandem, one great line stepping forwards and backwards, approaching the yagura and falling back into place, and turning on the spot.

All the while, arms move gracefully, hands tracing circles in the air or performing imaginary tasks based on the song's theme. The "Tanko Bushi," a standard Bon Odori song and dance with origins in a Kyushu folk tune, mimics the movements of coal miners. Other dances make use of fans or tenugui hand towels—but it doesn't matter if you don't have any props.

It might sound tricky, and most people fumble in the first rounds (at least!)—and that's perfectly okay. The key is to find a confident dancer and copy their movements. Everyone does it, with the best dancers accumulating a line of folks behind them craning their necks to catch the subtleties of each move.
A Brief History of Obon and Bon Odori Dancing
Bon Odori dances are part of celebrating Obon, a religious event that takes place from either July 13 to 16 or August 13 to 16, depending on the region. Though strongly associated with Buddhism, Obon also mingles ancient Japanese traditions to honor the ancestral spirits who are thought to visit during this time. Many people return to their family homes during the days of Obon to tidy the family gravesite, and sometimes participate in traditional customs related to welcoming their ancestral spirits.

The dancing is said to have begun with Odori Nembutsu, a prayer dance popularized by the itinerant Buddhist monk Ippen Shonin (1239–1289) in the late Kamakura period (1185–1333). The dances were originally performed to console ancestral spirits, though they developed an entertainment aspect over the years and eventually slipped into general folk culture. In the early-to-mid 19th century, the style of Bon Odori changed again, with many popular songs and dances emerging or evolving from regional folk songs. Today, there are even Bon dances to J-pop and anime songs.
What you'll find at a festival beyond a yagura and food stalls varies wildly, which is part of the fun. Hula dancers warming up the crowd was almost a given in my Bon Odori-hopping days. I've danced to both live music and recordings played over ancient sound systems, and I've been introduced to the tricks of traditional Japanese entertainers and enjoyed mini-fireworks shows. Taiko drumming, cheerleading routines, enka singing—anything goes. Sometimes, children huddle around game stalls, scooping up goldfish or trying to hook balloon yo-yos. Other times, the bare minimum—yagura, lanterns, and one or two food stalls—is all you get.

The Bon Odori that my husband and I spent our evenings searching out were small-scale festivals, but Bon Odori of every size can be found throughout the country. Gifu Prefecture's Gujo Odori, one of Japan's largest Bon Odori events, sees crowds of 30,000 people on each of the four main nights of the month-long festival. Other major Bon Odori that draw visitors from across the country include the Awa Odori in Tokushima, Tokushima Prefecture, and the Nishimonai Bon Odori in Ugo, Akita Prefecture. Regional differences in dance, music, and, for the larger festivals, attire make each Bon Odori a completely different experience.
Dressing for a Successful Bon Odori
You don't need to invest in a special outfit to take part in Bon Odori. You can—and many do—show up in shorts and a T-shirt. Others join in work wear, fitting in a dance or two on the way home from the office. That said, it's more fun to go in traditional clothing, and the locals will love you for it.

Yukata (light cotton kimono) paired with geta sandals are the Japanese attire you'll see most often at Bon Odori, but many men and children—and in recent years, young women as well—opt for jinbei, preferring the comfort of a side-tied top and loose cropped pants to the bound waist of a yukata. Both yukata and jinbei are widely available during the summer, and though tying the obi for a yukata can be a bit tricky, there are options to help you out, from YouTube tutorials to simple sash-style obi to pre-tied bows.
For something more unique, you can have a custom-made yukata made at many department stores and kimono shops. Prices can be steep, but extras are sometimes included, like a set number of complimentary dressing sessions so you don't have to wrangle your obi into a bow on your own.

Does dressing the part enhance the experience? To an extent, perhaps, in that the sense of belonging goes up a few notches. You'll also be showered with even more compliments.

What really enhances the experience is learning a dance or two in advance. Fourteen years ago, YouTube—and a very patient niece—taught me the "Tanko Bushi"—and I've picked up other dances on the fly. (Including the "Tokyo Ondo", which, in addition to being a popular Bon Odori dance, is also the seventh-inning song of the Nippon Professional Baseball league's Tokyo Yakult Swallows. Go figure.) It helps that each song is often repeated several times. Regardless of whether you go all out with dress and dance prep, though, you're guaranteed a good time.
Fireworks Festivals
My first summer in Japan, when I joined friends for the Tachikawa Showa Kinen Park Fireworks Festival, I expected a small crowd and a short show. Instead, I was overwhelmed by the crush of people, their enthusiasm for pyrotechnics, and the number of fireworks launched (and it wasn't even one of Tokyo's major festivals). Fireworks are an integral part of the Japanese summer, and it's not unusual at all to hear booming in the distance and catch sight of the odd flash of color in the night sky as neighboring communities let loose their stash.

There's good reason for the excitement: Japan does fireworks exceedingly well. You'll see recognizable images—smiley faces, Hello Kitty, Doraemon—explode into shape and masterfully choreographed bursts of color. One of Japan's largest fireworks festivals, the Lake Suwa Fireworks Festival in Suwa, Nagano Prefecture, shoots off a whopping 40,000-plus fireworks.

There are a few ways to make the most of a fireworks festival, one of those being dress. This is another chance to show off your summery yukata or jinbei and to admire the traditional attire of others.
Major Bon Odori and Fireworks Festivals
It's one thing to read about Japan's summer festivals and something else entirely to experience them. Should your visit coincide with the summer season, I encourage you to make time to join a Bon Odori and watch a fireworks festival, in yukata or jinbei if you can manage it. Believe me, the memories—especially of the connections made with locals—will become some of your most cherished.

Information on three of Tokyo's major fireworks festivals can be found here, while info on major festivals outside of Tokyo can be found here.

When it comes to Bon Odori, you may well come across small ones as you explore the city, but to guarantee an evening of dancing, check out any of the following*:

Mitama Matsuri (Yasukuni Shrine)
Date: mid-July
Location: 3-1-1 Kudankita, Chiyoda-ku, Tokyo 102-8246

Zojoji Temple Bon Odori (Zojoji Temple)
Date: late July
Location: 4-7-35 Shibakoen, Minato-ku, Tokyo 105-0011

Tsukiji Honganji Noryo Bon Odori (Tsukiji Honganji Temple)
Date: late July/early August
Location: 3-15-1 Tsukiji, Chuo-ku, Tokyo 104-0045

Hanazono Bon Odori (Hanazono Shrine)
Date: early August
Location: 5-17-3 Shinjuku, Shinjuku-ku, Tokyo 160-0022

Kanda Myojin Noryo Matsuri (Kanda Myojin Shrine)
Date: mid-August
Location: 2-16-2 Sotokanda, Chiyoda-ku, Tokyo 101-0021

Hibiya Park Marunouchi Ondo Bon Odori (Hibiya Park)
Date: late August
Location: 1-6 Hibiya Koen, Chiyoda-ku, Tokyo

*Dates often change slightly from year to year and are sometimes not announced until several weeks beforehand. Sites like Tokyo Cheapo and Go Tokyo generally update their event listings as dates are decided.