7 Must-Visit Spots in and around Matsue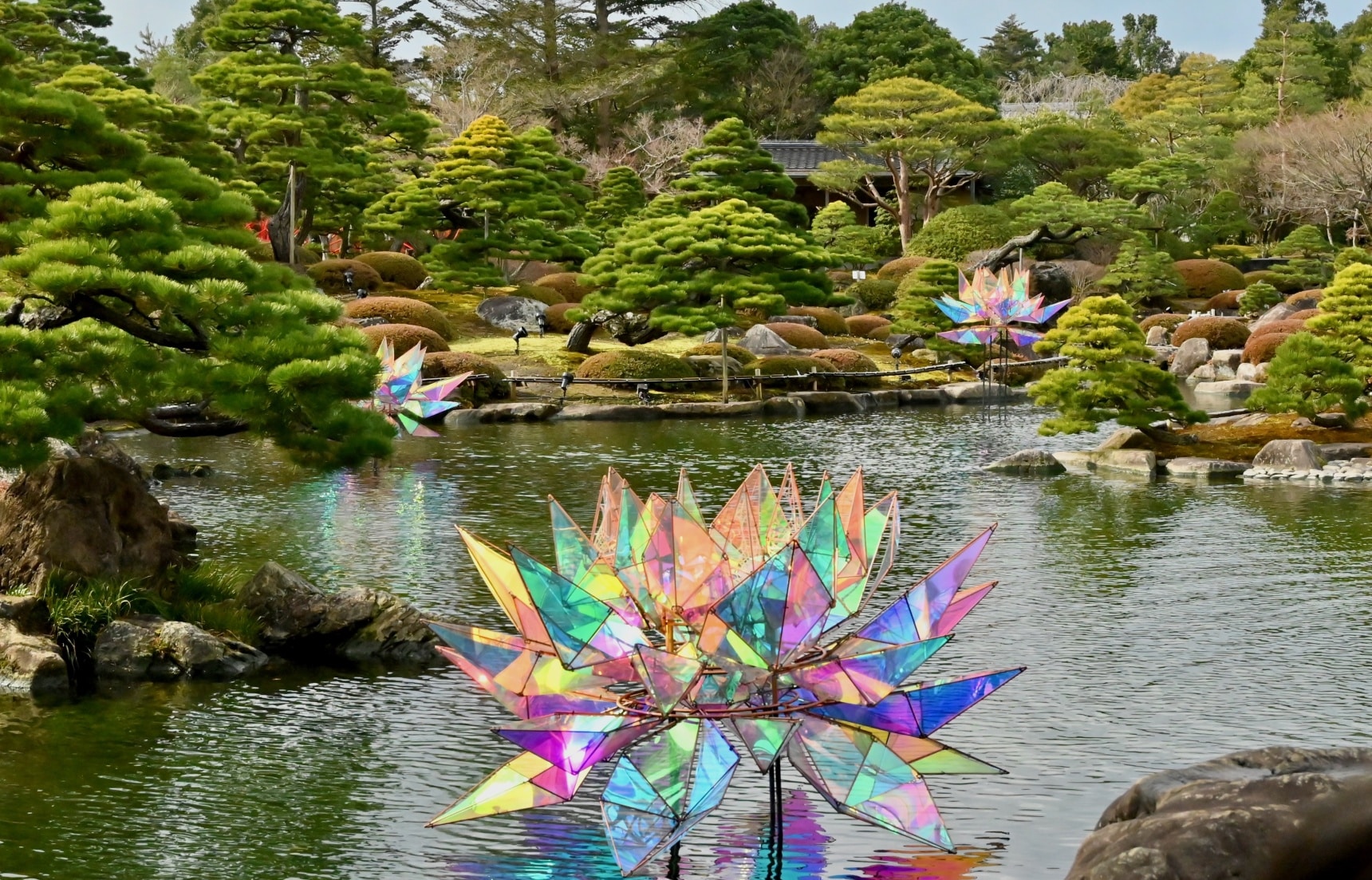 It is a city brimming with history and culture. From its hilltop castle to its streets filled with temples and shrines, teahouses, and museums, it delights those with a keen interest in yesteryear while also enthralling all who visit with its natural beauty both wild and cultivated.

Many of Matsue's top attractions, concentrated around the castle, are within walking distance of each other. Several others require a bus or car but are more than worth the effort. The following seven spots are just a part of what the city and its environs have to offer.
Matsue Castle
Matsue comes by its "city of water" reputation honestly. Not only is it positioned between two lakes, bisected by the Ohashi River, and on the Sea of Japan, it's also crisscrossed by canals and home to moats, which visitors can glide across in sightseeing boats.

The moats surround Matsue Castle, built between 1607 and 1611 by Horio Yoshiharu, the founder of the Matsue domain. It is one of 12 genson-tenshu--or original castles that avoided destruction by war, fire, natural disaster, and the Ordinance for Disposal of Castles of 1873. Matsue Castle is also a National Treasure, a designation it shares with just four of the other genson-tenshu.
Massive stone walls rise up towards the castle, which sits, black and imposing, on a hill overlooking the city. The inside has been converted into a museum, but the ambiance remains. Explore displays of building materials, armor, artifacts, and other items while padding in stocking feet—footwear must be removed—across dimly lit floors worn smooth by centuries of use. History buffs will be happy to know that detailed signboards are written in Japanese, English, Chinese, and Korean.

At the top, drink in your reward for scaling the steep staircases: a spectacular view of the city and the hills beyond. Take a moment to admire the grounds that spread out below. Home to shrines, a grove of plum trees, and many cherry trees, they're also worth a wander.
Matsue History Museum
Dive deeper into Matsue with a visit to the Matsue History Museum, which stands immediately to the east of the Matsue Castle grounds.

Browse the permanent exhibition, modest in size but packed with displays that include live-action videos, paper-cut animation, and dioramas. Be sure to check out the glass panels in the floor, too, for a peek into the past. As you'll see, remnants of the old castle town survive beneath your feet.

To get the most out of your visit, request an English-language audio guide, as the English captions are basic at best.
Matcha and wagashi (traditional sweets) aficionados should make time to visit the on-site Tea Shop Kiharu, which overlooks a karesansui (dry landscape garden). The shop's wagashi are exquisite creations by seasoned wagashi artisan Itami Tsuguo. If you're lucky with your timing, you may even manage to catch the master at work.

For more history and culture, visit the adjacent Horan-enya Memorial Hall, which illustrates the history of the Horan-enya, one of Japan's three great boat festivals. Entry to the hall is included in admission to the history museum, though a small fee will apply if you visit just the hall.
Lafcadio Hearn Memorial Museum
The Lafcadio Hearn Memorial Museum is located not far from the Matsue History Museum, just north of Matsue Castle. Lafcadio Hearn was a Greek-born writer who became a Japanese citizen, and the museum brims with relics from the life of this man, whose writings provided Westerners some of their first in-depth glimpses of Japan.

The museum tracks his life from birth to death across three rooms in detailed exhibitions that range from display cases of personal items and correspondence to projections, first editions of his work, and biographical information.
The museum is notable for the intimacy of its collection. Family photographs line the walls of the staircase to the second floor. Items donated by the Koizumi family—a pocket watch and mirror, samples of weaving done by Hearn's wife Setsu, a set of weights, pens and nibs, pipes, and more—enhance an illustrated timeline stretching across the walls.

Hearn's fascinating life of travel and cultural exploration easily draws in those with no previous knowledge of the man. But those who have an interest in the author and his works will not only find the museum of interest. They will be pleased to know that more Hearn-centric sightseeing can be found throughout the city, including at Hearn's former residence—described in his book Glimpses of Unfamiliar Japan—just a few steps away.
Meimei-an Teahouse
Matsue owes its strong matcha and wagashi culture to Matsudaira Harusato (1751–1818), the seventh lord of the Matsudaira clan to rule over the Matsue domain. Matsudaira, also known as Fumai-ko, was educated in the tea ceremony from a young age and went on to found his own school of tea ceremony called Fumai-ryu.

The teahouse Meimei-an, commissioned in 1779, was built to the tastes of Matsudaira. Over the years, Meimei-an has been relocated several times, even spending time in Tokyo. It came to rest at its current hilltop location, approximately a ten-minute walk from Matsue Castle, in 1966 on the 150th anniversary of Matsudaira's death.
Though the interior of the small structure with its thickly thatched gabled roof is off limits, it can be admired from the garden outside. It is a fascinating example of the humble simplicity in which powerful historical figures practiced tea ceremony.

Matcha and wagashi are served as part of a low-key Fumai-ryu tea ceremony in neighboring tearoom Hyakuso-tei. The relaxed atmosphere allows for a gentle introduction to tea ceremony that is enhanced by the view of Meimei-an's karesansui garden. At the Meimei-an entranceway, visitors will also find a stellar view of Matsue Castle rising from its forested hilltop.
Gesshoji Temple
Gesshoji, the family temple of the Matsudaira clan, lies a little over one kilometer from Matsue Castle on the site of what once was a Zen temple. It was established as a Jodo sect temple by Matsudaira Naomasa (1601–1666), the first feudal lord of Matsue to come from the Matsudaira clan, to house the mortuary tablet of his mother.

Gesshoji is the resting place of nine Matsudaira feudal lords, whose mausoleums are spread out across the grounds. The history is fascinating, as are the beautiful surroundings and the quiet atmosphere. Bamboo, towering Japanese cedar, and other trees surround the temple, while seasonal blossoms, (most notably hydrangea from mid-June to early July), add a splash of color to the grounds.
For another taste of Matsue's tea and wagashi culture, drop into Gesshoji's Daien-an tearoom, which overlooks a temple garden. The temple's matcha is made with water from Chanoyu no Mizu, a spring on the temple grounds that is said to have been used by Matsudaira Harusato (Fumai-ko) for tea ceremonies.
Yuushien Garden
Envelop yourself in the tranquil beauty of a traditional Japanese garden with a visit to Yuushien, located roughly 10 kilometers east of central Matsue on Lake Nakaumi's Daikonshima Island. A large strolling garden, Yuushien is designed to be admired up-close while wandering the paths that guide visitors past flowers, trees, waterfalls, and over bridges.

Daikonshima island is Japan's top producer of peonies, and perhaps not surprisingly, Yuushien is also famous for its 250 varieties of the flower. They bloom both outdoors and in the Japanese Peony House, where blossoms can be viewed year-round. During Golden Week (end of April to early May), by-products of the island's peony-growing industry—approximately 30,000 flower heads—are arranged in Yuushien's ponds and along pathways to create a carpet of color.
The garden hosts a wide variety of flowering plants and trees, including azaleas, cherries, water lilies, and camellia. The changing colors of autumn foliage, illuminated in the evenings, take center stage later in the year. Though a traditional Japanese garden, Yuushien also incorporates modern twists, from its spectacular winter light-up event featuring 1.3 million LEDs to its art installations and collaborations.

After exploring the garden, which also includes a karesansui dry garden and a "lava garden" of natural stones, enjoy the view from a different angle from one of Yuushien's several on-site restaurants or its tearoom.
Adachi Museum of Art
The Adachi Museum of Art is a must-visit for both art enthusiasts and admirers of Japanese gardens. It is located in Yasugi, Shimane Prefecture, roughly 40 minutes outside of central Matsue. The museum is home to approximately 2,000 works displayed on rotation by artists of the modern and contemporary Japanese art world, including Yokoyama Taikan (1868–1958), Kawabata Ryushi (1885–1966), and Yasuda Yukihiko (1884–1978). Ceramics, calligraphy, and other works by Kitaoji Rosanjin (1883-1959), a renowned chef and artist, are also exhibited in Rosanjin Hall, which opened in April 2020.

Though it is one of Japan's leading museums of modern and contemporary art, Adachi Museum of Art is perhaps best known for its gardens, which stretch across more than 40 acres of land around the museum. The grounds have long been ranked Japan's top Japanese-style garden by US-based magazine Sukiya Living Magazine: The Journal of Japanese Gardening.
The museum gardens consist of several different styles: the Dry Landscape Garden, the White Gravel and Pine Garden, the Moss Garden, and the Pond Garden. As visitors make their way through the museum, they're treated to various views of the gardens through floor-to-ceiling windows and strategically placed smaller windows that frame certain sections in what it calls "Living Hanging Scroll," "Living Partition," and "Living Framed Painting."

Visitors can also admire the gardens while enjoying a meal at one of two on-site cafes or from the museum's tea house, which serves wagashi and matcha made with water boiled in a traditional Japanese kettle made of pure gold.

Be sure to take the time to study the simple, fascinating garden maintenance calendar hung on the wall of the lobby for insight into how the vast gardens are sustained.
A Rich Cultural Experience Minus the Crowds
Matsue and its surrounding area overflow with historical and cultural destinations. Its distance from Tokyo and other major tourist destinations makes it seem far-flung and inaccessible, but it only takes about an hour and a half from Tokyo's Haneda Airport to Izumo Airport, not far from Matsue. The benefit of making the trip is priceless: a quieter, more intimate experience of traditional Japanese culture.