5 Great Reasons Why You Should Go Out to a Japanese Baseball Game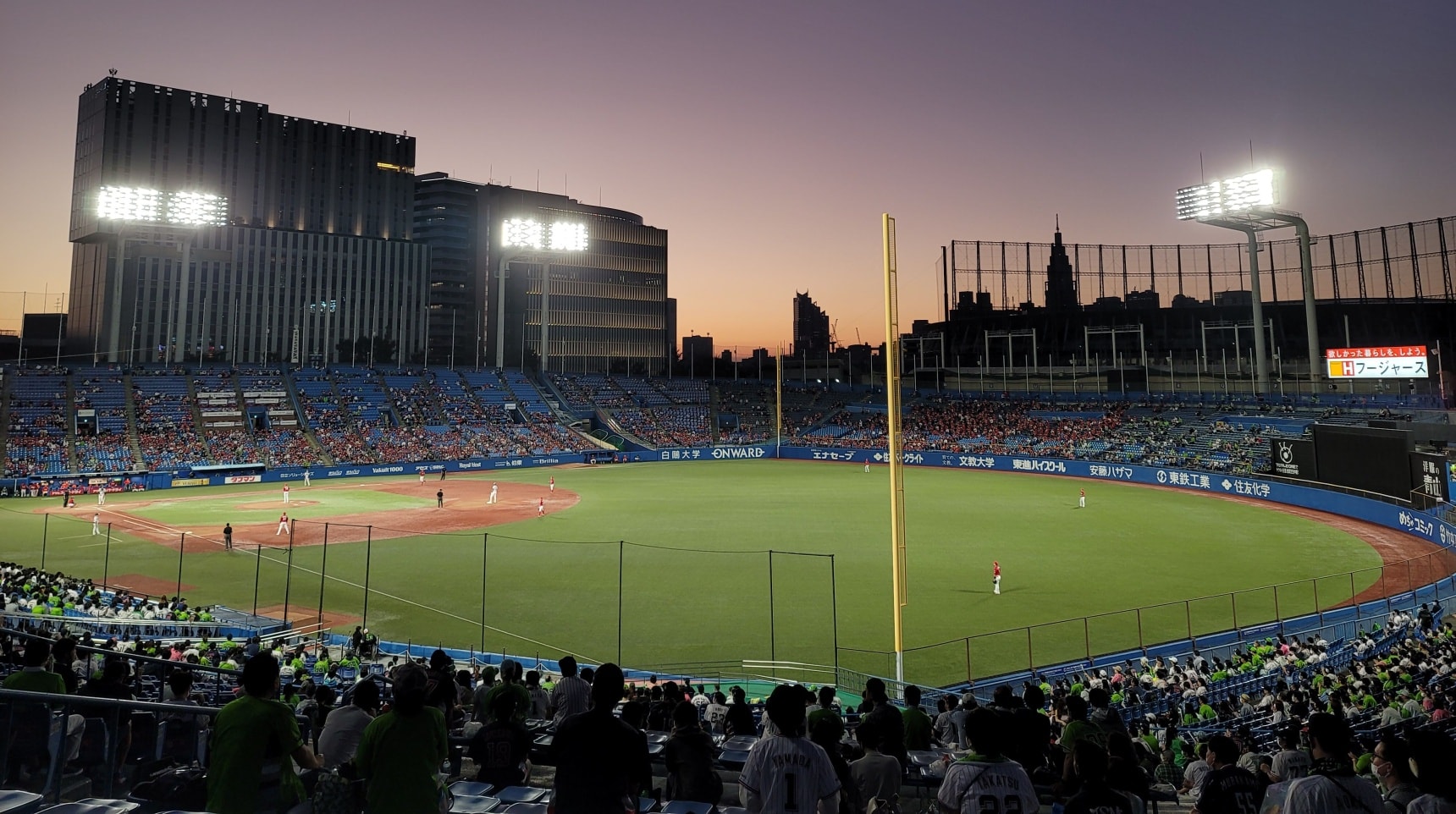 Although Sumo is nominally Japan's national sport, baseball has a much larger and arguably more passionate fanbase. The rules on the playing field are pretty much identical to the US, but the experience surrounding a Japanese baseball game is unique and an absolute must if you are living in or visiting the land of the rising fastball.
In 1872, at the First Middle School of the First University District (which became Tokyo University in 1877), Horace Wilson, a teacher, taught his students how to play baseball. This is acknowledged as the start of baseball in Japan. Fast forward to today, and there are 12 teams in Nippon Professional Baseball, the highest level of the sport here - six teams in the Central League and six in the Pacific League. They play in a mix of domes and outdoor ballparks. The regular season runs from the end of March to the start of October, depending on rain delays, and a series of playoffs eventually lead to one team from each league facing off against each other in the Japan Series. Despite almost all games being televised, attendances are strong. Here's why you should go and join the crowds.
1. Hooray for the Cheering Culture
Cheering culture in Japan is at another level at many sports, but it is far removed than the polite applause and cheering that takes place at American ballparks. And while the Covid epidemic saw a damper on most organized cheering, it is slowly returning to normal, so I'll explain what it is like when there are no restrictions.

First, the spectators sing. Organized bands of cheerleaders, drums, trumpets and other instruments—called oendan—lead their fellow fans in chants, personalized cheers and songs for each player and at every chance throughout the game. The etiquette is that fans cheer when their side is at-bat.

This singing is constant—and I mean constant. Many spectators accompany themselves with small plastic baseball bats, which they bang together to the beat of the chanting. There is often a physical element to the cheering, too. Hiroshima fans stand up and sit down in unison. Having sat in the Carp cheers section at their Mazda Zoom Zoom Stadium, I can tell you that this is exhausting, akin to doing an abnormally long session of bodyweight squats at the gym.

The fans know each of the songs and when to sing them. You can get a cheat sheet from the oendan, but most of the fans have already done their homework, and memorized them all.

There are infrequent occasions where it is acceptable to cheer for your team when the opposition is at-bat. When your closing pitcher has put two men on base, for example, and needs some support to get through the innings without conceding so many runs that you end up losing the game.

Fans are also overwhelmingly positive here, regardless of the team's on-field performance. As a long-suffering Tokyo Yakult Swallows fan, I have noticed no difference in the volume of singing and the fans' enthusiasm from seasons where we finished sixth out of six in the Central League to when we won the Japan Series in 2021.
2. Take Me Out to the Ballpark
Some of Japan's ballparks are historic, such as central Tokyo's Meiji Jingu Stadium, which was built in 1926 and is today home to the Tokyo Yakult Swallows and the Big 6 college baseball league.

A couple of train stops outside of Osaka, in Nishinomiya, is the even older Koshien Stadium, built in 1924. It is home to the Hanshin Tigers, but it is best known for hosting the country's most-watched sporting event: the annual national high school baseball tournament. The Tigers have to go on the road every August as the youths take over their ballpark for two weeks. In fairness, the kids were playing in a tournament there over a decade before the Tigers were formed. When it was built, Koshien was the largest stadium in Asia, with 55,000 seats. After a number of remodels, it now seats 47,508—still the most of any NPB stadium—and the Tigers can fill it, even when they're hapless. Which is almost every year.

Of interest to history buffs, Babe Ruth and other Major League stars of the 1930s played in both Jingu and Koshien, meaning Japan has as many standing ballparks where those legends played as the US (Boston's Fenway Park and Chicago's Wrigley Field).

The Tokyo Dome is probably Japan's most famous baseball stadium. Known locally as the Big Egg, it was opened in 1988 and is home to the Yomiuri Giants. It's Japan's first air-supported dome with a membrane roof. American fans who visit might recognize it as an almost exact copy of the old Minneapolis Metrodome, after which it was modelled.

Ballparks in Japan are a little plainer and less frilly than their US counterparts. Some don't even have luxury skyboxes, but they still provide a great fan experience. If you pine for the days when you could hang out in the bleachers and enjoy a cold beer on a summer afternoon or evening without having to refinance your home, a game in Japan is for you.
3. Chowing Down: Food and drinks
Japanese baseball games offer a cornucopia of food and drink. In fact, the options available are one of the reasons why more fairweather fans might choose to go to a game.

Popular Japanese fast foods like yakisoba, takoyaki, gyudon and curry are standard stadium fare. Hot dogs, chips and other western-inspired foods are also plentiful.

Feeling thirsty? Japanese spectators flag down an uriko, a beer girl (or boy) pounding the aisles. Uriko typically have a keg weighing some 12 to 15 kilograms strapped to their back from which they pour individual cups of beer for fans. There are also uriko circulating with shochu drinks and whisky highballs.

Different ballparks are famous for their various food and drink choices, with some options even named after players!

Whereas a visit to a major league ballpark in North America or a European stadium can have you paying gourmet prices for fast food, food and drink at Japanese ballparks are typically priced comparably to an inexpensive restaurant. Drinking at a ballgame can be cheaper than drinking at many bars, even when it's not half-price beer night.
4. Kawaii Kulture: The Team Mascots
Everyone knows about the Japanese obsession with mascot characters. If a safe sex promotion can use a mascot ninja with a condom on his head, why would baseball be any different?

There are significantly more mascots than there are teams. Typically, there is a main mascot for each team, but they can be joined by their girlfriend, sister, or some random acquaintance. Some mascots have longevity. Tsubakuro, the Tokyo Yakult Swallows mascot "bird," has been doing his thing for over 25 years and 2000 games.

There is also Hiroshima's Slyly, a seven-foot-tall, multicoloured character that looks like a cross between Big Bird and a fuzzy blue dragon, based on Philadelphia's Philly Fanatic. We shouldn't forget D.B. Starman, an anthropomorphic hamster hybrid who represents the Yokohama DeNA Baystars. Like all the mascots, D.B. has a backstory. He was born and raised in Yokohama. He's as tall as 5 baseballs and he weighs 10 baseballs, but wants to get that down to 5.

Of course, these mascots feature heavily in the merchandise available at every stadium. If you're looking for a wardrobe renewal or a souvenir, a bit of ballpark merch is the perfect thing.
5. Singalong: The Seventh-inning Stretch
At baseball games in the US, fans of both teams stand up and sing the song "Take Me Out to the Ball Game" during the pause between the two halves of the seventh inning. This practice is known as the seventh-inning stretch.

Here, each team has their own song, and they are sung at the top of their respective part of the seventh inning.

The Tokyo Yakult Swallows' seventh-inning song is "Tokyo Ondo" (東京音頭), a folk song that's often performed at the Bon Odori festivals that take place across Japan during the summer. At the top of the Swallows' inning (and anytime the teams scores during the game), the entire legion of fans pull out from seemingly nowhere small, brightly colored umbrellas which they wave around in time to the music.

It's quite a surreal sight, and the history behind this tradition is fascinating. Masayasu Okada, a Swallows superfan of twenty years suggested sometime in the seventies that the meager number of Swallows fans in the stands should bring umbrellas to make it look like there were more of them. That tradition grew until the umbrellas today are one of, if not the best-selling products in the Swallows merch line. Okada was also responsible for initiating the singing of "Tokyo Ondo" in 1978, the year the team won its first ever pennant.

Taking in a game in Japan is a true cultural experience, and win, lose or draw (yes, we have those here), you won't regret it.