6 Foreigners Making Waves in the Countryside
Where do you picture yourself in 10 years' time? Most of the subjects of this story didn't see themselves where they are now—but all of them found something incredible in the Japanese countryside, leading each to develop a unique and indelible bond to the local community as they create remarkable, meaningful works they may never have imagined.
1. Bill Leon-Guerrero (Ehime)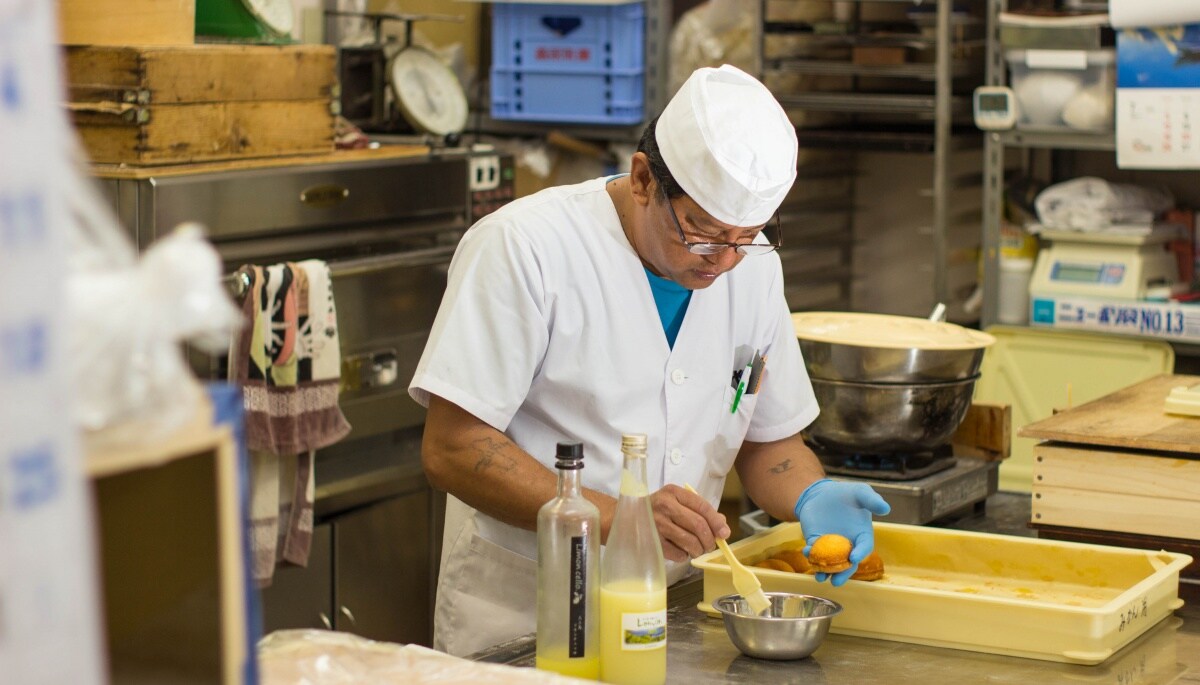 Bill Leon-Guerrero never thought he would end up in Japan, much less baking cakes and making Japanese sweets here. He and his family had a good life on Guam, where Leon-Guerrero worked as an EMT and his wife, Toshie Masuda, was a schoolteacher. Their children, Hiroe and Hiroki, were in elementary school and everyone was getting along fine on the beautiful Micronesian island that Leon-Guerrero calls home.

Then came an appeal from Japan: Masuda's father had fallen ill, and wanted his daughter and her family to take over the shop. It was a big request, but in 2002 "we decided to drop everything there," Leon-Guerrero recalls, "and go to Japan and help out with the family business." The family moved to Ehime Prefecture on the island of Shikoku to learn the sweets trade and steer a shop that had been in business for over five decades.
2. Nancy Singleton Hachisu (Saitama)
Nancy Singleton Hachisu has a lot on her plate, including putting food on everyone else's plates. Her first book, Japanese Farm Food, told the story of her family's farmhouse, their community, and the food that fills every aspect of their lives. Published in 2012, the book has received wide acclaim from dozens of outlets, sold over thirty thousand copies, and was featured at a launch party at California's famed Chez Panisse Café. That led to further book deals, international engagements and TV appearances, including a regular spot on a national variety show.

Hachisu first came to Japan from California in 1988, and soon met farmer Tadaaki Hachisu, the tall, lithe cowboy of a man nicknamed "Rodrigo" who would become her husband. Together, they built their first house on a plot of family land, a cedar structure with soaring ceilings and a loft under the rafters. Hachisu soon began giving English lessons out of their home while beginning to raise a family and helping out on the farm.

Hachisu had always had a passion for food, and the idea of writing a cookbook was always there in the background.
3. Karl Bengs (Niigata)
Against the combined trends of depopulation in rural areas and a preference for more comfortable residences, traditional homes are gradually disappearing from Japan's neighborhoods. Architect and longtime Japan resident Karl Bengs, however, provides a new option, preserving the essence of these kominka while refurbishing them for the modern era, often with a European flair.

Karl Bengs & Associates is headquartered in Niigata Prefecture's Matsudai, occupying a former ryokan (Japanese inn) built in the Meiji Period (1868–1912). Unlike urban offices where space is often limited, this place is airy and spacious, serving in effect as a showroom for Bengs' design concepts. Downstairs, a cocktail bar with open seats on wooden floors serves as an event space, while upstairs Bengs has mixed glass-hinged panels and thick, sliding wooden doors with intricate iron fittings taken from an old storehouse slated for destruction.

Bengs understands that many Japanese do not want to live in old residences like these because they tend to be cold and dark, particularly during the long winters in Japan's snow country. His approach is to make them cozy and comfortable, with floor heating, double-paned windows and insulation to keep the warmth inside. He even mixes elements of German architectural tradition outside and inside to create a fusion of styles. Yet in all of his transformed homes, Bengs says, "The most important point is to keep the framework intact."