Savor Seafood & Study Reconstruction in Miyagi
Matsushima Oyster Bowl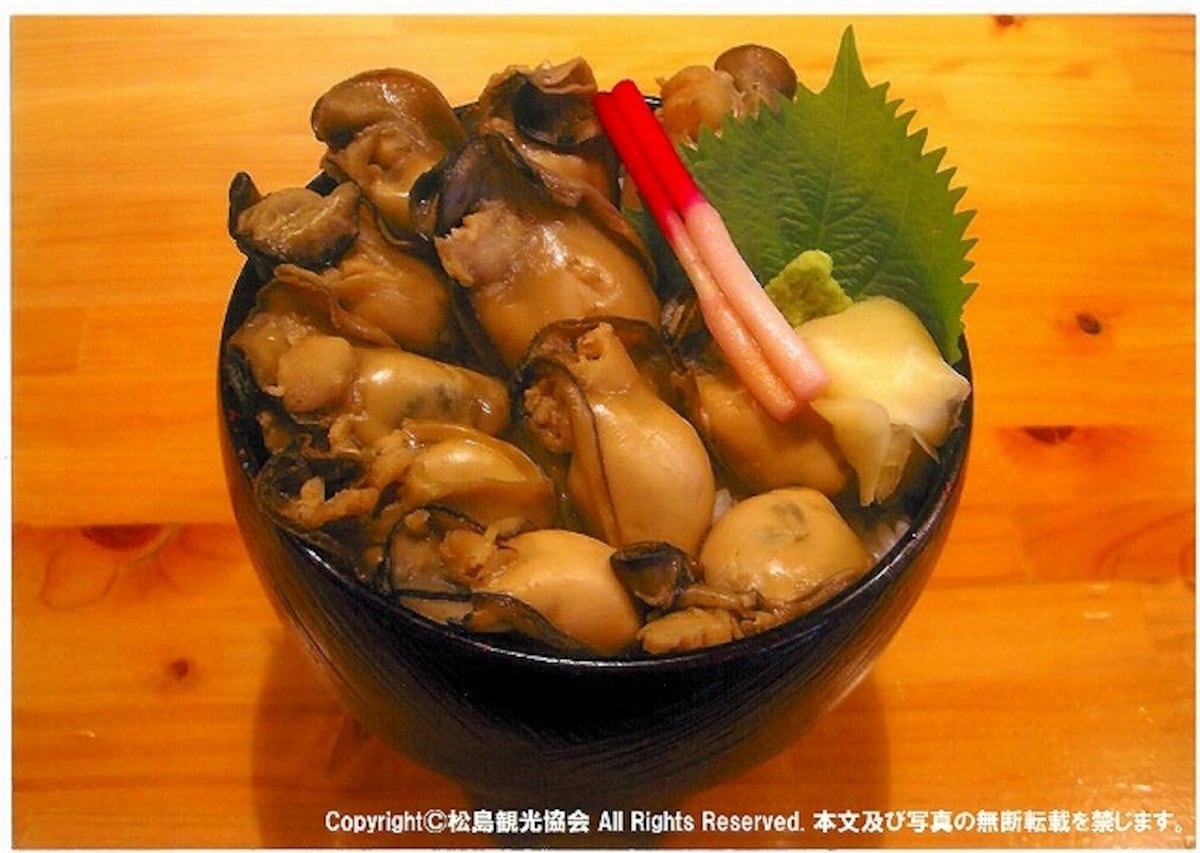 Another signature dish of Matsushima is oysters. Grown locally, they can be enjoyed a wide range of ways, from fresh to fried. One you must not miss is the Matsushima oyster rice bowl. The Matsushima oyster rice bowl generally features steamed oysters atop rice. Some shops, however, like to mix in a runny egg or use a special sauce made from Sendai miso paste, while others use fried oysters. The oyster rice bowl can be enjoyed at the market or at local restaurants that serve oysters.
Torinoumi Fureai Market
A place for Watari locals to mingle, the Torinoumi Fureai Market is located in Watari, Miyagi Prefecture. Watari sustained damage from the tsunami, but the town has almost entirely returned to its former state. Residents use this market to purchase everyday foodstuffs and it is also a destination for visitors looking for souvenirs.
The seafood and produce on sale here comes almost all exclusively from Watari. In addition to fish, they also sell fruit, vegetables and sweets. If you want to sample real local food made by residents of the area, you must take a trip out here. It looks as though Watari will continue rebuilding and growing. If you want to support the reconstruction, simply buying a product here is a major source of help for local residents.

Torinoumi Fureai Market
6-22 Chikko-dori, Arahama, Watari-cho, Watari, Miyagi Prefecture
Directions: 15 minutes by taxi from Watari Station on the JR Joban Line
Hours: April-October, 9 a.m.-6 p.m.; November-March, 9 a.m.-5 p.m.
Closed the third Thursday of every month
Arahama Watari Fish & Sushi
Arahama Watari Fish and Sushi is a restaurant serving homestyle meals featuring seasonal ingredients. The shop closed following the tsunami, but now it is back and doing business. In addition to the main location in Watari, they also have a shop in Sendai.
Watari Harako Meshi
The signature cuisine of this area uses fresh seasonal fish, but, arguably, the most famous has to be the harako meshi. Harako meshi involves simmering salmon filets in sukiyaki stock and using rice boiled in a stock that's topped with the salmon and salmon roe. It is a unique specialty of Watari. The dish is packed with rich and flavorful fatty salmon, making it simply delicious. The rice alone, boiled in salmon broth, is so tasty. Pairing it with more salmon and roe lends an even deeper flavor. Harako meshi is veritable soul food for Miyagi locals and must be tried in Watari where it was originally invented.
The shop is done up in a subdued Japanese-style decor. In addition to private rooms, they also offer counter-seating where you can chat with the chef.

Arahama Watari Fish and Sushi
Address: 183-8 Arahama Nakano, Watari-cho, Watari, Miyagi Prefecture
Directions: 12 minutes by taxi from JR Watari Station
Hours: Lunch -- 11 a.m.-2 p.m.; Dinner -- 5 p.m.-8 p.m.
Closed on Mondays
*Credit cards accepted
A Kesennuma Specialty: Shark Fin Rice Bowl
A specialty of Kessennuma is shark fin over rice. This dish uses a luxury ingredient that consists of dried shark fins. As the name would suggest, this is a classic seafood-over-rice bowl topped with shark fin. Fluffy white rice is served with pickles and broth, atop which popular seafood ingredients like salmon and tuna, found in your usual seafood bowl, are arranged. But the difference here is a whole shark fin on top!

Why did they opt to serve shark fin, anyway? Well, as it turns out, Kessennuma accounts for 90 percent of the shark caught in all of Japan. The history of shark here goes back a long way, dating to the end of the Edo Period (1603-1868). Kessennuma relied on longline fishing to catch the majority of its tuna. Many sharks also inhabited the waters in which the tuna were found, so the Edo shogunate used the shark crop as goods to export to China and neighboring countries. In this region, the entirety of the shark is used, not just the fins. The meat is boiled and steamed into a paste and the bones and skin are also used for health foods and cosmetics.

Given this background, the sharkfin rice bowl was developed by locals as a way of pitching the unique charms of the area and vitalizing its economy through a new gourmet product. If you visit Kessennuma, you must try this dish at least once.

Sharkfin rice bowls are served at 14 sushi shops in Kessenunma and Minamisanriku, including: Sushi Omasa, Shintomi Sushi, Yuzushi (bypass location), Yuzushi (Taya location), Fukusuke Sushi, Tomoe Sushi, Wazen Sushi, Sushi Isshin, Sushitomo, Sushiya no Taihei, Shokuraku Marukin, Wakabazushi, Sushi Endo and Kukai Sushi and Rice Bowls
Minamisanriku Sun Sun Shopping Village
Minamisanriku in Miyagi Prefecture is home to markets that are open for use by local residents and tourists alike. The Minamisanriku Sun Sun Shopping Village acts as a local eatery for residents and a place for travelers to buy souvenirs. Lots of different local products are offered for sale. Of special mention is the fact that the design of this shopping street was overseen by Kengo Kuma, a leading Japanese architect. The space makes liberal use of Minamisanriku cedar trees to lend it the natural warmth of wood.

The Minamisanriku Sun Sun Shopping Village not only sells seafood products but also has lots of souvenir shops and restaurants, with goods offered at reasonable local prices. Not only is this a highly recommended destination for those in Japan, but it is a market tourists from overseas will want to visit at least once.

Minamisanriku Sun Sun Shopping Village
Address: 51 Shizugawa Itsukamachi, Minamisanriku-cho, Motoyoshi, Miyagi Prefecture
Directions: take the JR Tohoku Main Line from Sendai Station to Kogota Station and transfer to the Kesennuma Line, disembarking at Yanaizu Station. Board the Yanaizu BRT bus and disembark at the BRT Shizugawa Station stop. You'll find the local shopping arcade right in front of you.
*Buses bound for Minamisanriku depart out of the Sendai Station rapid bus center #40. You can board one there to reach the BRT Shizugawa Station directly.
Hours: 9 a.m.-5 p.m.
*Closed at year-end/New Year's
Minamisanriku Kirakira Bowl
A specialty seafood bowl of Minamisanriku is the Kirakira Bowl, featuring a heaping amount of fresh fish and seafood caught locally in Minamisanriku. The bowl comes in numerous varieties that change with the seasons. The Kirakira Ikura (salmon roe) Bowl is the progenitor of it all and has lots of salmon roe on top. There is also the Kirakira Uni (sea urchin) Bowl, with a luxurious helping of the stuff, as well as the Kirakira Springtime Bowl in spring, which comes with lots of seasonal veggies. Then there is the Kirakira Autumn Bowl, accented with the rich flavors of the fall season. These dishes can be enjoyed at the Minamisanriku Sun Sun Shopping Village.

The Kirakira Springtime Bowl is offered from March to April, the Kirakira Uni Bowl from May to August, the Kirakira Autumn Bowl from September to October and the Kirakira Ikura Bowl from November to February.
Ryotei Hamaya
The ark shell, a bivalve with a red body, caught in Yuriage grows in the richly nutritious waters of Sendai Bay, into which five rivers flow. It is Japan's finest quality and considered a delicacy. Through much trial and error, locals succeeded in using ark shell caught here to create a special "ark shell rice bowl." The ark shell rice bowl features fresh raw ark shell layered luxuriously over rice and seasoned with wasabi, pickles and ginger. One bite reveals an amazing texture. The fresh red meat has a toothy bite and is free of any gamey flavor. Actually, it has a slightly sweet note.

Ark shell can also be enjoyed in the form of sushi which it is simply delicious.

Ryotei Hamaya
Address: Yuriage Saikai Market, 7-1-1 Mitazono, Natori, Miyagi Prefecture
Directions: take Sendai Airport Access Line to Mitazono Station or Morisekinoshita Station; a 10-minute walk from there
Hours: 11 a.m.-6 p.m. (please inquire about evening use)
Closed on Wednesdays
Sendai Zukedon
Once you get back to the big city of Sendai, make sure to try the Sendai Zukedon bowl. Considered a local gourmet cuisine, it features rice and seasonings from Miyagi Prefecture and seafood from among the over 200 varieties caught locally. There are no hard-and-fast rules about the flavor, with each shop styling it as they see fit. The sushi chefs draw on their expertise to present dishes that will stimulate the four senses. If you visit Sendai, we highly recommend trying the different types at each shop.

Photo courtesy of Miyagi Prefecture Tourism Division