Savor Seafood & Study Reconstruction in Miyagi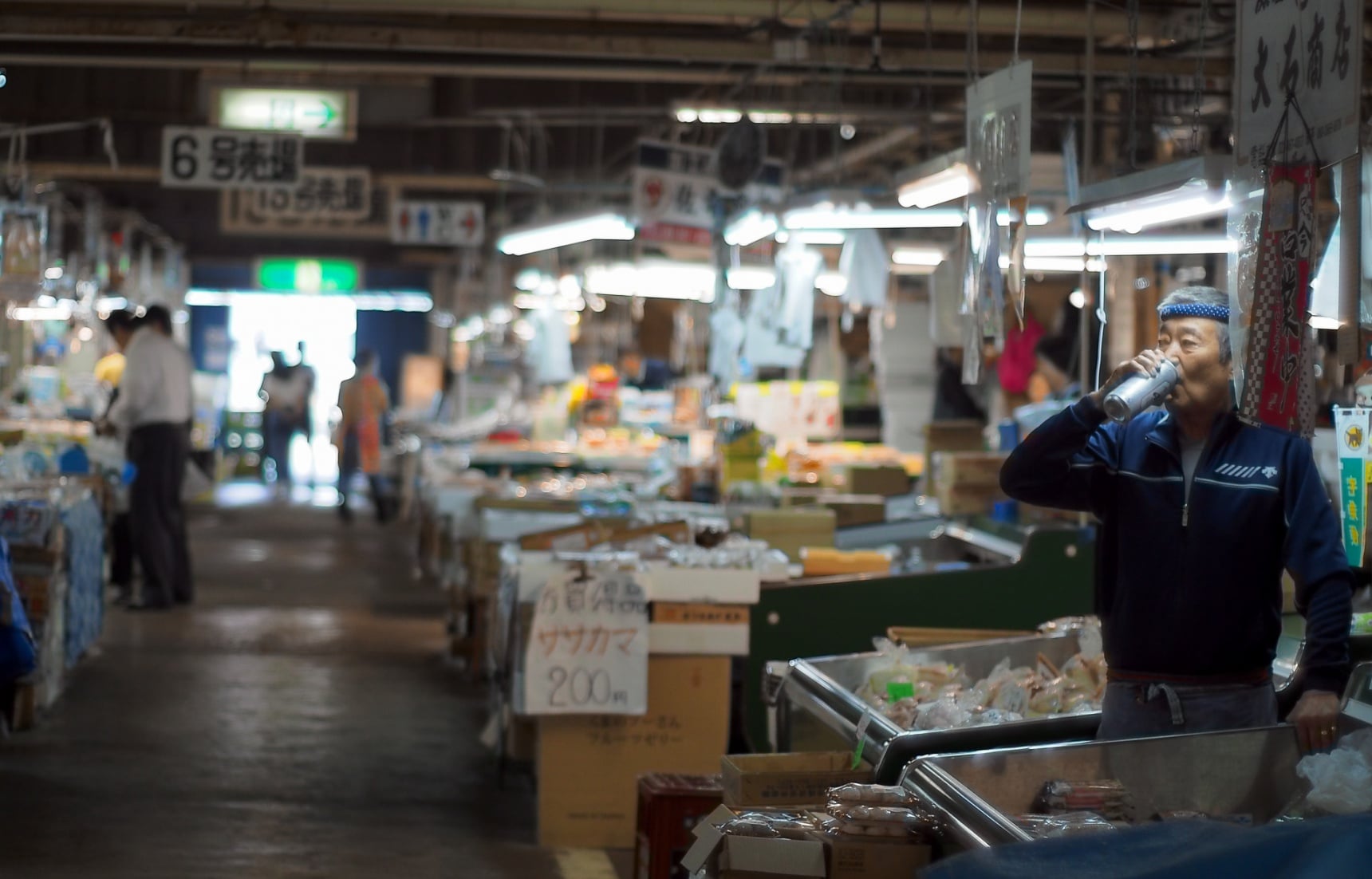 Each small town in Miyagi Prefecture has its own specialty seafood dishes and we were dying to try them during our latest visit to Tohoku. And while we were at it, we took a look at the incredible reconstruction efforts of Tohoku, making for a fascinating trip. For foodies looking for a life-changing experience, this one's for you.
Seapal-Pier Arcade Onagawa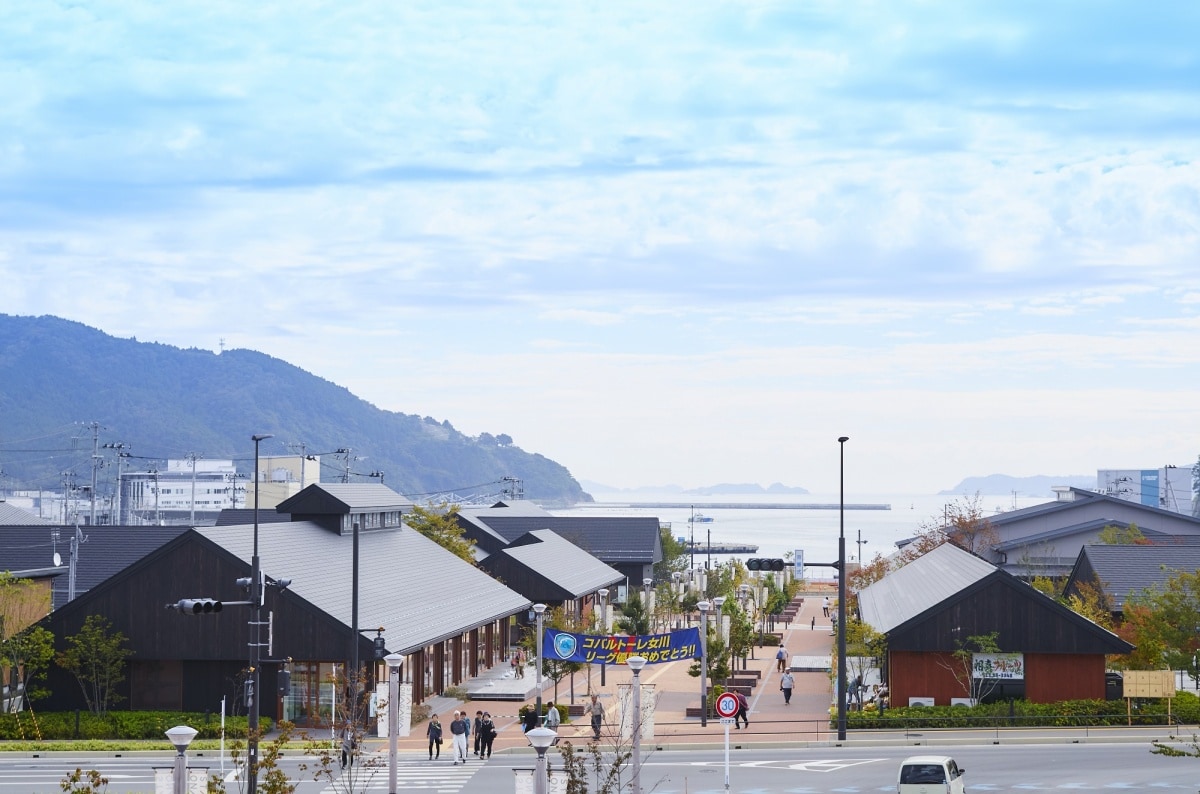 Pictured here is the Seapal-Pier Arcade, a central hub in Onagawa and a symbol of the reconstruction there. The town has fully recovered, rebuilt from the damage sustained in the earthquake and looks brand new with many intriguing shops in the center of town. This is a truly outstanding shopping street. There are shops and restaurants here where you can sample and buy fresh seafood from Onagawa, and there is also the unusual "Cardboardghini," a Lamborghini made entirely out of cardboard, on display. The shopping street is not huge, but it is chock-full of the charms of Onagawa.

Onagawa is still on its way to reconstruction, but the town continues to make every effort to fully restore itself. We hope you will make the most of this town, both as a touristic destination and to support its ongoing reconstruction.
Kuriya Sanriku Soap Studio
One unique shop located in the Seapal-Pier arcade is the Kuriya Sanriku Soap Studio, a shop focusing on selling handmade organic soap. The shop is rich with the scent of fruits and flowers. Mr. Kuriya, the owner of this shop, moved to Minamisanriku following the earthquake. The goal was to create a place where local women would want to work and invigorate the local community. It opened for business in 2014. All of the ingredients used here come from the coasts and mountains of Sanriku. These are all-natural soaps that are gentle on the skin.
The soap also comes in a wide range of lovely colors. This is no ordinary soap—it looks almost like a precious jewel! The soaps here have a much richer and more pleasant fragrance than the standard soap you will find for sale on the market. The wide-ranging ingredients are sourced locally, including seaweed, bamboo charcoal, mugwort and honey. The soap here is the most recommended souvenir by locals.

The shop also hosts workshops in soap crafting. If you have time, you should definitely give it a try and create something to take home with you.

Kuriya Sanriku Soap Studio
Address: Seapal-Pier Onagawa, Hama Terrace 8, 1-34 Onagawahama Ohara, Onagawa, Miyagi Prefecture
Directions: 2-minute walk from JR Onagawa Station
Hours: 10 a.m.-5 p.m. (workshops are held at 10 a.m. and 3 p.m. on weekdays)
Closed on Wednesdays
Shiogama Marine Products Wholesale Market
The Shiogama Wholesale Market is a fish market located in Shiogama, Miyagi. The selection fully holds its own against the famous Tsukiji Market. The fish here is fresh and shipped in from the port daily. As seen in the photograph, the exterior has a classic design, with the interior super clean and pristine. Shiogama boasts one of Japan's leading tuna catches. You will find no fewer than 28 specialty tuna vendors at the market.
'My Seafood Rice Bowl'
This market is known locally for the "My Seafood Rice Bowl." This consists of purchasing a ¥300 miso soup and rice set from the kitchen, then topping it with the various seafood you bought at the market, making up your very own seafood bowl! As seen in the picture, you can buy a whole fish and have the vendors descale and prepare it for you. You can then take that same fish and put it right over your rice to eat.
After, add your preferred toppings to complete your dish.
You can add as many items as you like, and the quantity offered is fantastic. The seafood rice bowl seen above is just under ¥800, making it an unbeatable bargain. All this, and you get an almost unbelievable quantity of food to enjoy. This is simply a fantastic bargain.

Shiogama Marine Products Wholesale Market
1-20-74 Shinhama-cho, Shiogama, Miyagi Prefecture
Directions: 15-minute walk from Higashi-Shiogama Station on the JR Senseki Line
Hours: weekdays, 3 a.m.-1 p.m.
Saturdays: 3 a.m.-2 p.m.
Sundays: 6 a.m.-2 p.m.
Closed on Wednesdays
Ume Luv
Matsushima is considered among one of Japan's three most scenic destinations. And Ume Luv, a kimono rental shop in Matsushima, lets you rent out kimono to wear while taking in the special scenery. They have outfits both for men and women alike. The location is also outstanding—you can see all of Matsushima from the shop window. Points to see include the Godaido Hall and the Fukuura Bridge.
This kimono rental shop was used for the costumes featuring in ROCK Letter, a popular television show in Thailand! The kimono worn by Marsha came from this very shop.
Don a Japanese kimono and enjoy the Matsushima sea breeze while you take a stroll.

Matsushima Ume Luv
Address: 75-14-4F, Matsushima-chonai, Matsushima, Miyagi, Miyagi Prefecture
Directions: 5-minute walk from Matsushimakaigan Station on the JR Senseki Line
Hours: 10 a.m.-6 p.m.
Closed on Wednesdays
Date Masamune Historical Museum
The Date Masamune Historical Museum is a sort of commemorative museum to the man of the same name, a warlord and the founder of Sendai. Date Masamune's eventful life is on display here with 200 life-sized wax figures of the warlord at key junctures in his history. You will also find wax statues of 45 great figures from the Tohoku region. Not only can you learn about history, but there is even something that will be very attractive to visitors to Japan: the chance to try on a suit of armor.
You can try on just a helmet, or go for the full armor regalia if you like!

Date Masamune Historical Museum
Address: 13-13 Fugendo, Matsushima, Matsushima, Miyagi, Miyagi Prefecture
Directions: 10-minute walk from Matsushimakaigan Station on the Senseki Line, or 15 minutes from Matsushima Station on the Tohoku Main Line
Hours: 9 a.m.-5 p.m. (open year-round)
*Doors close at 4:30 p.m.
Santorichaya
Santorichaya is a restaurant where you can feel the lovely sea breeze. Located just off Matsushima Bay, the shop lets you taste the fresh breeze from seating on the second floor.
The signature dish here is conger eel over rice. Conger eel is a local product of Matsushima and a summer delicacy. Why is the conger eel from Matsushima so delicious? Matsushima Bay is active in oyster aquaculture and oyster shells foster a rich array of nutrients that feed the conger eels. The plump, simmered conger eel is placed atop your rice and the sauce drizzled on top for the perfect conger eel bowl. The shop also includes a salad, Japanese pickles and miso soup in your order. This bargain set meal is one you must try if you visit Matsushima.

Santorichaya
Address: 24-4-1 Senzui, Matsushima, Matsushima, Miyagi, Miyagi Prefecture
Directions: 8 minutes from Matsushimakaigan Station on the JR Senseki Line
Hours: Lunch 11:30 p.m.-3 p.m.; Dinner 5 p.m.-9 p.m. (kitchen closes at 8:30 p.m.)
Closed on Wednesdays
*Credit cards not accepted