Take a Photo Trip to the Tohoku Sanriku Coast
Matsushima Bay — Miyagi Prefecture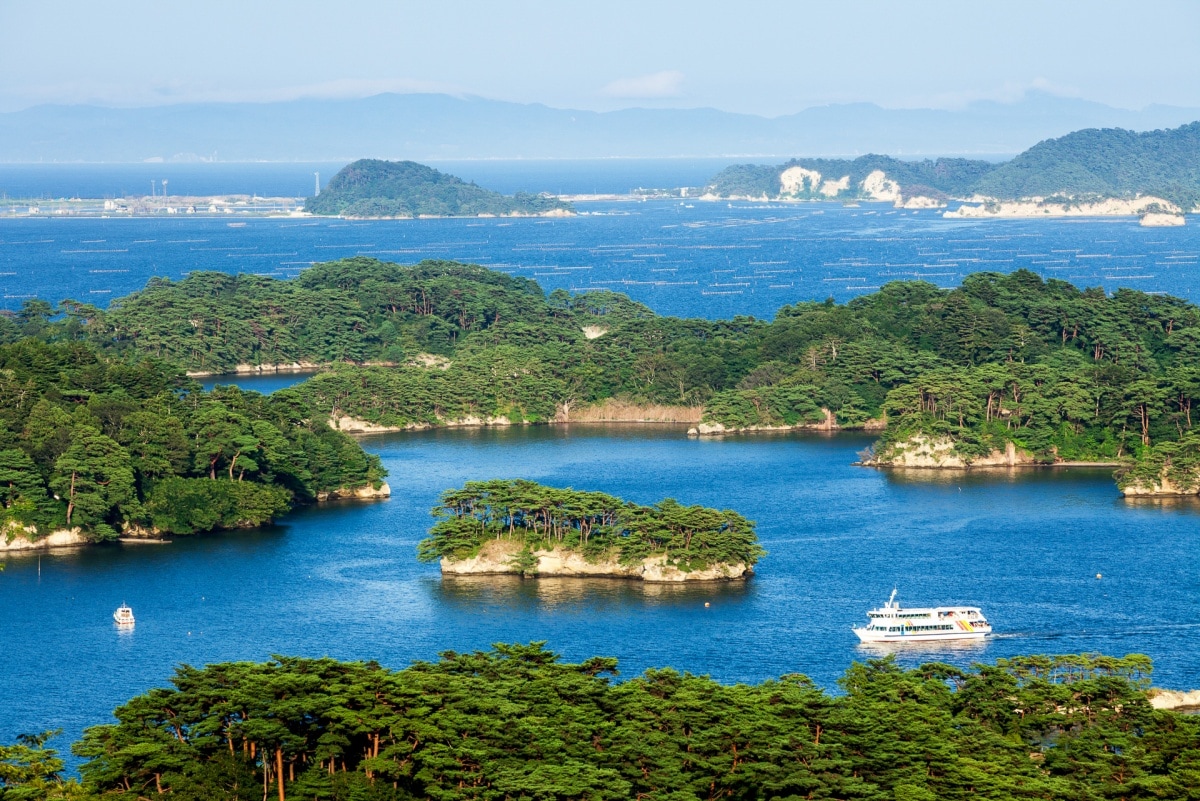 Matsushima is a bay with more than 260 islands, large and small, with many different shapes. There are beautiful island formations, calm waves, the smell of salt in the air and, of course, pine trees, as Matsushima (松島) literally means "island of pine trees." Japanese people have regarded this place as one of the three most scenic places in all of Japan, along with Miyajima in Hiroshima and Amano-Hashidate in Kyoto.
The most impressive view of Matsushima is from up high. In this photo, you can spot a red bridge to the left. That is Fuku-urabashi, a bridge that lets you cross from the mainland to one of the closest islands in Matsushima Bay.
If you take a ferry, you can observe each island closely. You might even be able to figure out what's so good about these islands. For example, these islands have got very interesting features and some are named for them too. This one is called Kanejima, easily noticeable by four holes in the cliff wall.
This one is called Niojima. One can only imagine how this was even formed.
Closer to the shore and noticeable from the ferry port is this building called Godaido. It's actually standing on its own island that's only a few meters away from the shore.
Zuiganji Temple — Miyagi Prefecture
Zuiganji Temple is one of the more famous landmarks near Matsushima. It has over a thousand years of history, supposedly founded in year 828. The current main hall is also a whopping 400 years old, built in 1609. This place has had some of the best preservation work around.
Inside the temple area, there are the usual temple features, such as a donation box and designated wooden ema hanging area (pictured above). You can purchase an ema, write your wishes on it and hang them here.
Though not very large, the lush nature of Zuiganji Temple is well preserved. There are many gigantic trees and the garden is covered in green moss. It's also noticeably cooler than on the street in here. One can almost imagine a practicing Buddhist acolyte meditating here.
And besides nature, this temple is also well known for its architecture. When you enter the 400-year-old main hall, there are many wooden carvings such as this.
However, please note that taking photos in the main hall is not allowed under most circumstances; we were able to ask for permission to take these. Naturally, I recommend that everyone personally visit this place since it's a good spot to add to your itinerary, especially if you have already made Sendai or Matsushima your destination.
Aoba Castle — Miyagi Prefecture
The history of Sendai, the largest city in Tohoku, is centered in Aoba Castle. Founded in 1601, this castle served as the seat of power for Date Masamune, a powerful warlord of northern Japan and the founder of Sendai. Pictured above is the statue devoted to him.

While there are no remains of the main keep left, Aoba Castle remains the popular destination for locals and visitors alike. It now serves as an observatory, a park and a historical monument.
Pictured here is Gokoku Shrine, now the main attraction within Aoba Castle's wall, and a guide who cosplayed as Date Shigazane, the cousin to Date Masamune and a legendary warrior. He's one of the so-called Three Great Warriors of Date.

A guided tour is also available and there are many cosplaying guides here who dress up as historical figures.
As mentioned, the main keep is no longer standing. Yet, for those interested, the small museum within the castle walls offers a good look at what it looked like hundreds of years ago. This hologram of the past Aoba Castle is exhibited there. From the hologram, you can guess how big the keep was in the past. Apparently, the keep occupied almost half of the flatland on top of the hill.
For somewhere so close to the city center, there sure is a lot of greenery to see. This photo is taken from an observatory area of Aoba Castle, there are untouched forests and a beautiful cliff right here in the center of Sendai, which is rather impressive. And that wraps up our visit to Aoba Castle. From here I would recommend you to visit Sendai's city center next to try the famous beef tongue lunch set.