Hands-On Fun Along the Shoryudo Dragon Route
Kenrokuen Garden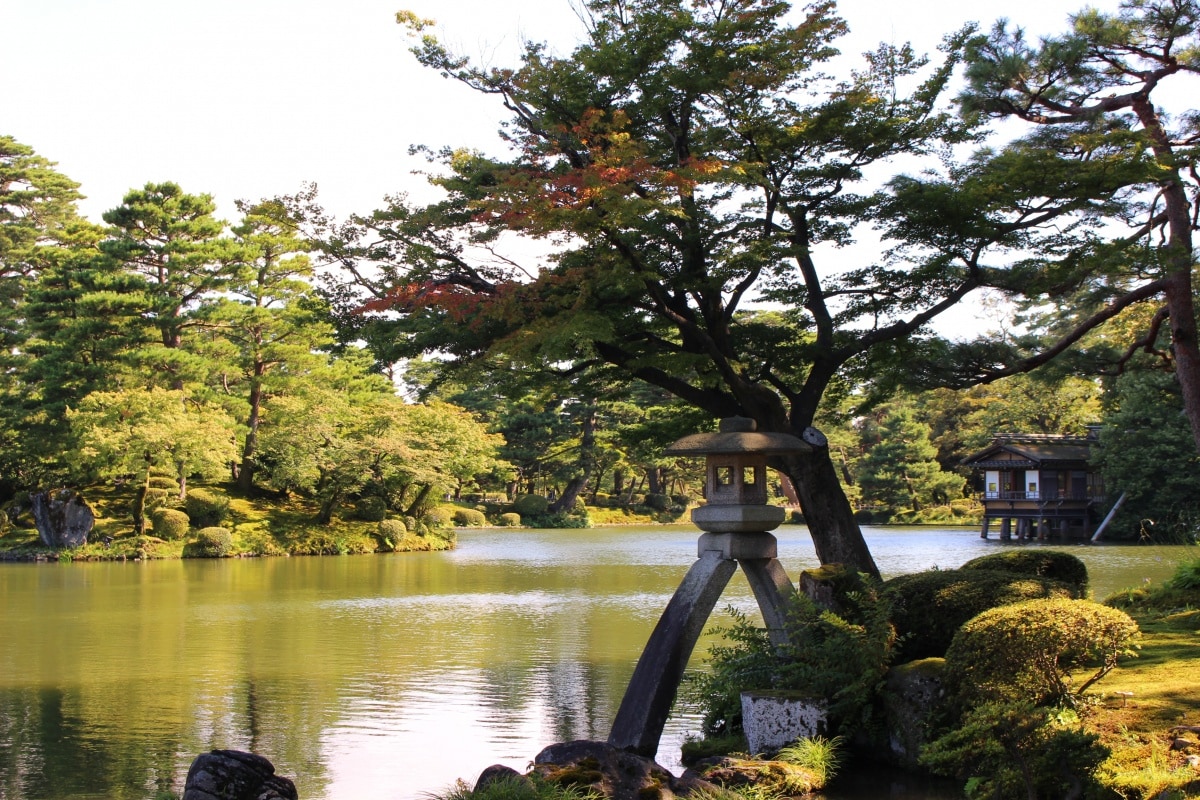 If you are in Kanazawa, you simply must visit Kenrokuen Garden, considered one of Japan's Three Great Gardens. As soon as you start exploring the grounds, you'll quickly see why. The lush expanse of greenery is arguably one of the most serene places on Earth. It's impossible to describe all the places in the park that are worthy of being captured on film (or your smartphone). In fact, the entire garden is an Instagrammer's dream.
We were so lucky to spot many women wearing yukata, or lightweight kimono that are perfect for summer. I truly thanked them for their kindness allowing me to capture a few shots of them as they made their way across this idyllic bridge. This garden is the perfect way to escape the madness of the city life and unwind in unparalleled nature. And while you're there, you simply must visit Kanazawa Castle, which is connected to the garden.
Gold Leaf Sakuda
Kanazawa (金沢) means "gold swamp" and the gold part of the name is surely understandable. The city of Kanazawa produces 99 percent of Japan's domestic gold leaf. While we got to witness gold being beaten into incredibly thin sheets and cut by masterful artisans using special wooden cutters, we, unfortunately, didn't get the opportunity to make anything with that gold. However, you can make arrangements to do so at Gold Leaf Sakuda, where four workshops a day take place.
While you're there, get your hands on some gold tea! While you cannot taste the edible bits, they sure look nice floating around the surface of the refreshing tea.
Hoshi
Finally, we ended our trip in a truly remarkable way: staying at one of the oldest hotels in the entire world. Hoshi has been around since 718 and has been run by 46 generations of the same family. We had the pleasure of meeting both the current owner and his daughter, who will take over the position upon her father's retirement. Even though we were complete strangers, the entire family and staff there talked to us as if we were old friends. It was an incredibly comfortable place to celebrate a week-long journey through central Japan.
The room was like a standard ryokan, which is a traditional Japanese inn where the food served is definitely a highlight of the stay. While not all ryokan have an onsen, we were incredibly lucky that this one did, because I needed to relieve some of the tension of being in a car for seven days. The hot spring definitely hit the spot and I would recommend any of my friends to make sure to book a stay at Hoshi the next time they are near Komatsu or Kanazawa.