Undiscovered Japan: Fukushima & Miyagi
DAY 3
Matsushima & Ishinomaki
Visit Matsushima in the morning, regarded as one of the three most scenic places in Japan. Then move on to Ishinomaki, a bustling city that has recovered from the 2011 tsunami.
Matsushima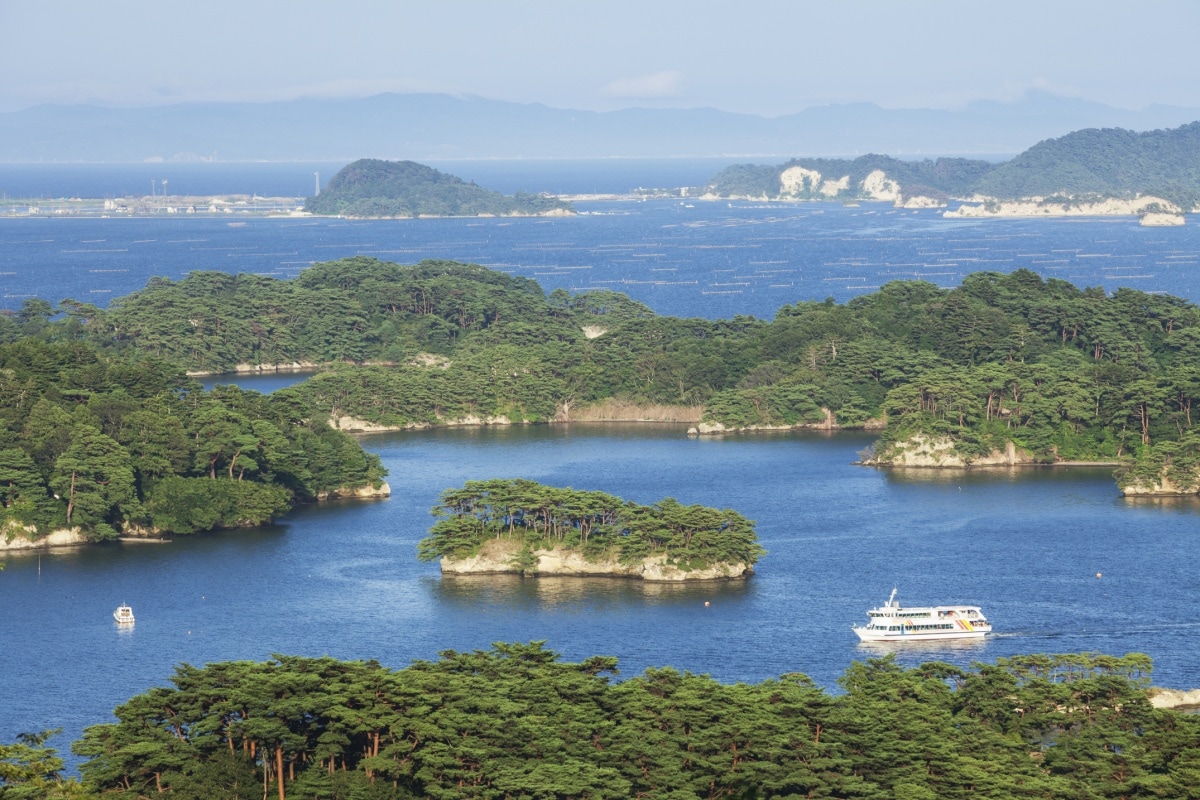 A popular destination for Japanese people, this place is widely regarded as one of the three most beautiful views in Japan. Matsushima is a group of some 260 islands (島・shima) populated with Japanese pine, or matsu (松)—hence the name Matsushima (松島).
The view from the ferry is spectacular, allowing you to see all the craggy islands up close.
While the ferry gives you a close-up view, you can also climb up to one of the four major viewpoints in the area, which offer more sweeping views of Matsushima Bay.
If you're on the ferry, you can see this small temple when departing from the port. Called Godaido, it's an important landmark in Matsushima.
Zuiganji Temple
After a round on the ferry, Zuiganji Temple is the ideal next destination.
There were once tall pine trees on either side of the path leading to the temple, but many were lost after the tsunami.
Inside you'll find the usual temple features, such as this spot where you can hang ema, traditional Japanese wooden plaques used to write your wishes on.
The interior of the 400-year-old temple building is also spectacular and very well preserved.
There are a lot of ancient works of art, including this vibrant peacock.
However, please note that under normal circumstances, photography is prohibited in Zuiganji's temple building. We asked for permission before taking these.
Please visit in person to see the whole thing—this is just a very small part of the collection!
The area inside Zuiganji Temple is quite peaceful. This would make a great spot for meditation. If you love old architecture or quiet temples, it's highly recommended.
Ishinomaki City
The second-most-populated city in Miyagi Prefecture after Sendai, Ishinomaki offers bustling streets set in the midst of a mountain range and beautiful nature. The most eye-catching things around here are statues of classic anime characters, such as this Cyborg 009 statue.
Here's another Cyborg 009 character.
We visited Ishinomaki on the day of the Tanabata Festival. During the festival, the city is decorated with paper lanterns like these. The decorations stay around for a week. And on the main day of the festival, there are parades.
Tanabata is a major festival in Japan. It doesn't belong to any particular township or city, and not all cities have decorations and celebrations. However, some cities celebrate more spectacularly than others—with Ishinomaki being a great example!
There are stalls for everything from snacks to toys.
Goldfish scooping is a traditional festival game in Japan.
And of course there are food and drinks stalls, like at any other festival.
I was really lucky to be visiting the city during the festival. Even the quietest town turns vibrant during festival time. There are many things to do and see, and seeing the wholehearted participation of the townspeople is always impressive.
Another surprise I absolutely didn't expect was an airshow!
Kids naturally get excited when a plane makes a pass!
Ishinomori Manga Museum
And of course, we shouldn't forget about one of the most popular attractions in the city, the Ishinomori Manga Museum. This place is popular among classic manga fans, and people will travel from all over just to visit.
In short, my walk in Ishinomaki was an absolute joy, with people having fun everywhere and tons of interesting statues. Ishinomaki makes a great destination for people of all ages, but especially for those with love of classic manga like Cyborg 009 and Kamen Rider.
With six years now passed since the Great East Japan Earthquake, the cities, the populace, and the attractions have returned to normal for the most part. What the people of Tohoku need now most of all is your support as a traveler!

Visit Tohoku!