Discover Cherry Blossoms with Snow in Tohoku!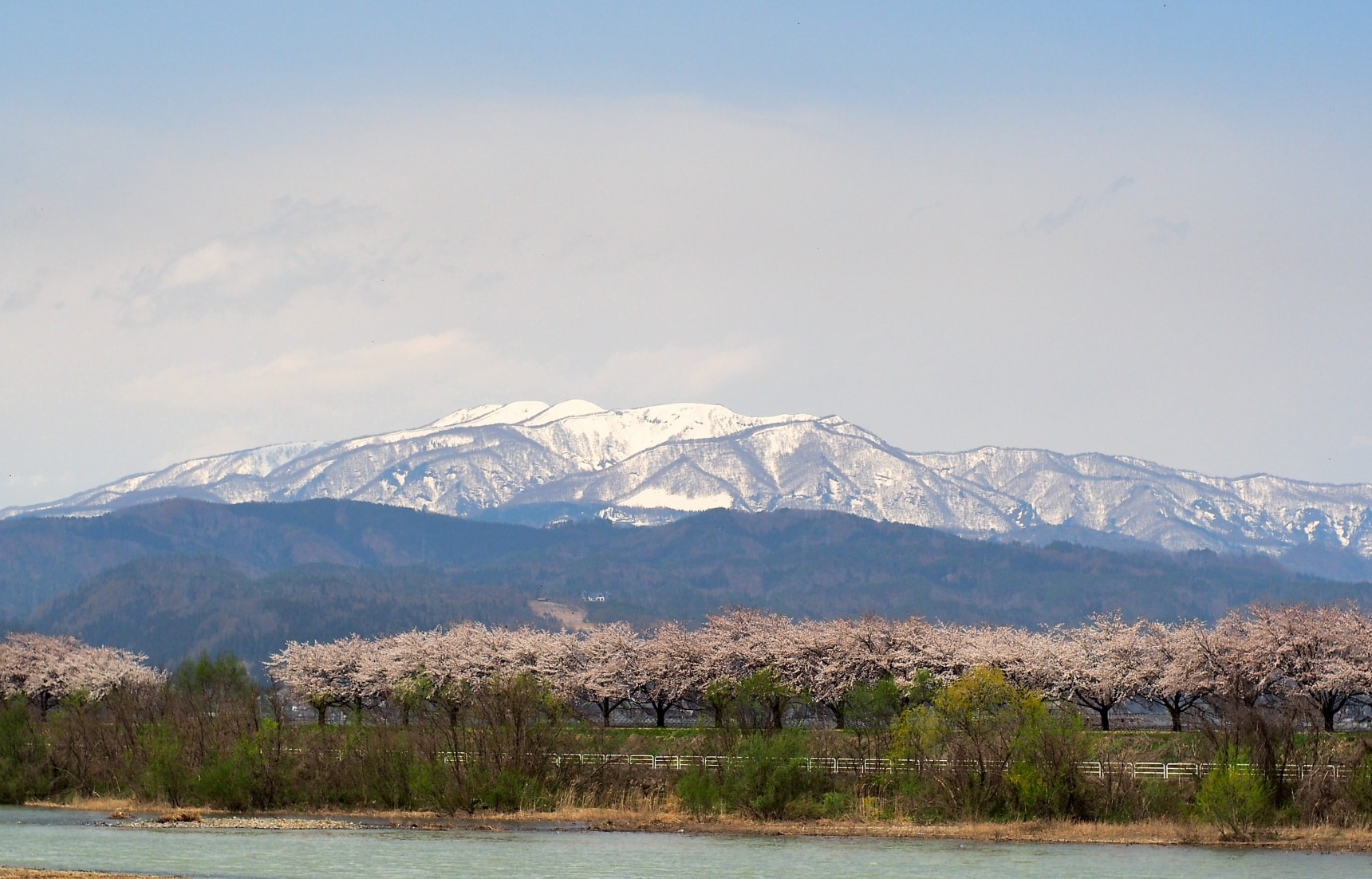 While Japan may be known for its springtime cherry blossoms, or sakura, the Tohoku region offers something even more unique: sakura with snow! When the wave of pink hits northeastern Japan from late April to early May, snow still sits firmly on the mountains, offering some incredible vistas for the eye to gorge upon!
Why choose between snow and sakura when you can enjoy both at the same time? All About Japan followed the cherry blossom front as it swept through Tohoku, capturing everything we saw with a brand-new 6K cinematic camera. Enjoy the video above, then check out some highlights below!
Fukushima — Hanamiyama Park
Located near Fukushima City, Hanamiyama Park (花見山公園・Hanamiyama Koen) is a prime spot for a hanami (cherry blossom viewing) hike, with trails climbing all over the sakura-speckled slopes. From the viewpoint at the top, you can see the snow-capped Azuma Mountains as the cherry trees sway around you.
Yamagata — Sagaegawa River
Sagae City in central Yamagata offers a plethora of cherry blossom-viewing options. Key among them are the Sagaegawa River (寒河江川), where cherry trees are framed by snowy views of Mount Gassan, Mount Hayama and the Asahi mountain range, as well as the Sakura Hill (さくらの丘・Sakura no Oka) at Sagae Park, featuring some 1,000 cherry trees with white-capped Mount Nagaoka in the distance.
Miyagi — Hitome Senbonzakura
Hitome Senbonzakura (一目千本桜, lit. "a thousand cherry trees at a glance") is an 8-kilometer (5-mi) stretch of cherry trees planted along the Shiroishi River in Miyagi Prefecture. Roughly 30 minutes south of Sendai, people flock to the riverbanks to enjoy 1,200 blooming cherry trees with white mountains peeking up in the background.
Iwate — Genbikei Gorge
Genbikei (厳美渓) is a roughly 2-kilometer (1.2-mi) gorge along the Iwai River in southern Iwate Prefecture. Carved out of igneous rock laid down by a volcanic eruption of Mount Kurikoma, it was declared a Natural Monument and a Place of Scenic Beauty in 1927. While the region is particularly known for its scenery when the leaves change in the fall, you can come by to get a cross-gorge dumpling delivery any time!
Akita — Oshira-sama's Weeping Cherry Tree
Located in Yuzawa City in southern Akita Prefecture, Oshira-sama's Weeping Cherry Tree (おしら様の枝垂れ桜・Oshira-sama no Shidarezakura) blooms from late April to mid-May. Set beside Hakusan Shrine, this beautiful tree is roughly 10 meters (32.8 ft) in height and more than 200 years old. We were lucky to catch it at its best, bright pink framed against a backdrop of green cedars!
Aomori — Hirosaki Castle
Hirosaki Castle (弘前城・Hirosaki-jo) is one of just 12 original-construction castles left in Japan. The three-level main keep is actually a renovated watchtower used to replace the original five-level keep, which burned down after a lightning strike in 1627. This is the only extant castle keep east of Nagano, and the only one in Tohoku, making it truly a treasure of the region!

Today the castle is famous for the spectacular cherry trees that fill its expansive grounds, with more than 2,600 trees blooming every spring. One of the nation's top cherry blossom spots, you'd have to dig another moat to keep us away!