12 Great Ways to Spend the Year in Hokkaido
July — Farm Tomita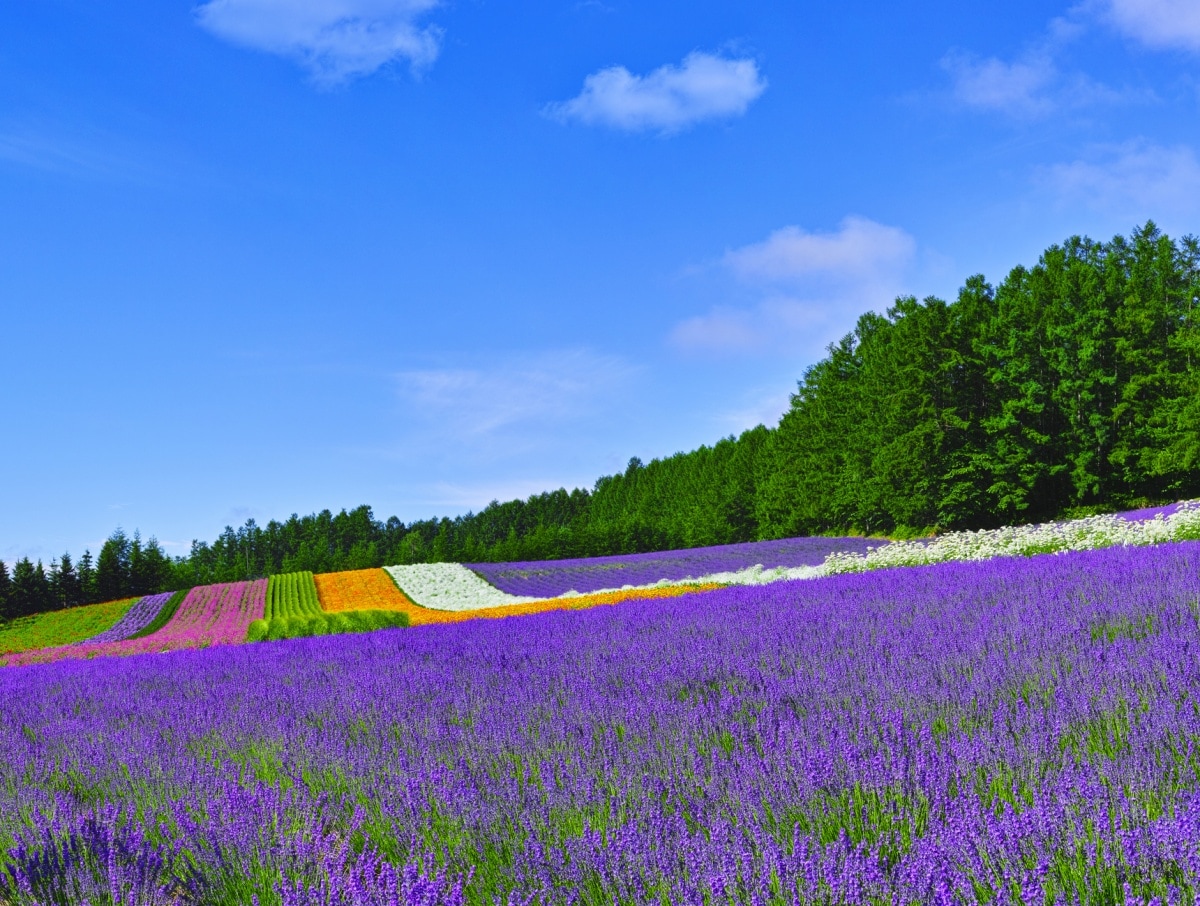 If you're a lavender lover, Furano City is definitely the place to go. Each summer, from July to August, the short window for viewing these violet beauties is open and this city sees more than one million visitors each year. As evidenced in the photo above, lavenders aren't the only spectacular blossoms on display there. Cosmos and dahlia are also part of the floral rainbow. And if this gorgeous scenery isn't enough to get you out there this summer, keep in mind: it's free!
August — Aoi Ike
After checking out the oranges, pinks and purples of the flowers in Furano, head out to Biei in August to see some of the most beautiful, crystalline water in the country. This water, aptly called the Blue Pond (Aoi Ike in Japanese) gets its brilliant azure color from an abundance of aluminum hydroxide, which clearly reflects the sky and trees. Thus the exact shade of blue depends on when you visit.

If you don't have access to wheels, fortunately, there's a bus from JR Asahikawa Station that'll help you get out there. Heading toward Shirogane Onsen, alight at the Shirogane-Aoi Ike Entrance (白金青い池入口) and take a short five-minute stroll.
September — Furano Bellybutton Festival (Hokkai Heso Matsuri)
It makes sense that Furano, right in the center of Hokkaido, holds the Hokkai Heso Matsuri. Heso, by the way, means belly button in Japanese. Try not to bust a gut laughing at the joyous participants who have painted faces on their stomachs to march down the streets. Around 5,000 participants come out every year to see the annual baring-of-the-bellies, which happens on July 28 and 29 each year.
October — Autumn Leaves at Daisetsuzan
As Hokkaido is the northernmost part of Japan, the autumn leaves start changing colors before the rest of the country. And with the expanse of forest blanketing the large island, you are guaranteed to get an eyeful of colors each fall. There are so many incredible places to witness the natural splendor of koyo (autumn leaves), but one place that simply shines in gold and red is Daisetsuzan National Park, Japan's largest national park. The leaves begin their transition in mid-September and are absolutely brilliant in October, right before the November snow falls. While this is a popular hiking spot, there's also the Asahidake Ropeway service that'll give you an incredible aerial view as you climb up 1,600 meters (5,250 ft) to the summit station atop Asahidake, the tallest mountain in Hokkaido.
November — Japow at Rusutsu Resort
As winter is making its way to Hokkaido, why not get ahead of the crowd and get an early start on skiing and snowboarding at Rusutsu Resort. With a total of 18 lifts, including four gondolas and 42 kilometers (26 mi) of runs, this is one of Hokkaido's largest resorts—and a great place to experience Japow (the famed Japanese powder). November is not only the earliest time you can go but the best because it's still off-season in Hokkaido and you'll beat the Niseko crowds, which is only about 30 minutes away if you're feeling adventurous and social. The resort is a 90-minute drive from Sapporo, with access points from the New Chitose Airport, Tomakomai and Muroran. No matter how you travel—by plane, car, bus or ferry—it's easy to get out to Rusutsu Resort.
December — Dip & Dine at Yunokawa Onsen
We can't talk about Hokkaido and not mention food! To avoid the chill of Hokkaido winter, you should head to Yunokawa Onsen, one of the most popular onsen (hot spring) in Hakodate. Hakodate has never been easier to access, with the new Hayabusa Shinkansen from Tokyo Station, but it's also near Hakodate Airport. When you're done soaking in the open-air onsen, head to Yumoto Isaribikan for an amazing dining experience, especially the famous breakfast. We recommend going in December so you don't miss squid season and the amazingly fresh Japanese squid sashimi.