The 10 Best Spring Spots in Tohoku
Tohoku, the northeastern region of Japan's main island of Honshu, is home to some of the best nature and scenery in all of Japan. Spring is particularly spectacular, with a magnitude of cherry blossom viewing spots that typically bloom a few weeks later than Tokyo and Kyoto. Join us as we look at the 10 Best Spring Spots in the Tohoku region!
10. Ishiwari Zakura (Iwate)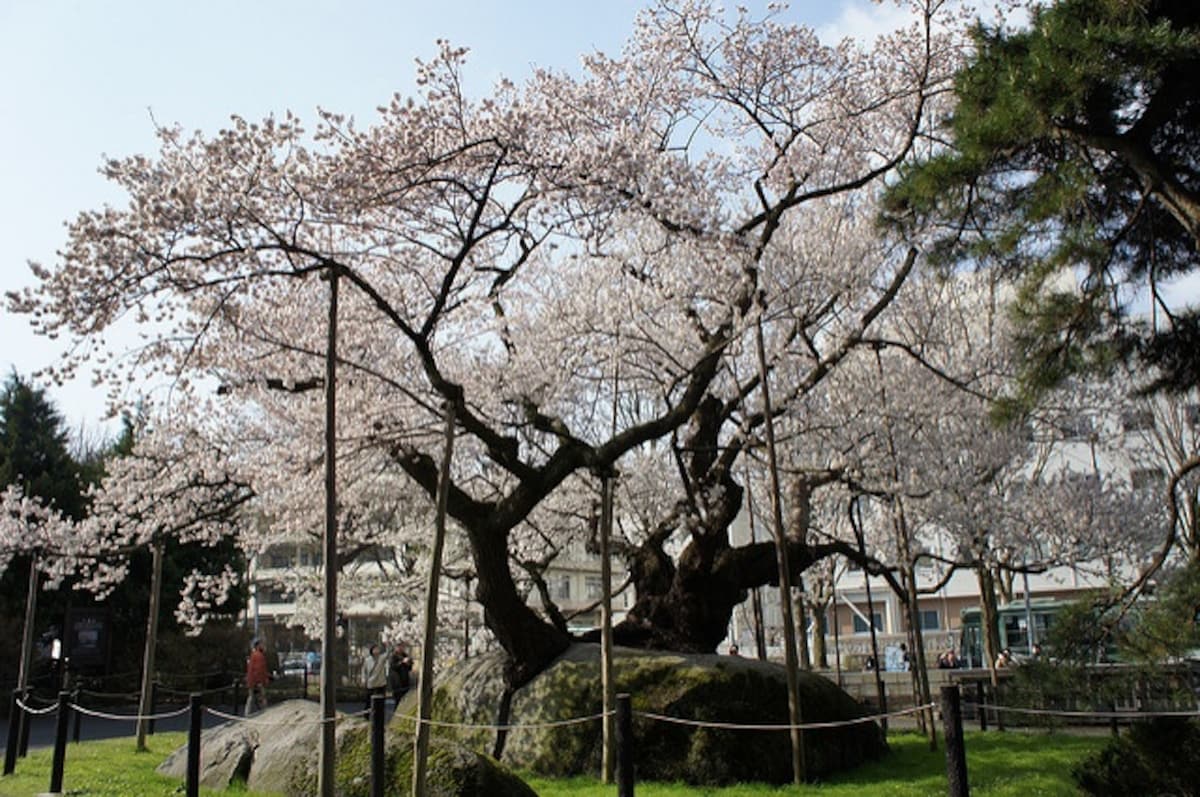 Ishiwari Zakura (石割桜), the "Rock-Splitting Cherry Tree," is a nearly 400-year-old cherry tree growing out of a crack in a granite boulder in front of the district courthouse in Morioka, the prefectural capital of Iwate Prefecture. Declared a National Treasure of Japan in 1923, this edohigan cherry tree measures 10 meters (32.8 ft) in height, and is 4.3 meters (14.1 ft) around the base. With its unique position and dynamic appearance, this is one of the best-loved cherry trees in the region, and also one of the earliest to come into bloom in Iwate, heralding the arrival of spring.
9. Hanamiyama Park (Fukushima)
Hanamiyama Park (花見山公園・Hanamiyama Koen), located near Fukushima City, is a magnificent hillside park covered in a beautiful array of spring flowers. Developed by the local farmers and opened to the public in 1959, it features plum, cherry and Forsythia blossoms in spring, which at full bloom paint the mountain a gentle shade of pink. Hiking trails climb the sakura-speckled slopes, with magnificent views of the snow-capped Azuma Mountains presented as an additional reward on a clear spring day.
8. Kajo Park (Yamagata)
Kajo Park (霞城公園・Kajo Koen) is located on the former grounds of Yamagata Castle near the center of Yamagata City. The 35.9-hectare (88.7-acre) park is a popular cherry blossom viewing spot with around 1,500 cherry trees that bloom in spring. The vast majority of the trees are a variety of somei-yoshino about 100 years old. You can enjoy night cherry blossom viewing here from both inside and outside the park near the southern side of the moat of the ruins of Yamagata Castle.
7. Hitome Senbonzakura (Miyagi)
The cherry trees of the Shiroishi River are a symbol of the Tohoku region attracting some 300,000 visitors from all over Japan every spring. This famous cherry blossom spot is home to around 1,200 cherry trees that arch over the river and walkways to create pinky white tunnels that stretch for about 8 kilometers (5 mi). The area is called Hitome Senbonzakura (一目千本桜), literally "1,000 Sakura at a Glance," and is located a short 30 minutes from Sendai Station by train. Along with the beautiful cherry blossoms, you can enjoy amazing views of snow-covered Mount Zao off in the distance, as well as sakura illuminated at night.
6. Aizu-Wakamatsu Castle (Fukushima)
Aizu-Wakamatsu Castle (会津若松城・Aizu-Wakamatsu-jo), more commonly known as Tsuruga Castle (鶴ヶ城・Tsuruga-jo), was the strongest fortress in all of Tohoku, and is still one of the most impressive castles in the region, though now a reconstruction. The castle is surrounded by an impressive park with well-groomed lawns and over 1,000 cherry trees that bloom in spring. The cherry blossoms typically bloom in mid-April and contrast beautifully with the surrounding moat and stone walls of the attractive castle. It has the distinction of being both one of Japan's 100 Best Castles and one of Japan's 100 Best Cherry Blossom Viewing Spots.
5. The World's Longest Cherry-Lined Road (Aomori)
The World's Longest Cherry-Lined Road (世界一の桜並木・Sekai-ichi no Sakura Namiki) can be found running along the southern foot of Mount Iwaki in Hirosaki City, Aomori Prefecture. This picturesque section of Prefectural Road No. 3 is lined with around 6,500 oyamazakura cherry trees, stretching for 20 kilometers (12.4 mi) toward Dake Onsen. The cherry blossoms typically reach full bloom in late April or early May, about a week after those at nearby Hirosaki Castle Park (see below).
4. Kitakami Tenshochi Park (Iwate)
Kitakami City is famous for the cherry blossoms that bloom in Tenshochi Park (北上市立公園展勝地・Kitakami Shiritsu Koen Tenshochi), a municipal park that's home to 10,000 cherry blossom trees and 100,000 azaleas. The park's 2-kilometer-long (1.2-mi) path is lined with cherry trees on both sides, and has been selected as one of the 100 Best Cherry Blossom Viewing Spots in Japan. Hordes of visitors descend on Kitakami every year from mid-April to early May for the Kitakami Tenshochi Sakura Festival (北上展勝地 さくらまつり・Kitakami Tenshochi Sakura Matsuri), which features vivid carp-shaped streamers for Children's Day (May 5) along with pleasure boat cruising and even a horse-driven carriage that rolls through the avenue of cherry trees. The park is so beautiful that it has been selected as one of the "Three Famous Cherry Blossom Spots of Tohoku" (みちのく三大桜名所・Michinoku Sandai Sakura Meisho).
3. Miharu Takizakura (Fukushima)
The Miharu Takizakura (三春滝桜), literally the "Waterfall Cherry Tree of Miharu," is a registered National Treasure and one of the Three Great Cherry Trees of Japan. The ancient weeping higan cherry tree is believed to be over 1,000 years old, and can be found in the Miharu-machi section of Tamura County in Fukushima Prefecture. It flowers in mid to late April, with its light pink flowers spreading in all directions from its branches just like a cascading waterfall. The tree is 12 meters (39.4 ft) tall, and the canopy measures 25 meters (82 ft) across at its widest point. Many Japanese people consider it the single most beautiful cherry tree in all of Japan, with around 300,000 visiting the small farming community of Miharu to see it every year.
2. Kakunodate Samurai District (Akita)
Kakunodate is an old castle town that has earned the nickname of "The Little Kyoto of Michinoku" for its historic samurai mansions and beautiful blooming cherry blossoms that line the streets (Michinoku is the old name for Tohoku). Every spring, the Kakunodate Cherry Blossom Festival sees the historic streets of the samurai district draped with the pink petals of weeping cherry trees. Some of the trees are up to 200 years old, with 162 of them designated as National Monuments of Japan. The cherry blossoms here are so beautiful that they're listed among the Three Famous Cherry Blossom Spots of Tohoku, along with Hirosaki Castle Park in Aomori Prefecture and Kitakami Tenshochi Park in Iwate Prefecture. You can also see several hundred somei yoshino cherry trees along nearby Hinokinai River.
1. Hirosaki Castle (Aomori)
Hirosaki Castle refers to not only the castle structure itself, but also the entire grounds of Hirosaki Park, one of the Three Famous Cherry Blossom Spots of Tohoku, and one of Japan's most famous cherry blossom spots in general. Over a million visitors descend on the park during the peak of the cherry blossoms during the Golden Week holidays at the end of April and start of May. The park is home to around 2,600 cherry trees that were planted in 1903, and is a spot where you can view cherry blossom tunnels and relax on the petal-filled moats in a romantic rental boat. This is truly one of the best cherry blossom experiences to have in Japan. (Note that the castle keep has been temporarily moved about 70m/230 ft back from the walls for restoration work, and will be returned in 2021).