Top 5 Spots Around Hida Takayama
5. Shinhotaka Ropeway (Takayama City)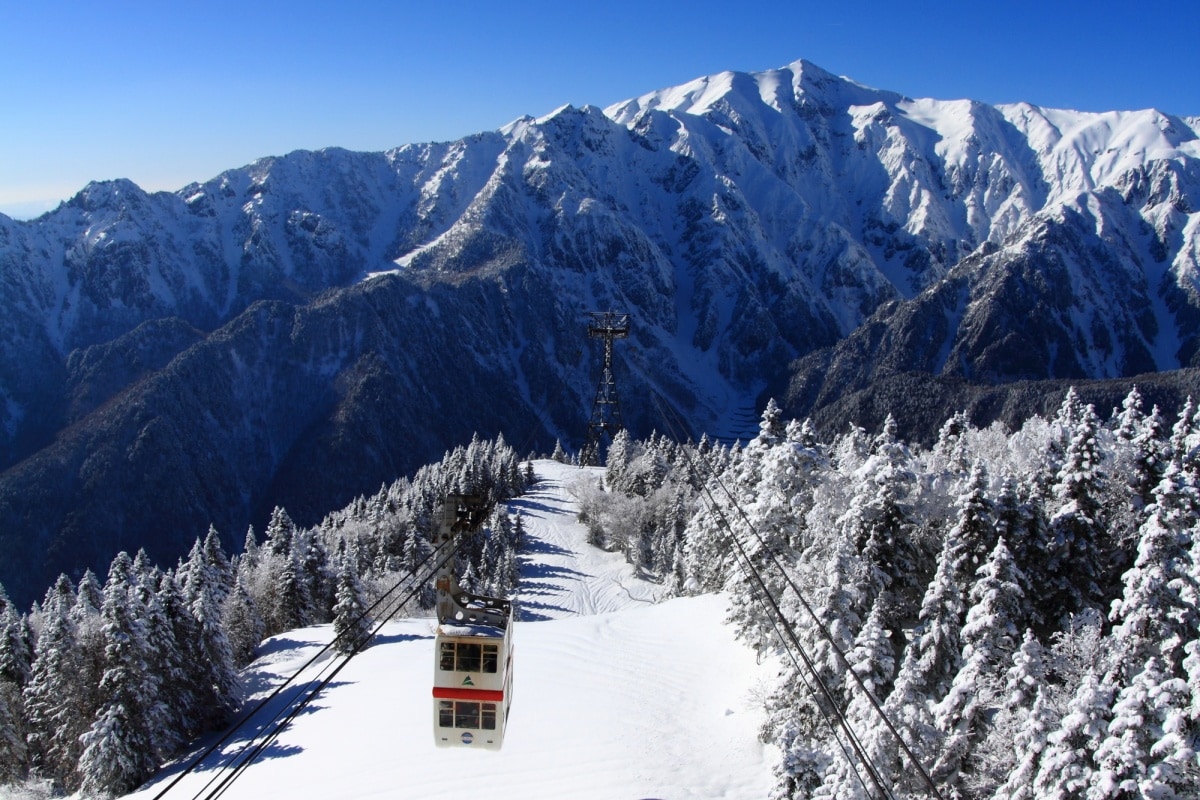 Explore Hida Takayama from above the clouds on Japan's only double-decker ropeway! It climbs the Hotaka Mountains, a range which includes Japan's third tallest mountain, Mount Hotaka. The observation deck on top of the mountain is 2,156 meters (7,073 feet) above sea level, and offers a spectacular panoramic view of the Northern Japan Alps and Okuhida area. In winter, visitors can experience the amazing snow corridor at the Sengokuenchi Nature Park, where the paths are surrounded on both sides by three-meter-high (10 feet) walls of snow.
4. Okuhida Onsen Village (Takayama City)
Deep in Japan's Northern Alps there's a collection of hot spring villages that boast the greatest number of open-air hot spring baths (in Japanese, rotenburo) in the country. The five hot spring villages that form the Okuhida Onsen Village include Hirayu, Fukuji, Shinhirayu, Tochio and Shinhotaka. The thermal hot spring waters in the 140+ baths are famous for their healing properties, and are said to soothe both body and soul. Each village has its own unique character and charm.
3. Hida Folk Village (Takayama City)
Hida Folk Village—or Hida no Sato, as it is known in Japanese—is an open-air museum dedicated to preserving the beautiful traditional houses and buildings of the Hida region. The village has an incredible depth of authenticity, with over 30 historical houses and buildings to visit. Of particular note are the traditional steep thatched-roof farmhouses made in the gassho-zukuri style to withstand the area's heavy winter snow. Visitors can learn about the day-to-day life of the past from the displays in the buildings, and enjoy trying the various hands-on activities and crafts on offer.
2. Hida Furukawa (Hida City)
Hida Furukawa is often called the little brother of Hida Takayama, and as such offers some of the same traditional experiences without all the crowds. Famous for its beautifully preserved old town, which is lined with white-walled storehouses and canals filled with Japanese carp, this hidden gem is one of the most authentic old towns in all of Japan. The town is also famous for the Hida Furukawa Festival, which is one of the "Three Great Naked Festivals" of Japan, and an element on UNESCO's list of Intangible Cultural Heritage.
1. Sanmachi Suji (Takayama City)
Sanmachi Suji is one of the most beautiful and well-preserved old streets in Japan. Found in Takayama's historic district, the three main streets that make up Sanmachi Suji are lined with traditional wooden houses from the Edo Period (1603-1868). The historic merchant town is the perfect place for a stroll, with its old architecture, sake breweries and shops selling local crafts and Japanese sweets. This is one place in Japan where visitors can still feel the rich atmosphere of a samurai-age castle town.