The True 'Deep' North: Caving in Tohoku
The six prefectures of the Tohoku region in northeastern Honshu are legendary for their abundant nature. Visitors can enjoy an awesome array of everything from cherry blossoms and autumn foliage to hot springs and ski resorts. However, some of the region's most awe-inspiring natural wonders are literally underground. We're talking about caves!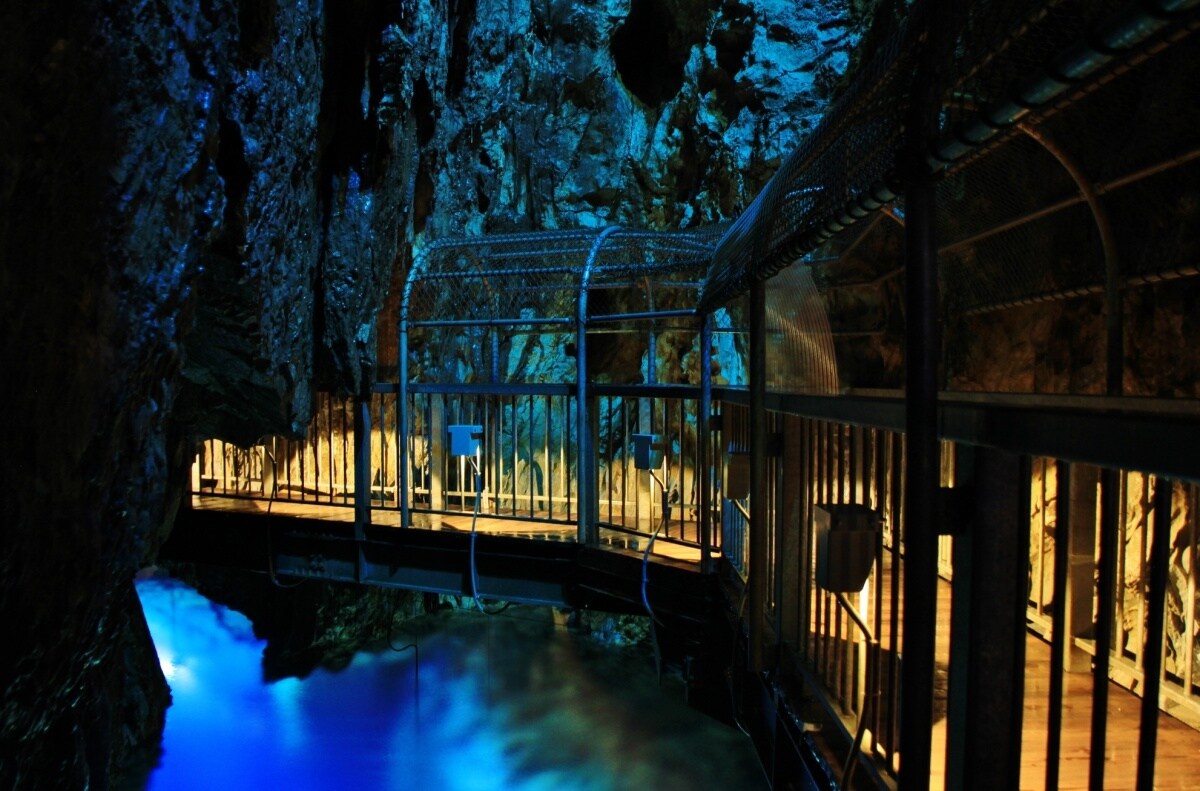 While caves can be found all over Japan, the Tohoku region could be considered a caving paradise due to its large variety of caves, equally impressive surrounding scenery, and the fact that most of these caves have few, if any, regular foreign visitors. If you want to ignite your sense of discovery of the unknown, skip the big city lights for the mysterious world of caverns, grottoes and tunnels!
1. Rokando Cave (Iwate)
Iwate is the cave country of Tohoku thanks to its having over half a dozen caves. Ryusendo (龍泉洞), with its super-deep and clear underground lakes, is certainly the highlight. However, it's too well-known, and sometimes crowded. Instead, suit up with a rain coat, boots and hardhat to navigate the narrow maze of Rokando Cave (滝観洞).

The challenge begins as soon as you enter the tiny entrance and are forced to crawl on your hands and knees for several minutes. You'll then descend deeper into a twisting and turning tunnel only slightly higher than your head. As water drips occasionally from the ceiling, a very small stream flows through parts of the cave, cheering you on to the grand finale. Pray at the random Buddhist statues along your way so your muscles don't give out, crawl on your belly through the final challenge, and after 30 minutes, there it is. A towering underground waterfall marks your final destination. A truly breathtaking experience, in more ways than one!

Rokando Cave offers a fun caving adventure suitable for the more athletic, but without needing any special equipment or reservation. Everything needed is provided after paying admission. An adjacent restaurant and rest house will help you recharge before heading home. It's located in Sumita Town, an ideal rest stop along the highway between the capital Morioka and land of legends, Tono.
2. Nobezawa-Ginkodo (Yamagata)
One of the most famous hot spring areas in Tohoku is Ginzan Onsen (銀山温泉). The gas-lit lamps, wooden ryokan (traditional inns) and stream running right through the center of town create a charm that can be difficult to find even among the romantic sights of Kyoto. Most guidebooks recommend a trip to Ginzan during the winter to see the pure white snow contrast beautifully with the worn but sturdy rustic ryokan in a scene nothing short of magical. However, if visiting during winter you won't be able to enter our next location because of the snow-closed path.

A hint to the history of the town is in its name: Ginzan, or "silver mountain." Nobezawa-Ginkodo (延沢銀坑洞) was a silver mine founded 500 years ago. It eventually closed as the supply of silver ran low and the tunnel suffered a major collapse.

Just a few minutes' walk from town, you can enter the illuminated mine tunnels to cool off from a relaxing soak in a hot spring. No need to change! Visitors are encouraged to explore while wearing their ryokan yukata (cotton robe) and wooden sandals!
3. Buddhist Caves (Miyagi)
Just a 30-minute express train from Miyagi Prefecture's captital of Sendai, the picturesque Matsushima offers its unique Buddhist caves. The pine-tree-covered islands dotting Matsushima Bay have impressed travelers, poets and samurai lords for centuries. At the same time, Zuigan-ji Temple (瑞巌寺, originally Enpuku-ji Temple/瑞巌寺), Tohoku's oldest and most important temple, has been attracting believers for over 1,000 years.

In order to practice Zen meditation and rituals, many house-sized caves were dug into the rocks leading to the temple, as well as on the often-ignored but equally exciting Oshima, an island close to Matsushima-kaigan Station accessible by footbridge. Originally, the caves would have had wood panels covering the entrances. Today you can only peer inside from the walkways and imagine what went on inside the dark solitude of stone. Many Buddhist statues, particularly Kannon (Goddess of Mercy) statues, decorate the caves.
4. Abukumado Cave (Fukushima)
Abukumado (あぶくま洞) is Tohoku's largest cave, boasting a huge main cavern that commands your—and your camera's—attention. The cave is well developed for tourism as it's lit-well and has a paved walkway throughout the cave. It even has an illumination event during December. However, there are some steep stairs and ladders that may be challenging for visitors with leg issues. Besides that, it's very family-friendly. Expect an hour or more from start to finish for this journey.

Adventure seekers can add on the expedition course, which branches off from the main route inside the cave. It showcases a small underground stream and has you squeezing through some tight spots. Watch your head, feet, arms and legs on this secret shortcut.

Abukumado Cave's best features are its huge variety of common and rare rock formations. Rocks layered like curtains, shaped like a monster face, a Christmas tree or mushrooms, with plenty of stalagmites and stalactites, transport you to another world.

If you still haven't had enough, the nearby Irimizu Shonyudo (Irimizu Limestone Cave) is completely undeveloped, forcing you to navigate 30 to 90 minute courses in complete darkness.

Abukumado is a bit out of the way, but still easily accessed by train. From Tokyo, take an 80-minute bullet train to Koriyama, then a 45-minute trip on the Banetsu East Line to Kanmata Station. Lastly warm up with a 35-minute walk or save your energy with 10-minute taxi ride to the entrance.
5. Osarizawa Mine (Akita)
Here, like Yamagata, we have a man-made mine. Mining was big business throughout Tohoku's history. The Osarizawa Mine (尾去沢鉱山・Osarizawa Kozan) is the oldest mine in Japan. Starting way back in the year 708, this area prospered as a gold mine, then as a copper mine until ending operations in the late 1970s. This mine is much longer than the one in Ginzan, and it does a great job of highlighting the history of its underground labyrinth through displays and realistic mannequins. This is also a place where many "hidden Christians" during the Edo Period (1603-1868) continued to practice their banned religion out of sight of local authorities.

Overall, this is a real treasure to see a mix of modern concrete, older wooden supports, then natural rocky cave all in the same place. The human history is a mix of industrialization, prosperity, and often times brutal working conditions.
6. Gangara Ana (Aomori)
The Ou Mountain Range stretches from the south to north of Tohoku, and it ends in Aomori. As such, there are fewer mountainous regions and sadly few if any caving adventures to be found here. One cave that we will let sneak into our list recreates images of a secret pirate cove—though it was never used as one. This power spot cave can only be accessed by boat. Why? Well, it was made by the pounding waves from the Sea of Japan.

Gangara Ana (ガンガラ穴) is worth a visit if you're checking out the nearby Juniko Lakes of the World Heritage Site beech forest, Shirakami Sanchi. A kayak tour or boat rental is the easiest way to access the black hole inside the galaxy of rocky cliffs. The gentle waves allow you to paddle right into the 50-meter-wide (164-ft) dome. While the cave basically ends here, the feeling of being one with nature could not be greater. Outside is the noise of a warm summer breeze and the sloshing water from the sea, and below you is the hypnotic cobalt blue water. Look up 10 meters (33 ft) to the rocky ceiling and you'll meet the locals: small bats call this place home.
Whether you're looking for natural, man-made, historic or exciting types of caves, Tohoku has you covered. With half of the cave locations on our list located next to major tourist attractions, adding a bit of excitement to your Tohoku itinerary is simple. The hard part is not becoming addicted to the mysterious combined worlds of Japan, Tohoku nature, and caves!

Find out more about Tohoku here!