Battle of the Big Buddhas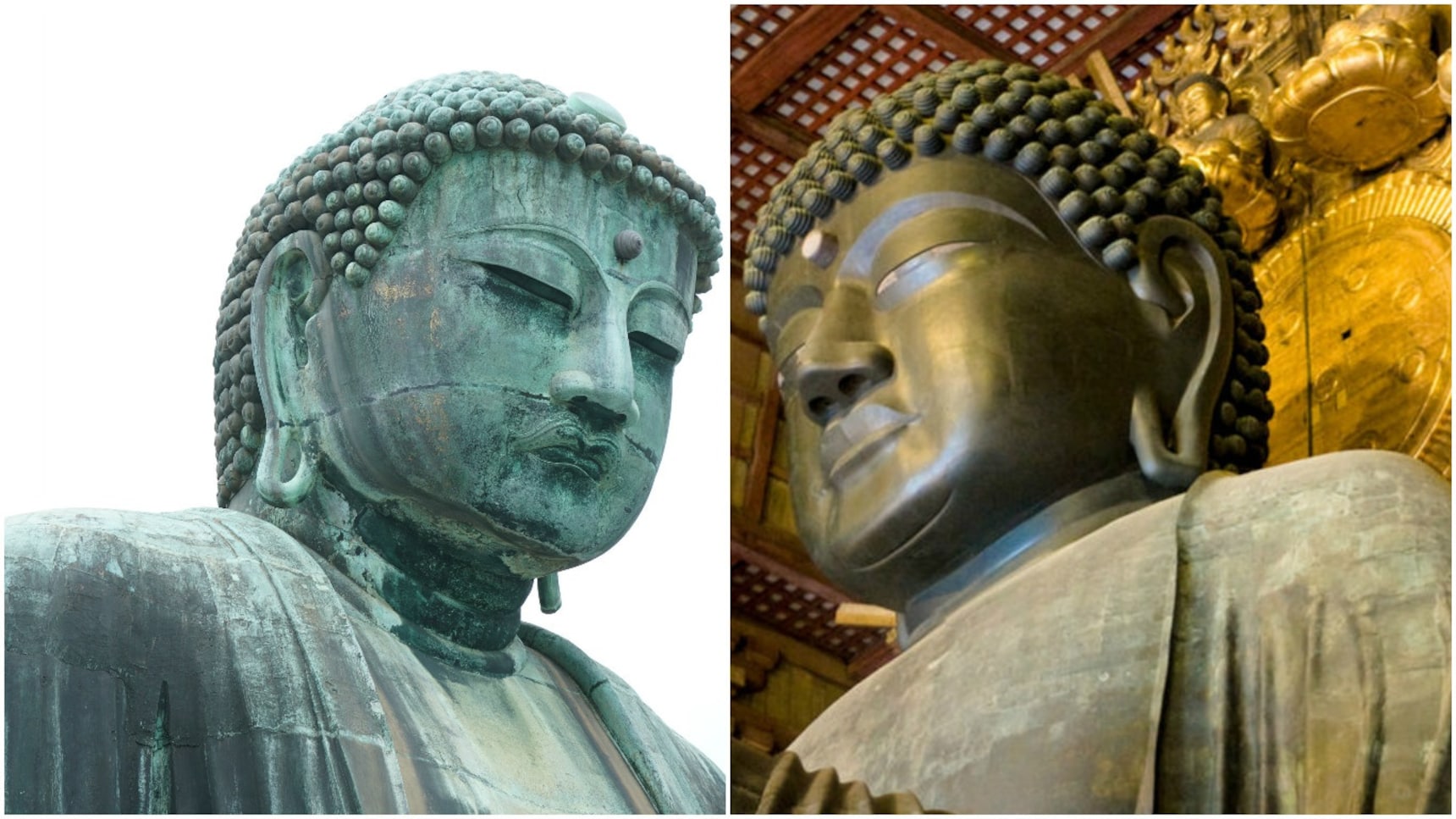 Buddha statues can be found all over Japan. But if you're visiting Japan for the first time, you'll probably only have time to see one. While neither is the tallest nor oldest in the country, the Big Buddha statues found in Kamakura and Nara are arguably the most famous. Which should you see? In purely non-Buddhist fashion, it's time for a battle!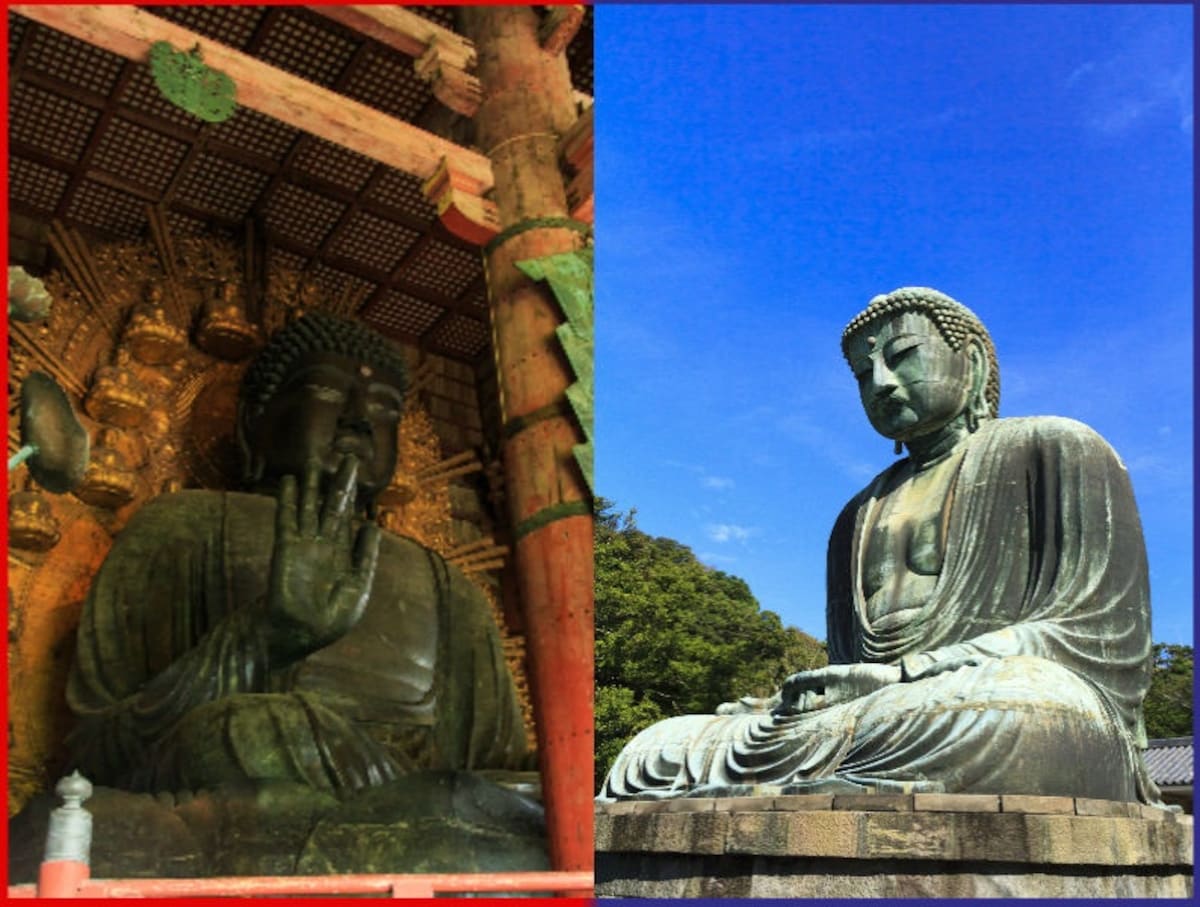 In the blue corner is the crowd-favorite Crushing Kamakura. Now make some noise for the challenger in the red corner, Knockout Nara! The match consists of 3 rounds: location, cool factor and endurance.

Let's get it on!
This Is My House!
Both Buddhas are easily accessible by public transportation. Each one is just an hour to an hour and half outside major tourist cities Tokyo (for Kamakura) and Kyoto (for Nara). And each have roughly the same number of surrounding attractions, so travel time and costs should not play too much into your immediate decision.

A closer examination shows Nara's Buddha is resting inside World Heritage Site Todaiji Temple, known as the world's largest wooden building—even though it was rebuilt and is only 2/3 the size of the original. The large building houses some other Buddhist artifacts and is a welcome retreat for visitors on very hot, cold or rainy days.
The Kamakura Buddha is located at Kotokuin Temple. It has no home, it just sits unmoving for centuries in the open air. While there's no sideshow of a large building, the lack of a house means the Kamakura statue would be a much better choice for serious photographers. Any visitor to Nara will tell you the low entranceway and large number of tourists makes it difficult to get anything but the face of the statue. At Kamakura you'll be able to capture natural lighting, close-up and panoramic shots from many angles.
Colossal Cool
Nara's Buddha is guarded by the most elite security forces in Japan: deer. These deer are more friend than foe. In fact, they will often bow to greet you... in the hopes of getting a shika senbei deer cracker sold at nearby shops.
The Kamakura Buddha is unique in that you can go inside the statue. For a small requested donation of 20 yen, you'll be able to traverse through a dark, tiny passage to the literal heart of the Buddha. It'll be hot in the summer, but that's just part of the experience. If you want to be "closer to Buddha," this is the closest you'll ever get.
Endurance
Both the 125-ton, 11.3-meter (37.1-ft) Kamakura Buddha and the 250-ton, 15-meter (49.1-ft) Nara Buddha are incredibly tough. However, when it comes to surviving both man-made and natural disasters, there is one clear winner.

Nara's statue was originally constructed in 752 AD, 500 years before Kamakura's. Despite its longer history, it's one of literally losing face—and other body parts. An earthquake in the 9th century took away its head while accidental fires in 1180 and 1567 melted its right hand. Other disasters both man-made and natural meant this statue had to be restored many times over.

Comparatively, the Kamakura statue still sits meditating in its original form. Yes, it has had some repairs and earthquake reinforcement, but it stayed in one piece. Remember we discussed our Kamakura fighter is at a temple but has no house to call its own? Well it used to. A monstrous storm in 1335 and an earthquake-triggered tsunami in 1495 ripped apart the wooden structure protecting the Buddha statue. No worries as it seemed the bronze giant needed to protection at all, so the building was never rebuilt.
And the Winner Is...
It's a close call, but the Kamakura Buddha takes the victory. From a historical perspective, the victory can go either way. Deer may seem to be a winner for our cool factor, but just remember those deer crackers go in the mouth and out the other end. Watch your step in Nara... every step.

The Kamakura statue is more photo-friendly, closer to must-visit Tokyo, and is still obscure enough to make a journey here feel a bit more spiritual than a check off your list of major tourist attractions.

Have you been to one or both of these statues? Who wins the battle in your opinion?