Top 10 Tastiest Japanese Festival Snacks
10. Choco Banana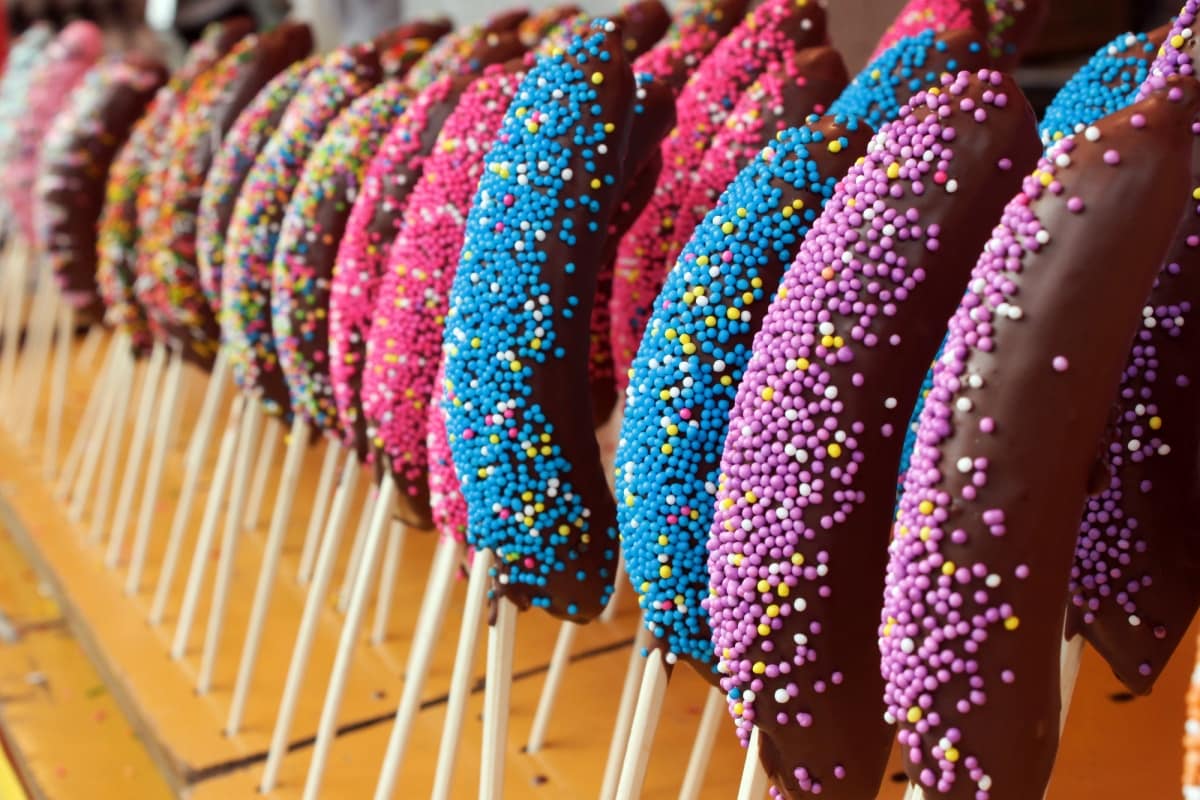 Banana and chocolate are a perfect match. Choco Banana, essentially frozen, chocolate-covered bananas, are one cool way to beat the hot summer heat. They come in a number of varieties, from plain chocolate to more decadent versions covered in colorful sprinkles.
9. Yaki Tomorokoshi
Yaki tomorokoshi takes corn-on-the-cob to the next level. The corn is boiled until tender before it's laid on the grill and smothered in a sweet and salty soy glaze. This gives the corn an irresistible, caramelized layer.
8. Kakigori
Shaved ice, or kakigori comes in all of your favorite flavors, and offers sweet relief when you're roasting in your yukata. Kakigori is made of larger ice flakes than shaved ice in the west, giving it a light texture. You can sometimes find it served with condensed milk for added sweetness.
7. Shioyaki
These tiny sea bream, roasted on open coals, are a signature sign of summer. They're lightly coated in sea salt, which pairs perfectly with their smoky flavor. The fish is flaky and soft and can be eaten right off the stick.
6. Hashimaki
If you didn't think okonomiyaki could be improved, think again. Hashimaki is essentially a variety of the famous savory pancake wrapped around a pair of chopsticks. It's then topped with mayonnaise, okonomiyaki sauce, spring onions, aonori (powdered seaweed flakes), and sometimes even a fried egg. Its portability makes this a perfect festival snack.
5. Ikayaki
Ikayaki, or grilled squid, is a Japanese street-food classic. Grilled on a stick, ikayaki is served up plain or coated in a tasty sauce. The squid is nice and tender, perfect for munching.
4. Karaage
Fried chicken, or karaage is almost as much of a Japanese staple as sushi. It's always a good time for karaage, but it's even better at festivals where you can pick up a bucket of freshly fried chicken bites on the cheap. They come plain or coated with salt or other flavored spices.
3. Taiyaki
Taiyaki are super cute, super delicious fish-shaped pastries grilled in a mold. Tai is the Japanese word for sea bream, which explains their adorable seafood shape. The crispy grilled outside gives way to an airy pastry casing filled with either red bean adzuki paste or cream. In recent years, yatai (food cart) vendors have made variations of this sugary favorite, including taiyaki parfaits filled with ice cream and Pocky sticks.
2. Yakisoba
This savory treat is pure, delicious simplicity. Soba noodles are grilled with chopped cabbage and pork, before they're stirred up with yakisoba sauce. The yakisoba is then served with aonori, pickled ginger and sometimes topped with a dash of mayo.
1. Takoyaki
Takoyaki might just be the ultimate Japanese street food. These little dough balls are filled with pieces of plump octopus. They're then coated with a generous layer of sweet but salty takoyaki sauce and a drizzle of mayonnaise. A dash of aonori and some dried fish flakes, or katsuobushi, complete these dumplings of deliciousness.